Germany Follows Scotland on Move to Ban GMO Crops
Aug. 26, 2015 02:29PM EST
Food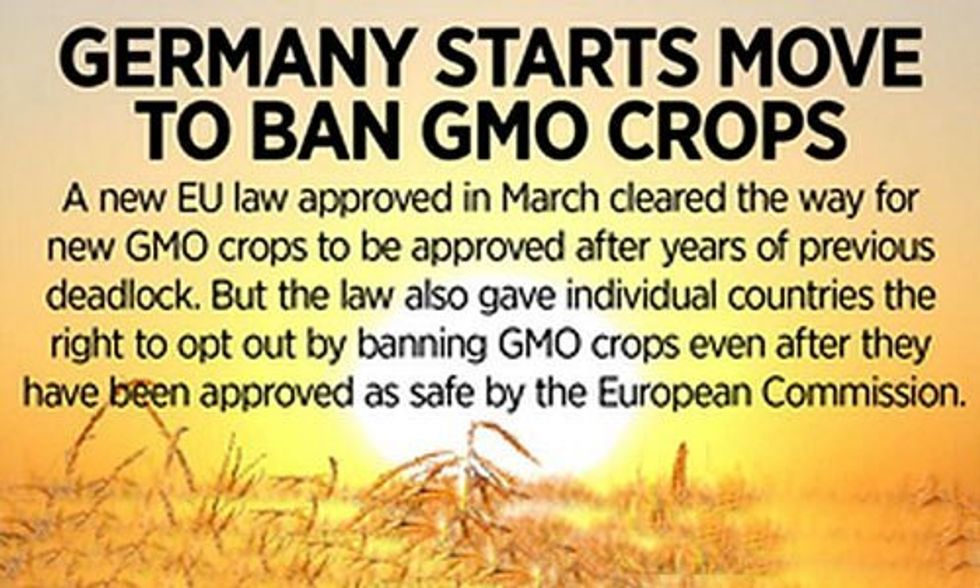 Germany is moving to ban the growing of genetically modified (GM) crops just weeks after Scotland made a similar announcement.
#Germany starts move to ban #GMO crops: ministry letter http://t.co/9wpwxoWoYK pic.twitter.com/8Slj3b682a

— Calestous Juma (@calestous) August 25, 2015
According to a letter from the agriculture ministry seen by Reuters, the German Agriculture Minister Christian Schmidt (see photo above) told government officials that he will seek to implement the European Union's new rule passed in March that allows member countries to "opt out" on the growing of EU-authorized GM crops.
Reuters reported that in the letter, the ministry stressed that Schmidt is continuing a previously-announced policy to keep a ban on GMOs in Germany.
"The German government is clear in that it seeks a nationwide cultivation ban," ministry spokesman Christian Fronczak told Bloomberg. "There's resistance from all sides, from the public to the farmers."
Scotland became the first country in the EU to choose the opt out clause, in a move to preserve its "clean and green brand."
The news from Germany was welcomed by the Scottish National Party (SNP). "Like Scotland, the German Government recognizes the importance of protecting its food and drink sector and keeping its environment clean and green," said SNP Member of the Scottish Parliament (MSP) Rob Gibson in a statement.
Lisa Archer, food and technology director at environmental nonprofit Friends of the Earth, also applauded the move.
"Germany has committed a true act of food democracy by listening to the majority of its citizens that oppose GMO cultivation and support more sustainable, resilient organic food production that doesn't perpetuate the overuse of toxic herbicides," she told Common Dreams. "We are hopeful that more members of the EU will follow suit and that the U.S. Congress will protect our basic right to know what we are feeding our families by requiring mandatory GMO labeling."
#Germany initiates a move to stop growing #GMO crops. https://t.co/hF7RgzdnJV http://t.co/194jWVqSza #Deutschland pic.twitter.com/IQ8DHn3Rwo

— GMO Inside (@GMOInside) August 26, 2015
The topic of GMOs is fraught with controversy due to environmental and health concerns. However,  food manufacturers, seed companies and many in the scientific community maintain that GMO crops (which are widely-grown in the Americas and Asia) are safe and would help feed the world's growing population.
At least 64 countries around the world require labeling of foods containing GMOs, including the 28 nations in the EU, as well as Japan, Australia, Brazil, Russia and China. The U.S. does not. Even the conservative The New England Journal of Medicine is asking the U.S. Food and Drug Adminstration to reconsider labeling GMO foods. Reuters noted that in Europe, there is a divided opinion about GMO crops, with Britain in favor of them, while France and Germany are among those opposed.
Earlier this month, Natural News reported that 100,000 of Germany's beekeepers urged its agricultural minister to opt out on the cultivation of GMO crops. According to Natural News, the beekeepers were concerned that "the threat to the honeybees created by GM agriculture comes from the widespread use of certain pesticides by the industry that contain neonicotinoids, which have been proven to be toxic to bees and other forms of life."
100,000 beekeepers urge germany to ban gmos as biotech industry destroys their livelihood and environment http://t.co/r4h2TQcTn2 #news #bees

— Organic Food Maps (@OrganicFoodMaps) August 22, 2015
Recently, it was reported that neonicotinoids—a potent class of pesticides used on many crops in the U.S.—have long been blamed for the widespread decline of our pollinators, and a major new study found a direct correlation between the use of these "neonics" and honeybee colony losses across England and Wales. Europe enacted a continent-wide two-year ban on neonics in 2013.
Under the new EU rules, countries have until Oct. 3, to inform the European Commission that they wish to opt out of new EU GMO cultivation approvals. According to Reuters, the German ministry letter said that individual regions have until Sept. 11 to decide if they want to be included in the GMO ban.
YOU MIGHT ALSO LIKE
How Monsanto Took Control of Our Food System
The New England Journal of Medicine Asks FDA to Reconsider Labeling GMO Foods
EcoWatch Daily Newsletter
Related Articles from EcoWatch