This website uses cookies to ensure you get the best experience while browsing it. By clicking 'Got It' you're accepting these terms.
German Police Arrest Captain Paul Watson of Sea Shepherd
May. 14, 2012 07:57AM EST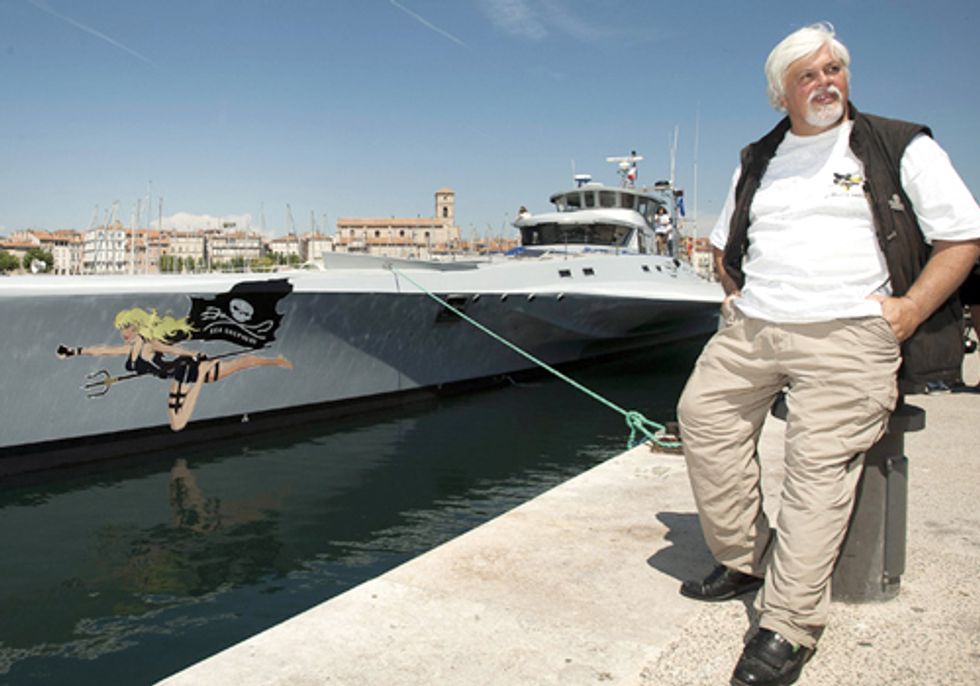 Captain Paul Watson was arrested on May 12 in Germany for extradition to Costa Rica. The German police have said that the warrant for Captain Watson's arrest is in response to an alleged violation of ships traffic in Costa Rica, which occurred during the filming of Sharkwater in 2002. The specific "violation of ships traffic" incident took place on the high seas in Guatemalan waters, when Sea Shepherd encountered an illegal shark finning operation, run by a Costa Rican ship called the Varadero.
On order of the Guatemalan authorities, Sea Shepherd instructed the crew of the Varadero to cease their shark finning activities and head back to port to be prosecuted. While escorting the Varadero back to port, the tables were turned and a Guatemalan gunboat was dispatched to intercept the Sea Shepherd crew. The crew of the Varadero accused the Sea Shepherds of trying to kill them, while the video evidence proves this to be a fallacy. To avoid the Guatemalan gunboat, Sea Shepherd then set sail for Costa Rica, where they uncovered even more illegal shark finning activities in the form of dried shark fins by the thousands on the roofs of industrial buildings.
Conservationists around the world maintain hope that the Costa Ricans will drop the charges against Captain Watson. There is also a chance that the charges have already been dropped, but Sea Shepherd has been unable to confirm that with the Costa Rican officials. With Costa Rica's rich biodiversity, it would be a travesty for them not to stand up for sharks, which sit at the highest levels of the food chain assuring balance among ecological communities in the ocean.
While in jail, Captain Watson is being assisted by the European Parliament Vice President Daniel Cohn Bendit and the European deputy Jose Bove. Our hope is that these two honorable gentlemen can set Captain Watson free before this nonsense goes any further. The European Sea Shepherds have also mobilized to support Captain Watson.
As the plight of the sharks becomes more desperate, Sea Shepherd Conservation Society has begun to outline a new shark campaign for 2012. Julie Andersen, founder of Shark Savers and Shark Angels, has joined Sea Shepherd to lead our global campaign to save sharks from extinction.
Sea Shepherd will use its expertise and experience, as well as media savvy, to empower people around the world to take back their sharks—an animal critical to their, as well as the global, environment and economy.
Sea Shepherd is offering its assistance to countries around the world to enforce international and local laws, end ruthless poaching, patrol marine sanctuaries under attack, implement high tech defenses and empower locals through training and the provision of resources to take on the battle. Sea Shepherd will also fight a war of public opinion, changing everything we know about an animal most despised.
The first stop will be the South Pacific, where the team will be headed in June.
"We've got all the laws we need to protect sharks," said Julie Andersen, shark campaign director. "Now we will leverage our resources and expertise to help countries around the globe enforce them. Using Galapagos as a model, we will travel wherever we are needed—enforcing local laws while developing strategies and training locals to defend their sharks, fueling world-wide enforcement efforts."
For more information, click here.
EcoWatch Daily Newsletter
A volcano erupts on New Zealand's Whakaari/White Island on Dec. 9, 2019.
Michael Schade / Twitter
A powerful volcano on Monday rocked an uninhabited island frequented by tourists about 30 miles off New Zealand's coast. Authorities have confirmed that five people died. They expect that number to rise as some are missing and police officials issued a statement that flights around the islands revealed "no signs of life had been seen at any point,", as The Guardian reported.
Guardians of the Forest monitor passersby entering Juracal Village in Araribóia Indigenous Reserve, Maranhão, Brazil on Aug. 8, 2015. Bonnie Jo Mount / The Washington Post via Getty Images
Two indigenous leaders were killed in a drive-by shooting in Northeast Brazil Saturday, and two others were injured.
Human activity is smothering the ocean, the largest study of its kind has found, and it poses a major threat to marine life.
Pexels
Up to 20% of people may have a food addiction or exhibit addictive-like eating behavior.
Spiced hot chocolate. Lilechka75 / iStock / Getty Images
Food is the cornerstone of the holiday season. It brings friends and family together to share memories, cultural traditions, and great flavors.