This website uses cookies to ensure you get the best experience while browsing it. By clicking 'Got It' you're accepting these terms.
German Hunter Pays $60,000 to Kill One of Africa's Biggest Elephants
Oct. 16, 2015 12:10PM EST
Just months after the killing of Cecil the Lion sparked intense Internet outrage, a German hunter has killed what is believed to be the largest elephant ever killed in Africa "for sport" in almost 30 years, according to The Telegraph. While Walter Palmer, the hunter who killed Cecil paid $50,000 for his trophy hunt, this man, who has not been identified by name, paid $60,000 (nearly £40,000) as part of a "21-day game hunt including the Big Five of elephants, leopards, lions, buffalo and rhinoceros," reports The Telegraph.
News of the hunt comes on the heels of the announcement that Zimbabwean authorities have decided not to prosecute Palmer for the killing of Cecil, saying his "papers were in order" and that he did not know he was committing an offense. The elephant, which was estimated to have been 50 years old, was shot and killed on Oct. 8 in "a private hunting concession" of Zimbabwe's Gonarezhou National Park, according to The Telegraph. It's unclear where the animal came from as it had never been spotted before in Gonarezhou. Johnny Rodrigues, chairman of The Zimbabwean Conservation Task Force, suspects it might have wandered over from Kruger National Park in neighboring South Africa.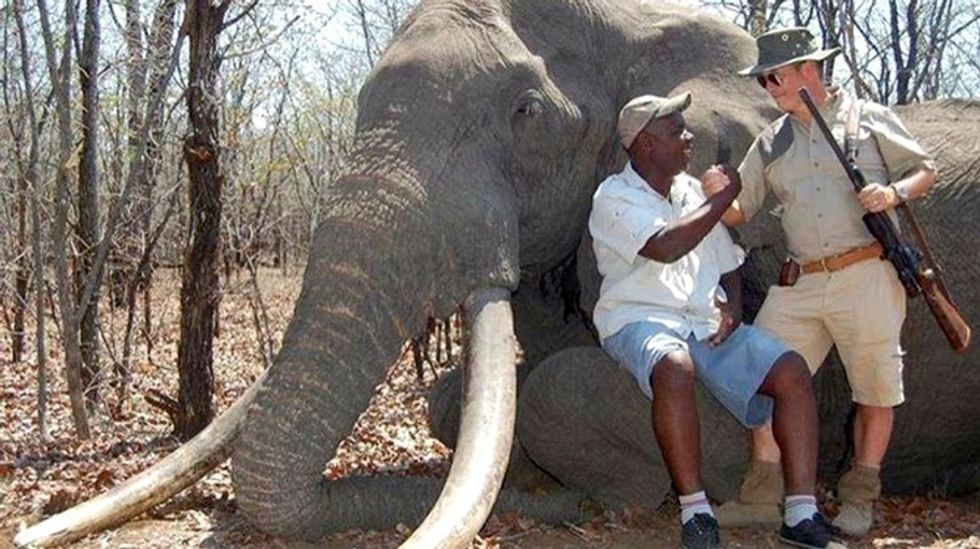 "The kill was celebrated in hunting forums around the world," says The Telegraph. The elephant was "so huge its tusks were almost hitting the ground while it was standing. We have never seen any animal that big." Emmanuel Fundira, chairman of the Safari Operators Association of Zimbabwe (SOAZ), told AFP.
"The last time one was seen (of such size) was more than 40 years ago," said Fundira. "The hunter should not have shot it." Elephants such as this one need to be treated as a "national treasure" rather than killed. "We need to discipline ourselves and hold such iconic things sacred," he said.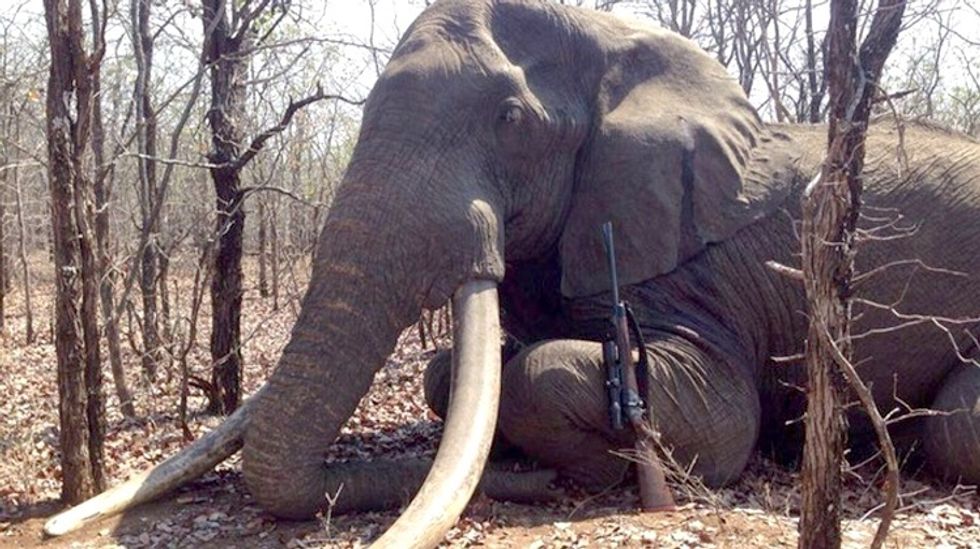 Its tusks weighed a combined 122 pounds, said Rodrigues, who expressed his outraged over the killing. "We are disgusted. It's wrong to kill an iconic animal like that," Rodrigues told AFP. Rodrigues confirmed to The Guardian that the German national "had the correct license and permit to shoot an elephant."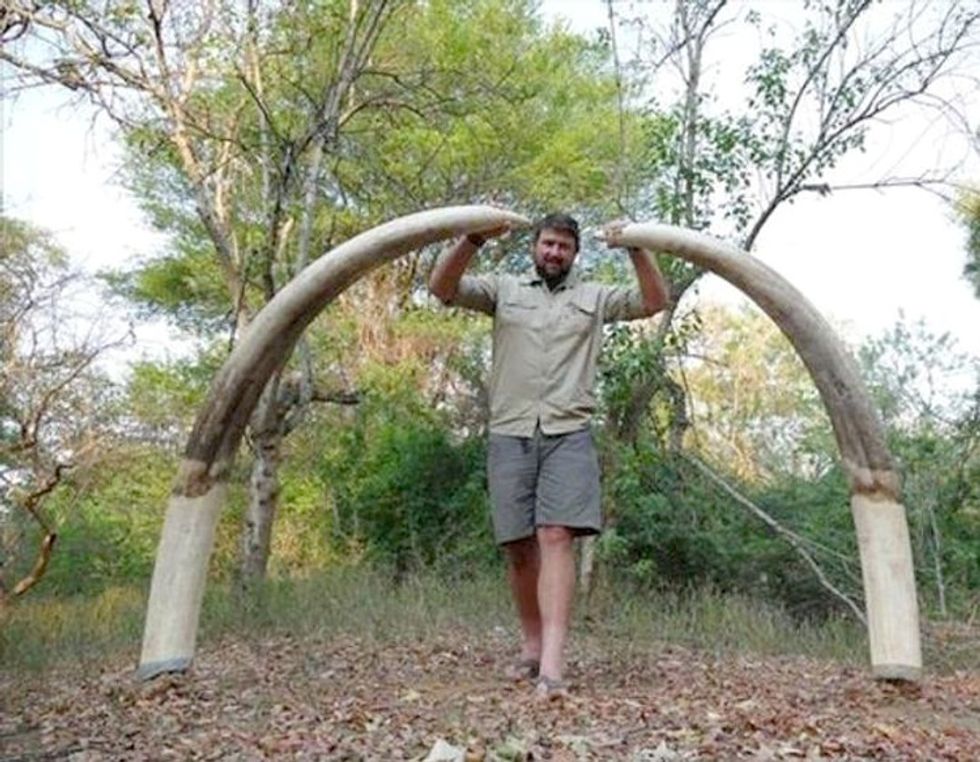 Still, Rodrigues thinks the hunter should face the same public scrutiny as Walter Palmer. "We don't know who this hunter is but we will find out. The authorities and the hunters' association are trying to protect him, but ... we've got his photograph," said Rodrigues. "We will identify him and when we do we'll leave the public to do what they did to Walter Palmer. People like that deserve it."
"Let's have some ethics," he added. "Just because they have money, they don't need to do it. It's only so they can mount them on a bloody wall. What is that?"
Elephants are being killed—mostly by poachers—at an alarming rate. Exact numbers are hard to come by, but William deBuys at TomDispatch puts the number at 100 elephants killed a day. The critically acclaimed series Earth Focus estimates an elephant is killed every 20 minutes for its tusks.
Cyanide poisoning of elephants has become a major problem in the last two years. In 2013, up to 100 elephants were killed with cyanide (original estimates put the number at 300). Zimbabwe National Parks has called for "stiffer penalties for poachers" after a slew of elephant killings from cyanide poisoning in the last two weeks—26 elephants found dead this week and 14 found dead last week, according to The Telegraph.
YOU MIGHT ALSO LIKE
Colbert: I Woke Up Yesterday Morning and My Tesla Could Drive Itself
Scuba Divers' Haunting Photos Show Devastating Impact of Ocean Trash on Marine Life
Lawsuits Mount Against Monsanto's 'Cancer-Causing' Weedkiller
EcoWatch Daily Newsletter
A Starbucks barista prepares a drink at a Starbucks Coffee Shop location in New York. Ramin Talaie / Corbis via Getty Images
By Cathy Cassata
Are you getting your fill of Starbucks' new Almondmilk Honey Flat White, Oatmilk Honey Latte, and Coconutmilk Latte, but wondering just how healthy they are?
By Sharon Kelly
Back in April last year, the Trump administration's Environmental Protection Agency decided it was "not necessary" to update the rules for toxic waste from oil and gas wells. Torrents of wastewater flow daily from the nation's 1.5 million active oil and gas wells and the agency's own research has warned it may pose risks to the country's drinking water supplies.
Swedish climate activist Greta Thunberg takes part in a "Friday for Future" youth demonstration in a street of Davos on Jan. 24, 2020 on the sideline of the World Economic Forum annual meeting. FABRICE COFFRINI / AFP via Getty Images
Treasury Secretary Steven Mnuchin pretended not to know who Greta Thunberg is, and then he told her to get a degree in economics before giving world leaders advice, as The Guardian reported.
The Visible Infrared Imaging Radiometer Suite on the Suomi NPP satellite acquired this image of forest fire smoke hovering over North America on Aug. 15, 2018. NASA Earth Observatory
New York City isn't known for having the cleanest air, but researchers traced recent air pollution spikes there to two surprising sources — fires hundreds of miles away in Canada and the southeastern U.S.
If temperatures continue to rise, the world is at risk from global
sea-level rise
, which will flood many coastal cities as seen above in Bangladesh. NurPhoto / Contributor / Getty Images
The mounting climate emergency may spur the next global financial crisis and the world's central banks are woefully ill equipped to handle the consequences, according to a new book-length report by the Bank for International Settlements (BIS), as S&P Global reported. Located in Basel, Switzerland, the BIS is an umbrella organization for the world's central banks.