This website uses cookies to ensure you get the best experience while browsing it. By clicking 'Got It' you're accepting these terms.
Geothermal Power Nears 12,000 Megawatts Worldwide
Aug. 28, 2014 08:06AM EST
Business
In 2013, world geothermal electricity-generating capacity grew 3 percent to top 11,700 megawatts across 24 countries. Although some other renewable energy technologies are seeing much faster growth—wind power has expanded 21 percent per year since 2008, for example, while solar power has grown at a blistering 53 percent annual rate—this was geothermal's best year since the 2007-08 financial crisis.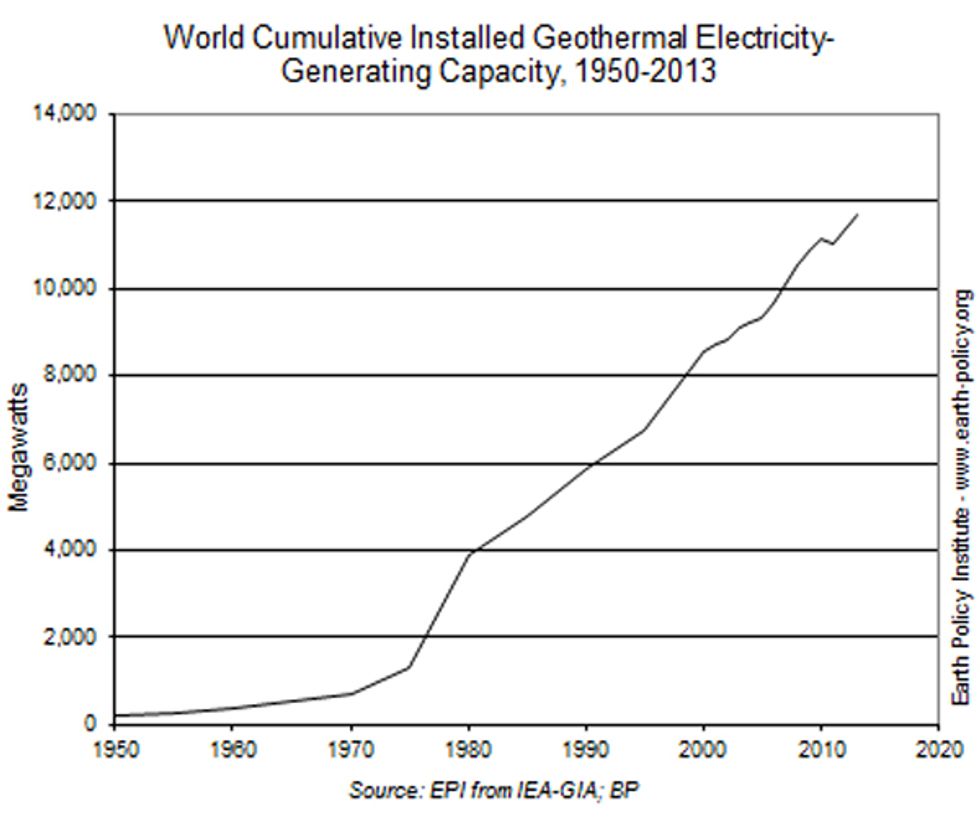 Geothermal power's relatively slower growth is not due to a paucity of energy to tap. On the contrary, the upper six miles of the Earth's crust holds 50,000 times the energy embodied in the world's oil and gas reserves. But unlike the relative ease of measuring wind speed and solar radiation, test-drilling to assess deep heat resources prior to building a geothermal power plant is uncertain and costly. The developer may spend 15 percent of the project's capital cost during test-drilling, with no guarantee of finding a viable site.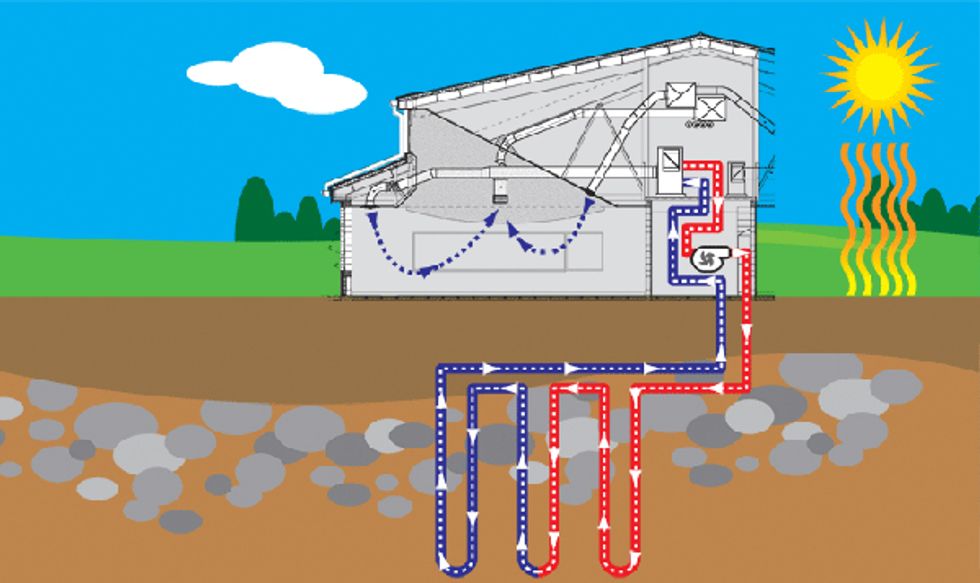 Once built, however, a geothermal power plant can generate electricity 24 hours a day with low operation and maintenance costs—importantly because there is zero fuel cost. Over the life of the generator, geothermal plants are often cost-competitive with all other power sources, including fossil fuel and nuclear plants. This is true even without considering the many indirect costs of fossil- and nuclear-generated electricity that are not reflected in customers' monthly bills.
The top three countries in installed geothermal power capacity—the U.S., Philippines and Indonesia—account for more than half the world total. California hosts nearly 80 percent of the 3,440 megawatts of U.S. geothermal capacity; another 16 percent is found in Nevada.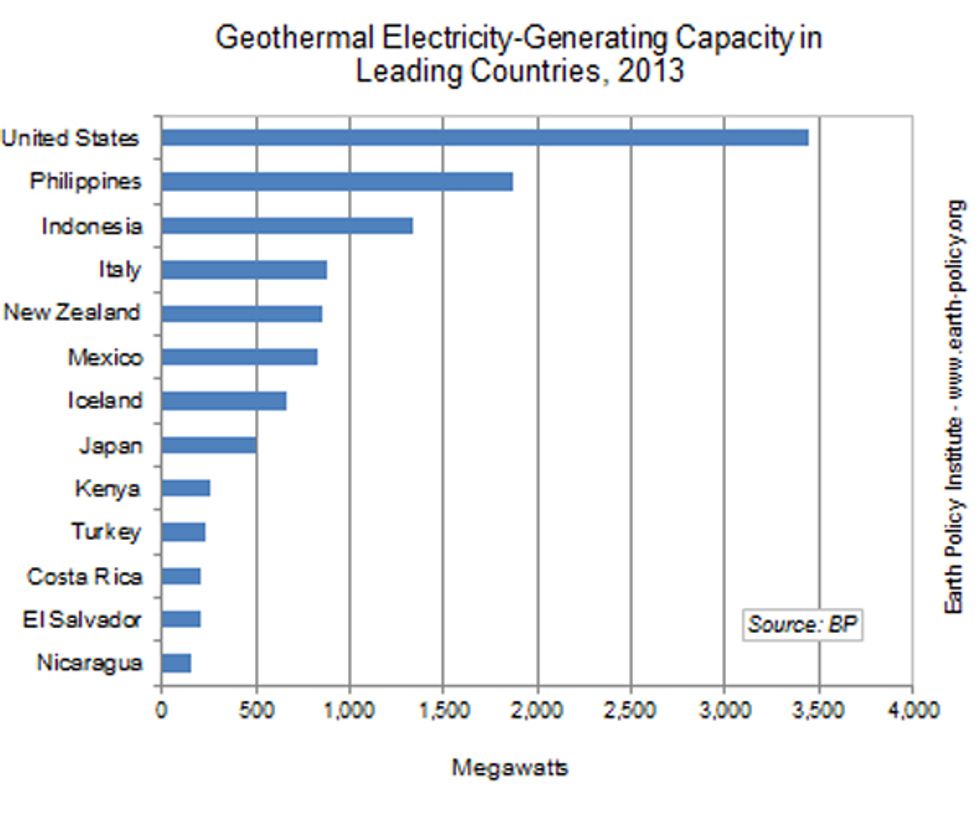 Despite having installed more geothermal power capacity than any other country, the U.S. currently generates less than 1 percent of its electricity from the earth's heat. Iceland holds the top spot in that category, using geothermal power for 29 percent of its electricity. Close behind is El Salvador, where one quarter of electricity comes from geothermal plants. Kenya follows at 19 percent. Next are the Philippines and Costa Rica, both at 15 percent, and New Zealand, at 14 percent.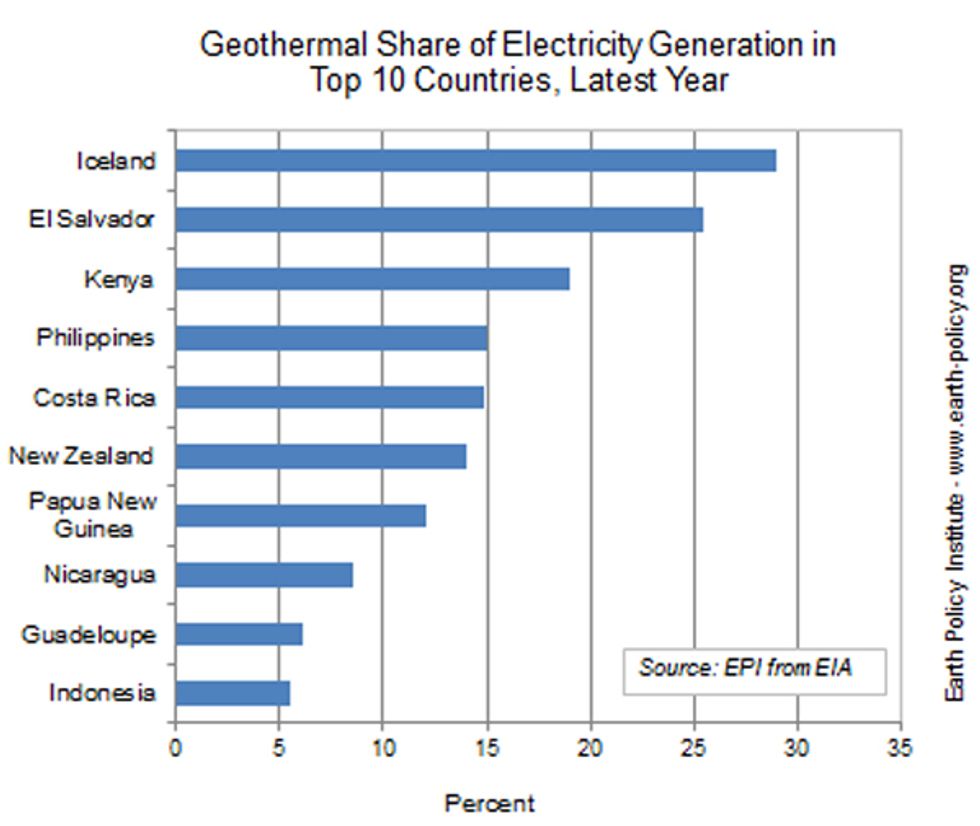 Indonesia has the most ambitious geothermal capacity target. It is looking to develop 10,000 megawatts by 2025. Having only gained 150 megawatts in the last four years, this will be a steep climb. But a new law passed by the government in late August 2014 should help move industry activity in that direction: it increases the per-kilowatt-hour purchase price guaranteed to geothermal producers and ends geothermal power's classification as mining activity. (Much of Indonesia's untapped geothermal resource lies in forested areas where mining is illegal.) Even before the new law took effect, geothermal company Ormat began construction on the world's largest single geothermal power plant, a 330-megawatt project in North Sumatra, in June 2014. The plant should generate its first electricity in 2018.
Indonesia is just one of about 40 countries that could get all their electricity from indigenous geothermal power—a list that includes Ecuador, Ethiopia, Iceland, Kenya, Papua New Guinea, Peru, the Philippines and Tanzania. Nearly all of them are developing countries, where the high up-front costs of geothermal development are often prohibitive.
To help address this mismatch of geothermal resources and funds, the World Bank launched its Global Geothermal Development Plan in March 2013. By December, donors had come up with $115 million of the initial $500 million target to identify and fund test-drilling for promising geothermal projects in the developing world. The World Bank hopes that the experience gained from these projects will lead to lower costs for the geothermal industry overall. This would be good news on many fronts—simultaneously reducing energy poverty, air pollution, carbon emissions and costly fossil fuel imports.
YOU ALSO MIGHT LIKE
UK Wind Power Exceeds Coal During Storm, Continues to Break Energy Records
EcoWatch Daily Newsletter
A Starbucks barista prepares a drink at a Starbucks Coffee Shop location in New York. Ramin Talaie / Corbis via Getty Images
By Cathy Cassata
Are you getting your fill of Starbucks' new Almondmilk Honey Flat White, Oatmilk Honey Latte, and Coconutmilk Latte, but wondering just how healthy they are?
By Sharon Kelly
Back in April last year, the Trump administration's Environmental Protection Agency decided it was "not necessary" to update the rules for toxic waste from oil and gas wells. Torrents of wastewater flow daily from the nation's 1.5 million active oil and gas wells and the agency's own research has warned it may pose risks to the country's drinking water supplies.
Swedish climate activist Greta Thunberg takes part in a "Friday for Future" youth demonstration in a street of Davos on Jan. 24, 2020 on the sideline of the World Economic Forum annual meeting. FABRICE COFFRINI / AFP via Getty Images
Treasury Secretary Steven Mnuchin pretended not to know who Greta Thunberg is, and then he told her to get a degree in economics before giving world leaders advice, as The Guardian reported.
The Visible Infrared Imaging Radiometer Suite on the Suomi NPP satellite acquired this image of forest fire smoke hovering over North America on Aug. 15, 2018. NASA Earth Observatory
New York City isn't known for having the cleanest air, but researchers traced recent air pollution spikes there to two surprising sources — fires hundreds of miles away in Canada and the southeastern U.S.
If temperatures continue to rise, the world is at risk from global
sea-level rise
, which will flood many coastal cities as seen above in Bangladesh. NurPhoto / Contributor / Getty Images
The mounting climate emergency may spur the next global financial crisis and the world's central banks are woefully ill equipped to handle the consequences, according to a new book-length report by the Bank for International Settlements (BIS), as S&P Global reported. Located in Basel, Switzerland, the BIS is an umbrella organization for the world's central banks.