Genetically Engineering Trees for Biofuel Undermines Real Energy and Climate Solutions
Scientists and environmentalists today condemned a recent press release by researchers at the University of British Columbia announcing they have created genetically engineered (GE) poplar trees for paper and biofuel production, opening the prospect of growing these GE trees like an agricultural crop in the future.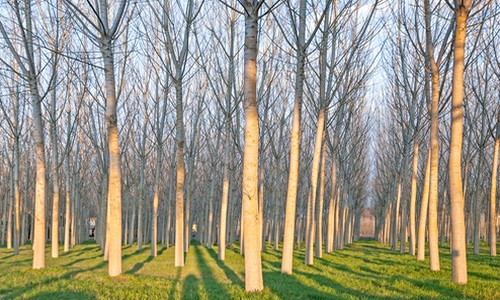 Photo courtesy of Shutterstock
The poplars were genetically engineered for altered lignin composition to supposedly make them easier to process into paper and biofuels. Groups, however, warn that manipulation of lignin, and the potential contamination of wild poplars with that trait, could be extremely dangerous. 
Lignin is a key structural component of plant cell walls and a major component of soils. It is also the product of millions of years of natural selection favoring sturdy, healthy and resilient plants. GE poplars with altered lignin could have devastating effects on forests, ecosystems, human communities and biodiversity.
Poplars include at least 30 species, are widespread throughout the Northern Hemisphere and have a high potential for genetic dispersal. 
"Because they can spread their seed and pollen so far, poplars genetically engineered for paper or biofuels are likely to inevitably and irreversibly contaminate native forests," stated Anne Petermann, executive director of Global Justice Ecology Project. "The only way to prevent this potential ecological disaster is to stop the release of GE trees."
Martha Crouch, PhD, a plant biologist consulting for the Center for Food Safety is likewise concerned, "The reports that genetic engineers have restructured poplar wood to make it easier to process into biofuels makes it sound as if this technology is right around the corner."
"However, no ecological studies have been done yet, and methods for keeping genes from escaping into forests are unproven and likely to fail. All of this hype distracts us from truly sustainable solutions that work safely with what nature has already provided," Crouch concluded.
Commercial and industrial scale biofuels and bioenergy are creating vast new demands for wood, and driving the conversion of climate stabilizing forests and other natural ecosystems to fuel crops. Rainforests in Indonesia are being burned to make way for plantations of oil palm, for example. Genetically engineering trees to be easier to manufacture into bioenergy will further contribute to the problem by increasing economic pressure to convert land into GE tree plantations.
"The whole idea of engineering trees for biofuels is outrageous—there is no question that we must end our fossil fuel addiction, but pretending we can simply substitute living plants is horribly misguided," said Rachel Smolker, PhD, co-director of Biofuelwatch added. "Even the tiny fraction of fuel currently produced from industrial bioenergy has had huge impacts on forests, water, human rights and food security."
"Forests purify water and regulate the climate," Smolker continued. "They are home to most of the world's biodiversity and many Indigenous Peoples. We need to protect and restore forests while drastically reducing overconsumption. Engineering trees is moving in exactly the wrong direction."
--------
YOU ALSO MIGHT LIKE
Report Details Potential Hazards of Genetically Engineered Trees Currently Under USDA Review
University of Florida Threatens Arrest and Evicts Anti-GE Tree Campaigners From Campus
Hundreds Protest Against Genetically Engineered Trees
--------
Bill Maher is sick of billionaires' obsession with Mars, more like "Mars-a-Lago," he said.
In a new animation produced by ATTN:, the popular talk show host of Real Time, discusses the perils of our planet, including how "climate change is killing us."
Keep reading...
Show less
Dr. Benjamin D. Santer, research scientist
A group of prominent climate scientists have written a study explicitly refuting statements made by the U.S. Environmental Protection Agency Administrator Scott Pruitt on climate data. During his Senate confirmation hearing, Pruitt claimed in a written response that satellite data shows a "leveling off" of warming over the past two decades.
Keep reading...
Show less
By David Pomerantz
The Nevada Assembly passed a bill Wednesday that would dramatically increase the growth of renewable energy in the state, but Sheldon Adelson, the casino magnate and major donor to Donald Trump, is attempting to prevent the bill from becoming law.
Keep reading...
Show less
Matt Crossick
By Yosola Olorunshola
Whether it's through fashion or protest, Vivienne Westwood is not a woman afraid of making a statement.
On May 23, she rocked up to the residence of the Archbishop of Canterbury in London with a special guest—the Grim Reaper—to issue a strong statement on the Church of England's position on fracking.
Keep reading...
Show less
By Paul Brown
The food industry and big agricultural concerns are driving climate change and at the same time threatening to undermine efforts to feed the world's growing population, according to GRAIN, an organization that supports small farmers.
Particularly singled out for criticism are the large chemical fertilizer producers that have gained access to the United Nations talks on climate change. GRAIN accuses them of behaving like the fossil fuel companies did in the 1990s, pushing false information in the hope of delaying real action on climate change.
Keep reading...
Show less
May. 24, 2017 06:55PM EST
By Sydney Robinson
President Trump has no doubt been given a long list of extravagant, elaborate gifts in his lifetime, but the gift given to him today by Pope Francis may not make it on his most favorite list.
Keep reading...
Show less
May. 24, 2017 07:17PM EST
By John Rogers
Maybe it's because I first started working on clean energy while serving in the Peace Corps he founded, or maybe it's my years of working on these issues from his home state. But I can't help thinking about the 100th anniversary of John F. Kennedy's birth, and connecting his stirring rhetoric to the energy challenges of our times.
Here's what our 35th president might have said about the challenges of energy transition and the opportunities in clean energy:
"Change is the law of life. And those who look only to the past or present are certain to miss the future."
Keep reading...
Show less
May. 24, 2017 01:47PM EST
Keep reading...
Show less


Get EcoWatch in your inbox