This website uses cookies to ensure you get the best experience while browsing it. By clicking 'Got It' you're accepting these terms.
Genetically Engineered Crops Trigger Cycle of Superweeds and Toxic Pesticides
Jul. 01, 2013 10:48AM EST
GMO
Despite being genetically engineered (GE) with the sole purpose of helping farmers fight weeds, glyphosate-tolerant GE crops such as Monsanto's Roundup Ready corn have spurred a crisis of weed management for farmers nationwide. A report released today by Food & Water Watch analyzes the connection between the rapid proliferation of GE crops and affiliated pesticides in the U.S., and the rise of herbicide-resistant "superweeds" that have led to the steadily increasing use of more dangerous herbicides.

"For nearly 20 years, herbicide-tolerant GE crops have been marketed as a way to improve yields, lower costs for farmers and reduce agriculture's environmental impact. Not only have these claims not held up, they've backfired," said Wenonah Hauter, executive director of Food & Water Watch. "The chemical arms race that industrial agriculture is waging against weeds in this country is not working and is doing incalculable harm to our environment and human health."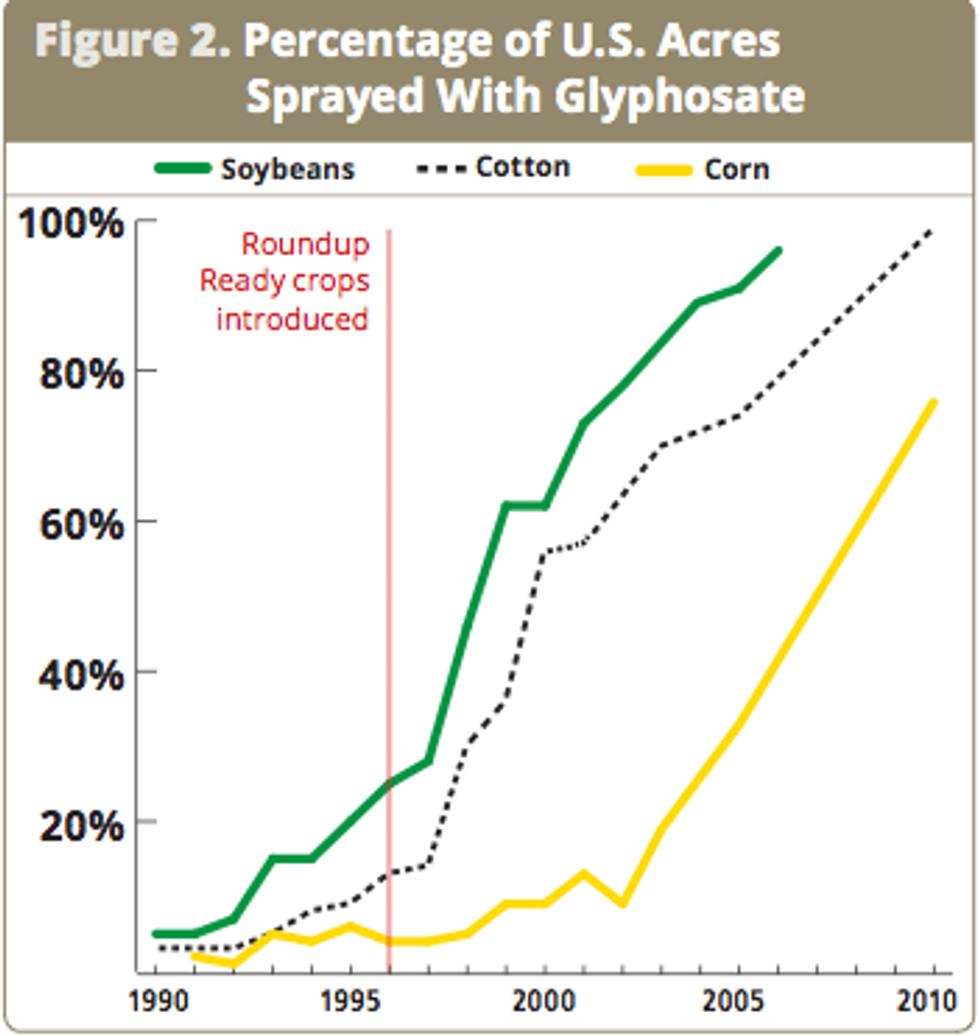 The U.S. Department of Agriculture (USDA) and Environmental Protection Agency (EPA) data on herbicide analyzed in the report shows that herbicide use on corn, cotton and soybeans has steadily grown by 26 percent in the years between 2001 and 2010. The widely used glyphosate herbicides, primarily Monsanto's Roundup Ready line, have become ineffective as the weeds develop stronger resistance due to continuous over-exposure to the chemical. As glyphosate proves to be increasingly ineffective, more farmers are turning to more dangerous herbicides including 2,4-D. Use of 2,4-D has increased since glyphosate-resistant crops became widespread, growing 90 percent between 2000 and 2012.
The report analyzes how the interdependence between the agrichemical and biotechnology industries has fueled weed resistance. It offers an overview of the worst offending weeds; the agrichemical trends used over the years since GE crops have been widely adopted; and the biotechnology companies' rush to win approval of new GE crops resistant to different combinations of more-toxic chemicals.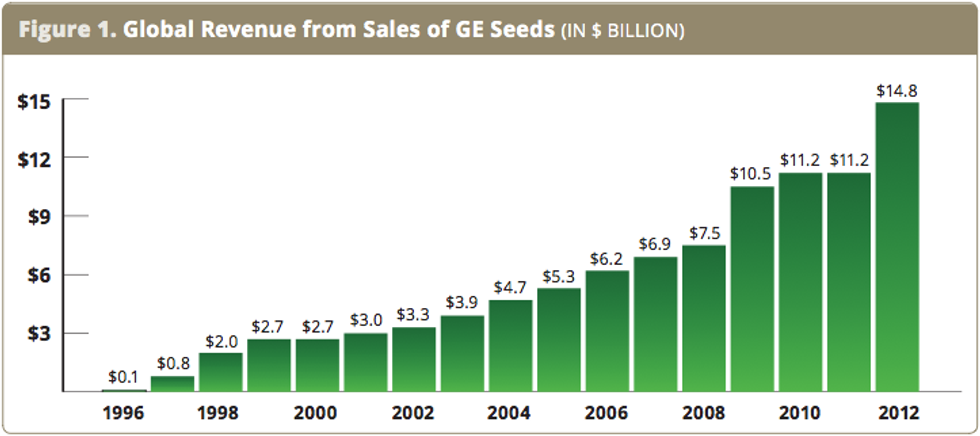 "This report provides more proof that GE food is not the silver-bullet solution it is marketed to be and that its impact on our environment and human health needs much deeper scrutiny," said Pamm Larry, Northern California director for LabelGMOs.org and the initial instigator of Proposition 37, a California ballot initiative to label genetically engineered foods that was narrowly defeated at the polls last November.
The report also examines the costs associated with GE crops and herbicide-resistant weeds. Farmers face significant costs from reduced yields and efforts to combat weed infestations, and pesticide exposure and chemical residues harm public health, the environment, wildlife and water quality.
"The current superweeds situation should serve as a wake-up call for moving agriculture off the GMO and chemical treadmill to which it is bound," said Ronnie Cummins, executive director of the Organic Consumers Association. "To do that, public research—free of private sector influence—must be funded in order to give farmers better alternatives. Dumping more and more chemicals on the problem only fuels a fire that will have devastating consequences on how we grow our food."
EcoWatch Daily Newsletter
Protesters holding signs in solidarity with the Wet'suwet'en Nation outside the Canadian Consulate in NYC. The Indigenous Peoples Day NYC Committee (IPDNYC), a coalition of 13 Indigenous Peoples and indigenous-led organizations gathered outside the Canadian Consulate and Permanent Mission to the UN to support the Wet'suwet'en Nation in their opposition to a Coastal GasLink pipeline scheduled to enter their traditional territory in British Columbia, Canada. Erik McGregor / LightRocket / Getty Images
Tensions are continuing to rise in Canada over a controversial pipeline project as protesters enter their 12th day blockading railways, demonstrating on streets and highways, and paralyzing the nation's rail system
Horseshoe Bend (seen above) is a horseshoe-shaped meander of the Colorado River in Page, Arizona.
didier.camus
/ Flickr /
public domain
Millions of people rely on the Colorado River, but the climate crisis is causing the river to dry up, putting many at risk of "severe water shortages," according to new research, as The Guardian reported.
An alarming sign of an impending drought is the decreased snowpack in the Sierra Nevada Mountain range, as seen here in Christmas Valley, South Lake Tahoe, California on Feb. 15, 2020.
jcookfisher
/
CC BY 2.0
California is headed toward drought conditions as February, typically the state's wettest month, passes without a drop of rain. The lack of rainfall could lead to early fire conditions. With no rain predicted for the next week, it looks as if this month will be only the second time in 170 years that San Francisco has not had a drop of rain in February, according to The Weather Channel.
New and recent books explore how we can effectively respond to climate change while enhancing our health and happiness. Kei Uesugi / DigitalVision / Getty Images
A warm day in winter used to be a rare and uplifting relief.

Now such days are routine reminders of climate change – all the more foreboding when they coincide with news stories about unprecedented wildfires, record-breaking "rain bombs," or the accelerated melting of polar ice sheets.
Where, then, can one turn for hope in these dark months of the year?