Genetically Engineered Crops Trigger Cycle of Superweeds and Toxic Pesticides
Despite being genetically engineered (GE) with the sole purpose of helping farmers fight weeds, glyphosate-tolerant GE crops such as Monsanto's Roundup Ready corn have spurred a crisis of weed management for farmers nationwide. A report released today by Food & Water Watch analyzes the connection between the rapid proliferation of GE crops and affiliated pesticides in the U.S., and the rise of herbicide-resistant "superweeds" that have led to the steadily increasing use of more dangerous herbicides.

"For nearly 20 years, herbicide-tolerant GE crops have been marketed as a way to improve yields, lower costs for farmers and reduce agriculture's environmental impact. Not only have these claims not held up, they've backfired," said Wenonah Hauter, executive director of Food & Water Watch. "The chemical arms race that industrial agriculture is waging against weeds in this country is not working and is doing incalculable harm to our environment and human health."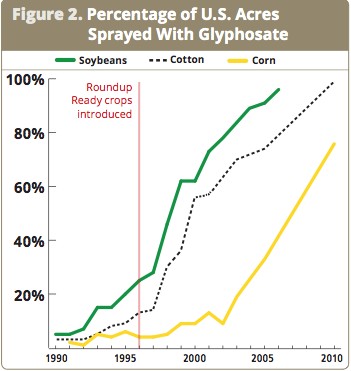 The U.S. Department of Agriculture (USDA) and Environmental Protection Agency (EPA) data on herbicide analyzed in the report shows that herbicide use on corn, cotton and soybeans has steadily grown by 26 percent in the years between 2001 and 2010. The widely used glyphosate herbicides, primarily Monsanto's Roundup Ready line, have become ineffective as the weeds develop stronger resistance due to continuous over-exposure to the chemical. As glyphosate proves to be increasingly ineffective, more farmers are turning to more dangerous herbicides including 2,4-D. Use of 2,4-D has increased since glyphosate-resistant crops became widespread, growing 90 percent between 2000 and 2012.
The report analyzes how the interdependence between the agrichemical and biotechnology industries has fueled weed resistance. It offers an overview of the worst offending weeds; the agrichemical trends used over the years since GE crops have been widely adopted; and the biotechnology companies' rush to win approval of new GE crops resistant to different combinations of more-toxic chemicals.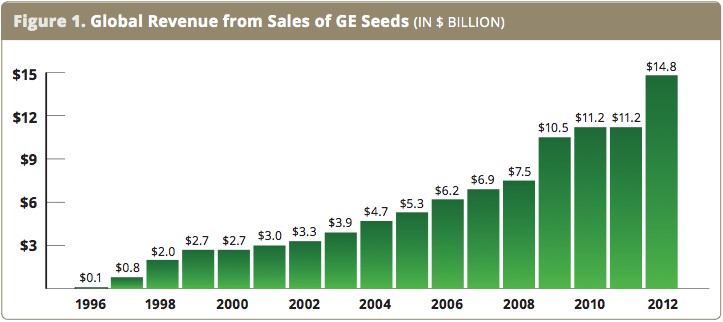 "This report provides more proof that GE food is not the silver-bullet solution it is marketed to be and that its impact on our environment and human health needs much deeper scrutiny," said Pamm Larry, Northern California director for LabelGMOs.org and the initial instigator of Proposition 37, a California ballot initiative to label genetically engineered foods that was narrowly defeated at the polls last November.
The report also examines the costs associated with GE crops and herbicide-resistant weeds. Farmers face significant costs from reduced yields and efforts to combat weed infestations, and pesticide exposure and chemical residues harm public health, the environment, wildlife and water quality.
"The current superweeds situation should serve as a wake-up call for moving agriculture off the GMO and chemical treadmill to which it is bound," said Ronnie Cummins, executive director of the Organic Consumers Association. "To do that, public research—free of private sector influence—must be funded in order to give farmers better alternatives. Dumping more and more chemicals on the problem only fuels a fire that will have devastating consequences on how we grow our food."
Disturbing footage of a snake in Goa, India vomiting an empty soft drink bottle highlights the world's mounting plastic pollution crisis.
Keep reading...
Show less
By Melissa Hellmann
When her eldest son was in elementary school in the Oakland Unified School District, Ruth Woodruff became alarmed by the meals he was being served at school. A lot of it was frozen, processed foods, packed with preservatives. At home, she was feeding her children locally sourced, organic foods.
Keep reading...
Show less
May. 28, 2017 01:33PM EST
Laurie Woolever
By James O'Hare
There are 20 million people in the world facing famine in South Sudan, Somalia, Nigeria and Yemen. In developed nations, too, people go hungry. Venezuela, for instance, is enduring food insecurity on a national level as a result of economic crisis and political corruption. In the U.S., the land of supposed excess, 12.7 percent of households were food insecure in 2015, meaning they didn't know where their next meal would come from.
Keep reading...
Show less
May. 28, 2017 01:22PM EST
Melwater, Greenland ice sheet. Diane Tuft
Artists are taking the climate crisis into frame and the results are emotional, beautiful and stirring.
So you've seen the best climate change cartoons and shared them with your friends. You've showed your family the infographics on climate change and health, infographics on how the grid works and infographics about clean, renewable energy. You've even forwarded these official National Oceanic and Atmospheric Administration graphs that explain the 10 clear indicators of climate change to your colleagues at the office.
Keep reading...
Show less
May. 27, 2017 01:11PM EST
As the Trump administration moves full speed ahead on boosting the oil and fossil fuel industry, opposition to increased pipeline construction is cropping up in different communities around the country.
Keep reading...
Show less
May. 27, 2017 01:02PM EST
Minke whale stranding near Havergate Island in Suffolk. MCGA.
By Simon Evans
Last Saturday, two dead whales washed up on the coast of Suffolk, in eastern England, and a third was spotted floating at sea.
What happened next illustrates how news can spread and evolve into misinformation, when reported by journalists rushing to publish before confirming basic facts or sourcing their own quotes.
Keep reading...
Show less
May. 27, 2017 01:22PM EST
By Monica Amarelo and Paul Pestano
Sun safety is a crucial part of any outdoor activity for kids, and sunscreen can help protect children's skin from harmful ultraviolet rays. Kids often get sunburned when they're outside unprotected for longer than expected. Parents need to plan ahead and keep sun protection handy in their cars or bags.
Keep reading...
Show less
May. 27, 2017 01:02PM EST
By Joe McCarthy
A lot of people take part in community clean-up efforts—spending a Saturday morning picking up litter in a park, mowing an overgrown field or painting a fence.
Keep reading...
Show less