This website uses cookies to ensure you get the best experience while browsing it. By clicking 'Got It' you're accepting these terms.
Genetically Engineered Crops Trigger Cycle of Superweeds and Toxic Pesticides
Jul. 01, 2013 10:48AM EST
GMO
Despite being genetically engineered (GE) with the sole purpose of helping farmers fight weeds, glyphosate-tolerant GE crops such as Monsanto's Roundup Ready corn have spurred a crisis of weed management for farmers nationwide. A report released today by Food & Water Watch analyzes the connection between the rapid proliferation of GE crops and affiliated pesticides in the U.S., and the rise of herbicide-resistant "superweeds" that have led to the steadily increasing use of more dangerous herbicides.

"For nearly 20 years, herbicide-tolerant GE crops have been marketed as a way to improve yields, lower costs for farmers and reduce agriculture's environmental impact. Not only have these claims not held up, they've backfired," said Wenonah Hauter, executive director of Food & Water Watch. "The chemical arms race that industrial agriculture is waging against weeds in this country is not working and is doing incalculable harm to our environment and human health."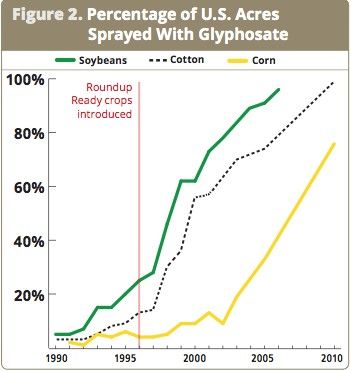 The U.S. Department of Agriculture (USDA) and Environmental Protection Agency (EPA) data on herbicide analyzed in the report shows that herbicide use on corn, cotton and soybeans has steadily grown by 26 percent in the years between 2001 and 2010. The widely used glyphosate herbicides, primarily Monsanto's Roundup Ready line, have become ineffective as the weeds develop stronger resistance due to continuous over-exposure to the chemical. As glyphosate proves to be increasingly ineffective, more farmers are turning to more dangerous herbicides including 2,4-D. Use of 2,4-D has increased since glyphosate-resistant crops became widespread, growing 90 percent between 2000 and 2012.
The report analyzes how the interdependence between the agrichemical and biotechnology industries has fueled weed resistance. It offers an overview of the worst offending weeds; the agrichemical trends used over the years since GE crops have been widely adopted; and the biotechnology companies' rush to win approval of new GE crops resistant to different combinations of more-toxic chemicals.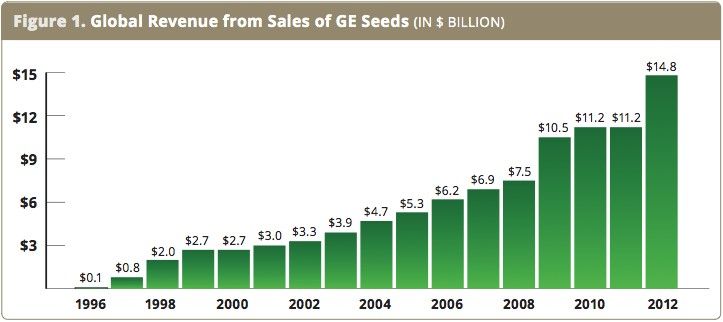 "This report provides more proof that GE food is not the silver-bullet solution it is marketed to be and that its impact on our environment and human health needs much deeper scrutiny," said Pamm Larry, Northern California director for LabelGMOs.org and the initial instigator of Proposition 37, a California ballot initiative to label genetically engineered foods that was narrowly defeated at the polls last November.
The report also examines the costs associated with GE crops and herbicide-resistant weeds. Farmers face significant costs from reduced yields and efforts to combat weed infestations, and pesticide exposure and chemical residues harm public health, the environment, wildlife and water quality.
"The current superweeds situation should serve as a wake-up call for moving agriculture off the GMO and chemical treadmill to which it is bound," said Ronnie Cummins, executive director of the Organic Consumers Association. "To do that, public research—free of private sector influence—must be funded in order to give farmers better alternatives. Dumping more and more chemicals on the problem only fuels a fire that will have devastating consequences on how we grow our food."
EcoWatch Daily Newsletter
Brazil's right-wing President Jair Bolsonaro is giving President Trump a run for his money in the alternative facts department.
Washington Gov. Jay Inslee, who made solving the climate crisis the center of his presidential campaign, is dropping out of the 2020 Democratic primary race.
Earthjustice
In April 2018, Afro-Colombian activist Francia Márquez won the prestigious Goldman Environmental Prize, thanks to her work to retake her community's ancestral territories from illegal gold mining. However, her international recognition comes at a very risky price.
By Stuart Braun
A year after activist Greta Thunberg first stood in the rain outside the Swedish parliament with her now iconic "Skolstrejk för klimatet" — school strike for the climate — placard, the movement she spawned has set the tone for environmental protest action around the world.
Bruno Vincent / Staff / Getty Images
Toy maker Hasbro wants to play in the eco-packaging game. The board game giant will ditch its plastic packaging by 2022. The move means that games like Monopoly, Scrabble and Operation will no longer have shrink wrap, window sheets, plastic bags or elastic bands, as the Associated Press reported.
Vaping impaired the circulatory systems of people in a new study. bulentumut / iStock / Getty Images Plus
A man spreads pesticides on a plantation of vegetables in Rio de Janeiro Brazil. Ze Martinusso / Moment Open / Getty Images
By Jessica Corbett
Pointing to the deaths of more than half a billion bees in Brazil over a period of just four months, beekeepers, experts and activists are raising concerns about the soaring number of new pesticides greenlighted for use by the Brazilian government since far-right President Jair Bolsonaro took office in January — and the threat that it poses to pollinators, people and the planet.
SHEALAH CRAIGHEAD
By Elliott Negin
On July 19, President Trump hosted Apollo 11 astronauts Buzz Aldrin and Michael Collins and their families, along with the family of their deceased colleague Neil Armstrong, at a White House event to commemorate the 50th anniversary of the first manned landing on the moon.