This website uses cookies to ensure you get the best experience while browsing it. By clicking 'Got It' you're accepting these terms.
Genetically Engineered Crops Trigger Cycle of Superweeds and Toxic Pesticides
Jul. 01, 2013 10:48AM EST
Despite being genetically engineered (GE) with the sole purpose of helping farmers fight weeds, glyphosate-tolerant GE crops such as Monsanto's Roundup Ready corn have spurred a crisis of weed management for farmers nationwide. A report released today by Food & Water Watch analyzes the connection between the rapid proliferation of GE crops and affiliated pesticides in the U.S., and the rise of herbicide-resistant "superweeds" that have led to the steadily increasing use of more dangerous herbicides.

"For nearly 20 years, herbicide-tolerant GE crops have been marketed as a way to improve yields, lower costs for farmers and reduce agriculture's environmental impact. Not only have these claims not held up, they've backfired," said Wenonah Hauter, executive director of Food & Water Watch. "The chemical arms race that industrial agriculture is waging against weeds in this country is not working and is doing incalculable harm to our environment and human health."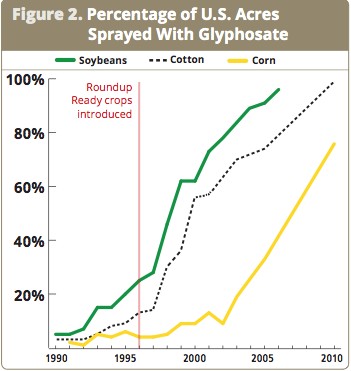 The U.S. Department of Agriculture (USDA) and Environmental Protection Agency (EPA) data on herbicide analyzed in the report shows that herbicide use on corn, cotton and soybeans has steadily grown by 26 percent in the years between 2001 and 2010. The widely used glyphosate herbicides, primarily Monsanto's Roundup Ready line, have become ineffective as the weeds develop stronger resistance due to continuous over-exposure to the chemical. As glyphosate proves to be increasingly ineffective, more farmers are turning to more dangerous herbicides including 2,4-D. Use of 2,4-D has increased since glyphosate-resistant crops became widespread, growing 90 percent between 2000 and 2012.
The report analyzes how the interdependence between the agrichemical and biotechnology industries has fueled weed resistance. It offers an overview of the worst offending weeds; the agrichemical trends used over the years since GE crops have been widely adopted; and the biotechnology companies' rush to win approval of new GE crops resistant to different combinations of more-toxic chemicals.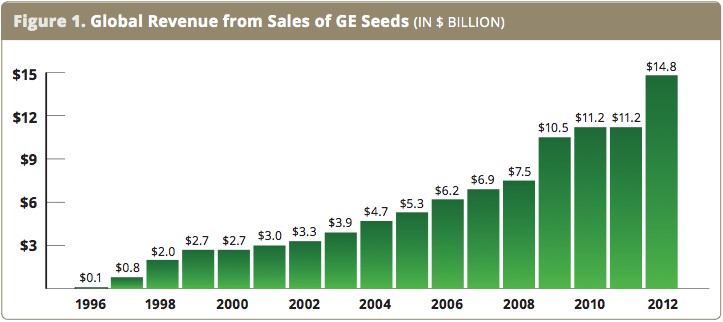 "This report provides more proof that GE food is not the silver-bullet solution it is marketed to be and that its impact on our environment and human health needs much deeper scrutiny," said Pamm Larry, Northern California director for LabelGMOs.org and the initial instigator of Proposition 37, a California ballot initiative to label genetically engineered foods that was narrowly defeated at the polls last November.
The report also examines the costs associated with GE crops and herbicide-resistant weeds. Farmers face significant costs from reduced yields and efforts to combat weed infestations, and pesticide exposure and chemical residues harm public health, the environment, wildlife and water quality.
"The current superweeds situation should serve as a wake-up call for moving agriculture off the GMO and chemical treadmill to which it is bound," said Ronnie Cummins, executive director of the Organic Consumers Association. "To do that, public research—free of private sector influence—must be funded in order to give farmers better alternatives. Dumping more and more chemicals on the problem only fuels a fire that will have devastating consequences on how we grow our food."
Plus, learn if there's one that's best for your health.
Catherine Falls Commercial / Moment / Getty Images
An invasive Amynthas worm, also known as a crazy snake worm, Asian jumping worm and Alabama jumper Tom Potterfield / Flickr
By Jason Bittel
My wife and I built a house two years ago on a few acres of woodland outside of Pittsburgh. The backyard is full of maples, poplars, briars and common spicebush. Two-lined salamanders and grumpy-looking crayfish wade among the rocks in the small stream that runs down the edge of the property. Deer, raccoon and opossum tracks appear regularly in the snow and mud. Sometimes, my trail-cam even catches a pair of gray foxes as they slink through the night.
AleksandarNakic / Getty Images
By Kate Murphy
No matter the time of year, there's always a point in each season when my skin decides to cause me issues. While these skin issues can vary, I find the most common issues to be dryness, acne and redness.

David Woodfall / The Image Bank / Getty Images
By Sam Nickerson
The U.S. Environmental Protection Agency (EPA) in April 2018 proposed relaxing standards related to how it assesses the effects of exposure to low levels of toxic chemicals on public health.
Now, correspondence obtained by the LA Times revealed just how deeply involved industry lobbyists and a controversial, industry-funded toxicologist were in drafting the federal agency's proposal to scrap its current, protective approach to regulating toxin exposure.
Steve Irwin poses with a three foot long alligator at the San Francisco Zoo on June 26, 2002. Justin Sullivan / Getty Images
February 22 is the birthday of conservationist and beloved TV personality "Crocodile Hunter" Steve Irwin, who would have been 57 years old today.
Irwin's life was tragically cut short when the barb from a stingray went through his chest while he was filming in 2006, but his legacy of loving and protecting wildlife lives on, most recently in a Google Doodle today honoring his birthday.