This website uses cookies to ensure you get the best experience while browsing it. By clicking 'Got It' you're accepting these terms.
GE Wheat Controversy: Further Proof GE Crops are Uncontrollable
May. 31, 2013 09:41AM EST
GMO
By Janet Cotter and Eric Darier
Shockwaves are being felt across the world's wheat markets following the first-ever discovery of unauthorized genetically engineered (GE) wheat growing on a U.S. farm—a development that gives further proof that GE crops cannot be controlled.
The discovery of Monsanto's GE wheat, confirmed by U.S. authorities, sparked alarm among Washington D.C.'s trading nations, pushed wheat prices lower and is threatening U.S. exports. It should not be seen, however, as totally unexpected.
The GE wheat is a herbicide tolerant wheat (probably MON 71800) that Monsanto tested in fields across 16 states between 1998 and 2005. The wheat was never authorized and never commercialized because Monsanto withdrew its application in May 2004 following massive global opposition from farmers, consumers and environmentalists.
So what happened between the last field tests in 2005 and the announcement of a contamination in Oregon eight years later? How did it get there? Who is responsible? Who will pay for the decontamination? Is the contamination limited to one farmer's field in Oregon or is it only the tip of the iceberg of a wider problem? Will Canada, where the GE wheat was also tested, be affected by the contamination?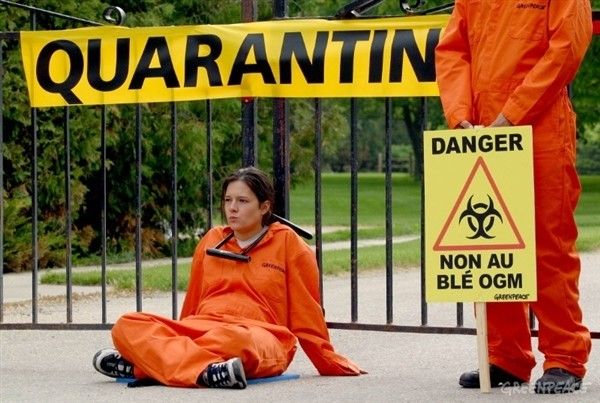 About 90 percent of Oregon wheat production is exported mainly to Asian countries. This contamination will hit commodity trade as more Asian governments start testing for GE contamination and require guarantees from the U.S. (and possibly from Canada) that wheat imports are not contaminated with this GE wheat. According to figures from the U.S. Wheat Associates, out of the 11.4 million tons of wheat exported by Oregon, 50 percent is sold to East Asia (China, Japan and South Korea), 28 percent to South East Asia, nine percent to Latin America and nine percent to the Middle East.
Greenpeace and other nongovernmental organizations have been warning about contamination of our food and the environment from GE crops for several years. GE contamination threatens farmers' incomes and consumer choice. It can threaten the environment and pose risks to human health.
There have been already too many incidents of contamination in the past and GE contamination is simply not worth the risk.
U.S. authorities claim that this GE wheat is "safe" based on what Monsanto told them; that "this wheat variety is not materially different in composition, safety or any other relevant parameter from wheat now grown, marketed and consumed." But why should they trust Monsanto, which has great commercial interests at stake, to provide rigorous and impartial scientific data on its own product? It looks like a case of the fox guarding the hen house.
The developers of GE wheat and government authorities have repeatedly said that GE wheat will not contaminate conventional or organic wheat because it is predominantly self-pollinating—the pollen does not spread very far, unlike cross-pollinating crops such as maize and oilseed rape.
Despite this, contamination from GE wheat has happened. Like other GE contamination, the route of contamination isn't clear. For example, Bayer said the massive contamination of U.S. rice in 2006 with an unapproved, experimental variety of rice called LL601 was an "act of God."
Early this year the European Environmental Agency (EAA) published a report, Late lessons from Early Warnings: Science, Precaution, Innovation, that documented "how damaging and costly the misuse or neglect of the precautionary principle can be." The EEA reviewed extensively the problems with GE crops as obstacles to and a distraction from ecological farming solutions.
The Monsanto GE wheat contamination shows again that governments and industry measures to prevent contamination are failing. The only permanent solution is to immediately ban the field testing of GE crops.
More fundamentally, the world urgently needs to switch to ecological farming and get out of the chemical heavy, GE industrial agriculture treadmill and the environmental risks it represents.
Visit EcoWatch's GENETICALLY ENGINEERED FOODS page for more related news on this topic.
EcoWatch Daily Newsletter
Oil palm plantations in northeastern Borneo, state of Sabah, Malaysia. Recently planted oil palms can be seen in the bright green grassy areas and a tiny bit of natural rainforest still struggles for survival farther away. Vaara / E+ / Getty Images
A fuel truck carries fuel into a fracking site past the warning signs Jan. 27, 2016 near Stillwater, Oklahoma. J Pat Carter / Getty Images
By Jessica Corbett
For more than three decades, the U.S. government has mismanaged toxic oil and gas waste containing carcinogens, heavy metals and radioactive materials, according to a new Earthworks report — and with the country on track to continue drilling and fracking for fossil fuels, the advocacy group warns of growing threats to the planet and public health.
European Union blue and gold flags flying at the European Commission building in Brussels, Belgium. 35007/ iStock / Getty Images Plus
Newly adopted guidelines set forth by the European Commission Tuesday aim to tackle climate change by way of the financial sector. The move comes to bolster the success of the Sustainable Action Plan published last year to reorient capital flows toward sustainable investment and manage financial risks from climate change, environmental degradation and social issues.
Prime Minister Justin Trudeau delivering remarks to supporters at a Liberal Climate Action Rally in Toronto, Ontario on March 4. Arindam Shivaani / NurPhoto / Getty Images
Canadian Prime Minister Justin Trudeau announced Tuesday that his government would once again approve the expansion of the Trans Mountain pipeline, which would triple the amount of oil transported from Alberta's tar sands to the coast of British Columbia (BC).
An exhausted polar bear wanders the streets of Norilsk, a Siberian city hundreds of miles from its natural habitat. IRINA YARINSKAYA / AFP / Getty Images

An exhausted, starving polar bear has been spotted wandering around the Siberian city of Norilsk, Reuters reported Tuesday. It is the first time a polar bear has entered the city in more than 40 years.
Bumblebees flying and pollinating a creeping thyme flower. emeliemaria / iStock / Getty Images
It pays to pollinate in Minnesota.