This website uses cookies to ensure you get the best experience while browsing it. By clicking 'Got It' you're accepting these terms.
GE French Fries, Coming to a Fast Food Restaurant Near You
Jun. 12, 2013 10:42AM EST
Health + Wellness
By Genna Reed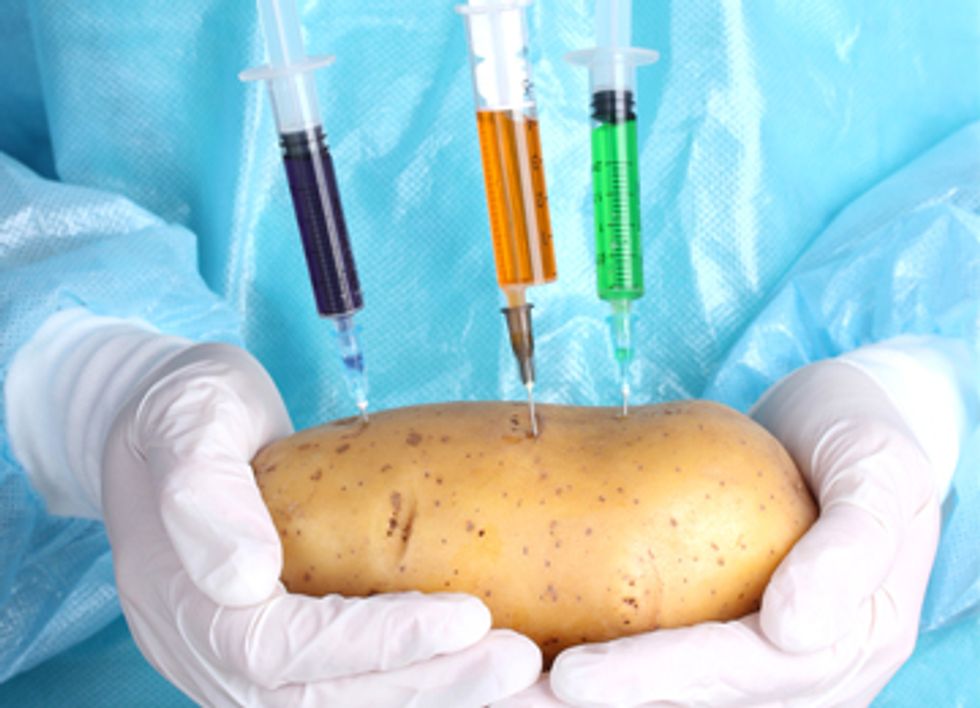 Photo courtesy of Shutterstock
The J.R. Simplot Company, giant potato supplier for McDonald's, has spent years working on the perfect potato. Its new genetically engineered (GE) traits—which will be offered in five different varieties of potatoes—up for approval by the U.S. Department of Agriculture (USDA) has lower levels of a carbohydrate called acrylamide, which may cause cancer, and also has reduced black spot bruising. These potatoes will be used as frozen fries, potato chips and shoestrings, which make up approximately 50 percent of the potato market in the U.S., according to Simplot.
Both of the desired traits are achieved through the reduced expression of enzymes, affecting the amino acid asparagine for the low acrylamide trait and the enzyme polyphenol oxidase (PPO) for reduced bruising (the same way GE apples have been engineered not to brown). The problem is that an alteration in just one enzyme can unintentionally affect other plant characteristics as well as the plant's health.
These GE potatoes will likely be fried using Monsanto's new-and-improved omega-3 soybean oil, which will probably be marketed to lead consumers to believe that the bio-engineered combination is "healthy" fried food. A low-acrylamide potato may reduce levels of just one of the harmful chemicals brought out by frying foods but there are other dangerous compounds that are produced when food is heated to very high temperatures, including advanced glycation endproducts, or AGEs, which can lead to "chronic inflammation and oxidative stress," (also linked to cancer). And of course this new fried "goodness" doesn't address the high-calorie and low-nutrient content that make fried potatoes unhealthy in the first place.
Historically, GE potatoes have not fared so well in the marketplace. Monsanto's NewLeaf GE potatoes were approved in 1995, but the company pulled its potatoes from the market in 2001. If approved, these potatoes may face the same fate and never make it into happy meals across America. But these potatoes could also be exported, since Simplot has submitted its petition for approval to Canada, Mexico, Japan and South Korea.
The USDA will be seeking comments until July 2 and we intend to tell them to further review the potential health effects of these GE potatoes.
Visit EcoWatch's GE FOOD page for more related news on this topic.

EcoWatch Daily Newsletter
A Starbucks barista prepares a drink at a Starbucks Coffee Shop location in New York. Ramin Talaie / Corbis via Getty Images
By Cathy Cassata
Are you getting your fill of Starbucks' new Almondmilk Honey Flat White, Oatmilk Honey Latte, and Coconutmilk Latte, but wondering just how healthy they are?
By Sharon Kelly
Back in April last year, the Trump administration's Environmental Protection Agency decided it was "not necessary" to update the rules for toxic waste from oil and gas wells. Torrents of wastewater flow daily from the nation's 1.5 million active oil and gas wells and the agency's own research has warned it may pose risks to the country's drinking water supplies.
Swedish climate activist Greta Thunberg takes part in a "Friday for Future" youth demonstration in a street of Davos on Jan. 24, 2020 on the sideline of the World Economic Forum annual meeting. FABRICE COFFRINI / AFP via Getty Images
Treasury Secretary Steven Mnuchin pretended not to know who Greta Thunberg is, and then he told her to get a degree in economics before giving world leaders advice, as The Guardian reported.
The Visible Infrared Imaging Radiometer Suite on the Suomi NPP satellite acquired this image of forest fire smoke hovering over North America on Aug. 15, 2018. NASA Earth Observatory
New York City isn't known for having the cleanest air, but researchers traced recent air pollution spikes there to two surprising sources — fires hundreds of miles away in Canada and the southeastern U.S.
If temperatures continue to rise, the world is at risk from global
sea-level rise
, which will flood many coastal cities as seen above in Bangladesh. NurPhoto / Contributor / Getty Images
The mounting climate emergency may spur the next global financial crisis and the world's central banks are woefully ill equipped to handle the consequences, according to a new book-length report by the Bank for International Settlements (BIS), as S&P Global reported. Located in Basel, Switzerland, the BIS is an umbrella organization for the world's central banks.