This website uses cookies to ensure you get the best experience while browsing it. By clicking 'Got It' you're accepting these terms.
GE Contamination Found in Washington Alfalfa
Sep. 12, 2013 08:06AM EST
Food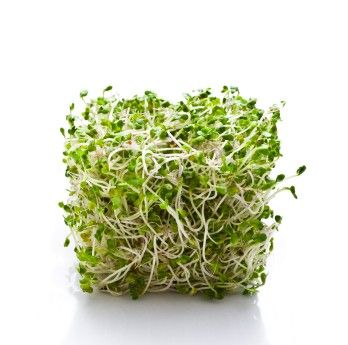 An export shipment of alfalfa from Washington State was rejected after the shipment tested positive for contamination from genetically engineered (GE), herbicide-resistant alfalfa. The news follows on the heels of yet another contamination episode involving GE wheat in Oregon, highlighting the inadequacy of the U.S. regulatory structure for GE crops. Like the vast majority of all GE crops, both of the contaminating GE crops are engineered by Monsanto to be resistant to its herbicide, Roundup.
"For nearly a decade, Center for Food Safety has vigorously opposed the introduction of GE alfalfa, precisely because it was virtually certain to contaminate natural alfalfa, among other severe environmental and economic harms," said Andrew Kimbrell, executive director for Center for Food Safety (CFS). "We warned this administration and the industry repeatedly of the significant risk to farmers and the environment. Tragically, neither listened, and this latest contamination is the result of that negligence." 
At stake is the alfalfa export market, which is the primary supplier to countries like Japan, Saudi Arabia and other countries who prohibit and/or require labeling of genetically engineered foods. In 2012, the alfalfa market was valued at $1.25 billion and has been growing steadily.
When the U.S. Department of Agriculture (USDA) first proposed commercial approval of GE alfalfa in 2006, CSF successfully challenged the ill-advised decision in court, and succeeded in getting its planting halted, even though Monsanto appealed the case all the way to the U.S. Supreme Court, through 2010. That Supreme Court decision, the first ever on any GE crop, left the ban on planting in place. 
Because of CFS's case, the USDA was forced under court order to rigorously analyze GE alfalfa's impacts on farmers and the environment; remarkably, it was the first time the agency had ever conducted such analysis, for any GE crop, in 17 years of approving them.
The USDA's own review concluded that GE alfalfa, unless restricted, would contaminate natural alfalfa, causing the loss of U.S. export markets, as well as dramatically increase pesticide use and drive the rise of Roundup-resistant superweeds. In December 2010, the Obama administration proposed limiting GE alfalfa to restricted planting zones to prevent contamination; however, in January 2011, under tremendous industry pressure, the agency did a complete about-face and again approved the crop without protections.
The administration relied heavily on industry assurances that its "best practices" would prevent GE contamination from occurring, despite the overwhelming scientific evidence to the contrary. CFS has again challenged that decision in court, however, earlier this year a federal appellate court said the USDA had not violated the law in its decision.
"This is the beginning of a crisis that was foreseeable and preventable," Kimbrell continued. "In order to sell more herbicides and patented seeds, corporations have threatened the livelihood of farmers, exporters and businesses that rely on natural alfalfa. CFS will continue to do everything it can to protect organic and conventional farmers, dairymen, and the public from this threat."
Alfalfa Background
GE "Roundup Ready" alfalfa is the first engineered perennial crop, meaning it remains in the ground for three-six years and is widely prevalent in wild or feral form throughout America. Because alfalfa is pollinated by bees that can fly and cross-pollinate between fields and feral sources many miles apart, GE alfalfa is likely to irreparably contaminate natural alfalfa varieties. 
Known as the "queen of forages," alfalfa is the key feedstock for the dairy industry. GE contamination will cause organic dairies to lose their source of organic feed, a requirement for organic dairy, including milk and yogurt products. The organic sector is the most vibrant segment of U.S. agriculture, now a $26 billion a year industry and growing 20 percent annually.
The USDA data show that 90 percent of all the alfalfa planted by farmers in the U.S. was previously grown without the use of any herbicides. Due to the planting of GE alfalfa the USDA estimates that up to 23 million more pounds of toxic herbicides will be released into the environment each year.
Visit EcoWatch's GE FOOD page for more related news on this topic.

EcoWatch Daily Newsletter

georgeclerk / E+ / Getty Images
By Jennifer Molidor
One million species are at risk of extinction from human activity, warns a recent study by scientists with the United Nations. We need to cut greenhouse gas pollution across all sectors to avoid catastrophic climate change — and we need to do it fast, said the Intergovernmental Panel on Climate Change.
This research should serve as a rallying cry for polluting industries to make major changes now. Yet the agriculture industry continues to lag behind.
Edwin Remsburg / VW Pics / Getty Images
Botswana, home to one third of Africa's elephants, announced Wednesday that it was lifting its ban on the hunting of the large mammals.
"The Ministry of Environment, Natural Resources Conservation and Tourism wishes to inform the public that following extensive consultations with all stakeholders, the Government of Botswana has taken a decision to lift the hunting suspension," the government announced in a press release shared on social media.
Pxhere
By Richard Denison
Readers of this blog know how concerned EDF is over the Trump EPA's approval of many dozens of new chemicals based on its mere "expectation" that workers across supply chains will always employ personal protective equipment (PPE) just because it is recommended in the manufacturer's non-binding safety data sheet (SDS).
By Grant Smith
From 2009 to 2012, Gregory Jaczko was chairman of the Nuclear Regulatory Commission, which approves nuclear power plant designs and sets safety standards for plants. But he now says that nuclear power is too dangerous and expensive — and not part of the answer to the climate crisis.
A lake in Rocky Mountain National Park. Brett Walton / Circle of Blue
By Brett Walton
When Greg Wetherbee sat in front of the microscope recently, he was looking for fragments of metals or coal, particles that might indicate the source of airborne nitrogen pollution in Rocky Mountain National Park. What caught his eye, though, were the plastics.
Gabriele Holtermann Gorden / Pacific Press / LightRocket / Getty Images
In a big victory for animals, Prada has announced that it's ending its use of fur! It joins Coach, Jean Paul Gaultier, Giorgio Armani, Versace, Ralph Lauren, Vivienne Westwood, Michael Kors, Donna Karan and many others PETA has pushed toward a ban.
This is a victory more than a decade in the making. PETA and our international affiliates have crashed Prada's catwalks with anti-fur signs, held eye-catching demonstrations all around the world, and sent the company loads of information about the fur industry. In 2018, actor and animal rights advocate Pamela Anderson sent a letter on PETA's behalf urging Miuccia Prada to commit to leaving fur out of all future collections, and the iconic designer has finally listened.
Amer Ghazzal / Barcroft Media / Getty Images
If people in three European countries want to fight the climate crisis, they need to chill out more.
That's the conclusion of a new study from think tank Autonomy, which found that Germany, the UK and Sweden all needed to drastically reduce their workweeks to fight climate change.
Amazon Employees for Climate Justice held a press conference after the annual shareholder meeting on May 22. Amazon Employees for Climate Justice