This website uses cookies to ensure you get the best experience while browsing it. By clicking 'Got It' you're accepting these terms.
G20 Leaders—Cut Fossil Fuel Subsidies and Kick-Start Climate Fund
Nov. 03, 2011 09:36AM EST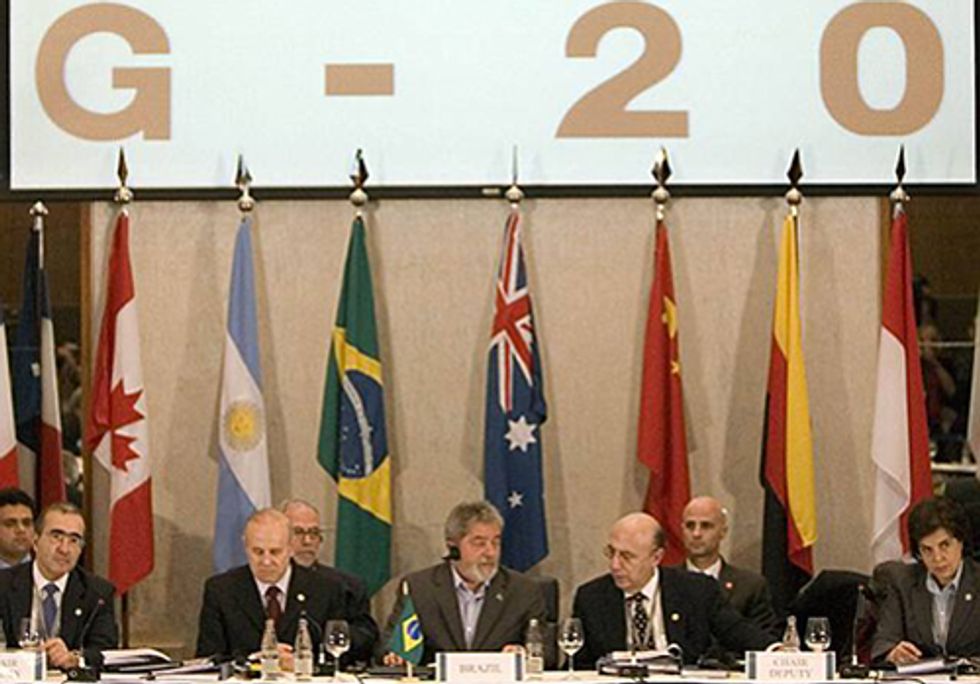 Greenpeace challenged the Group of Twenty (G20) leaders Nov. 2 attending the summit in Cannes to deliver on their pledge1 to cut fossil fuel subsidies and instead invest in green jobs, in response to the current global financial, economic and environmental crisis.
A World Bank report prepared for the G202 shows that if developed countries3 transferred $10 billion from fossil fuel subsidies to climate finance, this could kick start the $100 billion Green Climate Fund and pay for real solutions that cut emissions, create jobs and help the most vulnerable countries adapt to climate change. This $10 billion funding would represent only 20 percent of the current spend on climate-destroying subsidies.
"G20 leaders must deliver on their 2009 pledge by setting a clear timetable for cutting fossil fuel subsidies," said Patricia Lerner, Greenpeace International Senior Political Advisor. "Instead of lining the pockets of oil companies during a time of financial crisis, this is an opportunity for world leaders to act in the interests of the people instead of polluting corporations."
Greenpeace is calling on the G20 to formulate a timetable for the phase-out of fossil fuel production subsidies. The consumption subsidy reforms required for this phase-out need to be delivered through socially just transition plans, designed to protect the poor in developing countries.
The international environmental organization also issued a checklist4 Nov. 2 of four key criteria for a successful G20, calling on leaders to honor their promises to protect their citizens from the climate crisis, which will make the current economic crisis look small, if leaders fail to act decisively to prevent catastrophic climate change.
"Time is of the essence for bailing out the climate," Lerner added. "With just weeks to go before the climate summit in Durban, governments must show that the G20 can be a calming force for both the world economy and climate, by cutting polluting subsidies and shifting that money to create the green jobs and climate protection investments the world so urgently needs."
Greenpeace is an independent global campaigning organization that acts to change attitudes and behaviour, to protect and conserve the environment and to promote peace.
For more information, click here.
—————
Notes:
1The G20 leaders pledged to cut fossil fuel subsidies at their Pittsburgh meeting in 2009.
2Mobilizing Climate Finance, a Paper prepared at the request of G20 Finance Ministers, September 19, 2011.
3The OECD estimated the annual consumption and production subsidies of the 27 EU member states, Australia, Canada, Iceland, Japan, New Zealand, Norway, Switzerland and the U.S. amounted to about $40-60 billion per year in 2005-2010.
4Greenpeace G20 checklist available here.
EcoWatch Daily Newsletter
General view of the empty Alma bridge, in front of the Eiffel tower, while the city imposes emergency measures to combat the Coronavirus COVID-19 outbreak, on March 17, 2020 in Paris, France. Edward Berthelot / Getty Images
Half the world is on lockdown. So, the constant hum of cars, trucks, trains and heavy machinery has stopped, drastically reducing the intensity of the vibrations rippling through the Earth's crust. Seismologists, who use highly sensitive equipment, have noticed a difference in the hum caused by human activity, according to Fast Company.
The current rate of CO2 emissions is a major event in the recorded history of Earth. EPA
At several points in the history of our planet, increasing amounts of carbon dioxide in the atmosphere have caused extreme global warming, prompting the majority of species on Earth to die out.
The "Earthrise" photograph that inspired the first Earth Day. NASA / Bill Anders
For EcoWatchers, April usually means one thing: Earth Day. But how do you celebrate the environment while staying home to prevent the spread of the new coronavirus?
Animal rights activists try to save dogs at a free market ahead of the Yulin Dog Eating Festival in Yulin city, south China's Guangxi Zhuang Autonomous Region on June 21, 2014. Jie Zhao / Corbis via Getty Images
The Great Barrier Reef, where record-high sea temperatures in February caused its most widespread coral bleaching event. JAYNE JENKINS / CORAL REEF IMAGE BANK
Tropical coral reefs are at a critical tipping point, and we've pushed them there, scientists say. Climate change may now cause previously rare, devastating coral bleaching events to occur in tropical coral reefs around the globe on a 'near-annual' basis, reported The Guardian.