This website uses cookies to ensure you get the best experience while browsing it. By clicking 'Got It' you're accepting these terms.
Full-Throttle Battle Underway to Stop Coal Chute to China
Dec. 19, 2012 09:35PM EST
Energy
By Jules Boykoff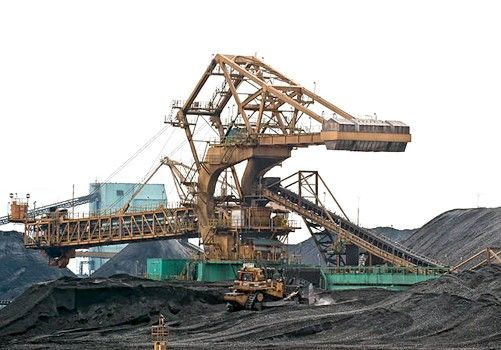 The U.S. coal industry's wants to convert the western U.S. into a railroad and barge pipeline for coal mined in Montana and Wyoming and hauled along the Columbia River to the Pacific Ocean for export to China and elsewhere. Photo by Paul K. Anderson 2012 – paulkanderson.com
In the Pacific Northwest, activists and their allies are ramping up for a full-throttle battle over a proposal to haul coal across the west for export to China. Big Coal's latest master plan promises to generate a second epicenter of climate-change resistance—our very own Keystone XL pipeline showdown.
With coal prices plummeting, thanks in large part to the spike in natural gas use, coal barons are desperate to offload their lucre. Showing ever-greater verve, they're dumping it in overseas markets, especially China. The U.S. Energy Information Administration projects U.S. coal exports will hit an all-time high in 2012—some 125 to 133 million tons—more than doubling 2009 export levels and surpassing a record set in 1981.
When it comes to climate disruption, these are ghastly numbers. After all, 2012 looks like it'll be the hottest year on record for the contiguous U.S. The year brought devastating drought and catastrophic storms. While we can't peg any single weather event to climate change, this is precisely the sort of climate seesaw scientists have predicted. Meanwhile, the Arctic suffered record losses in sea ice and snow cover. And globally, 2012 is on course to become the ninth hottest year ever. Revving up coal consumption—the dirtiest of fossil fuels—is not going to help matters, to say the least.
That's where the Pacific Northwest enters the picture. This month the Oregon Department of Environmental Quality (DEQ) staged what may well be the only public meetings on the permitting process for the U.S. coal industry's hail-Mary moment: to convert the western U.S. into a railroad and barge pipeline for coal mined in Montana and Wyoming and hauled along the Columbia River to the Pacific Ocean for export to China and elsewhere.
This Morrow-Pacific coal export proposal—which is being pushed by Australia-based Ambre Energy—will annually ship overseas nearly nine million tons of coal. The plan has dredged up blistering opposition. The Sierra Club—buoyed by New York Mayor Michael Bloomberg's donation of $50 million last year—has made it a centerpiece of its Beyond Coal campaign. Groups like Columbia Riverkeeper and the Power Past Coal coalition have rallied locals to the cause. The Yakama Nation, Lummi Nation and other Native American tribes in the Pacific Northwest have challenged the proposal's logic and merit. The Affiliated Tribes of Northwest Indians demanded a comprehensive environmental impact assessment while the Columbia River Inter-Tribal Fish Commission questioned the wisdom of hauling coal through at-risk waterways, which could undercut the tribes' treaty rights.
More than 800 people packed the meeting hall in Portland. Just before the event commenced, Cesia Kearns, a Sierra Club campaign representative, told me, "Coal is the culprit on climate change. If we continue to burn coal at current levels, much less increase them, we'll have no hope of turning climate change around."
This sentiment was shared by many people who asked questions or provided public comment. They interrogated DEQ about air pollution from open-topped trainloads of coal. They quizzed officials on the hazards the project could cause for salmon runs and other wildlife in the region. They asked about the effects additional coal-burning would have on climate change. And they pressed officials about the literal blowback that could emerge: coal burned in China produces mercury that wafts back to the Pacific Northwest.
Although the DEQ web site states, "The effects of climate change have serious implications for Oregon's economy and environment," you wouldn't know it from the remarks of their representatives on hand. DEQ officials squirmed left and right, claiming only a splinter-sized purview. Those in attendance openly guffawed at their egregious evasions. DEQ project managers repeatedly asserted that an array of topics—from the transport of coal to the proposal's effects on the climate—was "outside the scope" of their narrow remit. This was met with a sea of Occupy-style frowny fingers and occasional bellows of disapproval. With each outburst, the moderator threatened to shut down the entire meeting.
One couldn't help but walk away from the meeting with the feeling that the DEQ's fluffy banter about "meeting the challenge of climate change head-on" was a greenwash. The willingness of officials to take the company's emissions estimates at face value was alarming, their skirting of the issues was appalling. Each stiff-lipped response telegraphed approval for the proposal—you could almost see Ambre Energy's application slithering through the overlapping patchwork of jurisdiction, which DEQ officials used as an alibi for deflecting their responsibilities.
What also became clear at the public meeting is that activists are embracing the grubby struggle to keep western coal in the ground. If this coal is scraped from the earth and shipped overseas, it's a climate game-changer. DEQ has until the end of February to make permitting determinations—and they could always be trumped by the U.S. Army Corps of Engineers, which is also weighing permits for the project. But activists are already talking about Plan B.
Campaigners are not going to step aside while fossil-fuel bigwigs transmogrify the Columbia River into a gargantuan coal chute to China. One activist from Occupy Portland told me if the permits are granted and Big Coal's dream comes true, spikier tactics will emerge to gum up the gears. Climate mavens pay heed—this is shaping up to be the left coast Keystone. The direct-action battle may soon have another front.
Jules Boykoff is Associate Professor and Department Chair at Pacific University's Department of Politics and Government. You can follow Jules on Twitter at @JulesBoykoff.
Visit EcoWatch's COAL EXPORTS page for more related news on this topic.
——–
Click here to sign stop coal exports.

EcoWatch Daily Newsletter
Eduardo Velev cools off in the spray of a fire hydrant during a heatwave on July 1, 2018 in Philadelphia. Jessica Kourkounis / Getty Images
By Adrienne L. Hollis
Because extreme heat is one of the deadliest weather hazards we currently face, Union of Concerned Scientist's Killer Heat Report for the U.S. is the most important document I have read. It is a veritable wake up call for all of us. It is timely, eye-opening, transparent and factual and it deals with the stark reality of our future if we do not make changes quickly (think yesterday). It is important to ensure that we all understand it. Here are 10 terms that really help drive home the messages in the heat report and help us understand the ramifications of inaction.
Senator Graham returns after playing a round of golf with Trump on Oct. 14, 2017 in Washington, DC. Ron Sachs – Pool / Getty Images
Lindsey Graham, the South Carolina Senate Republican who has been a close ally of Donald Trump, did not mince words last week on the climate crisis and what he thinks the president needs to do about it.
Golde Wallingford submitted this photo of "Pure Joy" to EcoWatch's first photo contest. Golde Wallingford
EcoWatch is pleased to announce our third photo contest!

A small Bermuda cedar tree sits atop a rock overlooking the Atlantic Ocean. todaycouldbe / iStock / Getty Images Plus
By Marlene Cimons
Kyle Rosenblad was hiking a steep mountain on the island of Maui in the summer of 2015 when he noticed a ruggedly beautiful tree species scattered around the landscape. Curious, and wondering what they were, he took some photographs and showed them to a friend. They were Bermuda cedars, a species native to the island of Bermuda, first planted on Maui in the early 1900s.
krisanapong detraphiphat / Moment / Getty Images
By Grace Francese
You may know that many conventional oat cereals contain troubling amounts of the carcinogenic pesticide glyphosate. But another toxic pesticide may be contaminating your kids' breakfast. A new study by the Organic Center shows that almost 60 percent of the non-organic milk sampled contains residues of chlorpyrifos, a pesticide scientists say is unsafe at any concentration.
The compound of German chemicals and pharmaceuticals giant Bayer in Berlin. ODD ANDERSEN / AFP / Getty Images
U.S. District Judge Vince Chhabria announced his ruling in San Francisco on Monday.
A Masai giraffe and sunset at Masai Mara National Reserve in Kenya. Ayzenstayn / Moment / Getty Images
Another subspecies of giraffe is now officially endangered, conservation scientists announced Thursday.
Trump shakes hands with EPA Administrator Scott Pruitt after announcing his decision for the U.S. to pull out of the Paris agreement on June 1, 2017. Win McNamee / Getty Images