This website uses cookies to ensure you get the best experience while browsing it. By clicking 'Got It' you're accepting these terms.
Full Planet, Empty Plates: The Geopolitics of Food Scarcity
Mar. 13, 2014 08:32AM EST
Climate

As food supplies have tightened, a new geopolitics of food has emerged—a world in which the global competition for land and water is intensifying and each country is fending for itself. We cannot claim that we are unaware of the trends that are undermining our food supply and thus our civilization. We know what we need to do.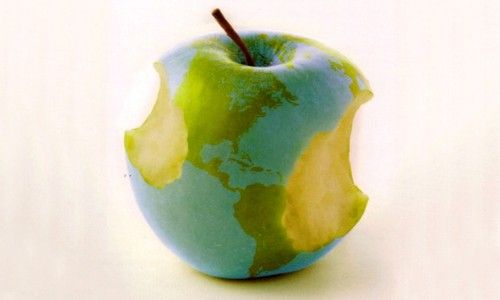 On the demand side of the food equation, there are four pressing needs—to stabilize world population, eradicate poverty, reduce excessive meat consumption and reverse biofuels policies that encourage the use of food land, or water that could otherwise be used to feed people. Photo credit: Earth Policy Institute
There was a time when if we got into trouble on the food front, ministries of agriculture would offer farmers more financial incentives, like higher price supports, and things would soon return to normal. But responding to the tightening of food supplies today is a far more complex undertaking. It involves the ministries of energy, water resources, transportation, and health and family planning, among others. Because of the looming specter of climate change that is threatening to disrupt agriculture, we may find that energy policies will have an even greater effect on future food security than agricultural policies do. In short, avoiding a breakdown in the food system requires the mobilization of our entire society. 
On the demand side of the food equation, there are four pressing needs—to stabilize world population, eradicate poverty, reduce excessive meat consumption and reverse biofuels policies that encourage the use of food land, or water that could otherwise be used to feed people. We need to press forward on all four fronts at the same time.
The world needs to focus on filling the gap in reproductive health care and family planning while working to eradicate poverty. Progress on one will reinforce progress on the other. Two cornerstones of eradicating poverty are making sure that all children—both boys and girls—get at least an elementary school education and rudimentary health care. And the poorest countries need a school lunch program, one that will encourage families to send children to school and that will enable them to learn once they get there.
At the other end of the food spectrum, a large segment of the world's people are consuming animal products at a level that is unhealthy and contributing to obesity and cardiovascular disease. The good news is that when the affluent consume less meat, milk and eggs, it improves their health. When meat consumption falls in the U.S., as it recently has, this frees up grain for direct consumption. Moving down the food chain also lessens pressure on the Earth's land and water resources. In short, it is a win-win-win situation.
Another initiative, one that can quickly lower food prices, is the cancellation of biofuel mandates. There is no social justification for the massive conversion of food into fuel for cars. With plug-in hybrids and all-electric cars coming to market that can run on local wind-generated electricity at a gasoline-equivalent cost of 80¢ per gallon, why keep burning costly fuel at four times the price? 
On the supply side of the food equation, we face several challenges, including stabilizing climate, raising water productivity, and conserving soil. Stabilizing climate is not easy, but it can be done if we act quickly. It will take a huge cut in carbon emissions, some 80 percent within a decade, to give us a chance of avoiding the worst consequences of climate change. This means a wholesale restructuring of the world energy economy.
The easiest way to do this is to restructure the tax system. The market has many strengths, but it also has some dangerous weaknesses. It readily captures the direct costs of mining coal and delivering it to power plants. But the market does not incorporate the indirect costs of fossil fuels in prices, such as the costs to society of global warming. Sir Nicholas Stern, former chief economist at the World Bank, noted when releasing his landmark study on the costs of climate change that climate change was the product of a massive market failure.
The goal of restructuring taxes is to lower income taxes and raise carbon taxes so that the cost of climate change and other indirect costs of fossil fuel use are incorporated in market prices. If we can get the market to tell the truth, the transition from coal and oil to wind, solar and geothermal energy will move very fast. If we remove the massive subsidies to the fossil fuel industry, we will move even faster.
Along with stabilizing climate, another key component to avoiding a breakdown in the food system is to raise water productivity. This could be patterned after the worldwide effort launched over a half-century ago to raise cropland productivity. This extraordinarily successful earlier endeavor tripled the world grain yield per acre between 1950 and 2011. 
Raising water productivity begins with agriculture, simply because 70 percent of all water use goes to irrigation. Some irrigation technologies are much more efficient than others. The least efficient are flood and furrow irrigation. Sprinkler irrigation, using the center-pivot systems that are widely seen in the crop circles in the western U.S. Great Plains, and drip irrigation are far more efficient. The advantage of drip irrigation is that it applies water very slowly at a rate that the plants can use, losing little to evaporation. It simultaneously raises yields and reduces water use. Because it is labor-intensive, it is used primarily to produce high-value vegetable crops or in orchards.
Another option is to encourage the use of more water-efficient crops, such as wheat, instead of rice. Egypt, for example, limits the production of rice. China banned rice production in the Beijing region. Moving down the food chain also saves water. 
Another valuable tool in the soil conservation tool kit is no-till farming. Instead of the traditional practice of plowing land and discing or harrowing it to prepare the seedbed, and then using a mechanical cultivator to control weeds in row crops, farmers simply drill seeds directly through crop residues into undisturbed soil, controlling weeds with herbicides when necessary. In addition to reducing erosion, this practice retains water, raises soil organic matter content, and greatly reduces energy use for tillage.
These initiatives do not constitute a menu from which to pick and choose. We need to take all these actions simultaneously. They reinforce each other. We will not likely be able to stabilize population unless we eradicate poverty. We will not likely be able to restore the earth's natural systems without stabilizing population and stabilizing climate. Nor can we eradicate poverty without reversing the decline of the earth's natural systems.
Achieving all these goals to reduce demand and increase supply requires that we redefine security. We have inherited a definition of security from the last century, a century dominated by two world wars and a cold war, that is almost exclusively military in focus. When the term national security comes up in Washington, people automatically think of expanded military budgets and more-advanced weapon systems. But armed aggression is no longer the principal threat to our future. The overriding threats in this century are climate change, population growth, spreading water shortages, rising food prices and politically failing states.
We all need to select an issue and go to work on it. Find some friends who share your concern and get to work. The overriding priority is redefining security and reallocating fiscal resources accordingly. If your major concern is population growth, join one of the internationally oriented groups and lobby to fill the family planning gap. If your overriding concern is climate change, join the effort to close coal-fired power plants. We can prevent a breakdown of the food system, but it will require a huge political effort undertaken on many fronts and with a fierce sense of urgency.
Visit EcoWatch's FOOD page for more related news on this topic.
EcoWatch Daily Newsletter
A glacier is seen in the Kenai Mountains on Sept. 6, near Primrose, Alaska. Scientists from the U.S. Geological Survey have been studying the glaciers in the area since 1966 and their studies show that the warming climate has resulted in sustained glacial mass loss as melting outpaced the accumulation of new snow and ice. Joe Raedle / Getty Images
By Mark Mancini
On Aug. 18, Iceland held a funeral for the first glacier lost to climate change. The deceased party was Okjökull, a historic body of ice that covered 14.6 square miles (38 square kilometers) in the Icelandic Highlands at the turn of the 20th century. But its glory days are long gone. In 2014, having dwindled to less than 1/15 its former size, Okjökull lost its status as an official glacier.
Members of Chicago Democratic Socialists of America table at the Logan Square Farmers Market on Aug. 18. Alex Schwartz
By Alex Schwartz
Among the many vendors at the Logan Square Farmers Market on Aug. 18 sat three young people peddling neither organic vegetables, gourmet cheese nor handmade crafts. Instead, they offered liberation from capitalism.
Hackney primary school students went to the Town Hall on May 24 in London after school to protest about the climate emergency. Jenny Matthews / In Pictures / Getty Images
Bird watching in the U.S. may be a lot harder than it once was, since bird populations are dropping off in droves, according to a new study.
Amazon CEO Jeff Bezos announces the co-founding of The Climate Pledge at the National Press Club on Sept. 19 in Washington, DC. Paul Morigi / Getty Images for Amazon
The day before over 1,500 Amazon.com employees planned a walkout to participate in today's global climate strike, CEO Jeff Bezos unveiled a sweeping plan for the retail and media giant to be carbon neutral by 2040, 10 years ahead of the Paris agreement schedule.
For the past seven years, the Anishinaabe people have been facing the largest tar sands pipeline project in North America. We still are. In these dying moments of the fossil fuel industry, Water Protectors stand, prepared for yet another battle for the water, wild rice and future of all. We face Enbridge, the largest pipeline company in North America, and the third largest corporation in Canada. We face it unafraid and eyes wide open, for indeed we see the future.
The climate crisis often intensifies systems of oppression. Rieko Honma / Stone / Getty Images Plus
By Mara Dolan
We see the effects of the climate crisis all around us in hurricanes, droughts, wildfires, and rising sea levels, but our proximity to these things, and how deeply our lives are changed by them, are not the same for everyone. Frontline groups have been leading the fight for environmental and climate justice for centuries and understand the critical connections between the climate crisis and racial justice, economic justice, migrant justice, and gender justice. Our personal experiences with climate change are shaped by our experiences with race, gender, and class, as the climate crisis often intensifies these systems of oppression.