This website uses cookies to ensure you get the best experience while browsing it. By clicking 'Got It' you're accepting these terms.
Fukushima Radiation Now Detected in the U.S. Food Supply
May. 30, 2012 01:35PM EST
Energy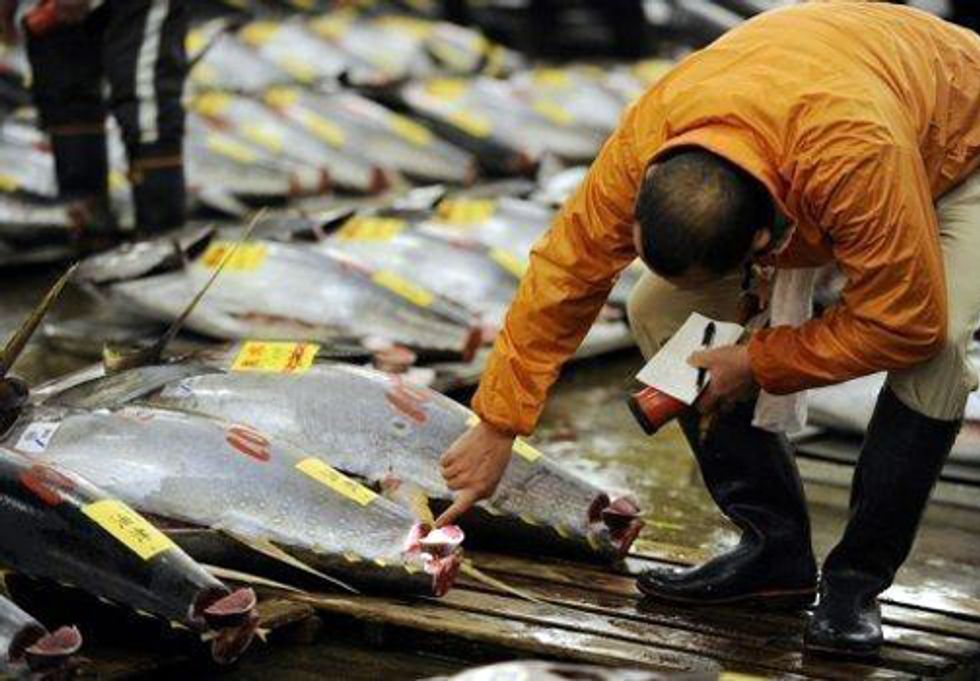 By J.D. Heyes
Scores of experts and analysts have feared for months that it would happen, and now it has: Radiation from the heavily damaged nuclear power plants at Japan's Fukushima complex has made it into the seafood chain off the coast of America.
Small amounts of cesium-137 and cesium-134, both radioactive elements released after a major earthquake-caused tsunami damaged at least three reactors at the site along Japan's northeastern coast in March 2011, have been found in at least 15 tuna that were recently caught off the coast of California, scientists have said.
The finding suggests that the fish may have carried the contamination across the Pacific Ocean faster than wind or water has been able to do, and months earlier than wind and water brought debris from the damaged nuclear plant across the ocean to the shores of Alaska and the Pacific Northwest, said Reuters.
Researchers said that, so far, the levels of cesium found in the fish are not high enough to harm humans if consumed, according to data published in the journal Proceedings of the National Academy of Sciences.
'Not a large amount at all'
Daniel Madigan of Stanford University's Hopkins Marine Station did not make a determination about the safety of the fish, though he did say the amounts of radiation detected in the tuna are far less than Japan's safety limit.
"I wouldn't tell anyone what's safe to eat or what's not safe to eat," Madigan told Reuters. "It's become clear that some people feel that any amount of radioactivity, in their minds, is bad and they'd like to avoid it. But compared to what's there naturally [...] and what's established as safety limits, it's not a large amount at all."
Madigan said researchers found higher levels of two radioactive isotopes of the cesium element, 137—which was present in the eastern Pacific before the disaster at Fukushima Daiichi—and 134, which is caused only by man-made activities and wasn't present before the tsunami smashed into the plant.
Since cesium 134 only exists through human activity, such as nuclear power plants and the manufacture of nuclear weapons, Madigan's team figured the 134 they were measuring had to have come from Fukushima.
"There was about five times the background amount of cesium 137 in the bluefin tuna they tested, but that is still a tiny quantity, Madigan said: 5 becquerels instead of 1 becquerel (It takes 37 billion becquerels to equal 1 curie; for context, a pound of uranium-238 has 0.00015 curies of radioactivity, so one becquerel would be a truly miniscule proportion)," Reuters reported.
Not much contamination, but how much is too much?
Bluefin tuna only spawn in the western Pacific, off the coasts of the Philippines and Japan. The researchers believe that the elevated radioactive isotopes came from Fukushima because of the way the tuna migrate across the Pacific Ocean. As young fish, some of them tend to migrate off the coast of California, and then remain there as they grow.
Judging by the size of the tuna examined (about 15 pounds), researchers believe the fish left the waters off Japan about a month after the accident.
Most of the radiation from the damaged plant was released only for a few days in April 2011. Unlike some other compounds, radioactive cesium doesn't sink quickly but instead remains spread out from the ocean's surface to the seafloor. That means fish can swim through it and ingest it through their gills, researchers said, or by either taking in contaminated sea water or contaminated organisms.
Madigan said bluefin tuna off Japan's coast soon after the accident probably had much higher levels of cesium 134 present in their bodies, perhaps as much as 40-50 percent more than normal.
Still, the fact that any radioactive contamination has showed up off the nation's coastline at all should be cause of concern because, as Madigan himself noted, it's hard to say what levels of contamination in our food are ultimately dangerous enough to cause harm.
Visit EcoWatch's FOOD or NUCLEAR pages for more related news on these topics.
EcoWatch Daily Newsletter
Heavy industry on the lower Mississippi helps to create dead zones.
AJ Wallace on Unsplash.
Cutting out coal-burning and other sources of nitrogen oxides (NOx) from heavy industry, electricity production and traffic will reduce the size of the world's dead zones along coasts where all fish life is vanishing because of a lack of oxygen.
Despite the ongoing coronavirus pandemic, which has restricted the ability to gather in peaceful assembly, a Canadian company has moved forward with construction of the controversial Keystone XL pipeline, according to the AP.
A gas flare from the Shell Chemical LP petroleum refinery illuminates the sky on August 21, 2019 in Norco, Louisiana. Drew Angerer / Getty Images.
Methane levels in the atmosphere experienced a dramatic rise in 2019, preliminary data released Sunday shows.
A retired West Virginia miner suffering from black lung visits a doctor for tests. Andrew Lichtenstein / Corbis via Getty Images
In some states like West Virginia, coal mines have been classified as essential services and are staying open during the COVID-19 pandemic, even though the close quarters miners work in and the known risks to respiratory health put miners in harm's way during the spread of the coronavirus.