This website uses cookies to ensure you get the best experience while browsing it. By clicking 'Got It' you're accepting these terms.
Fukushima Nightmare Continues as Homeless People are Recruited for Cleanup, Scammed Out of Wages
Dec. 30, 2013 11:07AM EST
Energy
Police and media in Japan have discovered that homeless people near Fukushima have been recruited to help clean up the three-year-old nuclear devastation for minimum wages, but haven't seen most of their money.
Most have wound up in debt.
According to Reuters, recruiters like Seiji Sasa have been trolling Sendai Station another locations for homeless people to aid in the behind-schedule, taxpayer-funded radioactive cleanup throughout northern Japan. Police arrested members of Japanese crime syndicates several times this year for infiltrating Obayashi Corp.'s subcontractors and illegally sending workers to disaster sites. Those workers were often brought in for less than minimum wage, but essentially scammed out of their earnings because they were given a place to stay during the hours they weren't attempting to clean up radioactive soil and debris.
"Many homeless people are just put into dormitories, and the fees for lodging and food are automatically docked from their wages," Yasuhiro Aoki, a Baptist pastor and homeless advocate, said. "Then at the end of the month, they're left with no pay at all."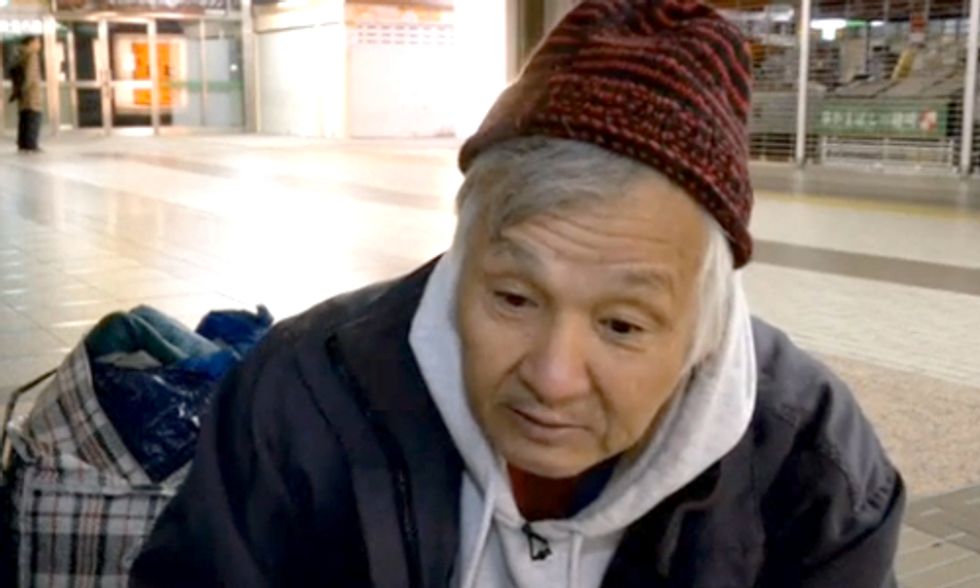 The homeless workers reported to companies who then reported to Obayashi, known as the country's second-largest construction firm and one of 20 large contractors involved in governmental cleanup efforts. There are at least more than 730 subcontractors working for performing work for the Ministry of Environment, an amount that has led to scarce oversight. Loose certification and disclosure rules have made it easier to obtain radiation removal contracts. Reuters found 56 subcontractors on environment ministry contracts worth $2.5 billion in the most radiated areas of Fukushima that would have been barred from traditional public works because they had not been examined by the construction ministry.
The crime organizations created recruiting agencies and people like Sasa stood to make $100 for every worker they brought in.
"I don't ask questions; that's not my job," Sasa said in an interview with Reuters. "I just find people and send them to work. I send them and get money in exchange. That's it.
"I don't get involved in what happens after that."
Sasa was arrested in November, but did not face any charges. Obayashi also has not faced charges, though the recruiting agencies were set up under the large company.
The Japanese government does not have estimates on the amount of homeless people working on disaster sites, according to Reuters.
Just one-third of wages allocated by Obayashi's top contractor made it to the workers recruited by Sasa. Various middlemen took the rest, according to police. Workers were left with 50 cents less than Fukushima's $6.50 minimum wage after food and lodging deductions, but most have ended up in debt.
"We're an easy target for recruiters," said Shizuya Nishiyama, a 57-year-old who opted to return to the streets after more than half of his pay was docked for room and board. "We turn up here with all our bags, wheeling them around and we're easy to spot.
"They say to us, are you looking for work? Are you hungry? And if we haven't eaten, they offer to find us a job."
Radioactive hotspots have turned up throughout Japan, including some that threaten human life in Tokyo and may cast a pall on the upcoming Olympics. Tuna contaminated with radiation from Fukushima have been caught off the California coast.
Also, more than 70 U.S. Navy sailors are suing Tokyo Electric Power Co. (TEPCO)—which operates the Fukushima Daiichi energy plant—for downplaying the danger of nuclear radiation on the site, which led to various forms of cancer and radiation sickness.
Visit EcoWatch's NUCLEAR page for more related news on this topic.

EcoWatch Daily Newsletter
Fresno, California, seen above, is receiving $66 million for walking trails, sidewalks, bike lanes, and more. DenisTangneyJr / iStock / Getty Images
Grecia Elenes grew up in Fresno, California. She says some parts of the city have been neglected for decades. When she moved back after college she realized nothing has changed.
People are seen embracing at Numeralla Rural Fire Brigade near the scene of a water tanker plane crash on Jan. 23 in Cooma, Australia. Three American firefighters have have died after their C-130 water tanker plane crashed while battling a bushfire near Cooma in southern NSW this afternoon. Jenny Evans / Getty Images
Three U.S. firefighters gave their lives battling Australia's historic wildfires Thursday when their airborne water tanker crashed.
The Doomsday Clock is now at 100 seconds to midnight. EVA HAMBACH / AFP via Getty Images
The Doomsday Clock is now 100 seconds to midnight, partly because of the
climate crisis
.
A new report spotlights a U.N. estimate that at least 275 million people rely on healthy coral reefs. A sea turtle near the Heron Island in the Great Barrier Reef is seen above. THE OCEAN AGENCY / XL CATLIN SEAVIEW SURVEY
In a new report about how the world's coral reefs face "the combined threats of climate change, pollution, and overfishing" — endangering the future of marine biodiversity — a London-based nonprofit calls for greater global efforts to end the climate crisis and ensure the survival of these vital underwater ecosystems.
Half of the extracted resources used were sand, clay, gravel and cement, seen above, for building, along with the other minerals that produce fertilizer. Cavan Images / Cavan / Getty Images
The world is using up more and more resources and global recycling is falling. That's the grim takeaway from a new report by the Circle Economy think tank, which found that the world used up more than 110 billion tons, or 100.6 billion metric tons, of natural resources, as Agence France-Presse (AFP) reported.