This website uses cookies to ensure you get the best experience while browsing it. By clicking 'Got It' you're accepting these terms.
Fukushima Nightmare Continues as Homeless People are Recruited for Cleanup, Scammed Out of Wages
Dec. 30, 2013 11:07AM EST
Police and media in Japan have discovered that homeless people near Fukushima have been recruited to help clean up the three-year-old nuclear devastation for minimum wages, but haven't seen most of their money.
Most have wound up in debt.
According to Reuters, recruiters like Seiji Sasa have been trolling Sendai Station another locations for homeless people to aid in the behind-schedule, taxpayer-funded radioactive cleanup throughout northern Japan. Police arrested members of Japanese crime syndicates several times this year for infiltrating Obayashi Corp.'s subcontractors and illegally sending workers to disaster sites. Those workers were often brought in for less than minimum wage, but essentially scammed out of their earnings because they were given a place to stay during the hours they weren't attempting to clean up radioactive soil and debris.
"Many homeless people are just put into dormitories, and the fees for lodging and food are automatically docked from their wages," Yasuhiro Aoki, a Baptist pastor and homeless advocate, said. "Then at the end of the month, they're left with no pay at all."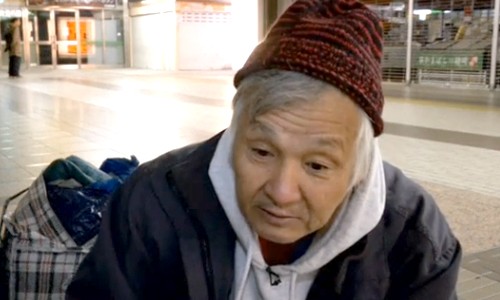 The homeless workers reported to companies who then reported to Obayashi, known as the country's second-largest construction firm and one of 20 large contractors involved in governmental cleanup efforts. There are at least more than 730 subcontractors working for performing work for the Ministry of Environment, an amount that has led to scarce oversight. Loose certification and disclosure rules have made it easier to obtain radiation removal contracts. Reuters found 56 subcontractors on environment ministry contracts worth $2.5 billion in the most radiated areas of Fukushima that would have been barred from traditional public works because they had not been examined by the construction ministry.
The crime organizations created recruiting agencies and people like Sasa stood to make $100 for every worker they brought in.
"I don't ask questions; that's not my job," Sasa said in an interview with Reuters. "I just find people and send them to work. I send them and get money in exchange. That's it.
"I don't get involved in what happens after that."
Sasa was arrested in November, but did not face any charges. Obayashi also has not faced charges, though the recruiting agencies were set up under the large company.
The Japanese government does not have estimates on the amount of homeless people working on disaster sites, according to Reuters.
Just one-third of wages allocated by Obayashi's top contractor made it to the workers recruited by Sasa. Various middlemen took the rest, according to police. Workers were left with 50 cents less than Fukushima's $6.50 minimum wage after food and lodging deductions, but most have ended up in debt.
"We're an easy target for recruiters," said Shizuya Nishiyama, a 57-year-old who opted to return to the streets after more than half of his pay was docked for room and board. "We turn up here with all our bags, wheeling them around and we're easy to spot.
"They say to us, are you looking for work? Are you hungry? And if we haven't eaten, they offer to find us a job."
Radioactive hotspots have turned up throughout Japan, including some that threaten human life in Tokyo and may cast a pall on the upcoming Olympics. Tuna contaminated with radiation from Fukushima have been caught off the California coast.
Also, more than 70 U.S. Navy sailors are suing Tokyo Electric Power Co. (TEPCO)—which operates the Fukushima Daiichi energy plant—for downplaying the danger of nuclear radiation on the site, which led to various forms of cancer and radiation sickness.
Visit EcoWatch's NUCLEAR page for more related news on this topic.

KarinaKnyspel / iStock / Getty Images
2018 saw a number of studies pointing to the outsized climate impact of meat consumption. Beef has long been singled out as particularly unsustainable: Cows both release the greenhouse gas methane into the atmosphere because of their digestive processes and require a lot of land area to raise. But for those unwilling to give up the taste and texture of a steak or burger, could lab-grown meat be a climate-friendly alternative? In a first-of-its-kind study, researchers from the Oxford Martin School set out to answer that question.
Three scissor-tailed flycatcher fledglings in a mesquite tree in Texas. Texas Eagle / CC BY-NC 2.0
By Gary Paul Nabhan
President Trump has declared a national emergency to fund a wall along our nation's southern border. The border wall issue has bitterly divided people across the U.S., becoming a vivid symbol of political deadlock.
PeopleImages / E+ / Getty Images
By Daniel Ross
Hurricane Florence, which battered the U.S. East Coast last September, left a trail of ruin and destruction estimated to cost between $17 billion and $22 billion. Some of the damage was all too visible—smashed homes and livelihoods. But other damage was less so, like the long-term environmental impacts in North Carolina from hog waste that spilled out over large open-air lagoons saturated in the rains.
Hog waste can contain potentially dangerous pathogens, pharmaceuticals and chemicals. According to the state's Department of Environmental Quality, as of early October nearly 100 such lagoons were damaged, breached or were very close to being so, the effluent from which can seep into waterways and drinking water supplies.
This picture taken on May 21, 2018 shows discarded climbing equipment and rubbish scattered around Camp 4 of Mount Everest. Decades of commercial mountaineering have turned Mount Everest into the world's highest rubbish dump as an increasing number of big-spending climbers pay little attention to the ugly footprint they leave behind. DOMA SHERPA / AFP / Getty Images
China has closed its Everest base camp to tourists because of a buildup of trash on the world's tallest mountain.