Fukushima Floating Wind Turbine Up and Running
Nov. 13, 2013 01:24PM EST
Business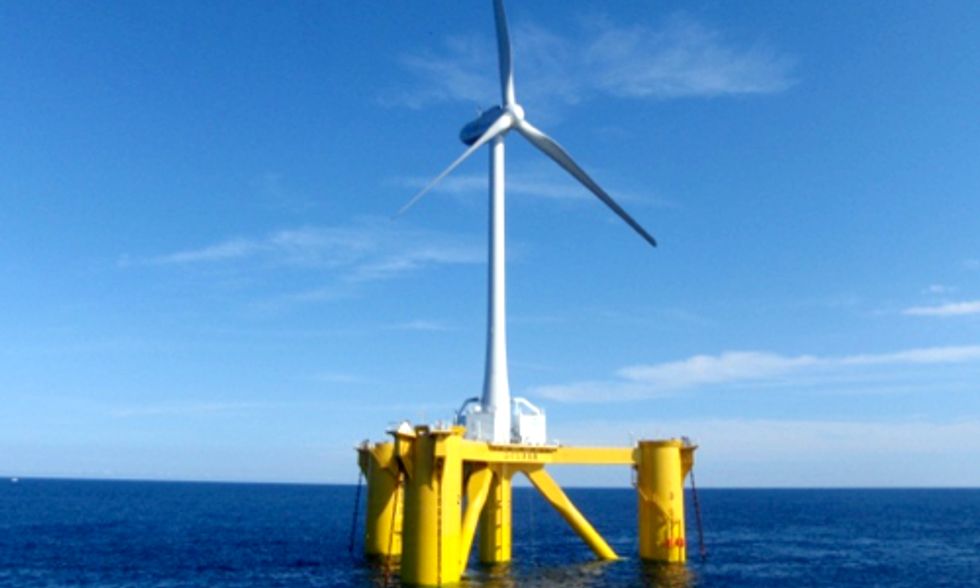 Clean wind energy is now being produced just off the coast of Fukushima, the same place where large quantities of radioactive water have been flowing as a result of a 2011 nuclear disaster.
An offshore, 2 megawatt (MW) wind turbine became operational this week, according to the consortium operating the turbine as part of an experimental study. Named the Fukushima Mirai, the turbine is one of several projects the Earth Policy Institute predicted would lead to a seventh consecutive record year for offshore wind power installations around the world. Developers added 1,080 MW of generating capacity in the first half of the year, expanding the world total by 20 percent in just six months.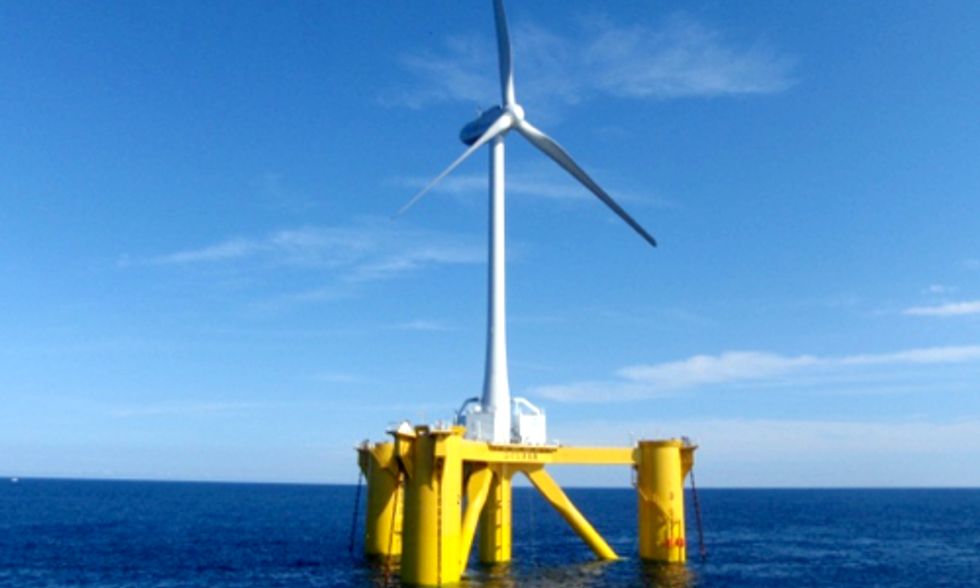 By the end of the year, there should be more than 7,100 MW of wind power in the world, according to the Earth Policy Institute. 
"Fukushima is making a stride toward the future, step by step," Yuhei Sato, governor of Fukushima, said at a ceremony this week, Bloomberg reported. "Floating offshore wind is a symbol of such a future."
The turbine, manufactured by Hitachi, was funded by the Japanese government and is operated by Marubeni Corp. and 10 other companies, including The University of Tokyo, Mitsubishi Corp. and Shimuzu. It is accompanied by a 66-kilovolt floating power sub-station and part of an upcoming trio of turbines that will total 16 MW when two more turbines are added to the floating substation, Fukushima Kizuna.
 "The evaluation of safety, reliability and economic potential of the offshore floating wind farm through the collection and analysis of meteorological data, hydrographic data and performance data will be carried out during the experimental study," according to a statement from the consortium. "In addition, we are targeting to establish the method of operation and maintenance of the offshore floating wind farm at the same time."
 The group says it will continue the study until the 2015 fiscal year with the intention of creating an offshore industry for Fukushima and to help offshore wind facilities lead "Japan's new export industry" that can coexist with fisheries.
The Earth Policy Institute previously expressed enthusiasm for floating turbines.
"Not only do they greatly expand the area available for wind farms, they also have the potential to dramatically reduce the cost of offshore wind generation, which today is more than twice as expensive as that from turbines on land," according to the Earth Policy Institute. "While offshore wind manufacturers have managed to achieve cost reductions for the turbines themselves—through lighter, stronger materials and increased efficiency, for example—these savings have thus far been offset by the rising cost of installing and maintaining turbines fixed to the seabed as projects move into deeper waters."
Visit EcoWatch's RENEWABLES page for more related news on this topic.

EcoWatch Daily Newsletter