This website uses cookies to ensure you get the best experience while browsing it. By clicking 'Got It' you're accepting these terms.
Fuelling a Biomess
Nov. 08, 2011 09:21AM EST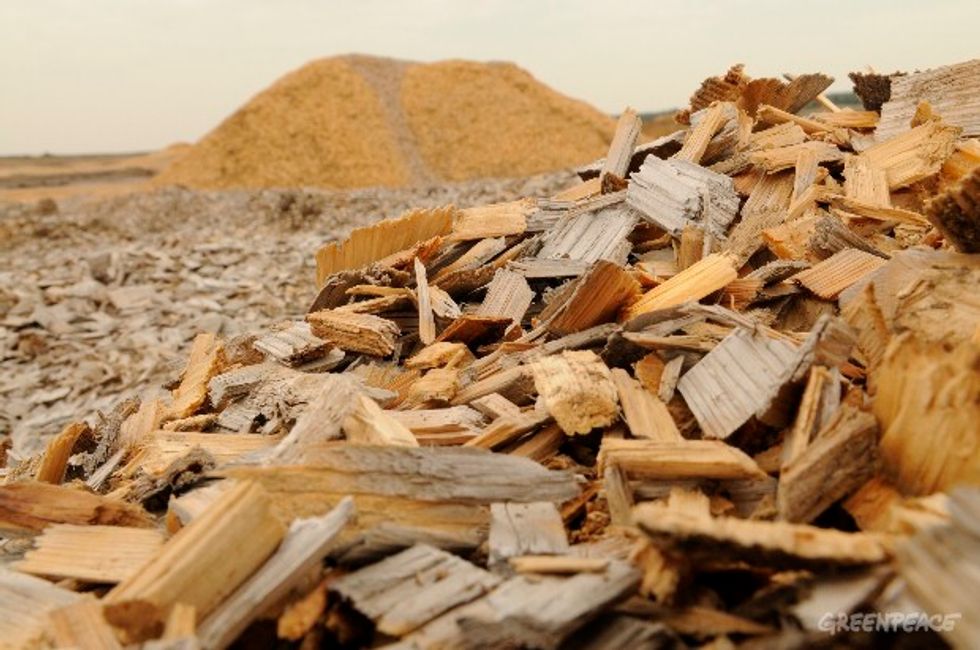 Greenpeace released a report that highlights the dangers of the large-scale use of wood and tree harvesting for heating, electricity generation or liquid biofuels. The report—Fuelling a Biomess—argues that burning woody biomass on an industrial scale could severely harm Canada's public forests and further contribute to the global climate crisis.
"Forest bioenergy, as it is currently being developed in Canada, threatens the health of our forests and will harm the global climate for decades to come," said Nicolas Mainville, Greenpeace Canada forest campaigner. "The amount of wood being burnt in power plants or turned into liquid fuels is growing exponentially without the public's knowledge and little government oversight or regulation."
The report, based on recent peer-reviewed scientific literature, challenges the claims that simply burning forest biomass is green, clean and carbon-neutral—claims upon which the current bioenergy boom is based. The demand for biomass can no longer be met by traditional waste stream sources—the bark, sawdust and other residues from pulp and paper plants or sawmills.
In some jurisdictions, forest biomass increasingly consists of elements essential to functioning forest ecosystems, including standing trees, naturally disturbed forests and remains of traditional logging operations that were previously left in the forest. The amount of wood and other tree parts cut from Canadian public forests could more than double under new policies that support the expansion of forest bioenergy production.
Greenpeace is concerned that the growing demand for trees associated with the bioenergy boom will drastically increase pressure on forests and out-compete the traditional forest products sector, particularly with respect to available wood supply and the development of new products and jobs.
"Using woody biomass to produce energy should be restricted to local, small-scale uses of mill residues" said Mainville. "Before we continue to approve new projects, public hearings, a full accounting of the climate and biodiversity footprint and life-cycle analyses of those projects are needed. Otherwise, we risk plunging Canada's forests and climate into an environmental biomess."
In 2010, Canada exported 1.2 million tons of wood pellets to Europe, resulting in a 700 percent increase in less than eight years. Canada alone releases approximately 40 megatons of CO2 emissions annually from forest bioenergy production, an amount that exceeds the tailpipe emissions of all 2009 Canadian light-duty passenger vehicles. The CO2 emitted will harm the climate for decades before being captured by regrowing trees.
The release of the report was timed with the opening of the first European Biomass Exchange (APX-ENDEX) in Amsterdam.
Contact your provincial minister responsible for forestry and tell her/him to stop burning public forests for energy production until proper environmental standards are in place. Burning forest-based biomass on an industrial scale is bad for our forests, our health, the climate and job creation.
Take action and email your minister now.
For more information, click here.
EcoWatch Daily Newsletter
Aerial shot top view Garbage trucks unload garbage to a recycle in the vicinity of the city of Bangkok, Thailand. bugto / Moment / Getty Images
German researchers have identified a strain of bacterium that not only breaks down toxic plastic, but also uses it as food to fuel the process, according to The Guardian.
The Environmental Protection Agency (EPA) issued a policy memo yesterday that is an expansive relaxation of legally mandated regulations on polluting industries, saying that industries may have trouble adhering to the regulations while they are short-staffed during the coronavirus global pandemic, according to the AP.
Hurricane Dorian was one of the 2019 Atlantic hurricane season's most devastating storms. NASA
2019 marked the fourth year in a row that the Atlantic hurricane season saw above-average activity, and it doesn't look like 2020 will provide any relief.
The deep, open ocean may seem like an inhospitable environment, but many species like human-sized Humboldt squids are well-adapted to the harsh conditions. 1,500 feet below the ocean's surface, these voracious predators could be having complex conversations by glowing and changing patterns on their skin that researchers are just beginning to decipher.
A worker distributes disinfection wipes at a farmers market at Richard Tucker Park in New York City on March 21, 2020. Lev Radin / Pacific Press / LightRocket via Getty Images
Not many restaurants will be able to survive coronavirus, and this is a personal, social and national tragedy.
I'm worried about farmers markets too.