Fuel Efficiency is as American as Apple Pie and Baseball
Aug. 24, 2012 06:57AM EST
Climate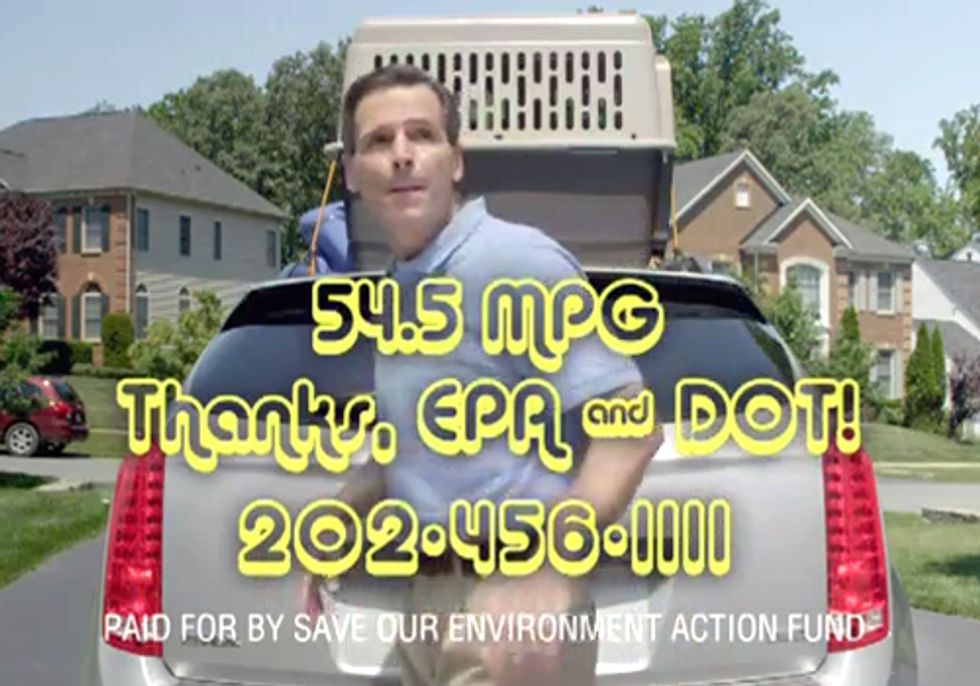 Save Our Environment Action Fund launches a multi-platform, multi-state campaign today highlighting the Environmental Protection Agency and Department of Transportation's pending fuel efficiency and carbon pollution standards for cars and small trucks.
The campaign includes a six figure multi-state (Michigan, New Hampshire, New Mexico, North Carolina, and Wisconsin) online ad buy, a first-of-its kind Twitter advocacy campaign, a radio tour and one of the largest teletown halls in history. Watch the ad below and see why the family dog is the only one who opposes the pending standards:
The campaign will be using a promoted Twitter trend and promoted tweets for 24 hours on Sunday, encouraging people to tweet using the #Fuel4Change hashtag to talk about the new standards. This is the first time an advocacy organization has used Twitter in this manner to educate people about an issue and drive people to participate in the online conversation.
"Combined with the first phase, this effort is the largest action to tackle climate change in history, and we want to spread the great news to every corner of the country," said Mike Town of Save Our Environment Action Fund. "This is about putting more money in consumers' pockets from the first day they buy a car, creating hundreds of thousands of American jobs, and reducing more than 2 billion metric tons of pollution. We all win when consumers, job-seekers and our environment come out on top."
Under the new standards, all passenger vehicles on average will get the equivalent of 54.5 mpg by 2025—which means more gas in the tank and more money in the bank for U.S. consumers. This improvement will mean immediate savings from the time consumers buy a car, totaling more than $8,000 over the life of a single vehicle. Moreover, the standards will create more than 570,000 American jobs, reduce oil imports, and curb climate disrupting pollution.
"The administration deserves huge credit for providing the country's consumers real solutions to high prices at the pump. Consumers can thank this effort for cutting future gas bills in half and keeping more money in the bank," said Town. "By helping to break our dependency on foreign oil, fuel efficiency is as American as apple pie and baseball."
The new fuel efficiency and greenhouse gas standards will:
• Double the average fuel efficiency of new vehicles and cut carbon pollution from new vehicles in half by 2025
• Save the average consumer an estimated $8,000 in fuel savings over the lifetime of a new vehicle
• Save Americans $140 billion in 2030 alone
• Create up to 570,000 jobs by 2030
• Reduce more than 2 billion metric tons of pollution over the life of the 2017-2025 vehicles
Visit EcoWatch's ENERGY page for more related news on this topic.
--------
Save Our Environment Action Fund is a coalition of some of the nation's most powerful environmental organizations focused on reversing climate disruption, reducing pollution and creating a clean energy future for America.
EcoWatch Daily Newsletter
Related Articles from EcoWatch