From the Mouth of Babes: President Obama, End Mountaintop Removal Now
Jan. 03, 2013 11:29AM EST
Energy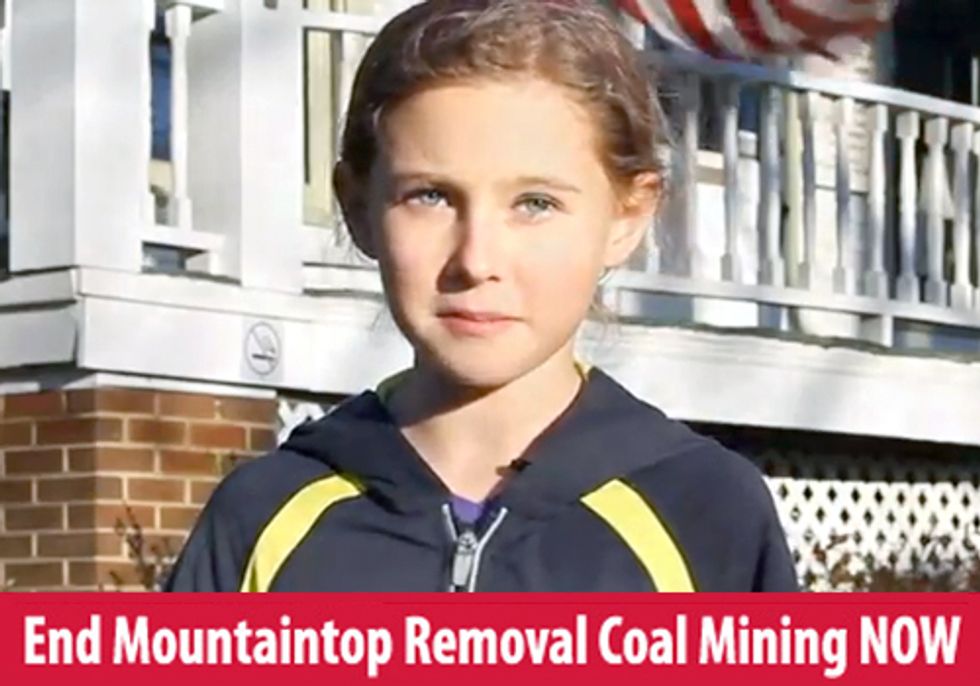 In Appalachia, children are 42 percent more likely to have birth defects if they live near a mountaintop removal coal mine.
More people are likely to die from cardiovascular disease, and 50 percent are more likely to die of cancer—if they live near one of these sites of utter destruction.
What if those were your loved ones? That is the question posed in a new video released today by Appalachian Voices with a strong message to President Obama: No more excuses. End mountaintop removal now. 
The two-minute video features children giving a basic science lesson about the health and environmental impacts of blowing up mountains and dumping the dirt and rubble into nearby headwater streams. The children describe how the explosions send huge clouds of dirt and dust in the air, and how the mining operations pollute drinking water sources.
"Arsenic, mercury, selenium, lead, magnesium, hydrogen sulfide …" are a few of the toxic compounds the children cite that contribute to a range of health impacts in the coal-mining regions of Appalachia.
The video was produced by Appalachian Voices for ILoveMountains.org, a campaign of a broad coalition of regional groups, the Alliance for Appalachia, to focus national attention on the tragedy of mountaintop removal, which has destroyed more than 500 of America's oldest mountains and buried or poisoned more than 2,000 miles of streams.
The video ends with the children directly addressing President Obama to tell him "No more excuses—end mountaintop removal. Now."  Viewers are directed to the ILoveMountains.org website where they can email the president, sign a petition and share the video. The website also links to a brochure summarizing more than 20 peer-reviewed studies concluding that mountaintop removal coal mining contributes to significantly higher rates of birth defects, cancer, cardiovascular and respiratory diseases in those communities.
Visit EcoWatch's MOUNTAINTOP REMOVAL page for more related news on this topic.
EcoWatch Daily Newsletter
Recent Stories from EcoWatch