From Hottest Place on Earth in Australia to LA and Ontario's Winter Heat Waves, 2016 Already on Track to Be Hottest Year Ever Recorded
Feb. 09, 2016 01:37PM EST
Climate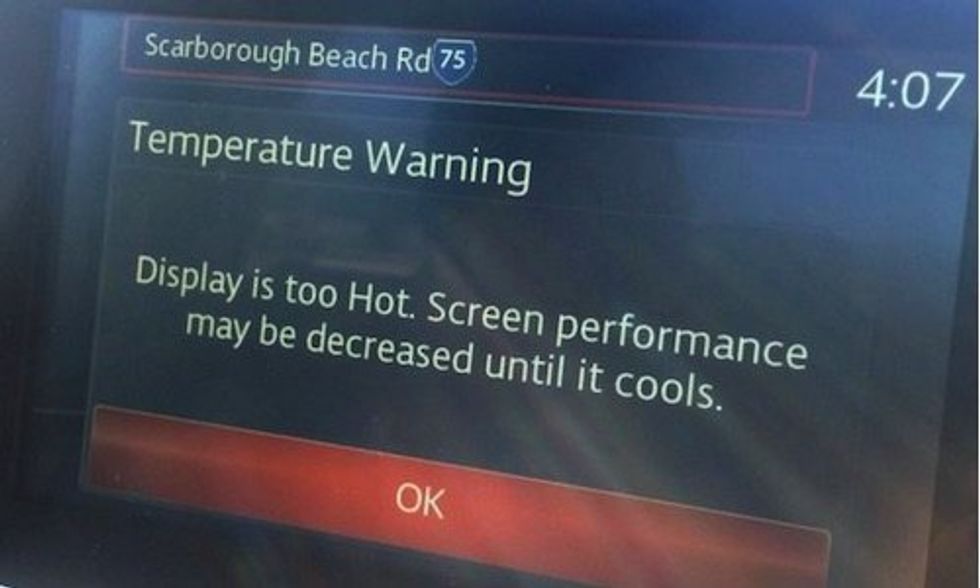 It's only February but it looks like 2016 is already on track to be hottest year ever recorded. As some cities shake off an especially brutal winter, other cities are melting in record-high heat, with one city poised to shatter a five-decade-old weather record.
Even my car has had enough. #PerthHeatWave https://t.co/AkizpcSA1q

— Clarissa Phillips (@Clarissa Phillips)1455005371.0
Perth, Australia 
Australia, which lies in the southern hemisphere, is technically on its last month of summer but the blazing-hot temps in the city of Perth signal otherwise.
In fact, the Western Australian capital "may well be the hottest place on earth right now," News.com.au reported today with temperatures shooting past 45 degrees Celsius, or 113 degrees Fahrenheit.
The city has now seen three consecutive days of triple-degree weather and could obliterate a February 50-year-old weather record if it hits 40 degrees Celsius or above tomorrow, Abc.net.au reported.
"Perth's longest run of 40 degree days or more consecutively is four, and that was recorded back in 1933, if we get five we've broken that record and we've moved into uncharted territory basically," Bureau of Meteorology spokesman Neil Bennett told the publication.
"The trough is showing no signs of movement whatsoever, it's sitting there because the high pressure system that is going to help move it away is also stationary in bight."
Perth's sweltering heat has inspired some pretty creative responses on Twitter:
Pretty much the whole week #PerthHeatWave https://t.co/FnA1LbquYn

— Mark Lucas (@Mark Lucas)1454945234.0
#PerthHeatWave https://t.co/M3xwArVU4A

— aleesia (@aleesia)1454941087.0
#PerthHeatWave https://t.co/lo4EKjSkS1

— lolbee (@lolbee)1454935044.0
Unfortunately, climate change signals even hotter days in the future. Climate researcher and Australian National University professor Will Steffen warned that Perth's scorching weather this week could get much worse if we don't curb our reliance on fossil fuels.
"Heatwaves will be even worse than they are now," Steffen told the Herald Sun. "What happens after mid-century depends on how we get emissions under control but if we keep burning fossil fuels ... that means really, really excessive heat during extreme weather—into the 50s [120-plus degrees Fahrenheit]."
Los Angeles, California 
Meanwhile in Los Angeles, temperatures are in the high 80s with many Angelenos taking to the beach to cool off. Sun-spoiled Angelenos also had some fun on social media:
Yeah....pretty much. Mid 80's and full on beach weather in #LA this weekend.... #mydayinla #beachlife #LAlife https://t.co/q0cs6Qc2uf

— Morayma (@Morayma)1454978195.0
I'm wearing shorts and sandals outside at night in early February, which is weird even for Los Angeles weather standards.

— (((Adam))) (@(((Adam))))1454992694.0
This photo from Zuma Beach captures LA's February summer. By @WallySkalij https://t.co/akylgjq16I

— Shelby Grad (@Shelby Grad)1454968730.0
The sun-drenched California city reached 88 degrees Fahrenheit on Monday, breaking 1996's record of 85 degrees Fahrenheit, Accuweather reported. It's predicted that some locations in Southern California, including L.A., may even reach 90 degrees Fahrenheit.
The weather in Los Angeles doesn't just mean long days on the beach, though. The gusty winds accompanying the warm weather might increase the risk of wildfires in some places, Accuweather noted.
California is especially prone to wildfires, with its two two fires last year ranking among the top 10 most destructive in its history, The Washington Post reported.
Record high temp in Downtown LA, 88 degrees, beating the 85 in 1996. #NBC4You #RecordHigh #LAWeather https://t.co/tSNlXR20ls

— Anthony Yanez (@Anthony Yanez)1454965069.0
The current bone-dry weather in Los Angeles has some worried that El Niño, which many thought would help replenish the drought-stricken state's depleted reservoirs and aquifers, has passed Southern California.
According to the Los Angeles Times, "Southern California is still well below average rainfall, with downtown L.A. reporting 52 percent of normal since Oct. 1."
National Weather Service specialist Stuart Seto, however, told the Los Angeles Times he's optimistic. "Even though we haven't seen El Niño pan out that still doesn't mean we can't see good rains in the latter part of February and in March," he said.
Ontario, Canada 
Finally, Cananda—which usually experiences an inherently hazardous winter season—is seeing unusually mild, spring-like weather in some provinces.
"A plethora of new record maximum temperatures have been set February 3 across parts of southern Ontario," Environment Canada said in a statement. "Previous record highs have been shattered by several degrees on this day, which is more typical of mid April."
Stellar weather in Toronto for #WinterWalkDay. Even some #FebruaryShorts around https://t.co/pk0r4cmECR

— Oliver Moore (@Oliver Moore)1454510726.0
According to Weather Network meteorologists:
Southwestern communities including Windsor, Chatham, Sarnia and Welland all broke previous records set back in 1991, with both Windsor and Sarnia climbing to 11°C [51.8°F] during the early morning hours. By noon, both communities as well as the city of London had already reached 13°C [55.4°F].
The record to beat at Toronto's Pearson International Airport was 9.3°C [48.74°F], also set on February 3, 1991. That record was officially broken by the early afternoon, when Toronto Pearson reached a balmy double-digit high of 16.0°C [60.8°F].
"Officially, the Toronto and Kitchener areas experienced new all time maximum temperatures in the mid teens for February," Environment Canada said. "What makes this record even more amazing is that one would expect the highest temperatures to be recorded near the end of February, when the sun is much higher in the sky, closer to the beginning of spring."
All-time February records broken in southern Ontario yesterday #YYZ #Toronto #KW #Kitchener https://t.co/6qIAiED2DS

— Dayna Vettese (@Dayna Vettese)1454583303.0
It's undeniable that the world is getting warmer year after year. The World Meteorological Organization (WMO) announced that 2015 is likely to top the charts as the hottest year in modern observations, with 2011-15 the hottest five-year period on record ... that is until 2016.
In December, the UK Met Office forecasted that the global average temperature for next year is expected to be between 0.72 C and 0.96 C above the long-term (between 1961-1990) average of 14 C. There is just a 5 percent chance that 2016 will be below the 2015 global average temperature, the Met Office said.
YOU MIGHT ALSO LIKE 
Witch Hunt Continues Against Climate Scientists at NOAA
Bill Maher: GOP Mocks Punxsutawney Phil as 'Just Another Climate Alarmist Like Al Gore'
Arctic Sea Ice Levels Hit Record Low After Unusually Warm January
Scientists Explore Toxic Ice Caves to Learn About Potential Alien Life on Other Planets
EcoWatch Daily Newsletter
Recent Stories from EcoWatch