This website uses cookies to ensure you get the best experience while browsing it. By clicking 'Got It' you're accepting these terms.


The best of EcoWatch, right in your inbox. Sign up for our email newsletter!
From Fracking to Cracking
Jan. 29, 2013 03:51PM EST
Energy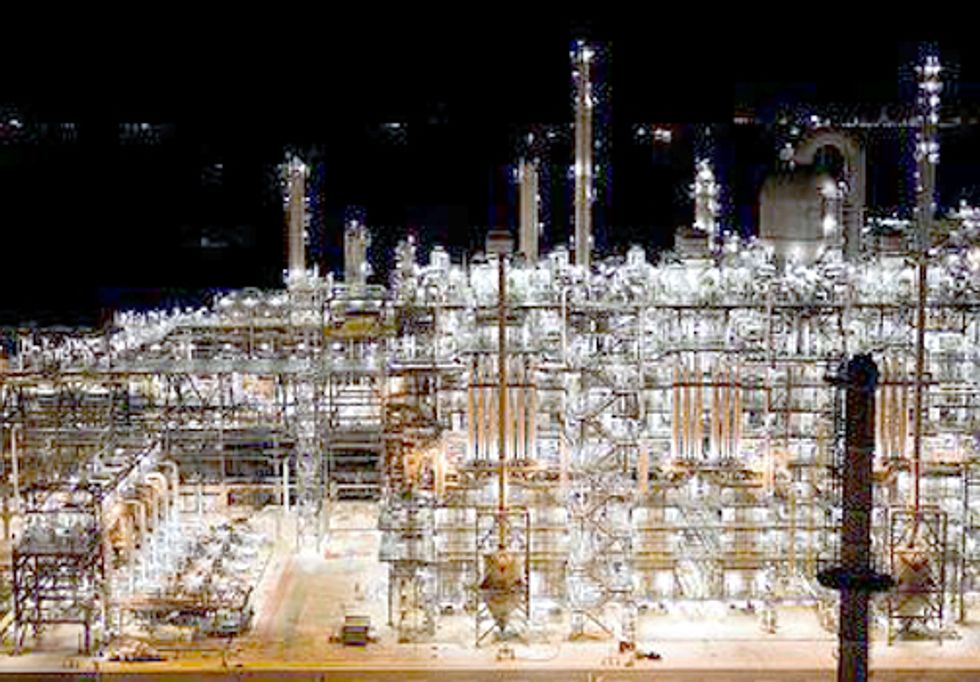 Fracking causes many public health and environmental problems and the last thing that Pennsylvanians need is another way for the oil and gas industry to capitalize on the Marcellus Shale at the expense of their health and well-being. But Governor Corbett lured the multinational oil and gas giant, Shell Oil Company into the state to do just that. 
Corbett, who has received $1.8 million in campaign contributions from the oil and gas industry, forced through legislation in February 2012 that would exempt the company from property and corporate income taxes for 15 years if they build a petrochemical ethane cracker plant in the western part of the state. A cracker plant creates chemicals like ethylene, in this case from Marcellus Shale gas, to manufacture plastics and fertilizer. 
Cracker plants are known to emit large amounts of toxic air pollution including nitrogen oxide and volatile organic compounds, which can contribute to ozone creation and increase airborne particulates. To date, approximately 44 total cracker plants exist in the U.S., mostly in Louisiana and Texas. 
By March 2012, Shell announced that it selected a preferred site in Beaver County that is already home to a zinc smelting company, Horsehead Inc. Shell and Horsehead have drafted a land-option agreement and Shell has until June 2013 to decide whether or not it will purchase the property. 
In June 2012, the Senate approved the proposed state budget for Fiscal Year 2012- 2013, and on July 2, 2012, the General Assembly signed into effect a Tax Code component, which included the Pennsylvania Resource Manufacturing Tax Credit, otherwise known as the "Cracker Credit." Through the Corbett Administration's own admission, the Cracker Credit, which goes into effect in 2017, "was part of the initial agreement Shell made with Pennsylvania this spring." It will ultimately provide Shell Oil Company with up to $1.65 billion in tax credits over the next 25 years. 
This deal was fast-tracked and the media pointed out that the tax deal was kept quiet. StateImpact reported, "When Governor Corbett announced in March that Shell was targeting Beaver County, he never mentioned a $1.65 billion tax break." 
Already there seems to be a lot of closed-door collaboration between decision makers, with little transparency or public involvement. In June 2012, the Pittsburgh Regional Alliance, a regional economic development organization, organized a tour to one of Shell's cracker plants Louisiana. There were attendees from the Beaver County, Beaver County Corporation for Economic Development, Potter Township, Central Valley School District, Center Township, PA Governor's Action Team and the Greater Pittsburgh Chamber of Commerce. Following the trip, the Pittsburgh Regional Alliance held "community education sessions" in Beaver County. These sessions appear to be the only opportunities for public participation in the process so far.
Although Shell will likely have to complete environmental and engineering assessments and studies, and garner appropriate permits, things seem to be moving forward. In a press release, Beaver County Commission Chairman, Tony Amadio said: "Over the next several months, we will be working closely with the other local governments to take the official steps that are part of the KOEZ application." This is the application that if approved, would make the land tax exempt for Shell. 
During fracking volatile organic compounds, including benzene and toluene, are released and can mix with nitrogen oxide emissions from diesel-fueled vehicles and equipment to form ground-level ozone. These emissions contribute to the enhanced greenhouse effect and climate change and air quality could conceivably worsen in the region if the plant is approved.
The company states that a project like this can be completed within a five-year timespan. Residents need to use this window as an opportunity to demand transparency and tell their elected officials that closed door sessions with Shell are not in the public's best interest—that protecting the integrity of their health and air quality should be the priority.
EcoWatch Daily Newsletter
Pexels
By Danielle Nierenberg and Katherine Walla
As the holiday season ramps up for many across the world, Food Tank is highlighting 15 children's books that will introduce young eaters, growers and innovators to the world of food and agriculture. Authors and organizations are working to show children the importance — and fun — of eating healthy, nutritious and delicious food, growing their own produce, and giving food to others in need.
Pixabay
Purple cabbage, also referred to as red cabbage, belongs to the Brassica genus of plants. This group includes nutrient-dense vegetables, such as broccoli, Brussels sprouts, and kale.
Pexels
By Lauren Wolahan
For the first time ever, the UN is building out a roadmap for curbing carbon pollution from agriculture. To take part in that process, a coalition of U.S. farmers traveled to the UN climate conference in Madrid, Spain this month to make the case for the role that large-scale farming operations, long criticized for their outsized emissions, can play in addressing climate change.
Pexels
In recent years, acai bowls have become one of the most hyped-up health foods on the market.
They're prepared from puréed acai berries — which are fruits grown in Central and South America — and served as a smoothie in a bowl or glass, topped with fruit, nuts, seeds, or granola.
Investing in grid infrastructure would enable utilities to incorporate modern technology, making the grid more resilient and flexible. STRATMAN2 / FLICKR
By Elliott Negin
The Royal Swedish Academy of Sciences' recent decision to award the 2019 Nobel Prize in Chemistry to scientists who developed rechargeable lithium-ion batteries reminded the world just how transformative they have been. Without them, we wouldn't have smartphones or electric cars. But it's their potential to store electricity generated by the sun and the wind at their peak that promises to be even more revolutionary, reducing our dependence on fossil fuels and protecting the planet from the worst consequences of climate change.