This website uses cookies to ensure you get the best experience while browsing it. By clicking 'Got It' you're accepting these terms.
From Bar Fights to Wars How Climate Change Fuels Violence
Oct. 23, 2014 01:31PM EST
Climate
As if we needed something else to spur us into action on climate change, a new report comes to a striking conclusion: that climate change most likely is a strong factor in spiking rates of violence of all kinds, ranging from bar fights to wars. That's what the nonprofit nonpartisan economic research organization, the National Bureau of Economic Research (NBER), concluded in a working paper, Climate and Conflict, that aggregated information compiled by 55 other studies. Those were culled from an even larger group to eliminate those whose methodology NBER researchers considered unreliable.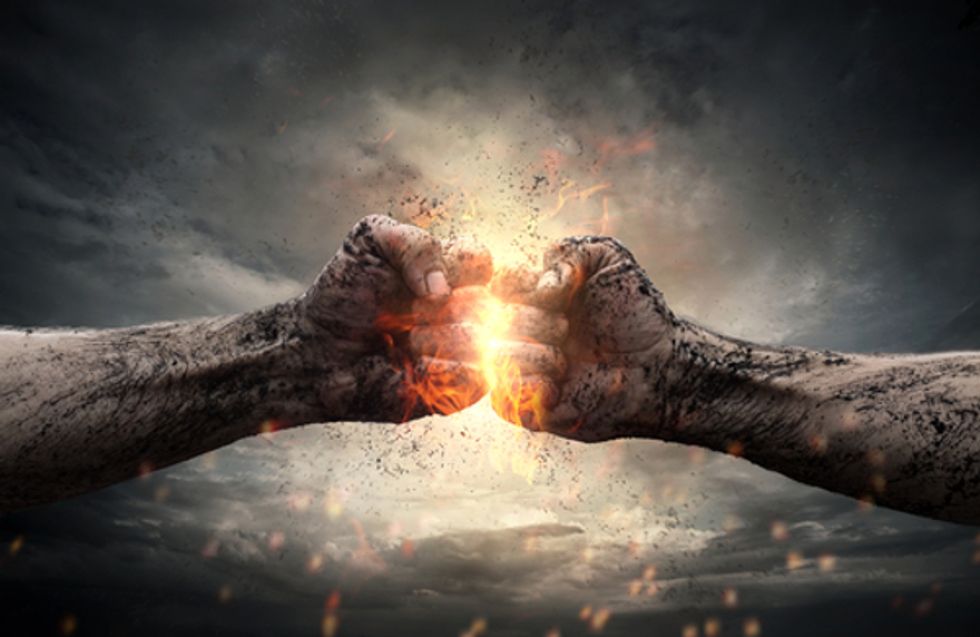 Photo credit: Shutterstock
It's been observed for centuries that violent crime increases in hot weather. The new report documents that raised temperatures are likely the most significant weather factor in raised tempers. But it also found a connection between heavy rainfall and drought to violence.
"Looking across 55 studies, we find that deviations from moderate temperatures and precipitation patterns systematically increase the risk of conflict, often substantially, with average effects that are highly statistically significant," said NBER. "We find that contemporaneous temperature has the largest average effect by far, with each one degree  Celsius increase toward warmer temperatures increasing the frequency of contemporaneous interpersonal conflict by 2.4 percent and of intergroup conflict by 11.3 percent, but that the two-period cumulative effect of rainfall on intergroup conflict is also substantial (3.5 percent per Celsius degree)."
Stanford researcher Marshall Burke, one of three authors of the NBER working paper, pointed out that multiple studies they looked at came to a similar conclusion. In 19 studies, the team found 24 estimates of the relationship between temperature and violence, all positive. "The probability of getting 24 positive values if there was in fact no relationship between temperature and conflict ... is less than 1 in 100 million," Burke told the Washington Post. "It's like flipping a coin 24 times and getting heads each time."
The NBER study took an even broader view, looking at what it called "interpersonal conflict," including domestic violence, road rage, assault, rape and murder, and "intergroup conflict," from war to ethnic violence, gang violence, civil war and political coups.
A recently published dissertation by Harvard doctoral student Matthew Ransom Crime, Weather and Climate Change looked at 30 years of monthly U.S. crime and weather data and projected the impact of climate change on criminal behavior in the future. "Between 2010 and 2099, climate change will cause an additional 22,000 murders, 180,000 cases of rape, 1.2 million aggravated assaults, 2.3 million simple assaults, 260,000 robberies, 1.3 million burglaries, 2.2 million cases of larceny and 580,000 cases of vehicle theft in the United States," he concluded.
And the NBER findings back up a report from the Intergovernmental Panel on Climate Change (ICPP), released last spring, which found that not only did climate change provide fertile ground for violence globally but that large-scale conflicts destroyed infrastructure and resources that addressed climate change and its impacts, creating a negative feedback loop.
"We conclude by highlighting remaining challenges in this field and the approaches we expect will be most effective at solving them, including identifying mechanisms that link climate to conflict, measuring the ability of societies to adapt to climate changes and understanding the likely impacts of future global warming," said the NBER researchers.
YOU MIGHT ALSO LIKE
'Irreversible' Damage to Planet From Climate Change Says Leaked IPCC Report
The Economics of Global Warming
Groundbreaking UN Report Warns Climate Change a Threat to Global Security and Mankind
EcoWatch Daily Newsletter
Flat-lay of friends eating vegan and vegetarian Thanksgiving or Friendsgiving dinner with pumpkin pie, roasted vegetables, fruit and rose wine. Foxys_forest_manufacture / Royalty-free / iStock / Getty Images
Thanksgiving can be a tricky holiday if you're trying to avoid animal products — after all, its unofficial name is Turkey Day. But, as more and more studies show the impact of meat and dairy consumption on the Earth, preparing a vegan Thanksgiving is one way to show gratitude for this planet and all its biodiversity.
Residents wear masks for protection as smoke billows from stacks in a neighborhood next to a coal fired power plant on Nov. 26, 2015 in Shanxi, China. Kevin Frayer / Getty Images
By Matt Berger
It's not just kids in the United States.
Children worldwide aren't getting enough physical activity.
That's the main conclusion of a new World Health Organization (WHO) study released Wednesday.
By Tim Ruben Weimer
Tanja Diederen lives near Maastricht in the Netherlands. She has been suffering from Hidradenitis suppurativa for 30 years. Its a chronic skin disease in which the hair roots are inflamed under pain — often around the armpits and on the chest.
Biosolids are applied to fallow wheat fields to build healthy soils at Boulder Park, Washington. King County
By Sarah Wesseler
Talk of natural climate solutions typically conjures up images of lush forests or pristine wetlands. But in King County, Washington, one important natural solution comes from a less Instagram-worthy source: the toilets of Seattle.