This website uses cookies to ensure you get the best experience while browsing it. By clicking 'Got It' you're accepting these terms.
French Ecology Minister Calls for Ban on Glyphosate Formulations
Feb. 16, 2016 02:38PM EST
Food
Ségolène Royal, France's minister of ecology, sustainable development and energy, has called for a ban on glyphosate mixed with certain adjuvants (additives) due to its perceived risks to human health.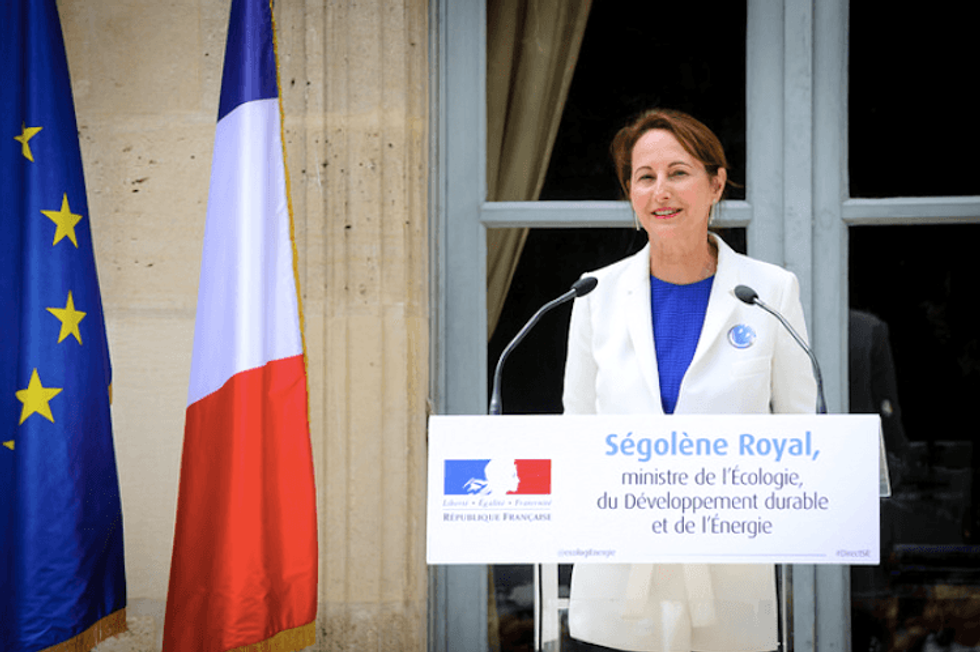 French minister Ségolène Royal is demanding the removal of products containing glyphosate and additives in the tallow amines family. Photo credit: Flickr
On Feb. 12, Royal called for ANSES—France's food, environment and health agency—to withdraw authorizations on herbicides containing glyphosate mixed with the adjuvant tallow amine, according to French newspaper Le Monde (via Google translate).
Although it wasn't explicitly said, one can only conclude that this measure was directly targeted at Monsanto and other herbicide makers.
Tallow amine, or polyethoxylated tallow amine, aids the effectiveness of herbicides such as glyphosate. The chemical is contained in Monsanto's widely popular weedkiller Roundup, according to the Northwest Coalition for Alternatives to Pesticides, which published a letter from Monsanto listing the ingredients. Roundup's ingredients are as follows:
Isopropylamine salt of glyphosate (active ingredient)

Water

The ethoxylated tallow amine surfactant

Related organic acids of glyphosate

Excess isopropylamine
In Europe, there has been a great deal of controversy surrounding glyphosate since November when the European Food Safety Authority (EFSA) rejected the World Health Organization's International Agency for Research on Cancer's (IARC) infamous classification of the chemical as a possible carcinogen in March 2015.
EFSA declared that the chemical itself was is "unlikely to pose a carcinogenic hazard to humans" but unlike the IARC, EFSA examined glyphosate alone, not glyphosate formulations. The adverse health effects of the herbicide, therefore, could be related to reactions with "other constituents or 'co-formulants,'" EFSA said.
The Italy-based agency's stark contradiction from the IARC sparked criticism from environmental organizations such as Greenpeace and more than 90 scientists from around the world. In an open letter, scientists urged European health and food safety commissioner, Vytenis Andriukaitis, to "disregard the flawed EFSA finding on glyphosate" in policy-making for Europe.
Earlier this week, France's ANSES released an opinion that reviewed the IARC's and EFSA's conflicting results and concluded that glyphosate is indeed a suspected carcinogen.
"Therefore," the agency believes, "the classification of glyphosate should be rapidly reviewed" on the European level.
"Besides the active substance, the co-formulants found in glyphosate preparations, tallow amine in particular, raise concerns," ANSES added.
ANSES notes that glyphosate is used prevalently in Europe and France, where annual tonnage varies between 5,157-7,421 tonnes from 2008 to 2014 for professional gardeners and 1,264-2,055 tonnes from 2008 to 2014 for amateur gardeners.
The conclusions were based on a group of experts in toxicology and epidemiology, according to a press release (via Google translate).
According to the release, Royal has acknowledged the conclusions of ANSES and has asked the agency to immediately re-examine all glyphosate formulations containing these co-formulants and invites the agency to withdraw marketing authorizations for these formulations by the end of March.
Amidst the contradictory reports, regulators in the European Union as a whole have until June 30 to make a decision on the marketing authorization of glyphosate herbicides.
Monsanto maintains the safety of its products and vehemently denied glyphosate's link to cancer. The company has demanded a retraction of the IARC's report.
Glyphosate is now the "most widely applied pesticide worldwide," according to a report published in the peer-reviewed journal Environmental Sciences Europe this month. The paper revealed that since 1974, when Roundup was first commercially sold, more than 1.6 billion kilograms (or 3.5 billion pounds) of glyphosate has been used in the U.S., making up 19 percent of the 8.6 billion kilograms (or 18.9 billion pounds) of glyphosate used around the world.
"Genetically engineered herbicide-tolerant crops now account for about 56 percent of global glyphosate use," agricultural economist Charles M. Benbrook, PhD, and author of the study wrote in his paper. "In the U.S., no pesticide has come remotely close to such intensive and widespread use."
The embattled multinational biotech firm is staring down mounting lawsuits alleging that exposure to the controversial chemical causes cancer.
In the U.S., tallow amine can be found in several household products, according to the U.S. Geological Survey (USGS). The agency considers polyethoxylated tallow amine (POEA) to have known toxic effects on aquatic organisms. POEA was added to the original formulation of the herbicide glyphosate and the additive is still common in several newer agricultural and household glyphosate formulations, the USGS said.
"Since glyphosate is one of the most widely used pesticides in the United States, the findings could indicate that POEA may be widely available for transport into surface water and groundwater," the USGS said.
Europeans tend to be far more suspicious of biotechnology and genetically modified organisms (GMOs) than people in the U.S. GMOs are heavily regulated in the European Union.
In June 2015, France restricted the sale of glyphosate weedkillers in garden centers.
"France must be on the offensive with regards to the banning of pesticides," Royal said then. "I have asked garden centers to stop putting Monsanto's Roundup on sale."
France also has a ban on aerial spraying of pesticides and prohibits pesticides in parks and green spaces.
YOU MIGHT ALSO LIKE
3 Reasons Why Flint's Water Is Poisoned: Lack of Investment, Equity and Democracy
Organic Farmer Dealt Final Blow in Landmark Lawsuit Over Monsanto's GMO Contamination
Coffee Farmers Sue Monsanto for Hiding Cancer-Causing Impact of Glyphosate
Imports of Genetically Engineered Salmon Blocked Until Labeling Requirements Are Established
EcoWatch Daily Newsletter
A Starbucks barista prepares a drink at a Starbucks Coffee Shop location in New York. Ramin Talaie / Corbis via Getty Images
By Cathy Cassata
Are you getting your fill of Starbucks' new Almondmilk Honey Flat White, Oatmilk Honey Latte, and Coconutmilk Latte, but wondering just how healthy they are?
By Sharon Kelly
Back in April last year, the Trump administration's Environmental Protection Agency decided it was "not necessary" to update the rules for toxic waste from oil and gas wells. Torrents of wastewater flow daily from the nation's 1.5 million active oil and gas wells and the agency's own research has warned it may pose risks to the country's drinking water supplies.
Swedish climate activist Greta Thunberg takes part in a "Friday for Future" youth demonstration in a street of Davos on Jan. 24, 2020 on the sideline of the World Economic Forum annual meeting. FABRICE COFFRINI / AFP via Getty Images
Treasury Secretary Steven Mnuchin pretended not to know who Greta Thunberg is, and then he told her to get a degree in economics before giving world leaders advice, as The Guardian reported.
The Visible Infrared Imaging Radiometer Suite on the Suomi NPP satellite acquired this image of forest fire smoke hovering over North America on Aug. 15, 2018. NASA Earth Observatory
New York City isn't known for having the cleanest air, but researchers traced recent air pollution spikes there to two surprising sources — fires hundreds of miles away in Canada and the southeastern U.S.
If temperatures continue to rise, the world is at risk from global
sea-level rise
, which will flood many coastal cities as seen above in Bangladesh. NurPhoto / Contributor / Getty Images
The mounting climate emergency may spur the next global financial crisis and the world's central banks are woefully ill equipped to handle the consequences, according to a new book-length report by the Bank for International Settlements (BIS), as S&P Global reported. Located in Basel, Switzerland, the BIS is an umbrella organization for the world's central banks.