This website uses cookies to ensure you get the best experience while browsing it. By clicking 'Got It' you're accepting these terms.
France to Ban Glyphosate Weedkillers Due to Health Risks
Apr. 08, 2016 09:21AM EST
Food
France is banning glyphosate mixed with certain adjuvants (additives) due to its perceived risks to human health. The move comes less than two months after Ségolène Royal, France's minister of ecology, sustainable development and energy, called for the ban.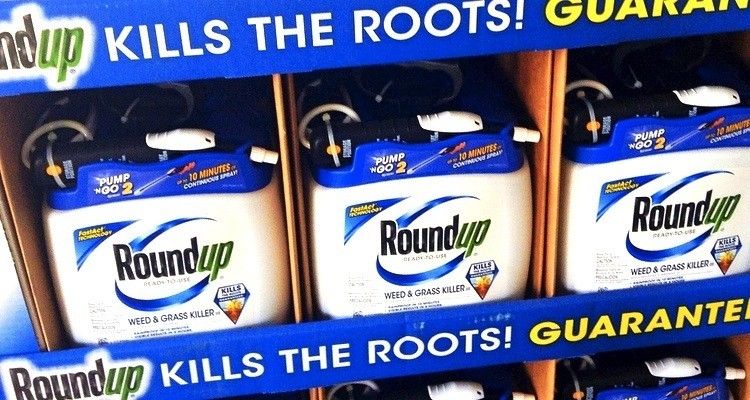 Monsanto's glyphosate-containing herbicides have been linked to cancer in humans. Photo credit: Flickr
ANSES—France's food, environment and health agency—sent a letter this week to manufacturers informing them that it intends to withdraw the authorization on herbicides containing glyphosate mixed with the adjuvant tallow amine, ANSES' deputy director general Francoise Weber told Reuters.
According to Weber, ANES made the decision after the European Food Safety Agency (EFSA) suggested greater potential risks compared to glyphosate alone.
As EcoWatch noted previously, tallow amine aids the effectiveness of herbicides such as glyphosate and is one of the ingredients in Monsanto's widely popular weedkiller Roundup.
Monsanto confirmed to Reuters they are one of the companies affected by the French ban, adding that the debate over glyphosate in Europe is "political." The agritech giant has long maintained the safety of their flagship product, which is also the world's most popular herbicide.
In Europe, there has been a great deal of controversy over glyphosate in recent months. It all started in November when EFSA rejected the World Health Organization's International Agency for Research on Cancer's (IARC) infamous classification of glyphosate as a possible carcinogen.
However, as EcoWatch mentioned, unlike the IARC the Italy-based EFSA examined glyphosate alone, not glyphosate formulations. The adverse health effects of the herbicide, therefore, could be related to reactions with "other constituents or 'co-formulants,'" the EFSA report said.
Last month, a number of government officials in France, Sweden, Italy and the Netherlands rebelled against the European Commission's plans to approve the relicensing of glyphosate in the European Union over health and safety risks. Licensing for glyphosate ends in June and the European Commission is proposing to grant the herbicide a new 15-year lease.
France already banned the sale of Roundup from garden centers last June due to its link to cancer. Royal has since urged for an outright ban on glyphosate herbicides across the EU.
YOU MIGHT ALSO LIKE
Africa's Traditional Crops Under Threat as Big Ag, Gates Foundation 'Donate' GMO Technology
Monsanto CEO Says 'Roundup Is Not A Carcinogen' But 94 Scientists From Around the World Disagree
Groups Sue FDA Over Approval of Genetically Engineered Salmon
5 Million Nigerians Oppose Monsanto's Plans to Introduce GMO Cotton and Corn
EcoWatch Daily Newsletter
Hedges, 2019 © Hugh Hayden. All photos courtesy of Lisson Gallery
By Patrick Rogers
"I'm really into trees," said the sculptor Hugh Hayden. "I'm drawn to plants."
BruceBlock / iStock / Getty Images
Thanks to their high concentration of powerful plant compounds, foods with a natural purple hue offer a wide array of health benefits.
Environmental Investigation Agency
Last week, the Peruvian Palm Oil Producers' Association (JUNPALMA) promised to enter into an agreement for sustainable and deforestation-free palm oil production. The promise was secured by the U.S. based National Wildlife Federation (NWF) in collaboration with the local government, growers and the independent conservation organization Sociedad Peruana de Ecodesarrollo.
Pixabay
Leaked documents show that Jair Bolsonaro's government intends to use the Brazilian president's hate speech to isolate minorities living in the Amazon region. The PowerPoint slides, which democraciaAbierta has seen, also reveal plans to implement predatory projects that could have a devastating environmental impact.
XL CATLIN SEAVIEW SURVEY / THE OCEAN AGENCY
Hope may be on the horizon for the world's depleted coral reefs thanks to scientists who successfully reproduced endangered corals in a laboratory setting for the first time, according to Reuters.
Last week we received positive news on the border wall's imminent construction in an Arizona wildlife refuge. The Trump administration delayed construction of the wall through about 60 miles of federal wildlife preserves.
PhotoAlto / Frederic Cirou / Getty Images
Drinking water treated with fluoride during pregnancy may lead to lower IQs in children, a controversial new study has found.