This website uses cookies to ensure you get the best experience while browsing it. By clicking 'Got It' you're accepting these terms.
France to Ban Glyphosate Weedkillers Due to Health Risks
Apr. 08, 2016 09:21AM EST
France is banning glyphosate mixed with certain adjuvants (additives) due to its perceived risks to human health. The move comes less than two months after Ségolène Royal, France's minister of ecology, sustainable development and energy, called for the ban.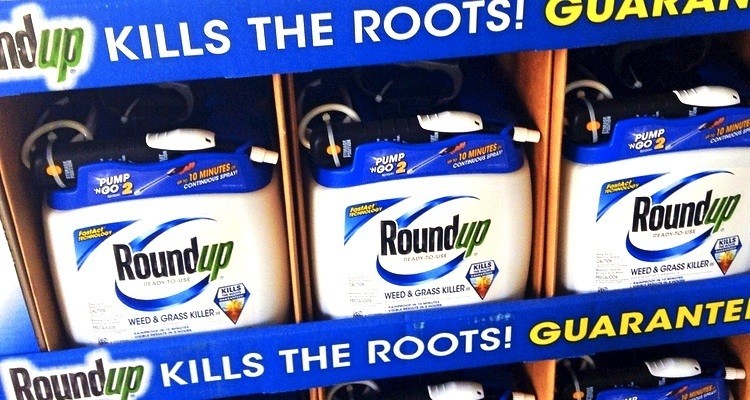 Monsanto's glyphosate-containing herbicides have been linked to cancer in humans. Photo credit: Flickr
ANSES—France's food, environment and health agency—sent a letter this week to manufacturers informing them that it intends to withdraw the authorization on herbicides containing glyphosate mixed with the adjuvant tallow amine, ANSES' deputy director general Francoise Weber told Reuters.
According to Weber, ANES made the decision after the European Food Safety Agency (EFSA) suggested greater potential risks compared to glyphosate alone.
As EcoWatch noted previously, tallow amine aids the effectiveness of herbicides such as glyphosate and is one of the ingredients in Monsanto's widely popular weedkiller Roundup.
Monsanto confirmed to Reuters they are one of the companies affected by the French ban, adding that the debate over glyphosate in Europe is "political." The agritech giant has long maintained the safety of their flagship product, which is also the world's most popular herbicide.
In Europe, there has been a great deal of controversy over glyphosate in recent months. It all started in November when EFSA rejected the World Health Organization's International Agency for Research on Cancer's (IARC) infamous classification of glyphosate as a possible carcinogen.
However, as EcoWatch mentioned, unlike the IARC the Italy-based EFSA examined glyphosate alone, not glyphosate formulations. The adverse health effects of the herbicide, therefore, could be related to reactions with "other constituents or 'co-formulants,'" the EFSA report said.
Last month, a number of government officials in France, Sweden, Italy and the Netherlands rebelled against the European Commission's plans to approve the relicensing of glyphosate in the European Union over health and safety risks. Licensing for glyphosate ends in June and the European Commission is proposing to grant the herbicide a new 15-year lease.
France already banned the sale of Roundup from garden centers last June due to its link to cancer. Royal has since urged for an outright ban on glyphosate herbicides across the EU.
YOU MIGHT ALSO LIKE
Africa's Traditional Crops Under Threat as Big Ag, Gates Foundation 'Donate' GMO Technology
Monsanto CEO Says 'Roundup Is Not A Carcinogen' But 94 Scientists From Around the World Disagree
Groups Sue FDA Over Approval of Genetically Engineered Salmon
5 Million Nigerians Oppose Monsanto's Plans to Introduce GMO Cotton and Corn
Plus, learn if there's one that's best for your health.
Catherine Falls Commercial / Moment / Getty Images
An invasive Amynthas worm, also known as a crazy snake worm, Asian jumping worm and Alabama jumper Tom Potterfield / Flickr
By Jason Bittel
My wife and I built a house two years ago on a few acres of woodland outside of Pittsburgh. The backyard is full of maples, poplars, briars and common spicebush. Two-lined salamanders and grumpy-looking crayfish wade among the rocks in the small stream that runs down the edge of the property. Deer, raccoon and opossum tracks appear regularly in the snow and mud. Sometimes, my trail-cam even catches a pair of gray foxes as they slink through the night.
AleksandarNakic / Getty Images
By Kate Murphy
No matter the time of year, there's always a point in each season when my skin decides to cause me issues. While these skin issues can vary, I find the most common issues to be dryness, acne and redness.

David Woodfall / The Image Bank / Getty Images
By Sam Nickerson
The U.S. Environmental Protection Agency (EPA) in April 2018 proposed relaxing standards related to how it assesses the effects of exposure to low levels of toxic chemicals on public health.
Now, correspondence obtained by the LA Times revealed just how deeply involved industry lobbyists and a controversial, industry-funded toxicologist were in drafting the federal agency's proposal to scrap its current, protective approach to regulating toxin exposure.
Steve Irwin poses with a three foot long alligator at the San Francisco Zoo on June 26, 2002. Justin Sullivan / Getty Images
February 22 is the birthday of conservationist and beloved TV personality "Crocodile Hunter" Steve Irwin, who would have been 57 years old today.
Irwin's life was tragically cut short when the barb from a stingray went through his chest while he was filming in 2006, but his legacy of loving and protecting wildlife lives on, most recently in a Google Doodle today honoring his birthday.