This website uses cookies to ensure you get the best experience while browsing it. By clicking 'Got It' you're accepting these terms.
France Bans Monsanto's Roundup as Environmental Groups Push WHO for Stronger Safety Standards
Jun. 16, 2015 12:51PM EST
GMO
What's a GMO-promoting multinational chemical company to do? Word is getting out that, while the science isn't clear whether genetically modified crops (GMOs) themselves are harmful, the fact that they were created to be resistant to increasing amounts of pesticides such as glyphosate is a problem.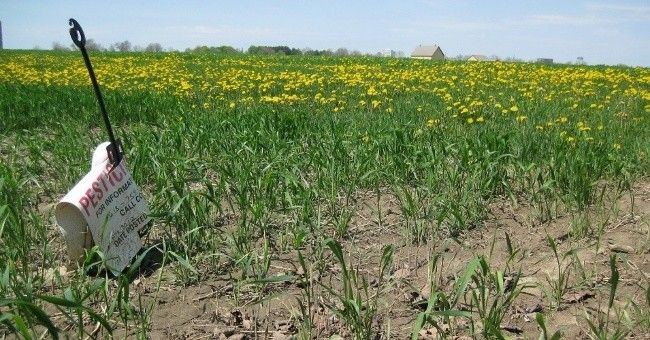 Monsanto, which manufactures the glyphosate weedkiller Roundup, reacted furiously to a report released earlier this year by the World Health Organization (WHO) that glyphosate likely causes cancer. The company demanded that WHO retract the report, repudiating the years of research by multiple scientists. With Roundup the most widely used and top-selling herbicide, Monsanto clearly has a bottom line to protect.
That bottom line has just taken another hit. In Europe, where people are far more suspicious of the extravagant claims and potential dangers of GMOs than in the U.S. and heavily regulates them, the French government has announced this week that it is restricting the sale of glyphosate weedkillers in garden centers.
"France must be on the offensive with regards to the banning of pesticides," said ecology minister Ségolène Royal. "I have asked garden centers to stop putting Monsanto's Roundup on sale."
A la place du glyphosate (round up), pesticide cancérigène selon l'OMS, jardinez nature http://t.co/LNJ9w51Yb5 pic.twitter.com/Gfr4pW8aO2

— Ségolène Royal (@RoyalSegolene) June 14, 2015
Meanwhile, concern is growing in the U.S. about the use of glyphosate and the new Enlist Duo herbicide from Dow which combines glyphosate and 2,4-D to combat another problem stemming from glyphosate use: the rise of "superweeds" resistant to pesticides. "The U.S. Environmental Protection Agency (EPA) should heavily weigh the world's leading cancer experts' recent classification of glyphosate as the agency moves through its process to reregister this widely used herbicide," said Mary Ellen Kustin, senior analyst at the Environmental Working Group (EWG).
"In the U.S., most glyphosate is sprayed on farmland—roughly 280 million pounds annually. Blanketing genetically engineered crops with glyphosate accounts for the vast majority of the toxic herbicide's agricultural use. But without requiring labels on GMO foods similar to labeling laws in France and 63 other countries around the world, the U.S. leaves its consumers confused as to whether or not they're buying GMO foods," Kustin continued.
France's action comes as a coalition of environmental groups sent WHO a letter urging it to set safety standards for glyphosate weedkillers. The group, which includes the Natural Resources Defense Council, Friends of the Earth U.S., Friends of the Earth Europe, Center for Biological Diversity, Center for Food Safety, Pesticide Action Network of North America, Pesticide Action Network UK, Food & Water Watch and Toxic Free North Carolina, expressed concern that the eight-member expert advisory committee reviewing WHO's glyphosate/cancer report includes three panelists who have ties to the chemical industry, including Monsanto.
"The WHO is highly respected for protecting public health around the world, and it should move forward immediately to safeguard people from being harmed by glyphosate," said Natural Resources Defense Council health program director Erik Olson. "At the same time, the WHO should make absolutely sure that its expert review panel is free of conflicts of interest so it can make science-based evaluations of herbicide and pesticide residues on food and advise what levels are safe for people to be exposed to."
"Time and time again we have seen corporate interests influence major decisions affecting the health of consumers and the environment," said Food & Water Watch Executive Director Wenonah Hauter. "We will not stand by and watch WHO-IARC's conclusion on glyphosate become watered down due to the presence of task force members tied to major biotech firms. Farmers, farmworkers and communities who live and work near farms sprayed with glyphosate are depending on a rigorous, independent review of this chemical and the WHO must provide it."
Earlier this spring, a lobbyist had to eat his words (shall we say, drink his poison) on French television after claiming glyphosate was so safe, you could drink it. Watch what happens when he is offered the chance to drink some pesticides:
YOU MIGHT ALSO LIKE
Big Ag Claims Cancer-Causing Glyphosate No More Dangerous Than 'Coffee or Working the Night Shift'
Monsanto's Roundup — Most Popular Weed Killer in U.S. — 'Probably' Causes Cancer, WHO Report Says
Advocacy Group Demands Monsanto Retract Ridiculous Comments on WHO Glyphosate Report
EcoWatch Daily Newsletter

Andrea Rodgers, second from the right, takes notes during a hearing in the Juliana v. U.S. case before the 9th Circuit Court of Appeals in Portland, Oregon on June 4. Colleague Elizabeth Brown sits to her left, while colleague Julia Olson sits on her right, with co-council Philip Gregory on Julia's right. Robin Loznak / Our Children's Trust
By Fran Korten
On June 4, Andrea Rodgers was in the front row of attorneys sitting before a three-judge panel of the 9th Circuit Court. The court session, held in Portland, Oregon, was to determine whether the climate change lawsuit (Juliana v. United States) brought by 21 young plaintiffs should be dismissed, as requested by the U.S. government, or go on to trial.
Seventy Extinction Rebellion protesters were arrested outside The New York Times building Saturday.
SCOOTERCASTER / YouTube screenshot
Explosions and a blaze at the Philadelphia Energy Solutions Refining Complex on June 21.
VOA News / YouTube screenshot
A fire broke out at a Philadelphia oil refinery Friday morning, starting with an explosion so massive it was felt as far away as South Jersey and Delaware County, Pennsylvania, CNN reported.
Asian elephants in Bandipur National Park, India. Mike Prince / CC BY 2.0
By John R. Platt
Some of the tiniest creatures in Myanmar benefit from living near the largest species in the area.
Eucador's Waorani indigenous people celebrated a court ruling against oil extraction on their ancestral lands.
Oregon state capitol. Tashka / iStock / Getty Images
Oregon republicans fled their state rather than do anything to stop the climate crisis. The state republicans abrogated their duties as elected officials and ran away since they don't have the votes to stop a landmark bill that would make Oregon the second state to adopt a cap-and-trade program to curb greenhouse gas emissions, as Vice News reported.