Fracking's Future in Doubt as Oil Price Plummets
There's no doubt that U.S.-based fracking—the process through which oil and gas deposits are blasted from shale deposits deep underground—has caused a revolution in worldwide energy supplies.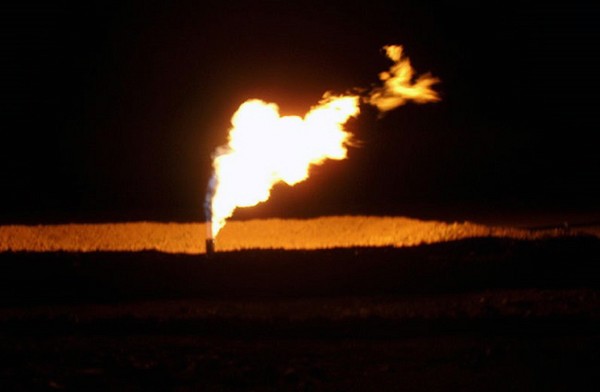 Photo credit: Joshua Doubek / Wikimedia Commons
Yet now the alarm bells are ringing about the financial health of the fracking industry, with talk of a mighty monetary bubble bursting—leading to turmoil on the international markets similar to that in 2008.
In many ways, it's a straightforward case of supply and demand. Due to the U.S. fracking boom, world oil supply has increased.
Glut in supplies
But with global economic growth now slowing—the drop in growth in China is particularly significant—there's a lack of demand and a glut in supplies, leading to a fall in price of nearly 50 percent over the last six months.
Fracking has become a victim of its own success. The industry in the U.S. has grown very fast. In 2008, U.S. oil production was running at five million barrels a day. Thanks to fracking, that figure has nearly doubled, with talk of U.S. energy self-sufficiency and the country becoming the world's biggest oil producer—"the new Saudi Arabia"—in the near future.
The giant Bakken oil and gas field in North Dakota—a landscape punctured by thousands of fracking sites, with gas flares visible from space—was producing 200,000 barrels of oil a day in 2007. Production is now running at more than one million barrels a day.
Fuelled by talk of the financial rewards to be gained from fracking, investors have piled into the business. The U.S. fracking industry now accounts for about 20 percent of the world's total crude oil investment.
But analysts say this whole investment edifice could come crashing down.
More vulnerable
Fracking is an expensive business. Depending on site structure, companies need prices of between $60 and $100 per barrel of oil to break even. As prices drop to around $55 per barrel, investments in the sector look ever more vulnerable.
Analysts say that while bigger fracking companies might be able to sustain losses in the short term, the outlook appears bleak for the thousands of smaller, less well-financed companies who rushed into the industry, tempted by big returns.
The fracking industry's troubles have been added to by the actions of the Organisation of Petroleum Exporting Countries (OPEC), which, despite the oversupply on the world market, has refused to lower production.
The theory is that OPEC, led by powerful oil producers such as Saudi Arabia, is playing the long game—seeking to drive the fracking industry from boom to bust, stabilise prices well above their present level, and regain its place as the world's pre-eminent source of oil.
There are now fears that many fracking operations may default on an estimated $200 billion of borrowings, raised mainly through bonds issued on Wall Street and in the City of London.
In turn, this could lead to a collapse in global financial markets similar to the 2008 crash.
Existing reserves
There are also questions about just how big existing shale oil and gas reserves are, and how long they will last. A recent report by the Post Carbon Institute, a not-for-profit think tank based in the U.S., says reserves are likely to peak and fall off rapidly, far sooner than the industry's backers predict.
The cost of drilling is also going up as deposits become more inaccessible.
Besides ongoing questions about the impact of fracking on the environment—in terms of carbon emissions and pollution of water sources—another challenge facing the industry is the growth and rapidly falling costs of renewable energy.
Fracking operations could also be curtailed by more stringent regulations designed to counter fossil fuel emissions and combat climate change.
Its backers have hyped fracking as the future of energy—not just in the U.S., but around the world. Now the outlook for the industry is far from certain.
YOU MIGHT ALSO LIKE
Plunging Oil Prices Trigger Economic Downturn in Fracking Boom Town
Monumental Growth of Crude-by-Rail Ignites Communities to Fight Back
Families Forced to Flee Their Homes From Out-of-Control Leak at Fracking Well
Dow CEO Andrew Liveris and President Donald Trump in February.
U.S. Environmental Protection Agency (EPA) administrator Scott Pruitt met with Dow Chemical CEO Andrew Liveris before deciding to reverse an earlier EPA decision to ban the company's toxic and widely used pesticide, chlorpyrifos.
According to records obtained by the Associated Press, the EPA boss met with Liveris for about 30 minutes at a Houston hotel on March 9. Later that month, Pruitt announced that he would no longer pursue a ban on chlorpyrifos from being used on food, ignoring his agency's own review that even small amounts of the pesticide could impact fetus and infant brain development.
Keep reading...
Show less
www.facebook.com
Native communities and environmental justice advocates in Louisiana opened a new resistance camp Saturday to oppose the proposed Bayou Bridge Pipeline project. Called L'eau Est La Vie, or Water is Life, the camp will consist of floating indigenous art structures on rafts and constant prayer ceremonies during its first two weeks.
Keep reading...
Show less
Continuing its march toward elimination of key Clean Water Act protections, the U.S. Environmental Protection Agency (EPA) on Tuesday issued a formal notice of withdrawal of the Obama administration's rule defining which waters can be protected against pollution and destruction under federal law.
Keep reading...
Show less
The U.S. Environmental Protection Agency (EPA) is not doing enough to prevent weed resistance to the herbicide glyphosate (Roundup) says a new report from the EPA's Inspector General's Office, which draws in part on a report from the agbiotech company, Pioneer: Weed Management in the Era of Glyphosate Resistance.
Keep reading...
Show less
SUMR
When it comes to the latest wind turbine technologies, size matters. A group of six institutions and universities is designing an offshore wind turbine that will stand 500 meters in height. That's taller than the Eiffel Tower and the Empire State Building.
The research team, led by researchers at the University of Virginia, believes that its wind turbine concept will produce 50 megawatts of peak power, or about 10 times more powerful than conventional wind turbines.
Keep reading...
Show less
www.facebook.com
Natural gas is often considered the cleanest fossil fuel, but could it actually be dirtier than coal?
Watch as New York Times reporter Mark Bittman, in the above Year's of Living Dangerously video, investigates how much methane is leaking at fracking wells. Find out how the natural gas industry's claims compare to what scientists are reporting.
See what happens when Gaby Petron, an atmospheric scientist with NOAA, converts her van into a mobile methane detector and sets out across northeastern Colorado for two years, taking thousands of readings to uncover the truth.
www.youtube.com
Adrian Grenier was named UN Goodwill Ambassador earlier this month. The Hollywood actor, best known for his iconic role of A-list movie star Vincent Chase in the HBO smash hit and film Entourage, will advocate for drastically reducing single-use plastic and protection of marine species, and encourage his followers to make conscious consumer choices to reduce their environmental footprint, according to the UN Environment announcement.
"Together we must usher in a new era of compassion and carefulness through forward thinking environmental programs to drive measurable change," Grenier said. "I am personally committed to creating ways in which the global community can come together to help solve our most critical climate crises through routine, collective action.
"The more we connect to nature in our daily lives, the more dedicated we will become to our individual commitments. Together, I believe we can go further, faster in our race to achieve the UN Sustainable Development Goals by 2030."
Watch the video above to learn more.
The last week has seen a flood of stories on clean energy's prospects—stories that make your head spin with their conflicting tales of renewable energy's prospects of ending our dangerous addiction to fossil fuel power from coal and gas.
Keep reading...
Show less


Get EcoWatch in your inbox