This website uses cookies to ensure you get the best experience while browsing it. By clicking 'Got It' you're accepting these terms.
Fracking's Future in Doubt as Oil Price Plummets
Jan. 06, 2015 09:41AM EST
There's no doubt that U.S.-based fracking—the process through which oil and gas deposits are blasted from shale deposits deep underground—has caused a revolution in worldwide energy supplies.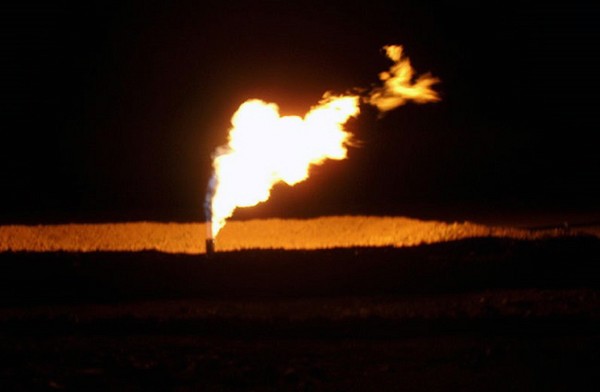 Photo credit: Joshua Doubek / Wikimedia Commons
Yet now the alarm bells are ringing about the financial health of the fracking industry, with talk of a mighty monetary bubble bursting—leading to turmoil on the international markets similar to that in 2008.
In many ways, it's a straightforward case of supply and demand. Due to the U.S. fracking boom, world oil supply has increased.
Glut in supplies
But with global economic growth now slowing—the drop in growth in China is particularly significant—there's a lack of demand and a glut in supplies, leading to a fall in price of nearly 50 percent over the last six months.
Fracking has become a victim of its own success. The industry in the U.S. has grown very fast. In 2008, U.S. oil production was running at five million barrels a day. Thanks to fracking, that figure has nearly doubled, with talk of U.S. energy self-sufficiency and the country becoming the world's biggest oil producer—"the new Saudi Arabia"—in the near future.
The giant Bakken oil and gas field in North Dakota—a landscape punctured by thousands of fracking sites, with gas flares visible from space—was producing 200,000 barrels of oil a day in 2007. Production is now running at more than one million barrels a day.
Fuelled by talk of the financial rewards to be gained from fracking, investors have piled into the business. The U.S. fracking industry now accounts for about 20 percent of the world's total crude oil investment.
But analysts say this whole investment edifice could come crashing down.
More vulnerable
Fracking is an expensive business. Depending on site structure, companies need prices of between $60 and $100 per barrel of oil to break even. As prices drop to around $55 per barrel, investments in the sector look ever more vulnerable.
Analysts say that while bigger fracking companies might be able to sustain losses in the short term, the outlook appears bleak for the thousands of smaller, less well-financed companies who rushed into the industry, tempted by big returns.
The fracking industry's troubles have been added to by the actions of the Organisation of Petroleum Exporting Countries (OPEC), which, despite the oversupply on the world market, has refused to lower production.
The theory is that OPEC, led by powerful oil producers such as Saudi Arabia, is playing the long game—seeking to drive the fracking industry from boom to bust, stabilise prices well above their present level, and regain its place as the world's pre-eminent source of oil.
There are now fears that many fracking operations may default on an estimated $200 billion of borrowings, raised mainly through bonds issued on Wall Street and in the City of London.
In turn, this could lead to a collapse in global financial markets similar to the 2008 crash.
Existing reserves
There are also questions about just how big existing shale oil and gas reserves are, and how long they will last. A recent report by the Post Carbon Institute, a not-for-profit think tank based in the U.S., says reserves are likely to peak and fall off rapidly, far sooner than the industry's backers predict.
The cost of drilling is also going up as deposits become more inaccessible.
Besides ongoing questions about the impact of fracking on the environment—in terms of carbon emissions and pollution of water sources—another challenge facing the industry is the growth and rapidly falling costs of renewable energy.
Fracking operations could also be curtailed by more stringent regulations designed to counter fossil fuel emissions and combat climate change.
Its backers have hyped fracking as the future of energy—not just in the U.S., but around the world. Now the outlook for the industry is far from certain.
YOU MIGHT ALSO LIKE
Plunging Oil Prices Trigger Economic Downturn in Fracking Boom Town
Monumental Growth of Crude-by-Rail Ignites Communities to Fight Back
Families Forced to Flee Their Homes From Out-of-Control Leak at Fracking Well
PeopleImages / E+ / Getty Images
By Daniel Ross
Hurricane Florence, which battered the U.S. East Coast last September, left a trail of ruin and destruction estimated to cost between $17 billion and $22 billion. Some of the damage was all too visible—smashed homes and livelihoods. But other damage was less so, like the long-term environmental impacts in North Carolina from hog waste that spilled out over large open-air lagoons saturated in the rains.
Hog waste can contain potentially dangerous pathogens, pharmaceuticals and chemicals. According to the state's Department of Environmental Quality, as of early October nearly 100 such lagoons were damaged, breached or were very close to being so, the effluent from which can seep into waterways and drinking water supplies.
This picture taken on May 21, 2018 shows discarded climbing equipment and rubbish scattered around Camp 4 of Mount Everest. Decades of commercial mountaineering have turned Mount Everest into the world's highest rubbish dump as an increasing number of big-spending climbers pay little attention to the ugly footprint they leave behind. DOMA SHERPA / AFP / Getty Images
China has closed its Everest base camp to tourists because of a buildup of trash on the world's tallest mountain.
Researchers tested the eggs of Arctic northern fulmers like these in Nunavut, Canada.
Fiona Paton / Flickr
By Madison Dapcevich
Plastics have been recorded in every corner of the world, from the remote icy waters of Antarctica to the bellies of deep-sea fishes. Now, preliminary findings presented at this year's American Association for the Advancement of Science (AAAS) annual meeting in Washington, DC suggest that bird eggs from the high Arctic—one of the most remote wildernesses on the planet—show evidence of contamination from chemicals used in plastics.

A small Australian rat that lived on a 12 acre island in the Great Barrier Reef has become the first mammal to go extinct primarily because of human-caused climate change, the Australian Government confirmed Monday.
The Bramble Cay melomys was first declared extinct after a 2014 search on Bramble Cay, its native island in the Torres Strait, between Queensland, Australia and Papua New Guinea, according to a 2016 report by the University of Queensland and the Queensland government.