This website uses cookies to ensure you get the best experience while browsing it. By clicking 'Got It' you're accepting these terms.
Fracking Waste Injection Wells Put Millions of Californians at Risk of Increased Earthquakes
Mar. 13, 2014 09:37AM EST
Energy
Oil companies are increasing California's earthquake risk by injecting billions of gallons of oil and gas wastewater a year into hundreds of disposal wells near active faults around Los Angeles, Bakersfield and other major cities, according to a new report from Earthworks, the Center for Biological Diversity and Clean Water Action.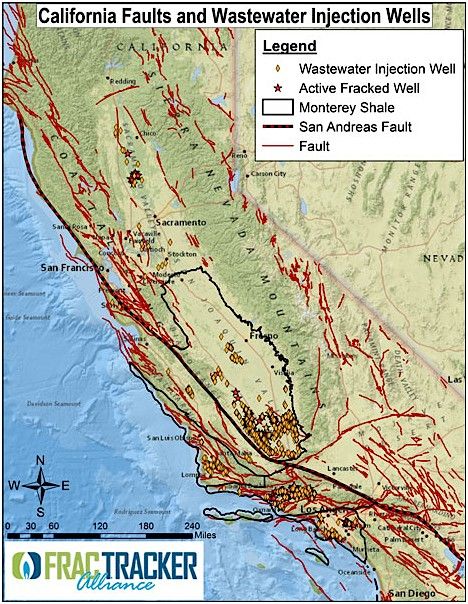 A boom in hydraulic fracturing—fracking—in California would worsen the danger of earthquakes, the report finds, by greatly increasing oil wastewater production and underground injection. Extracting the Monterey Shale's oil could produce almost 9 trillion gallons of contaminated wastewater, the report estimates. That could expose California to a surge in damaging earthquakes like those seen in Oklahoma, Texas and other states experiencing rapidly increased fracking and wastewater production.
The report, On Shaky Ground: Fracking, Acidizing and Increased Earthquake Risk in California finds that millions of Californians live in areas threatened by oil industry-induced earthquakes. Academic research and government experts conclude that wastewater injection can reduce faults' natural friction and trigger earthquakes.
"This isn't rocket science. We've known for decades that wastewater injection increases earthquake risk," said report co-author Jhon Arbelaez of Earthworks' Oil and Gas Accountability Project. "Since Gov. Brown resolutely refuses to learn from other communities' experience with fracking across the country, our only option to protect California families is to prevent fracking altogether."
State officials have not examined whether past earthquakes were triggered by fracking or disposal wells, and existing and proposed regulations do not adequately address the risk. Because of research and knowledge gaps and inadequate monitoring, state officials cannot protect Californians from induced quakes.
"An oil fracking boom in California could raise the risk of devastating earthquakes in some of our biggest cities," said report coauthor Shaye Wolf, Ph.D., of the Center for Biological Diversity. "State officials are ignoring the problem, but as risky new oil production techniques spread, we could see trillions of gallons of wastewater shot into the ground near active faults. We need to nip this danger in the bud by halting fracking and acidizing."

"The risk of seismic impacts is yet another illustration that the massive wastestream resulting from oil production threatens California's drinking water and public safety," said report coauthor Andrew Grinberg of Clean Water Action. "While threats to water, air and health have been well-documented, our emerging understanding of the risk of induced seismicity is yet another reason for a time-out on fracking. The findings in this report continue this troubling trend: the more we learn about California's oil industry, the more cause we find for alarm."
The On Shaky Ground report's key findings:
A majority of California's active oil industry wastewater injection wells are near recently active faults.
Millions of Californians are at risk for induced earthquakes: the oil industry operates hundreds of wastewater injection wells very close to active faults and near major California population centers, such as Los Angeles and Bakersfield.
Research and monitoring are dangerously inadequate: the increased earthquake risk from California's existing wastewater injection wells or fracked wells is unstudied. And state oil regulators require no seismic monitoring near wastewater injection wells.
Regulations don't protect Californians: due to significant knowledge gaps, California's Division of Oil, Gas and Geothermal Resources cannot safely regulate the earthquake risk from oil and gas production and wastewater disposal.
Other states have seen surges in wastewater-induced earthquakes: areas outside California where fracking and underground wastewater disposal have proliferated have suffered as much as a 10-fold increase in quake activity.
Halting fracking is the best solution: given the earthquake risk linked to wastewater disposal, as well as unconventional oil production's other environmental risks, the best way to protect Californians is to halt fracking, acidizing and other dangerous oil and gas recovery techniques.
Visit EcoWatch's FRACKING pages for more related news on this topic.

EcoWatch Daily Newsletter
Artist's conception of solar islands in the open ocean. PNAS
Millions of solar panels clustered together to form an island could convert carbon dioxide in seawater into methanol, which can fuel airplanes and trucks, according to new research from Norway and Switzerland and published in the Proceedings of the National Academy of Sciences journal, PNAS, as NBC News reported. The floating islands could drastically reduce greenhouse gas emissions and dependence on fossil fuels.
Marcos Alves / Moment Open / Getty Images
More than 40 percent of insects could go extinct globally in the next few decades. So why did the U.S. Environmental Protection Agency (EPA) last week OK the 'emergency' use of the bee-killing pesticide sulfoxaflor on 13.9 million acres?
EcoWatch teamed up with Center for Biological Diversity via EcoWatch Live on Facebook to find out why. Environmental Health Director and Senior Attorney Lori Ann Burd explained how there is a loophole in the The Federal Insecticide, Fungicide, and Rodenticide Act under section 18, "that allows for entities and states to request emergency exemptions to spraying pesticides where they otherwise wouldn't be allowed to spray."
Simple swaps that cut down on kitchen trash.
Sponsored
By Kayla Robbins
Along with the bathroom, the kitchen is one of the most daunting areas to try and make zero waste.
View of downtown Miami, Florida from Hobie Island on Feb. 2, 2019.
Michael Muraz / Flickr
The Democratic candidates for president descended upon Miami for a two-night debate on Wednesday and Thursday. Any candidate hoping to carry the state will have to make the climate crisis central to their campaign, as The New York Times reported.
By Sharon Kelly
On Monday, the Wall Street Journal featured a profile of Scott Sheffield, CEO of Pioneer Natural Resources, whose company is known among investors for its emphasis on drawing oil and gas from the Permian basin in Texas using horizontal drilling and hydraulic fracturing, or fracking.
Pexels
By Craig K. Chandler
The federal government has available to it, should it choose to use them, a wide range of potential climate change management tools, going well beyond the traditional pollution control regulatory options. And, in some cases (not all), without new legislative authorization.
Denis Poroy / Getty Images
By Dan Gray
Processed foods, in their many delicious forms, are an American favorite.
But new research shows that despite increasing evidence on just how unhealthy processed foods are, Americans have continued to eat the products at the same rate.
By Sarah Steffen
With a profound understanding of their environmental surroundings, indigenous communities around the world are often cited as being pivotal to tackling climate change.