This website uses cookies to ensure you get the best experience while browsing it. By clicking 'Got It' you're accepting these terms.
Fracking Waste Disposal Fuels Opposition in U.S. and Abroad
Aug. 14, 2014 10:50AM EST
Energy
A poll taken by Public Policy Polling revealed this week that 65 percent of California residents oppose dumping fracking waste in the ocean. The actions of fracking companies in both the U.S. and England, the eagerness of many government bodies and officials to cater to them, and the obfuscation around the disposal of the waste show they have reason to be concerned.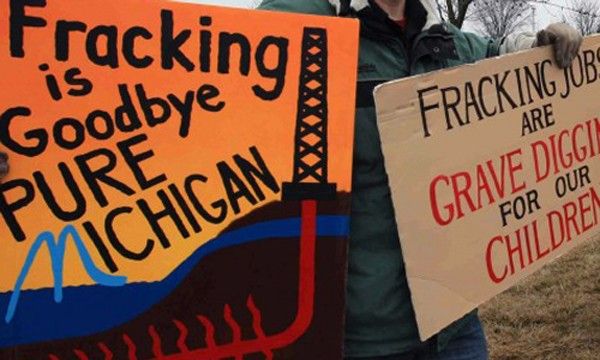 Ban Michigan Fracking reports that 12 tons of radioactive fracking waste is heading for a hazardous waste facility in the Detroit area from Pennsylvania. The facility, Wayne Disposal Inc., is one of only two in the country that accepts this waste (the other is in Idaho), which was already rejected by a West Virginia facility for its high level of radioactivity.
The group spoke to Ken Yale, chief of Radiological Protection division at the Michigan Department of Environmental Quality, who said he was unaware of this particular shipment. Another Michigan facility that processes radioactive waste for shipment to the Idaho landfill does not have to report the shipments it receives to the Department of Environmental Quality.
The lack of places to dump fracking waste is emerging as one of the industry's biggest problems. Recently, for the second time, the New Jersey legislature voted by an overwhelming bipartisan majority to prohibit the treatment, storing and disposal of fracking waste water in that state  And last week it was vetoed for the second time by Governor Chris Christie, angering environmentalists, as well as legislators.
One of the bill's sponsors, state senator Bob Gordon, released a statement that said, "The liquids used in fracking are toxic substances that are known to be hazardous to humans, and this legislation would have protected New Jersey residents from that danger. One of the main responsibilities of government is to protect its residents from harm, and today Gov. Chris Christie failed that test."
In England, where the government announced last month that half the country would be open to fracking, it's also approved the injection of a million and a half gallons of potentially radioactive water under the North Moors National Park, reports public interest investigative organization Spinwatch. Third Energy, which holds the rights to the oil field located under the park, is currently planning only conventional gas drilling. But the area is said to contain extensive stores of shale gas as well.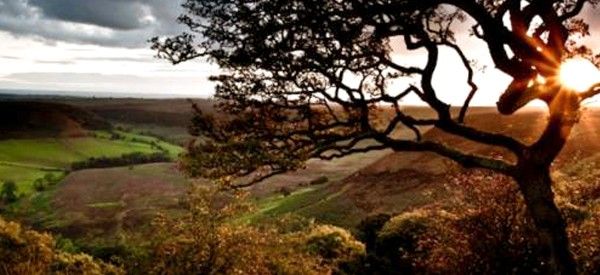 Spinwatch's Andy Rowell reports:
The commercial success of the Ebberston Moor field depends on Third Energy being allowed to re-inject the potentially radioactive water that is produced with the gas back into what is known as the Sherwood Sandstone formation, which overlies the limestone where the gas will be extracted from. The sandstone lies 1400 metres below the ground. Notes of a meeting between Third Energy and the regulator involved, the Environment Agency, disclosed under the Freedom of Information Act (FOIA), reveals that "the success of the Ebberston Moor Field is dependent on the disposal of [produced] water to the Sherman Sandstone."
As in Michigan, there are unanswered questions surrounding the impact of fracking waste disposal. While Third Energy says the risk of contaminating drinking water is minimal, local anti-fracking activists have expressed concern about leakage, since the re-injection well would pass through aquifers that supply drinking water.
Activist Russell Scott points out at Frack Free Yorkshire that the proposed waste is equivalent to "a full sized Olympic swimming pool full of hazardous waste pumped down the well under high pressure every day for over nine years. " He says, "Third Energy's suggestions that this process will not have any negative impacts on the integrity of the well casing protecting our drinking water from the injected waste is simply ridiculous."
With so much unclear about the safety of fracking waste and where it is ending up, citizen protests are becoming increasingly common. Illinois People's Action reports that 100 protestors from its organization and others showed up at an appearance by Governor Pat Quinn at the Illinois State Fair.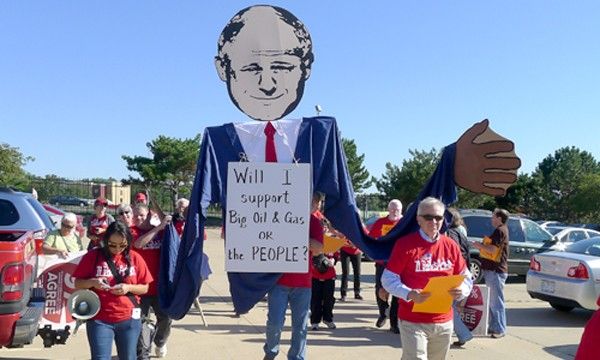 "The real tragedy here is that corporate greed could win out over the welfare of the people of Illinois," said IPA spokesman Bill Rau. "This is not about jobs for Illinoisians. This is about profit for oil and gas companies. The choice our elected officials are facing is whether they are going to stand with families and our environment as our Illinois Constitution says, or blindly support what oil and gas wants to do for its own profits. We're asking Governor Quinn, Whose side are you on?"
It's a question being asked in Michigan and New Jersey and England—and many other places—as well.
YOU ALSO MIGHT LIKE
New Jersey Senate Passes Fracking Waste Ban
Ohio Executive Pleads Guilty, Faces Three Years in Prison For Dumping Fracking Wastewater
EPA Will Require Offshore Frackers to Report Chemicals Discharged Into Pacific
EcoWatch Daily Newsletter
Oil palm plantations in northeastern Borneo, state of Sabah, Malaysia. Recently planted oil palms can be seen in the bright green grassy areas and a tiny bit of natural rainforest still struggles for survival farther away. Vaara / E+ / Getty Images
A fuel truck carries fuel into a fracking site past the warning signs Jan. 27, 2016 near Stillwater, Oklahoma. J Pat Carter / Getty Images
By Jessica Corbett
For more than three decades, the U.S. government has mismanaged toxic oil and gas waste containing carcinogens, heavy metals and radioactive materials, according to a new Earthworks report — and with the country on track to continue drilling and fracking for fossil fuels, the advocacy group warns of growing threats to the planet and public health.
European Union blue and gold flags flying at the European Commission building in Brussels, Belgium. 35007/ iStock / Getty Images Plus
Newly adopted guidelines set forth by the European Commission Tuesday aim to tackle climate change by way of the financial sector. The move comes to bolster the success of the Sustainable Action Plan published last year to reorient capital flows toward sustainable investment and manage financial risks from climate change, environmental degradation and social issues.
Prime Minister Justin Trudeau delivering remarks to supporters at a Liberal Climate Action Rally in Toronto, Ontario on March 4. Arindam Shivaani / NurPhoto / Getty Images
Canadian Prime Minister Justin Trudeau announced Tuesday that his government would once again approve the expansion of the Trans Mountain pipeline, which would triple the amount of oil transported from Alberta's tar sands to the coast of British Columbia (BC).
An exhausted polar bear wanders the streets of Norilsk, a Siberian city hundreds of miles from its natural habitat. IRINA YARINSKAYA / AFP / Getty Images

An exhausted, starving polar bear has been spotted wandering around the Siberian city of Norilsk, Reuters reported Tuesday. It is the first time a polar bear has entered the city in more than 40 years.
Bumblebees flying and pollinating a creeping thyme flower. emeliemaria / iStock / Getty Images
It pays to pollinate in Minnesota.