This website uses cookies to ensure you get the best experience while browsing it. By clicking 'Got It' you're accepting these terms.
Fracking the Ocean and California's San Andreas Fault
Aug. 13, 2013 11:41AM EST
Energy
Picture this: a dark, noirish landscape lit by gas flares from oil refineries, spinners whirring, on the hunt for replicants. Blade Runner is a dystopian sci-fi flick set in Los Angeles, circa 2019—but is it possible the film was prescient about the soft glow of burning methane after all?
Put another way, what if the oil refineries past which Harrison Ford flies aren't refineries, but fracking rigs?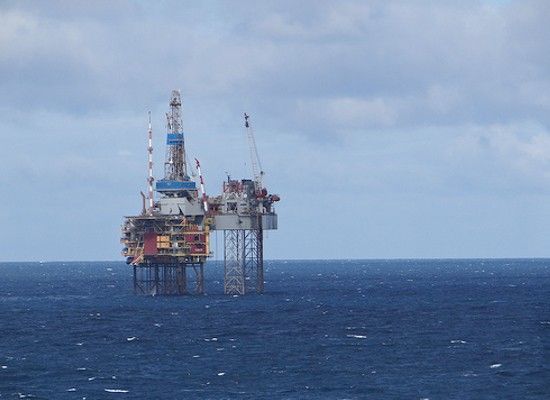 This notion isn't a much-rumored sequel to the 1982 classic; it's an admittedly nightmarish visual I couldn't help but contemplate should The Golden State succumb to vigorous oil and gas industry lobbying and intensify fracking offshore in the Pacific and in the Monterey Shale (which sits under LA and the environmentally precious Southern California coast, among other places).
Horizontal fracturing, or fracking, allows the oil and gas industry to get to natural gas and shale oil reserves trapped in massive underground deposits, as well as offshore oil and gas.
To be clear, fracking has been going on in California for decades. What's changed in recent years is the technology—which is newer, more powerful and more controversial—and the areas in which the oil and gas industry seek to drill. Here's where fracking is already happening:
The Inglewood Oil Field in Baldwin Hills (that's right in LA; New Yorkers, imagine an oil field in Park Slope) where more than one million people live within five miles of the site. Some residents of the neighborhood have observed cracks in pavement and on their property.
Offshore, more than a dozen fracking jobs have taken place, many to stimulate further oil production in the Santa Barbara Channel, though the jobs have "yielded mixed results" for oil companies, according to the Monterey Herald. This year, the EPA affirmed the exemption for the industry from the Clean Water Act, allowing them to continue disposing of fracking fluid at sea unimpeded. Thus far, there have been no studies on the impact of fracking on marine life; that said, traditional offshore drilling operations have been found to cause reproductive problems for wildlife.
The North Shafter oil field, also atop the Monterey Shale, has been newly fracked despite its location above California's agricultural heartland, the Central Valley. Recently, between six and 10 barrels of "frack fluid" leaked into an open, unlined pit, an incident under investigation by the Central Valley water board. Presently, California is the top agricultural producer in the U.S. and the water quality of the Central Valley is key to keeping food on all of our plates.
Nationwide, the political fight over fracking has intensified over regulations and the role of federal, state and local government authorities—also the subject of Josh Fox's Gasland Part II. And California is now the latest battleground. The state is currently moving to pass regulations—for the first time in sixty years—that would allow California to actually monitor and track the location of fracking sites.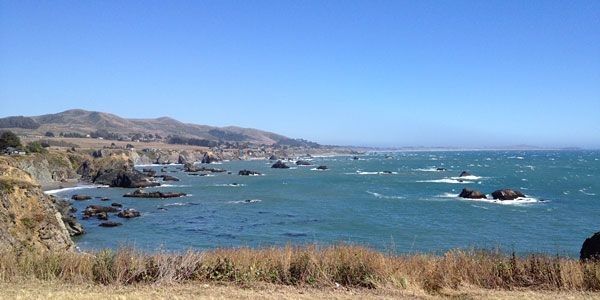 On August 2, the U.S. Bureau of Land Management (BLM) announced it has commissioned a study to research potential impacts of fracking in California. This came after fracking's opponents won a lawsuit, charging that going forward, such a study had to take place prior to BLM's leasing of federal lands to oil and gas companies for drilling.
Just last Thursday, state legislators asked the Environmental Protection Agency to investigate offshore fracking; since ocean fracking falls under federal jurisdiction, it's supposedly under the purview of the Interior Department. According to the Associated Press, the California Coastal Commission has stated that they were unaware, until recently, that offshore fracking was taking place.
Last year, controversy arose when an environmental impact study completed on safety in the Inglewood Oil Field found that "the controversial extraction method used at two wells did not affect the environment or health of those living nearby." The catch: that study was paid for by the oil field's owner and peer reviewed by consultants with close ties to the energy industry. Further, it only looked at the near-term impacts of fracking, not long-term safety projections. Officials drafting California's first regulations on the practice have been looking closely at that study, reason alone for further independently reviewed, rigorous scientific research that could properly inform policymakers.
The marquis concern plaguing Californians about fracking in their state has to do with another notable geologic feature: the San Andreas Fault and its cousins. The main fault line lies beneath areas currently or potentially being fracked, as do many tributaries and lesser faults. (Don't be fooled by the term "lesser," as they're every bit as capable of producing a great quake; take an online tour of earthquake country.)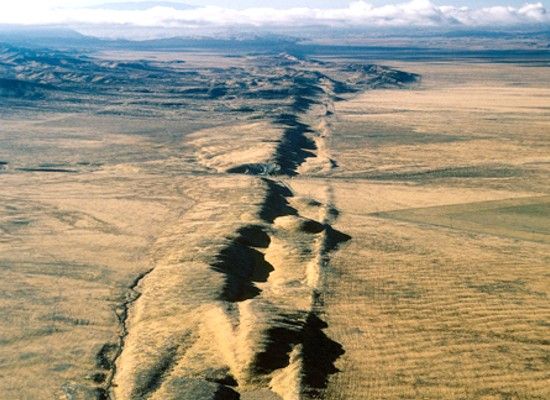 Scientists have found that some earthquakes elsewhere in the U.S. seem to have been induced by wastewater injection wells in Ohio, Arkansas and Oklahoma. Those spots aren't exactly "earthquake country." Given that, concerns about triggering seismic activity in one of the most active quake zones in the world do not seem misplaced.
Here's the thing: for decades, officials, geologists and Californians alike have been waiting, planning and preparing for "The Big One," the next major quake (an order of magnitude of 7.0 or more on the Richter scale). In fact, Los Angeles County has one-fourth of all the seismic risk in the entire U.S.; at any time, a person is within 10 miles of an active fault. So wouldn't it stand to reason that any activity that could actually provoke a devastating earthquake might prove more costly than it's worth, ultimately?
Visit EcoWatch's FRACKING page for more related news on this topic.
——–

EcoWatch Daily Newsletter
Extreme weather events supercharged by climate change in 2012 led to nearly 1,000 more deaths, more than 20,000 additional hospitalizations, and cost the U.S. healthcare system $10 billion, a new report finds.
Giant sequoia trees at Sequoia National Park, California. lucky-photographer / iStock / Getty Images Plus
A Bay Area conservation group struck a deal to buy and to protect the world's largest remaining privately owned sequoia forest for $15.6 million. Now it needs to raise the money, according to CNN.
This aerial view shows the Ogasayama Sports Park Ecopa Stadium, one of the venues for 2019 Rugby World Cup. MARTIN BUREAU / AFP / Getty Images
The Rugby World Cup starts Friday in Japan where Pacific Island teams from Samoa, Fiji and Tonga will face off against teams from industrialized nations. However, a new report from a UK-based NGO says that when the teams gather for the opening ceremony on Friday night and listen to the theme song "World In Union," the hypocrisy of climate injustice will take center stage.
Vera_Petrunina / iStock / Getty Images Plus
By Wudan Yan
In June, New York Times journalist Andy Newman wrote an article titled, "If seeing the world helps ruin it, should we stay home?" In it, he raised the question of whether or not travel by plane, boat, or car—all of which contribute to climate change, rising sea levels, and melting glaciers—might pose a moral challenge to the responsibility that each of us has to not exacerbate the already catastrophic consequences of climate change. The premise of Newman's piece rests on his assertion that traveling "somewhere far away… is the biggest single action a private citizen can take to worsen climate change."

Volunteer caucasian woman giving grain to starving African children.
Bartosz Hadyniak / E+ / Getty Images
Food will be scarce, expensive and less nutritious," CNN warns us in its coverage of the UN's new "Climate Change and Land" report. The New York Times announces that "Climate Change Threatens the World's Food Supply."
By Adam Vaughan
Two-thirds of people in the UK think the amount people fly should be reined in to tackle climate change, polling has found.
Climate Week NYC
On Monday, Sept. 23, the Climate Group will kick off its 11th annual Climate Week NYC, a chance for governments, non-profits, businesses, communities and individuals to share possible solutions to the climate crisis while world leaders gather in the city for the UN Climate Action Summit.
By Pam Radtke Russell in New Orleans
Local TV weather forecasters have become foot soldiers in the war against climate misinformation. Over the past decade, a growing number of meteorologists and weathercasters have begun addressing the climate crisis either as part of their weather forecasts, or in separate, independent news reports to help their viewers understand what is happening and why it is important.