This website uses cookies to ensure you get the best experience while browsing it. By clicking 'Got It' you're accepting these terms.
Fracking the Ocean and California's San Andreas Fault
Aug. 13, 2013 11:41AM EST
Energy
Picture this: a dark, noirish landscape lit by gas flares from oil refineries, spinners whirring, on the hunt for replicants. Blade Runner is a dystopian sci-fi flick set in Los Angeles, circa 2019—but is it possible the film was prescient about the soft glow of burning methane after all?
Put another way, what if the oil refineries past which Harrison Ford flies aren't refineries, but fracking rigs?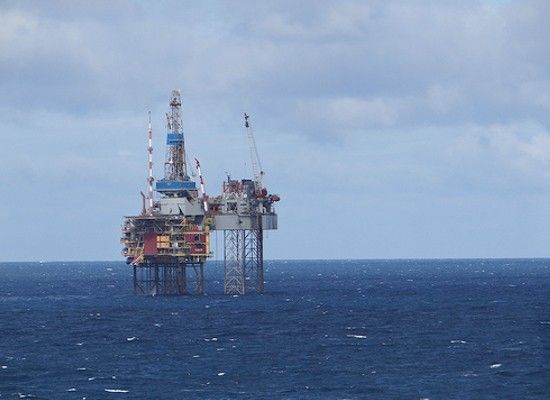 This notion isn't a much-rumored sequel to the 1982 classic; it's an admittedly nightmarish visual I couldn't help but contemplate should The Golden State succumb to vigorous oil and gas industry lobbying and intensify fracking offshore in the Pacific and in the Monterey Shale (which sits under LA and the environmentally precious Southern California coast, among other places).
Horizontal fracturing, or fracking, allows the oil and gas industry to get to natural gas and shale oil reserves trapped in massive underground deposits, as well as offshore oil and gas.
To be clear, fracking has been going on in California for decades. What's changed in recent years is the technology—which is newer, more powerful and more controversial—and the areas in which the oil and gas industry seek to drill. Here's where fracking is already happening:
The Inglewood Oil Field in Baldwin Hills (that's right in LA; New Yorkers, imagine an oil field in Park Slope) where more than one million people live within five miles of the site. Some residents of the neighborhood have observed cracks in pavement and on their property.
Offshore, more than a dozen fracking jobs have taken place, many to stimulate further oil production in the Santa Barbara Channel, though the jobs have "yielded mixed results" for oil companies, according to the Monterey Herald. This year, the EPA affirmed the exemption for the industry from the Clean Water Act, allowing them to continue disposing of fracking fluid at sea unimpeded. Thus far, there have been no studies on the impact of fracking on marine life; that said, traditional offshore drilling operations have been found to cause reproductive problems for wildlife.
The North Shafter oil field, also atop the Monterey Shale, has been newly fracked despite its location above California's agricultural heartland, the Central Valley. Recently, between six and 10 barrels of "frack fluid" leaked into an open, unlined pit, an incident under investigation by the Central Valley water board. Presently, California is the top agricultural producer in the U.S. and the water quality of the Central Valley is key to keeping food on all of our plates.
Nationwide, the political fight over fracking has intensified over regulations and the role of federal, state and local government authorities—also the subject of Josh Fox's Gasland Part II. And California is now the latest battleground. The state is currently moving to pass regulations—for the first time in sixty years—that would allow California to actually monitor and track the location of fracking sites.
On August 2, the U.S. Bureau of Land Management (BLM) announced it has commissioned a study to research potential impacts of fracking in California. This came after fracking's opponents won a lawsuit, charging that going forward, such a study had to take place prior to BLM's leasing of federal lands to oil and gas companies for drilling.
Just last Thursday, state legislators asked the Environmental Protection Agency to investigate offshore fracking; since ocean fracking falls under federal jurisdiction, it's supposedly under the purview of the Interior Department. According to the Associated Press, the California Coastal Commission has stated that they were unaware, until recently, that offshore fracking was taking place.
Last year, controversy arose when an environmental impact study completed on safety in the Inglewood Oil Field found that "the controversial extraction method used at two wells did not affect the environment or health of those living nearby." The catch: that study was paid for by the oil field's owner and peer reviewed by consultants with close ties to the energy industry. Further, it only looked at the near-term impacts of fracking, not long-term safety projections. Officials drafting California's first regulations on the practice have been looking closely at that study, reason alone for further independently reviewed, rigorous scientific research that could properly inform policymakers.
The marquis concern plaguing Californians about fracking in their state has to do with another notable geologic feature: the San Andreas Fault and its cousins. The main fault line lies beneath areas currently or potentially being fracked, as do many tributaries and lesser faults. (Don't be fooled by the term "lesser," as they're every bit as capable of producing a great quake; take an online tour of earthquake country.)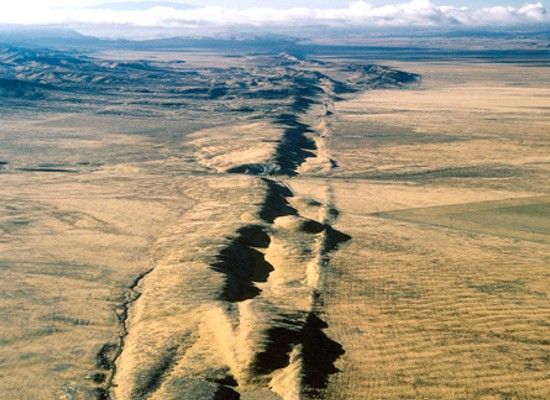 Scientists have found that some earthquakes elsewhere in the U.S. seem to have been induced by wastewater injection wells in Ohio, Arkansas and Oklahoma. Those spots aren't exactly "earthquake country." Given that, concerns about triggering seismic activity in one of the most active quake zones in the world do not seem misplaced.
Here's the thing: for decades, officials, geologists and Californians alike have been waiting, planning and preparing for "The Big One," the next major quake (an order of magnitude of 7.0 or more on the Richter scale). In fact, Los Angeles County has one-fourth of all the seismic risk in the entire U.S.; at any time, a person is within 10 miles of an active fault. So wouldn't it stand to reason that any activity that could actually provoke a devastating earthquake might prove more costly than it's worth, ultimately?
Visit EcoWatch's FRACKING page for more related news on this topic.
——–

EcoWatch Daily Newsletter

georgeclerk / E+ / Getty Images
By Jennifer Molidor
One million species are at risk of extinction from human activity, warns a recent study by scientists with the United Nations. We need to cut greenhouse gas pollution across all sectors to avoid catastrophic climate change — and we need to do it fast, said the Intergovernmental Panel on Climate Change.
This research should serve as a rallying cry for polluting industries to make major changes now. Yet the agriculture industry continues to lag behind.
Edwin Remsburg / VW Pics / Getty Images
Botswana, home to one third of Africa's elephants, announced Wednesday that it was lifting its ban on the hunting of the large mammals.
"The Ministry of Environment, Natural Resources Conservation and Tourism wishes to inform the public that following extensive consultations with all stakeholders, the Government of Botswana has taken a decision to lift the hunting suspension," the government announced in a press release shared on social media.
Pxhere
By Richard Denison
Readers of this blog know how concerned EDF is over the Trump EPA's approval of many dozens of new chemicals based on its mere "expectation" that workers across supply chains will always employ personal protective equipment (PPE) just because it is recommended in the manufacturer's non-binding safety data sheet (SDS).
By Grant Smith
From 2009 to 2012, Gregory Jaczko was chairman of the Nuclear Regulatory Commission, which approves nuclear power plant designs and sets safety standards for plants. But he now says that nuclear power is too dangerous and expensive — and not part of the answer to the climate crisis.
A lake in Rocky Mountain National Park. Brett Walton / Circle of Blue
By Brett Walton
When Greg Wetherbee sat in front of the microscope recently, he was looking for fragments of metals or coal, particles that might indicate the source of airborne nitrogen pollution in Rocky Mountain National Park. What caught his eye, though, were the plastics.
Gabriele Holtermann Gorden / Pacific Press / LightRocket / Getty Images
In a big victory for animals, Prada has announced that it's ending its use of fur! It joins Coach, Jean Paul Gaultier, Giorgio Armani, Versace, Ralph Lauren, Vivienne Westwood, Michael Kors, Donna Karan and many others PETA has pushed toward a ban.
This is a victory more than a decade in the making. PETA and our international affiliates have crashed Prada's catwalks with anti-fur signs, held eye-catching demonstrations all around the world, and sent the company loads of information about the fur industry. In 2018, actor and animal rights advocate Pamela Anderson sent a letter on PETA's behalf urging Miuccia Prada to commit to leaving fur out of all future collections, and the iconic designer has finally listened.
Amer Ghazzal / Barcroft Media / Getty Images
If people in three European countries want to fight the climate crisis, they need to chill out more.
That's the conclusion of a new study from think tank Autonomy, which found that Germany, the UK and Sweden all needed to drastically reduce their workweeks to fight climate change.
Amazon Employees for Climate Justice held a press conference after the annual shareholder meeting on May 22. Amazon Employees for Climate Justice