Fracking the Frackers—A Call for a New Pennsylvania Constitution
Dec. 31, 2011 01:11PM EST
GMO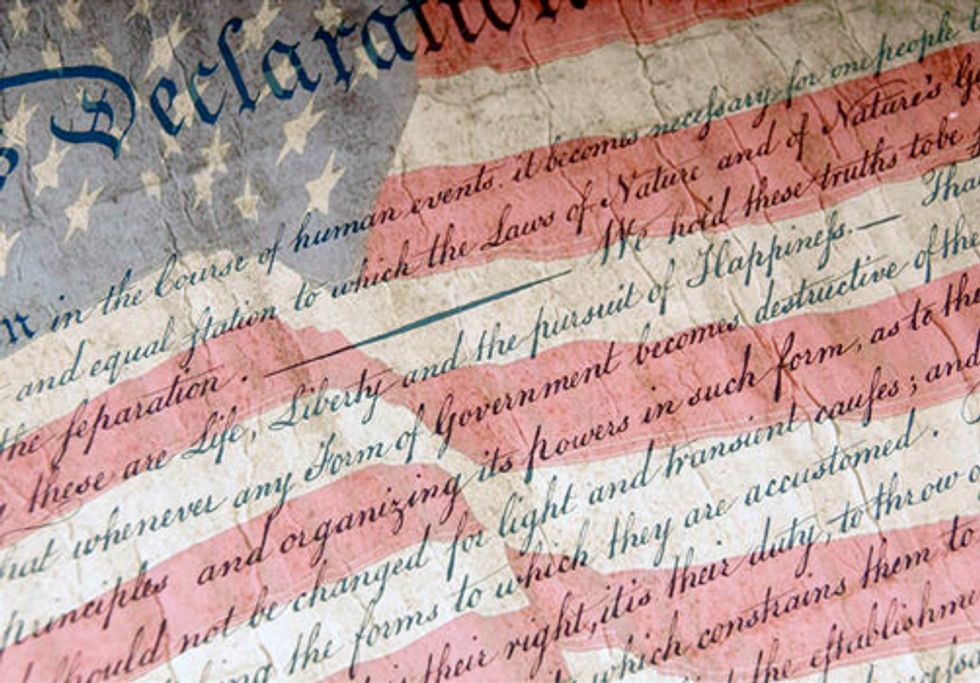 By Thomas Linzey and Ben Price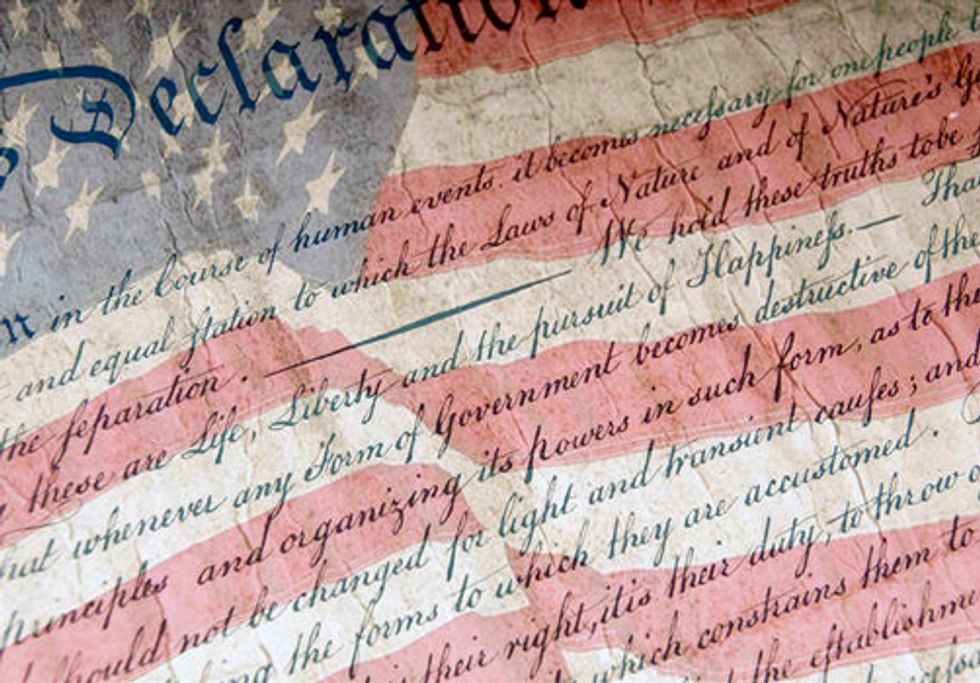 For anyone with even the slimmest understanding of the role that the Pennsylvania legislature has played over the past several decades, the recent votes planned in the House and the Senate—to strip communities of their remaining slim authority to regulate fracking—should come as no surprise. Pick your poison—one version would strip zoning authority away from municipalities over the siting of frack wells, the other would give the Attorney General's office the power to override any local regulation of fracking.
Flashback to 2005, when the legislature faced a similar choice—this time around corporate factory farms. Townships across the State were passing laws to ban them. In response, agribusiness corporations used the State legislature to adopt a law authorizing the Attorney General to intervene on the side of those corporations. A flurry of lawsuits then followed in which the Attorney General's office filed suits against municipalities to overturn those local laws, which "interfered" with the siting of corporate factory farms.
Unfortunately, it's not a new story. Over the last twenty years, as communities have begun to stand up to corporations across Pennsylvania, the state has joined hand-in-hand with those corporations to create laws which override those communities. It's happened time and time again on issues of the land application of sewage sludge, timber harvesting, anthracite coal stripmining, water withdrawals and land development. It's even happened with genetically modified (GM) seeds, with the legislature stepping into the fray in 2004 to preempt Pennsylvania communities from controlling GM seeds within their community.
Because when the crunch comes, the state never sides with their communities, but with the corporations seeking to use them. In other words, the State of Pennsylvania sides with the corporate minority, rather than the community majority and in the process subverts democracy.
While people's memories tend to be fairly short, institutional and corporate memory is much longer. It's why the same model of dealing with community control over factory farms—by passing legislation enabling the Attorney General's office to be used by agribusiness corporations to bring municipalities to heel—is now being used in the Senate in an effort to nullify community control over fracking. It's merely another effort to use the power of the state to leverage corporate control over municipalities.
In the fracking war, it has become more interesting to examine what's not being talked about than what is. In the legislature, no one is making the argument that municipalities should have the power to ban natural gas extraction within their own community. The only ones advancing that concept are the municipalities that have moved forward to adopt local laws that do just that.
Nowhere in the debate is there talk of a right to "local self-government" or "community self-governance." You could spend the wee hours of the morning parsing through the debates in the House and Senate and you wouldn't see any of those words used or any respect paid to the needs of the people who live in the communities that will be fracked.
Nor are the municipal associations raising it. Just like in the past, the Townships Association, the Boroughs Association and the County Commissioners Association are more than willing to sell their own members down the river in an effort to remain relevant as state lobbying groups.
One would think that the major environmental groups in the state would be howling about this state of affairs. You'd be wrong. Counter to their propaganda, groups like PennFuture are running the other way—pushing an agenda of "responsible drilling." As if you can have fracking and have environmental protection at the same time. Think Citizens Marcellus Shale Commission (CMSC), which issued a 90-page report conceding by omission in that blizzard of words that Pennsylvanians have no inherent right to govern gas extraction corporations, only to ask for more reasonable regulation of the rate at which the natural environment and our communities are destroyed.
You can lay down a blanket, and spread the pillows, but rape by any other name continues to be rape.
The State agency that issues permits to corporations to allow the legalized rape of our communities recently told the people of Dimock that despite the agency's conclusion that their drinking water had been destroyed by "fracking," the corporation responsible would no longer have to supply fresh water to Dimock residents. Promises that centralizing control over gas extraction corporations in the hands of the state will protect our rights ring hollow as incidences like this multiply.
It's no wonder that Pennsylvania communities and municipalities are made to sit at the back of the bus. Nobody is advocating for them—not their state representatives, not their Department of Environmental Protection, not even their own associations or the environmental groups that know fracking is an environmental holocaust.
Time after time, year after year, our communities are stripped of one more power until our local elected officials are relegated to little more than filling potholes—putting them more and more at the mercy of a small handful of corporate decision makers. Replacing public government with a privatized one.
Where does it stop? It only stops if communities join together to force the State to stop it.
Forget the state legislature—they're going to do what they're going to do as the corporate whores that they've become. Forget the environmental groups—though we should stop funding them when they screw us with our own dollars. Who needs enemies, with friends like these so-called progressives who seek a place at the table of power, only to begin "negotiations" with proposed terms of surrender? And forget the municipal associations—municipalities should revoke their membership in them in response to their complete and utter failure to actually represent their own constituencies.
It's time for the people to decide about fracking and stop letting middlemen do their worst, while claiming to know best.
What we need is a grassroots, community-driven movement that permanently separates the corporations from our government. One that proposes such wide-scale necessary change that it would turn the Speaker of the House's face completely white. One that changes the constitutional framework of the state (our framework), to recognize a right to local self-government that can't be preempted or stolen by the state on the whim of resource extraction corporations. In short, change the law to let the people themselves decide what happens in their own communities.
Sound immensely difficult? Of course. Can we afford not to do it? We can't. Unless, of course, we want to continue to watch as community lawmaking authority is negotiated away by corporations and the state.
We don't have a fracking problem. We have a democracy problem.
A little over a year ago, representatives of more than 30 Pennsylvania municipalities came together and collectively issued a document known as the Chambersburg Declaration. It calls for an end to the "corporate state"—which currently guarantees that the law will be used for the benefit of corporate minorities, rather than community majorities. The document calls for a new Pennsylvania Constitution—one that recognizes and protects a right to local self-government beyond the authority of the state to strip.
It means building a movement that goes around the state apparatus. It means occupying our local governments by openly ignoring "illegitimate" laws made by state government. It means joining together to write a 21st century constitution which understands that sustainability is impossible without true community democracy.
And let's get started by trashing these new fracking laws. Operating hand in hand with the fracking corporations, the legislature will do everything in its power to pry open our lands, our neighborhoods and our communities for the frackers. The courts are already busy doing piece work for corporations as they challenge ostensibly "legal" zoning ordinances in Western Pennsylvania communities like South Fayette, Mount Pleasant, Cecilm and other municipalities around the state.
And the governor has populated agencies and commissions of the state with industry hacks. It's time to frontally challenge the authority of the State by banning fracking in our communities, and then dare the legislature and the courts to use state power to authorize the fracking corporations to override our rights and our authority to self-govern where we live.
That means following the lead of Pittsburgh and other municipalities on fracking to adopt local Bills of Rights, which ban fracking in those communities as a violation of our rights to clean air, clean water and self-government. Hopefully, when people see the state acting in all of its perverted and disgusting forms to protect the very corporations benefiting from this state of affairs, we can finally begin the work of restructuring our government so that it actually works for us.
In our communities first, then gathering together to change our counties (County Constitutions, anyone?), and then combining together to elevate our right to self-government to the highest level within the state constitution. A right to local self-government that the state legislature can never override.
If not us, then who? And if not now, then when?
--------
The Community Environmental Legal Defense Fund is a nonprofit, public interest law firm that has assisted over a dozen Pennsylvania communities to adopt community bills of rights than ban fracking within those municipalities. Over the past fifteen years, the Legal Defense Fund has assisted over one hundred and thirty communities in six states to elevate community rights over corporate "rights." For more information, www.celdf.org.
Sunrise over planet Earth. Elements of this image furnished by NASA. Elen11 / iStock / Getty Images Plus
On Thursday, April 22, the world will celebrate Earth Day, the largest non-religious holiday on the globe.
EcoWatch Daily Newsletter
NASA has teamed up with non-profit Carbon Mapper to help pinpoint greenhouse gas sources. aapsky / Getty Images
Super-emitters are individual sources such as leaking pipelines, landfills or dairy farms that produce a disproportionate amount of planet-warming emissions, especially methane and carbon dioxide. Carbon Mapper, the non-profit leading the effort, hopes to provide a more targeted guide to reducing emissions by launching special satellites that hunt for sources of climate pollution.
"What we've learned is that decision support systems that focus just at the level of nation states, or countries, are necessary but not sufficient. We really need to get down to the scale of individual facilities, and even individual pieces of equipment, if we're going to have an impact across civil society," Riley Duren, Carbon Mapper CEO and University of Arizona researcher, told BBC News. "Super-emitters are often intermittent but they are also disproportionately responsible for the total emissions. That suggests low-hanging fruit, because if you can identify and fix them you can get a big bang for your buck."
The new project, announced Thursday, is a partnership between multiple entities, including Carbon Mapper, the state of California, NASA's Jet Propulsion Laboratory (JPL) and Planet, a company that designs, builds and launches satellites, according to a press release. The project is being implemented in three stages.
The initial stage, which is already complete, involved the initial engineering development. NASA and Planet will work together in the second stage to build two satellites for a 2023 launch. The third phase will launch an entire constellation of satellites starting in 2025.
The satellites will include an imaging spectrometer built by NASA's JPL, NASA explained in a press release. This is a device that can break down visible light into hundreds of colors, providing a unique signature for chemicals such as methane and carbon dioxide. Most imaging spectrometers currently in orbit have larger pixel sizes, making it difficult to locate emission sources that are not always visible from the ground. However, Carbon Mapper spectrometers will have pixels of around 98 square feet, facilitating more detailed pin-pointing.
"This technology enables researchers to identify, study and quantify the strong gas emission sources," JPL Scientist Charles Miller said in the press release.
Once the data is collected, Carbon Mapper will make it available to industry and government actors via an open data portal to help repair leaks.
"These home-grown satellites are a game-changer," California Governor Gavin Newsom said of the project. "They provide California with a powerful, state-of-the-art tool to help us slash emissions of the super-pollutant methane — within our own borders and around the world. That's exactly the kind of dynamic, forward-thinking solution we need now to address the existential crisis of climate change."
By Jenna McGuire
Commonly used herbicides across the U.S. contain highly toxic undisclosed "inert" ingredients that are lethal to bumblebees, according to a new study published Friday in the Journal of Applied Ecology.
The study reviewed several herbicide products and found that most contained glyphosate, an ingredient best recognized from Roundup products and the most widely used herbicide in the U.S. and worldwide.
While the devastating impacts of glyphosate on bee populations are more broadly recognized, the toxicity levels of inert ingredients are less understood because they are not subjected to the same mandatory testing by the U.S. Environmental Protection Agency (EPA).
"Pesticides are manufactured and sold as formulations that contain a mixture of compounds, including one or more active ingredients and, potentially, many inert ingredients," explained the Center for Food Safety in a statement. "The inert ingredients are added to pesticides to aid in mixing and to enhance the products' ability to stick to plant leaves, among other purposes."
The study found that these inert substances can be highly toxic and even block bees' breathing capacity, essentially causing them to drown. While researchers found that some of the combinations of inert ingredients had no negative impacts on the bees, one of the herbicide formulations killed 96% of the bees within 24 hours.
According to the abstract of the study:
Bees exhibited 94% mortality with Roundup® Ready‐To‐Use® and 30% mortality with Roundup® ProActive®, over 24 hr. Weedol® did not cause significant mortality, demonstrating that the active ingredient, glyphosate, is not the cause of the mortality. The 96% mortality caused by Roundup® No Glyphosate supports this conclusion.
"This important new study exposes a fatal flaw in how pesticide products are regulated here in the U.S.," said Jess Tyler, a staff scientist at the Center for Biological Diversity. "Now the question is, will the Biden administration fix this problem, or will it allow the EPA to continue its past practice of ignoring the real-world harms of pesticides?"
According to the Center for Food Safety, there are currently 1,102 registered formulations that contain the active ingredient glyphosate, each with a proprietary mixture of inert ingredients. In 2017, the group filed a legal petition calling for the EPA to force companies to provide safety data on pesticide formulations that include inert ingredients.
"The EPA must begin requiring tests of every pesticide formulation for bee toxicity, divulge the identity of 'secret' formulation additives so scientists can study them, and prohibit application of Roundup herbicides to flowering plants when bees might be present and killed," said Bill Freese, science director at the Center for Food Safety. "Our legal petition gave the EPA a blueprint for acting on this issue of whole formulations. Now they need to take that blueprint and turn it into action, before it's too late for pollinators."
ATTN @EPA: Undisclosed "inert" ingredients in #pesticide products warrant further scrutiny! ➡️ A new study compared… https://t.co/bdFwXCVHsD

— Center 4 Food Safety (@Center 4 Food Safety)1618592343.0
Roundup — also linked to cancer in humans — was originally produced by agrochemical giant Monsanto, which was acquired by the German pharmaceutical and biotech company Bayer in 2018.
The merger of the two companies was condemned by environmentalists and food safety groups who warned it would cultivate the greatest purveyor of genetically modified seeds and toxic pesticides in the world.
Reposted with permission from Common Dreams.
A warming climate can lead to lake stratification, including toxic algal blooms. UpdogDesigns / Getty Images
By Ayesha Tandon
New research shows that lake "stratification periods" – a seasonal separation of water into layers – will last longer in a warmer climate.
These longer periods of stratification could have "far-reaching implications" for lake ecosystems, the paper says, and can drive toxic algal blooms, fish die-offs and increased methane emissions.
The study, published in Nature Communications, finds that the average seasonal lake stratification period in the northern hemisphere could last almost two weeks longer by the end of the century, even under a low emission scenario. It finds that stratification could last over a month longer if emissions are extremely high.
If stratification periods continue to lengthen, "we can expect catastrophic changes to some lake ecosystems, which may have irreversible impacts on ecological communities," the lead author of the study tells Carbon Brief.
The study also finds that larger lakes will see more notable changes. For example, the North American Great Lakes, which house "irreplaceable biodiversity" and represent some of the world's largest freshwater ecosystems, are already experiencing "rapid changes" in their stratification periods, according to the study.
'Fatal Consequences'
As temperatures rise in the spring, many lakes begin the process of "stratification." Warm air heats the surface of the lake, heating the top layer of water, which separates out from the cooler layers of water beneath.
The stratified layers do not mix easily and the greater the temperature difference between the layers, the less mixing there is. Lakes generally stratify between spring and autumn, when hot weather maintains the temperature gradient between warm surface water and colder water deeper down.
Dr Richard Woolway from the European Space Agency is the lead author of the paper, which finds that climate change is driving stratification to begin earlier and end later. He tells Carbon Brief that the impacts of stratification are "widespread and extensive," and that longer periods of stratification could have "irreversible impacts" on ecosystems.
For example, Dr Dominic Vachon – a postdoctoral fellow from the Climate Impacts Research Centre at Umea University, who was not involved in the study – explains that stratification can create a "physical barrier" that makes it harder for dissolved gases and particles to move between the layers of water.
This can prevent the oxygen from the surface of the water from sinking deeper into the lake and can lead to "deoxygenation" in the depths of the water, where oxygen levels are lower and respiration becomes more difficult.
Oxygen depletion can have "fatal consequences for living organisms," according to Dr Bertram Boehrer, a researcher at the Helmholtz Centre for Environmental Research, who was not involved in the study.
Lead author Woolway tells Carbon Brief that the decrease in oxygen levels at deeper depths traps fish in the warmer surface waters:
"Fish often migrate to deeper waters during the summer to escape warmer conditions at the surface – for example during a lake heatwave. A decrease in oxygen at depth will mean that fish will have no thermal refuge, as they often can't survive when oxygen concentrations are too low."

This can be very harmful for lake life and can even increase "fish die-off events" the study notes.
However, the impacts of stratification are not limited to fish. The study notes that a shift to earlier stratification in spring can also encourage communities of phytoplankton – a type of algae – to grow sooner, and can put them out of sync with the species that rely on them for food. This is called a "trophic mismatch."
Prof Catherine O'Reilly, a professor of geography, geology and the environment at Illinois State University, who was not involved in the study, adds that longer stratified periods could also "increase the likelihood of harmful algae blooms."
The impact of climate change on lakes also extends beyond ecosystems. Low oxygen levels in lakes can enhance the production of methane, which is "produced in and emitted from lakes at globally significant rates," according to the study.
Woolway explains that higher levels of warming could therefore create a positive climate feedback in lakes, where rising temperatures mean larger planet-warming emissions:
"Low oxygen levels at depth also promotes methane production in lake sediments, which can then be released to the surface either via bubbles or by diffusion, resulting in a positive feedback to climate change."

Onset and Breakup
In the study, the authors determine historical changes in lake stratification periods using long-term observational data from some of the "best-monitored lakes in the world" and daily simulations from a collection of lake models.
They also run simulations of future changes in lake stratification period under three different emission scenarios, to determine how the process could change in the future. The study focuses on lakes in the northern hemisphere.
The figure below shows the average change in lake stratification days between 1900 and 2099, compared to the 1970-1999 average. The plot shows historical measurements (black), and the low emission RCP2.6 (blue), mid emissions RCP6.0 (yellow) and extremely high emissions RCP8.5 (red) scenarios.
Change in lake stratification duration compared to the 1970-1999 average, for historical measurements (black), the low emission RCP2.6 (blue) moderate emissions RCP6.0 (yellow) and extremely high emissions RCP8.5 (red). Credit: Woolway et al (2021).
The plot shows that the average lake stratification period has already lengthened. However, the study adds that some lakes are seeing more significant impacts than others.
For example, Blelham Tarn – the most well-monitored lake in the English Lake District – is now stratifying 24 days earlier and maintaining its stratification for an extra 18 days compared to its 1963-1972 averages, the study finds. Woolway tells Carbon Brief that as a result, the lake is already showing signs of oxygen depletion.
Climate change is increasing average stratification duration in lakes, the findings show, by moving the onset of stratification earlier and pushing the stratification "breakup" later. The table below shows projected changes in the onset, breakup and overall length of lake stratification under different emission scenarios, compared to a 1970-1999 baseline.
The table shows that even under the low emission scenario, the lake stratification period is expected to be 13 days longer by the end of the century. However, in the extremely high emissions scenario, it could be 33 days longer.
The table also shows that stratification onset has changed more significantly than stratification breakup. The reasons why are revealed by looking at the drivers of stratification more closely.
Warmer Weather and Weaker Winds
The timing of stratification onset and breakup in lakes is driven by two main factors – temperature and wind speed.
The impact of temperature on lake stratification is based on the fact that warm water is less dense than cool water, Woolway tells Carbon Brief:
"Warming of the water's surface by increasing air temperature causes the density of water to decrease and likewise results in distinct thermal layers within a lake to form – cooler, denser water settles to the bottom of the lake, while warmer, lighter water forms a layer on top."

This means that, as climate change causes temperatures to rise, lakes will begin to stratify earlier and remain stratified for longer. Lakes in higher altitudes are also likely to see greater changes in stratification, Woolway tells Carbon Brief, because "the prolonging of summer is very apparent in high latitude regions."
The figure below shows the expected increase in stratification duration from lakes in the northern hemisphere under the low (left), mid (center), and high (right) emission scenarios. Deeper colors indicate a larger increase in stratification period.
Expected increase in stratification duration in lakes in the northern hemisphere under the low (left), mid (centre) and high (right) emissions scenarios. Credit: Woolway et al (2021).
The figure shows that the expected impact of climate change on stratification duration becomes more pronounced at more northerly high latitudes.
The second factor is wind speed, Woolway explains:
"Wind speed also affects the timing of stratification onset and breakdown, with stronger winds acting to mix the water column, thus acting against the stratifying effect of increasing air temperature."

According to the study, wind speed is expected to decrease slightly as the planet warms. The authors note that the expected changes in near-surface wind speed are "relatively minor" compared to the likely temperature increase, but they add that it may still cause "substantial" changes in stratification.
The study finds that air temperature is the most important factor behind when a lake will begin to stratify. However, when looking at stratification breakup, it finds that wind speed is a more important driver.
Meanwhile, Vachon says that wind speeds also have implications for methane emissions from lakes. He notes that stratification prevents the methane produced on the bottom of the lake from rising and that, when the stratification period ends, methane is allowed to rise to the surface. However, according to Vachon, the speed of stratification breakup will affect how much methane is released into the atmosphere:
"My work has suggested that the amount of accumulated methane in bottom waters that will be finally emitted is related to how quickly the stratification break-up occurs. For example, a slow and progressive stratification break-up will most likely allow water oxygenation and allow the bacteria to oxidise methane into carbon dioxide. However, a stratification break-up that occurs rapidly – for example after storm events with high wind speed – will allow the accumulated methane to be emitted to the atmosphere more efficiently."

Finally, the study finds that large lakes take longer to stratify in spring and typically remain stratified for longer in the autumn – due to their higher volume of water. For example, the authors highlight the North American Great Lakes, which house "irreplaceable biodiversity" and represent some of the world's largest freshwater ecosystems.
These lakes have been stratifying 3.5 days earlier every decade since 1980, the authors find, and their stratification onset can vary by up to 48 days between some extreme years.
O'Reilly tells Carbon Brief that "it's clear that these changes will be moving lakes into uncharted territory" and adds that the paper "provides a framework for thinking about how much lakes will change under future climate scenarios."
Reposted with permission from Carbon Brief.
A view of Lake Powell from Romana Mesa, Utah, on Sept. 8, 2018. DEA / S. AMANTINI / Contributor / Getty Images
By Robert Glennon
Interstate water disputes are as American as apple pie. States often think a neighboring state is using more than its fair share from a river, lake or aquifer that crosses borders.
Robert Glennon is a Regents Professor and Morris K. Udall Professor of Law & Public Policy, University of Arizona.

Disclosure statement: Robert Glennon received funding from the National Science Foundation in the 1990s and 2000s.
Reposted with permission from The Conversation.