Fracking the Amish
Jan. 14, 2013 08:08AM EST
Energy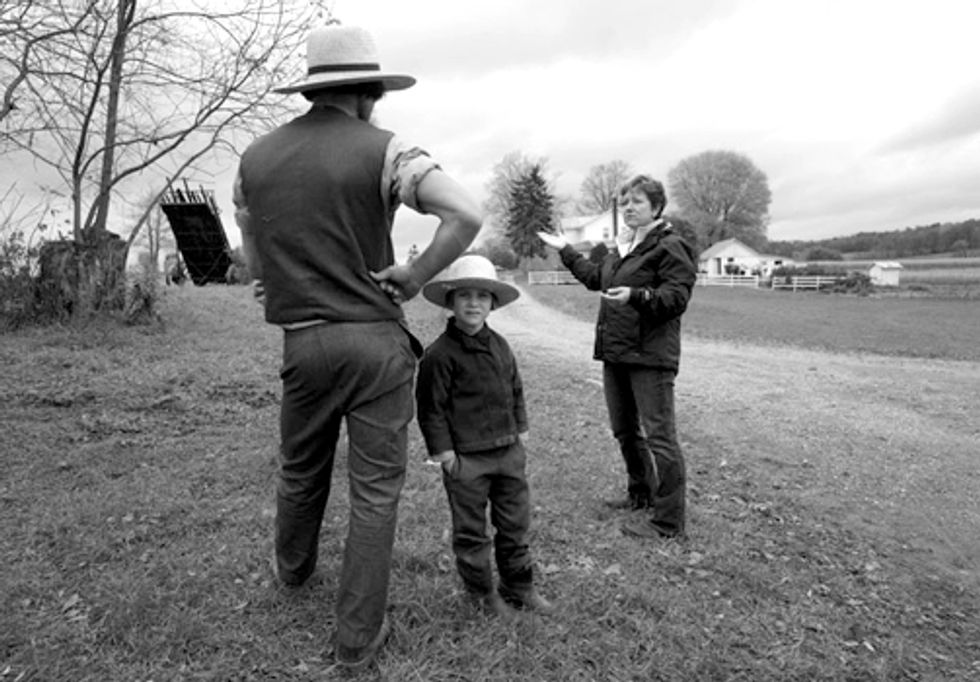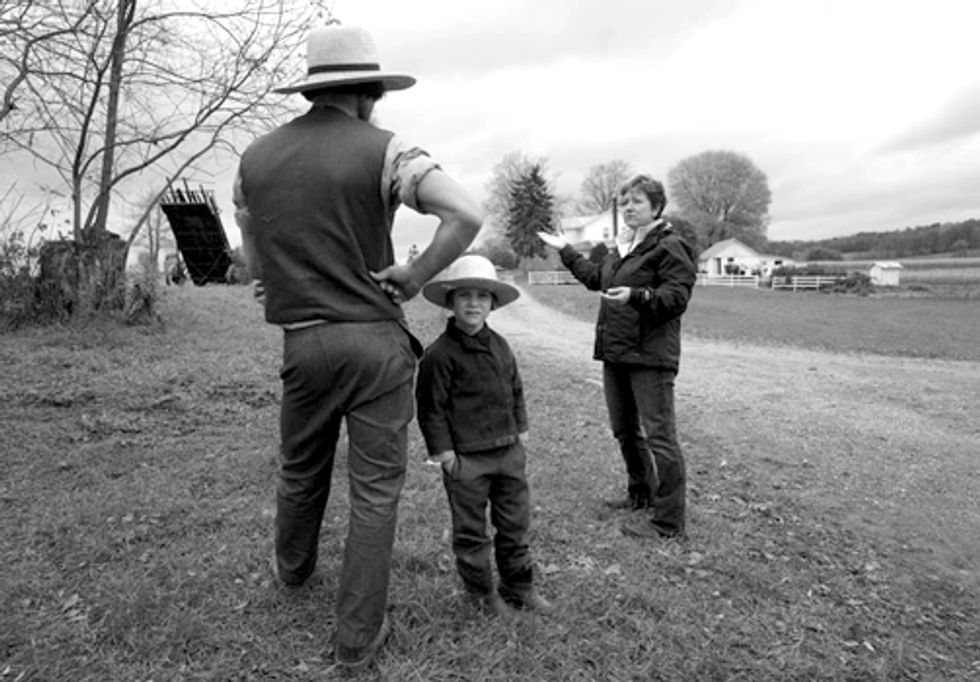 Activist Carrie Hahn explains the potential risks of the natural gas drilling technique known as fracking to one of her Amish neighbors. Some 400 Amish families around New Wilmington, Pennsylvania, face the prospect of hundreds of tall driling rigs near their fields and farmhouses, though they use no electricity from the grid themselves. Photo by Lynn Johnson
In a community that shuns technology and conflict, the intrusion of gas wells shatters tranquility and brings unexpected schisms
A bleak December sky hangs low over rural Lawrence County, Pennsylvania. Here, in areas populated by large Amish families, open fields roll toward the horizon uninterrupted by electrical wires and telephone poles. Stepping from a car that seems grossly out of place in this 19th century landscape, Carrie Hahn, a newcomer to the area, takes a deep breath of mud and cow outside an Amish farmhouse. Suddenly, like an apparition, Andy Miller appears on a flagstone path, his face hidden beneath beard and broad-brimmed hat. He quickly ushers us inside a large, unfurnished mudroom to escape the wind.
Miller, who is in his late 40s and has nine children, is a leading member of the Old Order Amish, who eschew all modern conveniences. (Like all the Amish in this story, Miller's name has been changed at his request, to respect Amish traditions and preserve his anonymity.) Standing against a western window, a silhouette of felt hat, bushy sideburns and stiff cotton work clothes, he explains how he came to be in the uncomfortable position in which he finds himself today: dealing with multibillion-dollar energy companies that use high-tech methods to shatter the earth and release mile-deep pockets of natural gas.
Decades ago, Miller says, oil and gas companies began prowling around western Pennsylvania, locking residents into leases for conventional gas wells, which are relatively shallow and unobtrusive. Many landowners, Miller included, had no idea that once they had assigned their mineral rights, often for a thousand times less than the going rate, the leaseholders could return and burrow deeper into the same piece of property.
This time around the gas companies intend to drill into the Marcellus Shale—a 400-million-year-old, mile-deep formation that sweeps from West Virginia, across Pennsylvania, and into New York—then turn their bits horizontally and continue boring for another couple thousand feet. Wells are then injected with millions of gallons of highly pressurized water laced with sand and chemicals; the solution fractures the shale and releases pockets of natural gas. This is fracking.
Miller sold his mineral rights to a company called Atlas, which was bought by Chevron in 2011. "The money helped," he says, "but I wished I knew more of what to expect." Now, thanks to people like Carrie Hahn, Miller understands that producing gas in this manner is no simple matter. Over a period of months, workers carve a multi-acre drilling platform out of forest or field, then cram it with mixing tanks, storage tanks, compressors, gas pipes, flaring towers, diesel generators, office trailers and porta-potties. Nearby, they dig plastic-lined ponds of several acres to hold either freshwater or "produced" water that flows up and out of the wells. During development of the site, trucks carrying water, chemicals, sand and other equipment come and go—up to 1,000 of them a day.
"We don't want huge gas companies coming here because of the heavy pollution, the traffic and so much money," Miller says. "When money rules, a lot of bad things happen to a community." But good things have happened, too. With his payout from Atlas, Miller installed new drainage tiles to reduce excess water in his fields (yes, using only horse power). Other Amish families in the area have used gas royalties to build greenhouses or sawmills. "Buildings have to be kept up," Miller says, shrugging. "But we would have survived without the money, somehow."
Since the shallow well went in, Miller has managed to keep energy companies off his property, despite his lease. He gave an earful to a representative who tried to get near his well on a Sunday, and he continues to refuse access to a Texan seeking to seismically map his land (Miller has no obligation to permit this testing). I press Miller, who is now invisible to us in the darkness, to explain how he can legally stop a company from fracking if it owns the mineral rights on his property, but he deflects my inquiries. "It's time for the community to take a stand," he mutters enigmatically. When his wife, in a long skirt and a bonnet, lights a kerosene lantern and places dinner on the kitchen table, Hahn and I know it's time to leave.
• • •
Four hundred Old Order Amish families live in and around Lawrence County's borough of New Wilmington. Extended families live in plain white houses—no shrubs, no shutters—surrounded by gardens, barns, farm fields and long stringers of ever-flapping laundry. Horses, cows and sheep graze on rolling pastures; horses and buggies deliver children to one- or two-room schoolhouses served by an outhouse and an outdoor water pump. Old Order Amish don't use cars or phones, electricity from the grid, indoor toilets or upholstered furniture. Many live off their land; some run small businesses. Wooden signs at the ends of driveways advertise their wares: rocking chairs, maple syrup, eggs, fudge, donuts, firewood, sawdust and fresh produce.
Soon, however, customers—including the thousands of international tourists who visit the Amish countryside each year—may be chased away from this homegrown bounty as New Wilmington, like other communities before it, is transformed by the industrial frenzy of shale-gas extraction.
As work crews have moved into the area, gas stations, lunch counters, coffee shops, the local hotel and a tanning salon (favored by the wives of imported workers) have profited. Large landholders have done well, too, receiving up to $3,500 an acre for their mineral rights. "We've got some wealthy people now," says New Wilmington Mayor Wendell Wagner. "Investment advisers and lawyers are advertising their services."
But the town is seeing more friction, too, between landowners who trust energy companies to do the right thing and neighbors—sometimes even family members—convinced industry will cut corners and ravage the countryside. (Atlas Energy, which has leased mineral rights on several Lawrence County properties, including Miller's farm, would not comment for this story.) "I've been to town meetings and seen pictures of what's going on," says Ivan Dubransky, 64, who grew up in the area and worked for Pennsylvania Power and Light. "We're in the same situation now that Washington County was three years ago. Back then, a lawyer told us fracking was the best thing that had ever happened down there, and that we'd better sign up. He came back recently and said it was the worst thing that had ever happened to his county."
These are familiar concerns and conflicts, even supplying the plot for the new Matt Damon movie Promised Land. But in the small towns of western Pennsylvania, where many landowners have zero control over the fate of hydrocarbons beneath their property, the battle lines can be oddly mutable, and the Amish, many of whom have been rooted to this landscape for more than five generations, now find themselves in deeply unfamiliar territory.
• • •
Luckily for her Amish neighbors, Carrie Hahn, 47, is adept with a smartphone. She knows her way around county records and has no problem challenging corporate or local authority. With her husband, Bill, and their two horseback-riding, soccer-playing teenage daughters, she moved here from Pittsburgh nearly two years ago, seeking a healthier lifestyle and room to start a market garden. (A registered Republican, Hahn also works as a nutrition advocate for the Weston A. Price Foundation, which promotes a diet centered on fresh produce and animal products.)
The Hahns spent considerable time searching for property in the area, but an uptick in oil-and-gas drilling had tripled the price of land that included subsurface mineral rights. The Hahns could see that drilling would soon be a part of their daily life, so they started digging into what that might mean.
"I spent hours every day, researching, and reading anything and everything I could find on the environmental, financial, and social impacts of fracking," Carrie Hahn says. "Soon, we were looking for land anywhere the shale was not."
This was physically impossible if the family wanted to stay in western Pennsylvania, but the Hahns decided that controlling the rights to minerals beneath their home would be the key to minimizing their exposure. Thousands of leases have already been signed in Lawrence County, although only 26 wells destined for hydrofracking had been drilled as of June 2012. Residents are looking warily toward Washington County, to the south, which has 896 deep wells, and Bradford County, to the east, which has 1,795. According to estimates by Terry Engelder, a Penn State geoscientist, the Marcellus shale formation might contain enough technically recoverable natural gas to supply the entire U.S., at the current rate of use, for up to 20 years.
The Hahns eventually purchased a modest house on 14 acres, and they continue to turn down offers from landmen seeking to purchase their mineral rights. But the couple knows that holding out will do little good if a deep well is drilled on the 100-acre property across the street, where rights have already been leased to Atlas Energy. "That would be the end of my organic farm," Hahn says.
But she hasn't given up hope. Before Atlas can sink a well on that property, it needs to piece together a 640-acre "spacing unit," a requirement of its drilling permit, which means the company must also lease mineral rights from some of the Hahns' Amish neighbors. And that's why Carrie now spends her days going door to door with rolled-up property maps, standing on wind-whipped porches and in dimly lit vestibules, respectfully explaining the risks of hydraulic fracturing to a community that, because of its religious convictions, is largely immune to both the cries of energy independence that rally fracking supporters and to the consumer opportunities that fracking windfalls might put within their reach.
• • •
The next morning, Hahn introduces me to Seth Bender, a sprightly farrier, 35 years old and the father of six. "I'm against the drilling because I live here," he says as he bangs a horseshoe against an anvil in a drafty barn. "I've heard about the sinkholes and the earthquakes. I'm too much of a land lover to favor drilling. I want to keep the land the way God made it." Bender's Amish neighbors leased their land, "but I don't think they'd have signed if they had it to do over again," he says. "People here think, 'If everyone's done it, then so will I.'" He rasps the hoof of a bay mare, muddy in her harness. "Lots of people said they wouldn't drill, because it's against the elders, the rules. But they signed anyway and don't talk about it. That two-sided thing used to be against our teaching."
He drops the hoof. "This friction is caused by greed. Scripture says that at the end of times, it will take over. I could have been engulfed in it, too: we all like to make money. But I was taught at home that money not worked for"—money from leasing, that is—"is no good."
The prospect of deep drilling has strained relationships not just among the Amish. "My cousin wanted no part of this, but his wife and kids did," Ivan Dubransky, the former power company worker, tells me. "He ended up signing, but now he won't even talk to me about it."
"I went on the township's Facebook page to ask questions about the seismic testing near me, and someone told me to go chain myself to a tractor," says Suzanne Matteo, a local resident who now travels to distant post offices to avoid her pro-fracking local postmistress.
• • •
It's tempting to think of the Amish as low-carbon innocents, the last people on earth who would knowingly invite oil and gas companies to intrude upon the land that sustains them. And the sight of wooden buggies parked near chemical tankers does spark some cognitive dissonance (as does learning that some Amish feel animosity toward energy companies only because they settled for $3 an acre, instead of $3,000).
But "the Amish are capitalists," says Erik Wesner, a former scholar of Anabaptism who founded the website Amish America, which examines Amish culture and communities across North America. They're astute businesspeople, Wesner continues, and "they make individual decisions, so long as they don't go against their Ordnung," or rules and standards.
Besides, the Amish have to pay taxes like anyone else, and farming has never been lucrative. They say the wells, as presented by the gas companies, seemed innocuous. According to Hahn, the technological isolation of the Amish can make them easy marks: "They don't have televisions or the Internet, so they can't learn about fracking or even see if the landmen are lying when they say their neighbors have leased and that they could make a lot of money."
Landmen even brandish maps, Hahn adds, with plots falsely marked as leased. Dubransky says that landmen tried fooling him, as well. "I had a kid tell me I'd have more protection [against other drillers] if I signed a lease than if I didn't," he says, incredulous. (Pennsylvania law doesn't allow energy companies to drill under non-leased property, so by not signing a lease, Dubransky kept his land protected.)
With other concerned community members, including Matteo, Hahn last year formed the Fracking Truth Alliance of Lawrence and Mercer Counties, which hosts forums to raise awareness about oil and gas development. Amish men have come to several of these, Hahn says. The group fought, unsuccessfully, to prevent the Wilmington Area School Board from leasing district-owned land to an energy company. And it's currently trying to raise money to help Amish families test their water before deeper drilling and fracking begin. Without such baseline data on pre-drilling conditions, it's impossible to win a lawsuit should water later become polluted.
"It costs $1,200 for a Tier 3 test, which is the broadest spectrum," Hahn says. "But many of these families live below the poverty level." (The Penn State Cooperative Extension Service recommends twice-a-year testing for the next 30 years if there is drilling and fracking activity near your house to monitor any potential pollution. Pricing may vary.)
The Amish worry about water quality for themselves, for their livestock and their gardens; they also worry about heavy traffic, which could shatter the carefully cultivated tranquility of their daily rhythms. There are reports, in other fracked counties, of well-servicing trucks running horses and buggies off the road. In Wisconsin, an Amish family is fighting a rail yard that will wash and load fracking sand, on the grounds that the noise and traffic may prevent them from practicing their religion. Constitutional issues aside, their legal action is noteworthy because the Amish way is to resist quietly, if at all.
• • •
One afternoon, I accompany Hahn as she makes a cold call on Fred Kingery, the financier who owns the vacant 100 acres across from her house. In the double-height living room of his large stone house, a gas fire glows in the grate and nautical paintings decorate the walls. Kingery explains his pro-drilling position, which is based on a belief that the burning of hydrocarbons isn't warming the planet, and that Marcellus gas will free the nation from dealing with its political enemies.
Hahn interrupts. "I'm screwed if you do a platform across from my house."
"I wouldn't want one across from my house either," Kingery concedes. "But that's just how it is."
Hahn frowns, and Kingery adds, "It's not about the money. It's all about energy independence."
"It's constant noise and high-voltage lights."
"It's not forever," Kingery sighs. "These issues come with progress. It's part of the process, whether it's the railroads or building skyscrapers." Hahn realizes she's getting nowhere. She asks Kingery if he tried to persuade her neighbors to allow seismic testing on their property.
"No," he says. "I wasn't trying to talk them into it. But I spoke to them about it because I thought it would be in their best interest."
• • •
A few sheep-dappled miles away, a drilling rig towers 150 feet above a soybean field behind Sam and Lydia Mullet's farmhouse. The drill pad sits on land owned by Dorothy Hurtt, an elderly "English" woman—as the non-Amish are known—from whom the Mullets bought their property 18 years ago. The steady thud of drilling, which has gone on round the clock for several weeks, makes normal outdoor conversation impossible. The Mullets have nine children; the family subsists off its extensive garden (a strawberry patch produces 200 quarts a day at its peak), fees from training carthorses for others, and sales of the bentwood rockers that Sam Mullet crafts in a workshop behind the house. Asked how the drilling has affected her, Lydia answers in a tremulous voice. "I'm depressed about it, but we feel helpless because it's not on our land. And the lights shine through our windows at night. It's not relaxing." Since the work began, Lydia has been waking at 3 a.m., unable to go back to sleep.
"I just hope it turns out good in the end," Sam says. "My attitude is live and let live, as long as it's not hurting the earth. We try to avoid conflict."
The Mullets' 3-year-old son, bright-eyed under his broad-brimmed hat, skips about his father's workshop with a length of strapping and motions for his visitors to peep inside a cardboard box, where five yam-sized puppies squirm. "I don't want your kids outside breathing that silica dust once they start fracking," Hahn says to Lydia.
"Okay," Lydia answers, diffidently. "I think they're going to be done here in another week or so."
"They're just doing the first well now," Hahn tells her. "You know they could put 12 wells on that platform?" Lydia's face goes ashen. She looks shocked. She had no idea that the pounding could continue for several more months.
If the drilling and fracking weren't temporary, Sam tells Hahn, he'd likely move away. Perhaps this is possible: the Amish own thousands of acres throughout Lawrence and Mercer Counties. But a new address is no guarantee that drilling won't intrude—the Marcellus underlies a vast area, and neither water nor air pollution stick to property lines.
I ask Mullet if his community would ever take a unified stand against this sort of activity, as Andy Miller had hinted they might. He shakes his head and answers slowly. "We don't want to go to court, to testify about water problems. But we're glad for people like Carrie to do this." Mullet's voice trails off. Then he repeats, in a tone halfway between resolved and resigned, "We try to avoid conflict."
Hahn smiles weakly. She feels deep empathy for families like the Mullets, who are stressed and sickened by the drilling activity nearby and are living, she says, in constant fear and worry. "If something goes wrong here," she asks, "who's going to help you? The government? I don't think so."
After her confrontation with Kingery, Hahn is hopeful that he won't allow Atlas to put a drilling platform near her house, should the company eventually piece together the acreage it needs. But she still worries that a well within a few miles of her property could affect the food she plans to grow. And so for her own family's sake, as well as the sake of her Amish neighbors, she continues to pull together community forums, to take water samples around the county, to talk to her new neighbors and prepare them for what's coming—and what's at stake.
"We want the industry to know that we are out there," she says. "We want them to know that we're watching what they're doing, and that they can't just come in here and sandbag us."
Visit EcoWatch's FRACKING page for more related news on this topic.
--------
This article was originally posted at OnEarth.
OnEarth contributing editor Elizabeth Royte also writes for the New York Times Book Review, which called her "no stranger to the pleasures and perils of chasing errant pieces of plastic and other castoffs to surprising (and often disgusting) places." She's the author of Bottlemania: How Water Went on Sale and Why We Bought It and Garbage Land: On the Secret Trail of Trash.
--------
Sign the petition today, telling President Obama to enact an immediate fracking moratorium:

The Gowanus Canal in Brooklyn, New York, a polluted nearly 2 mile-long waterway that is an EPA Superfund site. Jonathan Macagba / Moment / Getty Images
Thousands of Superfund sites exist around the U.S., with toxic substances left open, mismanaged and dumped. Despite the high levels of toxicity at these sites, nearly 21 million people live within a mile of one of them, according to the U.S. Environmental Protection Agency (EPA).
EcoWatch Daily Newsletter
The National Weather Service station in Chatham, Massachusetts, near the edge of a cliff at the Monomoy National Wildlife Refuge. Bryce Williams / National Weather Service in Boston / Norton
A weather research station on a bluff overlooking the sea is closing down because of the climate crisis.
The National Weather Service (NWS) station in Chatham, Massachusetts was evacuated March 31 over concerns the entire operation would topple into the ocean.
"We had to say goodbye to the site because of where we are located at the Monomoy Wildlife Refuge, we're adjacent to a bluff that overlooks the ocean," Boston NWS meteorologist Andy Nash told WHDH at the time. "We had to close and cease operations there because that bluff has significantly eroded."
Chatham is located on the elbow of Cape Cod, a land mass extending out into the Atlantic Ocean that has been reshaped and eroded by waves and tides over tens of thousands of years, The Guardian explained. However, sea level rise and extreme weather caused by the climate crisis have sped that change along.
"It's an extremely dynamic environment, which is obviously a problem if you are building permanent infrastructure here," Andrew Ashton, an associate scientist at Cape-Cod based Woods Hole Oceanographic Institution, told The Guardian. "We are putting our foot on the accelerator to make the environment even more dynamic."
This was the case with the Chatham weather station. It used to be protected from the drop into the ocean by about 100 feet of land. However, storm action in 2020 alone washed away as much as six feet of land a day.
"We'd know[n] for a long time there was erosion but the pace of it caught everyone by surprise," Nash told The Guardian. "We felt we had maybe another 10 years but then we started losing a foot of a bluff a week and realized we didn't have years, we had just a few months. We were a couple of storms from a very big problem."
The Chatham station was part of a network of 92 NWS stations that monitor temperature, pressure, humidity, wind speed and direction and other data in the upper atmosphere, The Cape Cod Chronicle explained. The stations send up radiosondes attached to weather balloons twice a day to help with weather research and prediction. The Chatham station, which had been observing this ritual for the past half a century, sent up its last balloon the morning of March 31.
"We're going to miss the observations," Nash told The Cape Cod Chronicle. "It gives us a snapshot, a profile of the atmosphere when the balloons go up."
The station was officially decommissioned April 1, and the two buildings on the site will be demolished sometime this month. The NWS is looking for a new location in southeastern New England. In the meantime, forecasters will rely on data from stations in New York and Maine.
Nash said the leavetaking was bittersweet, but inevitable.
"[M]other nature is evicting us," he told The Cape Cod Chronicle.
Amsterdam is one of the Netherlands' cities which already has "milieuzones," where some types of vehicles are banned. Unsplash / jennieramida
By Douglas Broom
If online deliveries continue with fossil-fuel trucks, emissions will increase by a third.
So cities in the Netherlands will allow only emission-free delivery vehicles after 2025.
The government is giving delivery firms cash help to buy or lease electric vehicles.
The bans will save 1 megaton of CO2 every year by 2030.
Cities in the Netherlands want to make their air cleaner by banning fossil fuel delivery vehicles from urban areas from 2025.
"Now that we are spending more time at home, we are noticing the large number of delivery vans and lorries driving through cities," said Netherlands environment minister Stientje van Veldhoven, announcing plans to ban all but zero-emission deliveries in 14 cities.
"The agreements we are setting down will ensure that it will be a matter of course that within a few years, supermarket shelves will be stocked, waste will be collected, and packages will arrive on time, yet without any exhaust fumes and CO2 emissions," she added.
Protestors stage a demonstration against fracking in California on May 30, 2013 in San Francisco, California. Justin Sullivan / Getty Images
The bill, SB467, would have prohibited fracking and other controversial forms of oil extraction. It would also have banned oil and gas production within 2,500 feet of a home, school, hospital or other residential facility. The bill originally set the fracking ban for 2027, but amended it to 2035, The AP reported.
"Obviously I'm very disappointed," State Sen. Scott Wiener (D-San Francisco), one of the bill's two introducers, told the Los Angeles Times. "California really has not done what it needs to do in terms of addressing the oil problem. We have communities that are suffering right now, and the Legislature has repeatedly failed to act."
The bill was introduced after California Gov. Gavin Newsom said he would sign a fracking ban if it passed the legislature, though his administration has continued to issue permits in the meantime, Forbes reported. Newsom has also spoken in favor of a buffer zone between oil and gas extraction and places where people live and learn, according to the Los Angeles Times. The latter is a major environmental justice issue, as fossil fuel production is more likely to be located near Black and Latinx communities.
Urban lawmakers who want California to lead on the climate crisis supported the bill, while inland lawmakers in oil-rich areas concerned about jobs opposed it. The oil and gas industry and trade unions also opposed the bill.
This opposition meant the bill failed to get the five votes it needed to move beyond the Senate's Natural Resources and Water Committee. Only four senators approved it, while Democrat Sen. Susan Eggman of Stockton joined two Republicans to oppose it, and two other Democrats abstained.
Eggman argued that the bill would have forced California to rely on oil extracted in other states.
"We're still going to use it, but we're going to use it from places that produce it less safely," Eggman told The AP. She also said that she supported the transition away from fossil fuels, but thought the bill jumped the gun. "I don't think we're quite there yet, and this bill assumes that we are," she added.
Historically, California has been a major U.S. oil producer. Its output peaked in 1986 at 1.1 million barrels a day, just below Texas and Alaska, according to Forbes. However, production has declined since then making it the seventh-most oil-producing state.
Still, California's fossil fuel industry is at odds with state attempts to position itself as a climate leader.

"There is a large stain on California's climate record, and that is oil," Wiener said Tuesday, according to The AP.
Wiener and Democrat co-introducer Sen. Monique Limón from Santa Barbara vowed to keep fighting.
"While we saw this effort defeated today, this issue isn't going away," they wrote in a joint statement. "We'll continue to fight for aggressive climate action, against harmful drilling, and for the health of our communities."
From Your Site Articles
Related Articles Around the Web
EXTREME-PHOTOGRAPHER / E+ / Getty Images
By Brett Wilkins
As world leaders prepare for this November's United Nations Climate Conference in Scotland, a new report from the Cambridge Sustainability Commission reveals that the world's wealthiest 5% were responsible for well over a third of all global emissions growth between 1990 and 2015.
The report, Changing Our Ways: Behavior Change and the Climate Crisis, found that nearly half the growth in absolute global emissions was caused by the world's richest 10%, with the most affluent 5% alone contributing 37%.
"In the year when the UK hosts COP26, and while the government continues to reward some of Britain's biggest polluters through tax credits, the commission report shows why this is precisely the wrong way to meet the UK's climate targets," the report's introduction states.
The authors of the report urge United Kingdom policymakers to focus on this so-called "polluter elite" in an effort to persuade wealthy people to adopt more sustainable behavior, while providing "affordable, available low-carbon alternatives to poorer households."
The report found that the "polluter elite" must make "dramatic" lifestyle changes in order to meet the UK's goal — based on the Paris climate agreement's preferential objective — of limiting global heating to 1.5°C, compared with pre-industrial levels.
In addition to highlighting previous recommendations — including reducing meat consumption, reducing food waste, and switching to electric vehicles and solar power — the report recommends that policymakers take the following steps:
Implement frequent flyer levies;
Enact bans on selling and promoting SUVs and other high polluting vehicles;
Reverse the UK's recent move to cut green grants for homes and electric cars; and
Build just transitions by supporting electric public transport and community energy schemes.
"We have got to cut over-consumption and the best place to start is over-consumption among the polluting elites who contribute by far more than their share of carbon emissions," Peter Newell, a Sussex University professor and lead author of the report, told the BBC.
"These are people who fly most, drive the biggest cars most, and live in the biggest homes which they can easily afford to heat, so they tend not to worry if they're well insulated or not," said Newell. "They're also the sort of people who could really afford good insulation and solar panels if they wanted to."
Newell said that wealthy people "simply must fly less and drive less. Even if they own an electric SUV, that's still a drain on the energy system and all the emissions created making the vehicle in the first place."
"Rich people who fly a lot may think they can offset their emissions by tree-planting schemes or projects to capture carbon from the air," Newell added. "But these schemes are highly contentious and they're not proven over time."
The report concludes that "we are all on a journey and the final destination is as yet unclear. There are many contradictory road maps about where we might want to get to and how, based on different theories of value and premised on diverse values."
"Promisingly, we have brought about positive change before, and there are at least some positive signs that there is an appetite to do what is necessary to live differently but well on the planet we call home," it states.
The new report follows a September 2020 Oxfam International study that revealed the wealthiest 1% of the world's population is responsible for emitting more than twice as much carbon dioxide as the poorest 50% of humanity combined.
Reposted with permission from Common Dreams.

From Your Site Articles
Related Articles Around the Web