This website uses cookies to ensure you get the best experience while browsing it. By clicking 'Got It' you're accepting these terms.
Fracking Support Plummets Among Americans
Nov. 13, 2014 12:20PM EST
Climate
Fracking is quickly losing favor with Americans, a new Pew Research Center poll finds.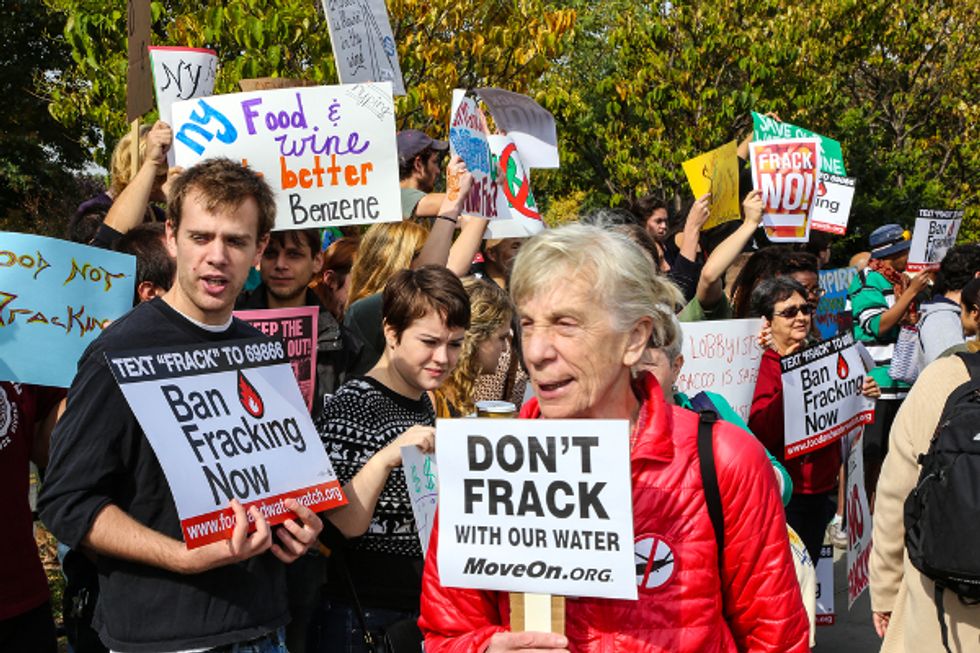 Photo credit: Shutterstock
As more stories emerge about the dangers posed by the toxic fallout from the aggressive drilling process to communities near the operations, support for fracking tilts negative for the first time, with 41 percent favoring increased use of fracking and 47 percent opposing it. That's a huge swing from 20 months ago. In Pew's March 2013 poll 48 percent supported more fracking while only 38 percent opposed it.
Support for fracking has dropped most steeply among women and people under 50, whose opinions turned against it by 10 points, while shifting slightly against it among those over 50 by two points. Fifty-four percent of women now oppose fracking, with only 31 percent supporting it. Among men, 52 percent support it with 40 percent opposed, representing a three-point drop from March 2013. People 18-29 moved from 49/41 in support to 53/39 against, while those 30-49 who formerly favored it 48/41 now oppose it 50/38.
Pew notes, "There has been a particularly dramatic change in views of fracking among those in the Midwest. In March 2013, 55 percent of Midwesterners favored expanded fracking while 32 percent were opposed. Today, 47 percent oppose more fracking while 39 percent support it." Support remains strongest in the south where it's still favored 45/42. But even that represents a seven-point shift toward opposition, from 52/34 just 20 months ago.
Unsurprising, there's a huge partisan divide. Among Republicans, 62 percent support fracking, while only 29 percent of Democrats do. Independents showed one of the biggest shifts of any group, moving from 51/36 percent in favor to 53/37 percent against, a swing of 14 points.
The Pew Poll also showed a move toward more environmentally friendly policies in other areas. By a 64/31 majority, Americans support strongly limits on greenhouse gas emissions from power plants to address climate change. Republicans are split 47/47, while Democrats and independents favor emissions limits such as those President Obama announced last June, showing that the aggressive drive by congressional Republicans to block such limits is way out of touch with their constituents.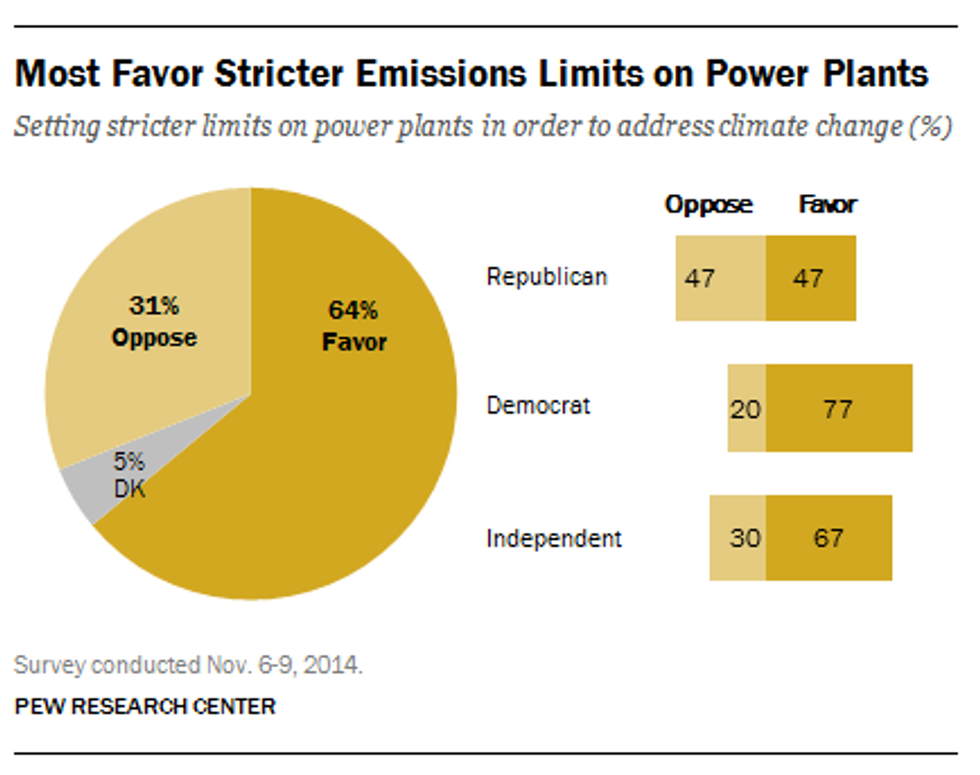 And while Americans still overwhelmingly support building the Keystone XL pipeline by 59 percent to 31 percent, even that support is diminishing, although less rapidly. In March 2013, 66 percent favored the project. Then, 54 percent of Democrats supported it; now only 43 percent do. Support has plunged among independents from 70 percent to 58 percent, while holding steady among Republicans at 83 percent.
YOU MIGHT ALSO LIKE
Millennials Demand Climate Action
Fracking Bans Pass in Denton, Texas, Two California Counties and One Ohio Town
Groundbreaking Study Finds Cancer-Causing Air Pollution Near Fracking Sites
EcoWatch Daily Newsletter
A new study shows that half of all Arctic warming and corresponding sea-loss during the late 20th century was caused by ozone-depleting substances. Here, icebergs discharged from Greenland's Jakobshavn Glacier. Kevin Krajick / Earth Institute /
EurekAlert!
The world awakened to the hole in the ozone layer in 1985, which scientists attributed it to ozone depleting substances. Two years later, in Montreal, the world agreed to ban the halogen compounds causing the massive hole over Antarctica. Research now shows that those chemicals didn't just cut a hole in the ozone layer, they also warmed up the Arctic.
Diane Wilson holds up a bag full of nurdles she collected from one of Formosa's outfall areas on Jan. 15. Julie Dermansky / DeSmogBlog
On the afternoon of Jan. 15, activist Diane Wilson kicked off a San Antonio Estuary Waterkeeper meeting on the side of the road across from a Formosa plastics manufacturing plant in Point Comfort, Texas.
After Wilson and the waterkeeper successfully sued Formosa in 2017, the company agreed to no longer release even one of the tiny plastic pellets known as nurdles into the region's waterways. The group of volunteers had assembled that day to check whether the plant was still discharging these raw materials of plastics manufacturing.
Malaysian Environment Minister Yeo Bee Yin (front 2nd L) and officials inspect a container containing plastic waste shipment on Jan. 20, 2020 before sending back to the countries of origin. AFP via Getty Images
The Southeast Asian country Malaysia has sent 150 shipping containers packed with plastic waste back to 13 wealthy countries, putting the world on notice that it will not be the world's garbage dump, as CNN reported. The countries receiving their trash back include the United States, the United Kingdom, France and Canada.
Trump leaves after delivering a speech at the Congress Centre during the World Economic Forum annual meeting in Davos on Jan. 21, 2020. JIM WATSON / AFP via Getty Images