Fracking Study Needs to Take Drilling Dangers into Account
Oct. 19, 2011 01:34PM EST
Energy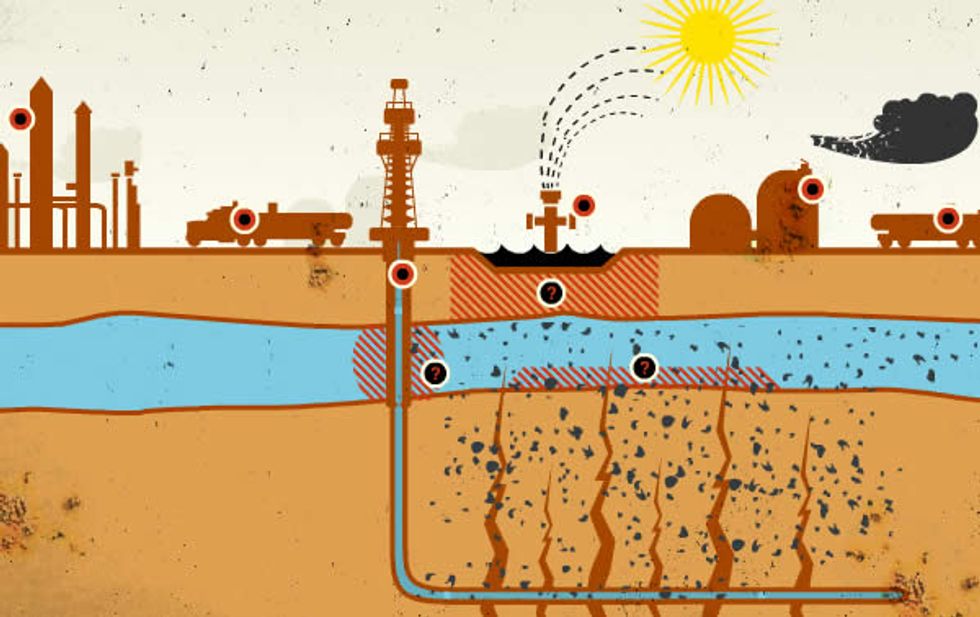 North Carolina needs to objectively and critically investigate the risks of hydraulic fracturing before considering changes to existing law, according to comments submitted Oct. 18 by the Southern Environmental Law Center to the N.C. Department of Environment and Natural Resources (DENR). The Southern Environmental Law Center submitted comments on behalf of American Rivers, Environment North Carolina and the Sierra Club. As DENR accepts public comments on studying fracking in North Carolina, Republican leadership in the N.C. Assembly seeks to overturn the governor's veto of another bill, S. 709, that would fast-track fracking in North Carolina.
"Other states have assumed that fracking can be done safely without carefully studying the potential effects, and now they're trying to clean up the mess," said Geoff Gisler, an attorney at the Southern Environmental Law Center. "This study must take a critical look at fracking and its potential consequences and ask whether it is appropriate for North Carolina before discussing how it could be done."
The groups emphasize concerns about contamination of water supplies, high water usage, contaminated wastewater disposal, road and pipeline infrastructure, and air pollution from wells. In states where fracking has occurred, residents have reported spills and fumes, health problems, contaminated tap water, sick and dying animals, earthquakes and other problems.
The chemicals injected into the ground during fracking may include toxic and dangerous chemicals. A recent Congressional report listed 750 chemicals and compounds used in fracking by 14 oil and gas service companies from 2005 to 2009. Of those chemicals, 29 chemicals—including benzene and lead—are either known or potentially cancer-causing, or pose other serious risks to human health.
Fracking is a gas extraction method that injects pressurized water, a mixture of chemicals, and sand into rock formations to create cracks that release gas and can require 5 million gallons of water for a single well. Concerns over water supplies for drinking water and food production already exist with recent droughts in North Carolina.
Horizontal drilling for fracking and injecting chemicals underground are currently prohibited by North Carolina law. The General Assembly already enacted legislation this session to study fracking without S.709's presumptive conclusion that it is in the best interest of the state to change existing N.C. law to allow it.
Potential gas formations in the Triassic Basins are underneath or upstream from public drinking water supplies for 2.4 million people in North Carolina, stretching from the densely populated areas of the Triangle through the Sandhills to the South Carolina state line. Other communities downstream withdraw drinking water from the Lumber, Cape Fear, Neuse and Tar Rivers. A smaller area of the shale occurs along the Dan River in Stokes, Rockingham, Yadkin and Davie Counties.
Congress exempted fracking from federal regulation under the Safe Drinking Water Act in 2005 after heavy lobbying by oil and gas companies, meaning that companies are not required to disclose their chemical mixtures under federal law. Companies can and do refuse to disclose the chemical mix that they inject into the ground.
In addition to chemical hazards, the sought-after gas can stray far from drilling sites. In a 2011 peer-reviewed, scientific study, Duke University scientists found, on average, methane concentrations 17 times above normal in samples taken from water wells near gas drilling sites that involve fracking.
For more information, click here.
EcoWatch Daily Newsletter
Related Articles from EcoWatch
Recent Stories from EcoWatch