Fracking Sacrifice Zone Rejected by Illinois Residents
May. 28, 2014 10:13PM EST
Energy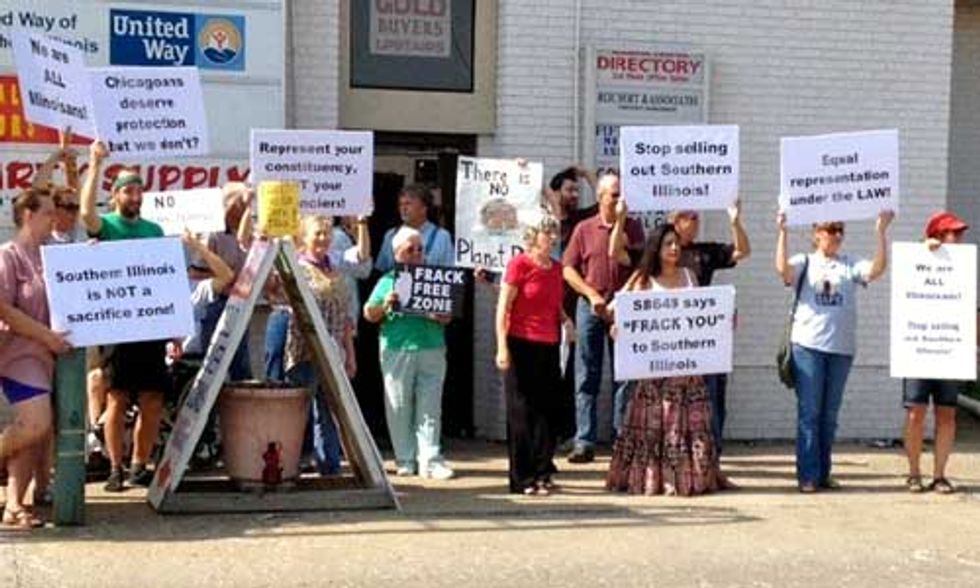 Illinois scored a victory this week against an attempt to sacrifice parts of the state to poorly regulated fracking. State Rep. John Bradley (D-Marion) introduced a bill to cut short the process of writing new regulation while also creating a fracking moratorium only in the Chicagoland area. The response showed that many Illinoisans are still opposed to fracking in our state.
[blackoutgallery id="336166"] 
The fracking debate has many southern Illinois residents talking about the region being a sacrifice zone. Like the Hunger Game's District 12, a sacrifice zone is where people are expected to shrug their shoulders with defeated acceptance as the cycle of boom and bust poverty and destruction continue generation after generation. Southern Illinois is sacrificed to an extraction economy that breeds poverty, offers dangerous jobs with high mortality rates while green jobs are created elsewhere, and exposes the public to deadly pollutants.
Rep. Bradley's bill is the first attempt to codify that sacrifice zone into law by exempting some parts of the state from fracking while rushing a badly regulated fracking crisis downstate. Thankfully, legislators announced today that Bradley's bill doesn't have the votes to pass. The push-back, including from the district he claims to represent, reveals that Illinoisans remain determined to stop fracking.
Southern Illinois residents joined with groups from across the state at a press conference in the Capitol Tuesday to show that one year after the weak fracking law passed, we continue to fight against the impending fracking boom. 
Angie Viands of Ban Fracking Chicago delivered a letter signed by 25 local, state and national organizations in support of a ban on fracking. The letter states, "Illinoisans need jobs, but providing jobs that threaten the health and safety of workers and result in more pollution and social problems is not an acceptable solution. It will be impossible to adequately regulate the hydraulic fracturing industry so as to not harm people and natural areas. Instead of focusing on bringing a dirty, destructive fossil fuel infrastructure to Illinois, we urge you to promote local renewable energy and provide safe jobs."
"We will not stand by as Bradley and other greed mongering legislators and state agencies like officec of commerce and economic opportunity sell out rural Illinois while saving northern Illinois," said Southern Illinois resident Tabitha Tripp. "This fracking law and the proposed amendments are a death sentence to Illinois. We will not be sold down the river and we will not be silenced."
Tripp delivered a pledge of support for nonviolent direct action to resist fracking in Illinois signed by more than 600 people. The fracking industry won't find passive acceptance in Illinois, no matter how many campaign contributions they make to politicians.
After the press conference, we held a procession to John Bradley's office to deliver two MoveOn.org Fracking Fighter petitions, the coalition letter to support a fracking ban and a coffin to represent the death sentence he issued against downstate Illinois. Following a die-in, the coffin, tombstone and flowers were left in Bradley's office.
It's no hyperbole to talk about death. North Dakota now faces the highest workplace death rate in the nation after their fracking boom began. Illinois' inadequate fracking law does nothing to protect residents from toxic chemical spills after truck and rail accidents that will inevitably become much more frequent if fracking begins. It does nothing to protect residents who live near fracking fields from toxic air pollutants. Drilling can be paused only after multiple significant earthquakes have occurred in the state's major seismic zones, after it may be too late to prevent more.  
And since the fracking law was written with natural gas fracking in mind, we may face a massive oil and coal bed methane fracking rush that can exploit loopholes to avoid complying with any new regulation.
The oil and gas industry placed a number of articles and editorials in state media whining about the slow pace that rules are being finalized. The public relations campaign culminated with Bradley's bill to cut the process short. But, many of his constituents would rather see no fracking at all, as a group said at another press conference Tuesday outside Bradley's district office in Marion. 
"Democracy is not being served by ramming through legislation that leaves out tens of thousands of citizens' voices and renders their valuable time useless," said Illinois resident Janet Donoghue. "Tens of thousands of citizens of Illinois took part in hearings and provided comments on rules that are shaky at best."
The fracking law was negotiated in secret with industry lobbyists and rushed through the legislature without meaningful debate. The hearing process for the rules was the public's chance to finally make their voice heard. They responded with packed public hearings of speakers overwhelmingly opposed to fracking and more than 35,000 comments. It's no wonder why Bradley and his fracking allies are intimidated by that glimmer of democracy during their attempt to force fracking on unwilling residents. 
This victory is the first time Illinois environmentalists worked together on fracking since four Chicago-based organizations chose to support a flawed regulatory bill over the loud objection of people in potentially impacted regions. It's a glimpse of what power the movement could achieve by uniting around environmental justice principles in opposition to fracking.
——–
YOU MAY ALSO LIKE
Hundreds of New Yorkers Rally Against Fracking, Call for Renewable Energy
Santa Cruz Triumphs as First County in California to Ban Fracking
'Dear Governor Hickenlooper' Film Exposes Detriments of Fracking and Promise of Renewable Energy
——–
EcoWatch Daily Newsletter