This website uses cookies to ensure you get the best experience while browsing it. By clicking 'Got It' you're accepting these terms.
Fracking: Putting Our National Parks at Risk
Oct. 08, 2015 02:14PM EST
Energy
America's national parks cover nearly 52 million acres—an area roughly the size of Kansas—and contain some of the most incredible natural landscapes in the country. Sweeping valleys, frosted mountain peaks and immaculate waterways host a range of incredible wildlife, many of which are threatened or endangered.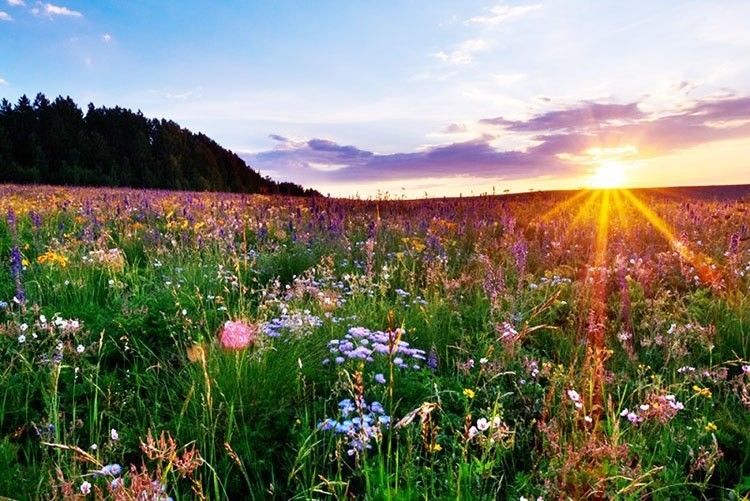 Colorado's White River National Forest is among the 200 million acres of public land being targeted by oil and gas executives for fracking. Photo credit: Bryce R. Bradford / Creative Commons
National parks are also public lands, maintained by the federal government with taxpayer money. They are, quite literally, our land. But while national parks are highly protected, the land surrounding them—as well as other public land like national forests and state parks—are much more vulnerable to exploitation under U.S. law. Now, frackers want to take advantage of that. That's bad news for the wildlife and waterways that cross park boundaries. 
Oil and gas companies already have the rights to frack on some 30 million acres of public land in the U.S., but they want more. In fact, they're targeting more than 200 million additional acres of public lands for fracking, much of it in national forests, state parks and the areas surrounding national parks.
Here are just a few places at risk:
1. Glacier National Park
National parks like Glacier are technically protected from extractive industries like fracking within their bounds. But the land surrounding them? Frackers say that's fair game.
Already, the National Parks Conservation Association states that visitors to Glacier's eastern boundary can "throw a stone and hit any of 16 exploratory wells and their associated holding tanks, pump jacks and machinery."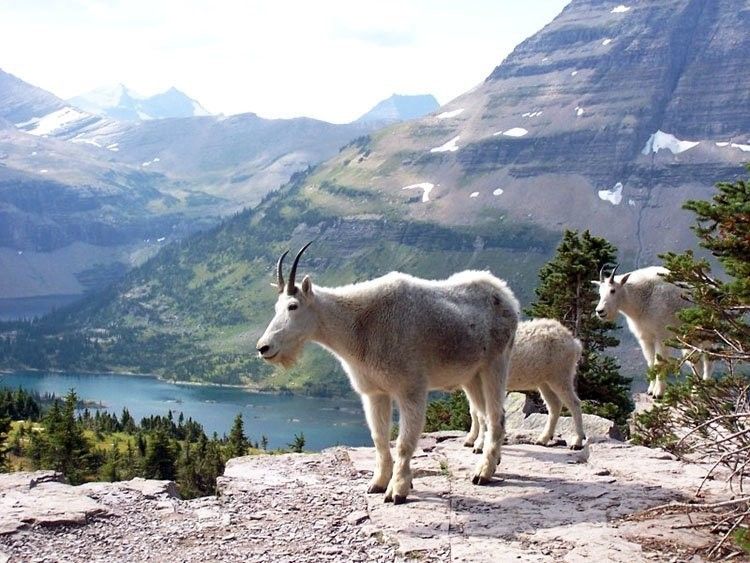 Mountain goats in Glacier National Park, Montana. Photo credit: J. Stephen Conn / Creative Commons
2. White River National Forest
White River National Forest, in central Colorado, is the country's most visited national forest. It's home to incredible wildlife—deer, elk, bears, mountain lions and more. None of this has stopped fossil fuel companies from pursuing the rights to frack on roughly 250,000 acres of the forest.
And earlier this year, fracking lobbyists fought back against an administrator's attempt to restrict drilling on forest land.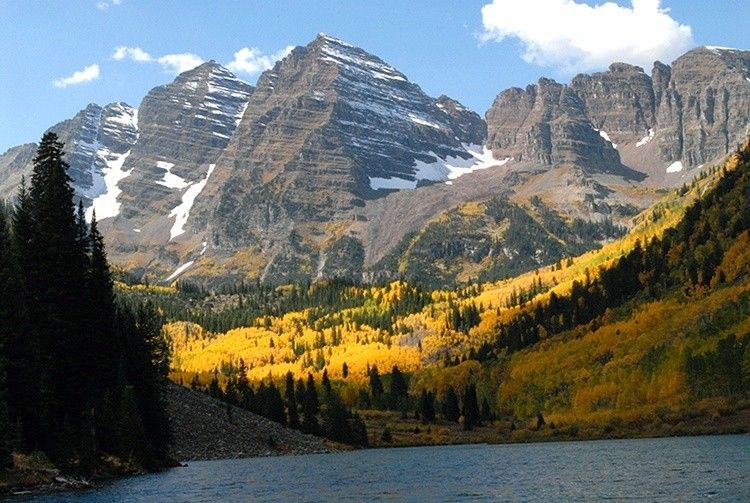 White River National Forest, Colorado. Photo credit: Scott Mecum / U.S. Department of Agriculture
3. George Washington National Forest
The largest national forest in the U.S., Virginia's George Washington National Forest has been at the center of a heated discussion about fracking's future in the southeast. Last November, Forest Service officials approved fracking on 177,000 acres, roughly 17 percent of the forest's land.
Commenters were quick to point out the implications not only for the forest, but also for drinking water and health for the four million people dependent on the Potomac River for drinking water.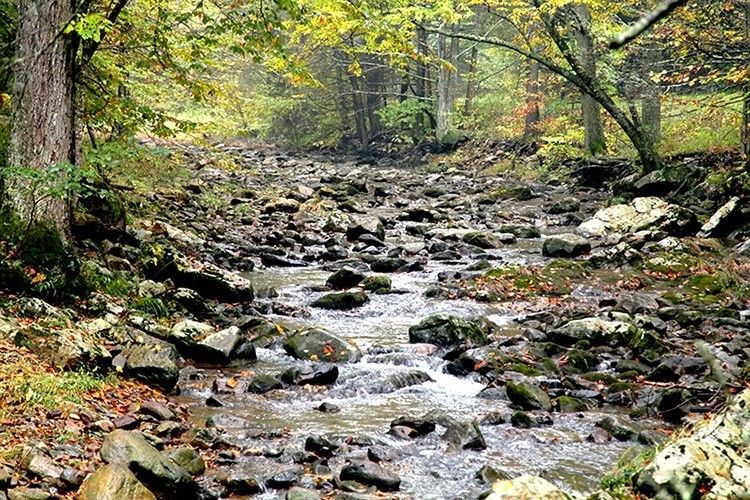 George Washington National Forest, Virginia. Photo credit: Chesapeake Bay Program / Creative Commons
4. Sproul State Forest
Fracking isn't only an issue on federally managed land. Some states have been quick to let oil and gas companies enter their state parks and Pennsylvania is one of them. Most of the state sits on top of the Marcellus Shale, a hotbed of fracking activity in the U.S.
Pennsylvania has already opened 700,000 acres of state land to industry, with much of the activity located in Sproul State Forest.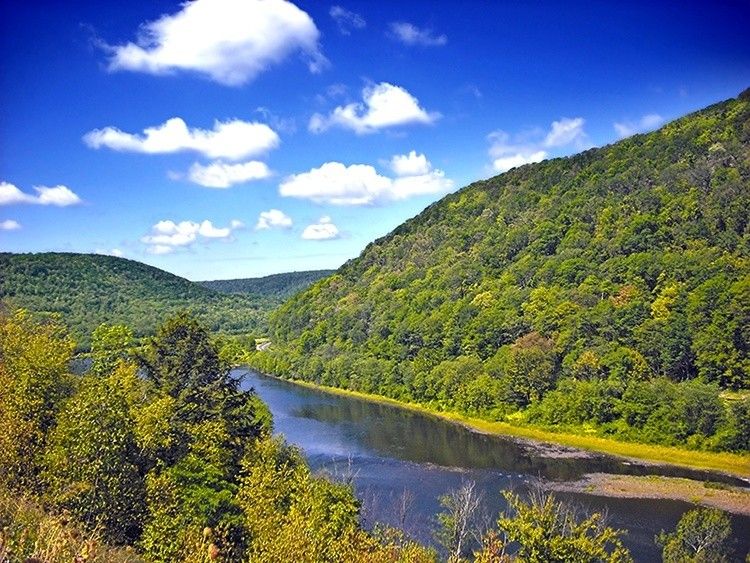 Sproul State Forest, Pennsylvania. Photo credit: Nicholas A. Tonelli / Creative Commons
5. Arapaho National Forest
Also in Colorado, the Arapaho National Forest and surrounding Pawnee National Grassland already house 63 active oil and gas wells. Almost one-third of the region's land has been leased to private companies.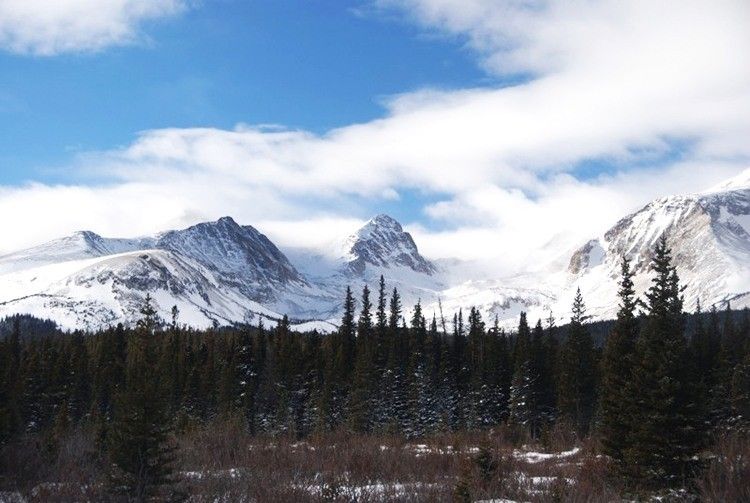 Arapaho National Forest, Colorado. Photo credit: Let Ideas Compete / Creative Commons
6. Theodore Roosevelt National Park
North Dakota is at the center of the American fracking boom, which has come at a high price for Theodore Roosevelt National Park. Once a favored haven of President Theodore Roosevelt (as the name suggests), the park is now a favored target for frackers.
Western North Dakota already hosts 45,000 operational drilling wells, with more to come. Noise from truck traffic can already be heard within the park and signs on the park's southern border warn visitors of the hydrogen sulfide gas that pollutes the air surrounding wells. This is especially detrimental to wildlife that come and go through the park's borders into land now leased to frackers.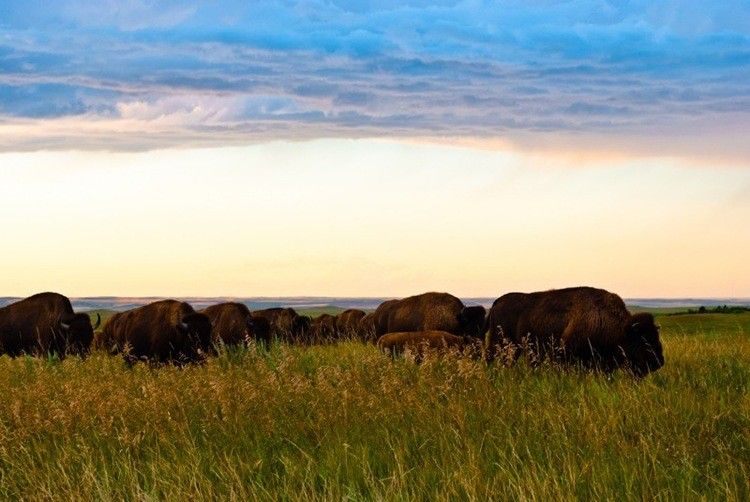 American bison grazing in Theodore Roosevelt National Park, North Dakota. Photo credit: Jenny W / Creative Commons
The Dangers of Fracking
Fracking is more expensive, more polluting and more dangerous than renewable energy. It releases methane, a greenhouse gas at least 85 times as powerful as carbon dioxide at disrupting the climate.
Fracking has also been linked to major air pollution and water contamination. Communities near some fracking sites have even reported being able to light the water coming out of their kitchen sinks on fire due to gas contamination.
Industry lobbyists have succeeded in delaying federal regulations on fracking, meaning the majority of fracking activity continues to take place unseen and unchecked. Even with proper oversight, there is no such thing as safe fracking—spills, leaks and other "fraccidents" are bound to occur.
In a world where we can have clean, affordable energy from the wind and the sun, why should we pursue fracking in the first place?
Fracking is diverting money and attention from the long-term solutions we need for a sustainable energy system, while contributing to global warming and environmental degradation. For the sake of our health, our climate and our public lands, it's time to ditch fracking and start focusing on the clean energy future we need.
Let's start by banning fracking on public lands.
YOU MIGHT ALSO LIKE
World's Oceans Face Worst Coral Die-Off in History, Scientists Warn
Mark Ruffalo Urges Pennsylvania Governor to Enact Immediate Fracking Moratorium
Fracking Boom Goes Bust as Companies File for Bankruptcy
EcoWatch Daily Newsletter
Tuna auctions are a tourist spectacle in Tokyo. Outside the city's most famous fish market, long queues of visitors hoping for a glimpse of the action begin to form at 5 a.m. The attraction is so popular that last October the Tsukiji fish market, in operation since 1935, moved out from the city center to the district of Toyosu to cope with the crowds.

gmnicholas / E+ / Getty Images
Kristan Porter grew up in a fishing family in the fishing community of Cutler, Maine, where he says all roads lead to one career path: fishing. (Porter's father was the family's lone exception. He suffered from terrible seasickness, and so became a carpenter.) The 49-year-old, who has been working on boats since he was a kid and fishing on his own since 1991, says that the recent warming of Maine's cool coastal waters has yielded unprecedented lobster landings.
Aerial view of lava flows from the eruption of volcano Kilauea on Hawaii, May 2018. Frizi / iStock / Getty Images
Hawaii's Kilauea volcano could be gearing up for an eruption after a pond of water was discovered inside its summit crater for the first time in recorded history, according to the AP.
The Eqip Sermia Glacier is seen behind a moraine left exposed by the glacier's retreat during unseasonably warm weather on Aug. 1 at Eqip Sermia, Greenland. Sean Gallup / Getty Images
hadynyah / E+ / Getty Images
By Johnny Wood
The Ganges is a lifeline for the people of India, spiritually and economically. On its journey from the Himalayas to the Bay of Bengal, it supports fishermen, farmers and an abundance of wildlife.
The river and its tributaries touch the lives of roughly 500 million people. But having flowed for millennia, today it is reaching its capacity for human and industrial waste, while simultaneously being drained for agriculture and municipal use.
Here are some of the challenges the river faces.
By Jake Johnson
As a growing number of states move to pass laws that would criminalize pipeline protests and hit demonstrators with years in prison, an audio recording obtained by The Intercept showed a representative of a powerful oil and gas lobbying group bragging about the industry's success in crafting anti-protest legislation behind closed doors.
Reposted with permission from our media associate Common Dreams.

DESIREE MARTIN / AFP / Getty Images
Wildfires raging on Gran Canaria, the second most populous of Spain's Canary Islands, have forced around 9,000 people to evacuate.