This website uses cookies to ensure you get the best experience while browsing it. By clicking 'Got It' you're accepting these terms.
FRACKING PUBLIC LANDS: Is the BLM Bowing to Industry Pressure on New Fracking Rules?
Feb. 13, 2013 11:59AM EST
Energy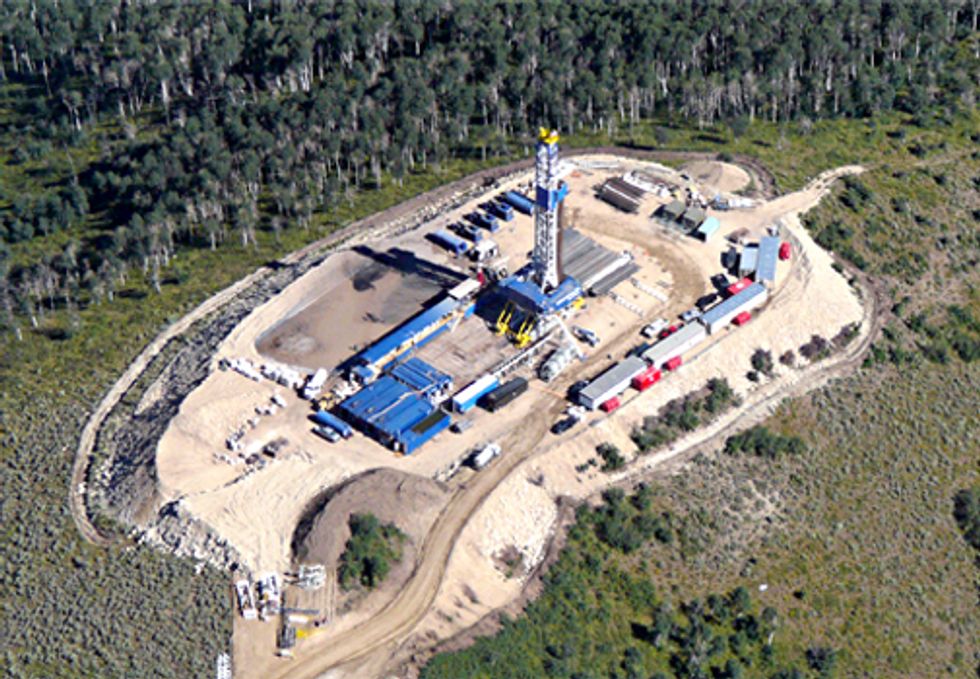 Last year the Bureau of Land Management (BLM) issued a draft rule for well stimulation (including hydraulic fracturing) under federal leases. The original proposal included limited new rules for chemical disclosure, mechanical integrity and waste water handling.
After it received extensive public comment, the BLM announced it would be going back to the drawing board and developing a new draft for public comment. This new draft was recently leaked to the press. If it's legitimate, it appears that the BLM has further weakened what was an already weak rule.
The leaked draft contains a number of troubling revisions:
Replacement of the term "well stimulation" with "hydraulic fracturing." Proposed rules in the previous version applied to "well stimulation" operations, which included hydraulic fracturing and other techniques like "acidizing," where the industry injects large quantities of acid down a well. The new version only covers hydraulic fracturing.

Why do we care? Acidizing can present some of the same risks as hydraulic fracturing and should be regulated similarly. Operators in the Monterey Shale in CA, for example, have experimented with massive acidizing jobs using an extremely hazardous acid called hydrofluoric acid.[i] This activity wouldn't be regulated under the revised rules.

The results of tools that are used to tell how effectively drinking water is isolated, called cement evaluation logs, don't have to be submitted until after hydraulic fracturing is performed. Also, the results from one well can be used as a proxy for multiple wells. Under the previous version, operators would have had to submit unique results for each well before fracturing in order to get approval to frack.

Why do we care? The whole point of cement evaluation logs is to ensure drinking water is protected before fracturing begins. If drinking water isn't properly isolated, the well needs to be fixed before fracturing, but the BLM may not know if there's a problem until after fracturing has happened—or they may not know at all, if the results submitted are for a different well.

In the previous version, operators had to submit unique information for each well to get permission to frack—things like the depth at which fracturing will occur, where the water used for fracturing will come from, how much water, how far the fractures are expected to grow, etc. In the revised version, they can submit one packet of generic information and get multiple permits.

Why do we care? Each fracturing operation is unique and regulators can't determine if the design is safe and appropriate using generic information.
See a blog from my colleague, Matt McFeeley, on how the BLM is gutting chemical disclosure requirements.
Furthermore, it appears that the BLM is also failing to make any additional improvements recommended by the Natural Resources Defense Council and a coalition of other environmental groups. These improvements are necessary to address the full range of environmental and human health risks associated with well stimulation, and include things like setbacks, baseline water testing, and well construction.
Time will tell whether these leaked rules are legitimate. Will the BLM give the industry yet another lollipop to appease their latest temper tantrum or will they fulfill their responsibility to protect our shared public lands?
Visit EcoWatch's FRACKING page for more related news on this topic.
[i] Rowe, Greg, R. Hurkmans, and Norman Jones. "Unlocking the Monterey Shale Potential at Elk Hills: A Case Study." Paper SPE 86993 presented at the SPE International Thermal Operations and Heavy oil Symposium and Western Regional Meeting, Bakersfield, California. 2004.
——–
Click here to sign a petition to tell the Bureau of Land Management to issue strong rules for federal fracking leases on public lands.

EcoWatch Daily Newsletter
On the Solomon Islands, rats and poachers are the two major threats to critically endangered sea turtles. A group of local women have joined forces to help save the animals from extinction.
By Joe Roman
One of the most important global conservation events of the past year was something that didn't happen. For the first time since 2002, Iceland — one of just three countries that still allow commercial whaling — didn't hunt any whales, even though its government had approved whaling permits in early 2019.
People participate in a national mile-long march to highlight the push for clean water in Flint Feb. 19, 2016 in Flint, Michigan.
Bill Pugliano
/ Stringer / Getty Images
The Supreme Court made a decision Tuesday that means Flint residents can sue state and local officials over the water crisis that leached lead into their water and resulted in at least 12 deaths.
One species of walking shark. Mark Erdmann, California Academy of Sciences
Scientists have identified four new species of walking shark in the waters off Australia and New Guinea.
A new study shows that half of all Arctic warming and corresponding sea-loss during the late 20th century was caused by ozone-depleting substances. Here, icebergs discharged from Greenland's Jakobshavn Glacier. Kevin Krajick / Earth Institute /
EurekAlert!
The world awakened to the hole in the ozone layer in 1985, which scientists attributed it to ozone-depleting substances. Two years later, in Montreal, the world agreed to ban the halogen compounds causing the massive hole over Antarctica. Research now shows that those chemicals didn't just cut a hole in the ozone layer, they also warmed up the Arctic.