Fracking Opponents Want Immediate Delay on Ohio SB 315
May. 23, 2012 07:59AM EST
Energy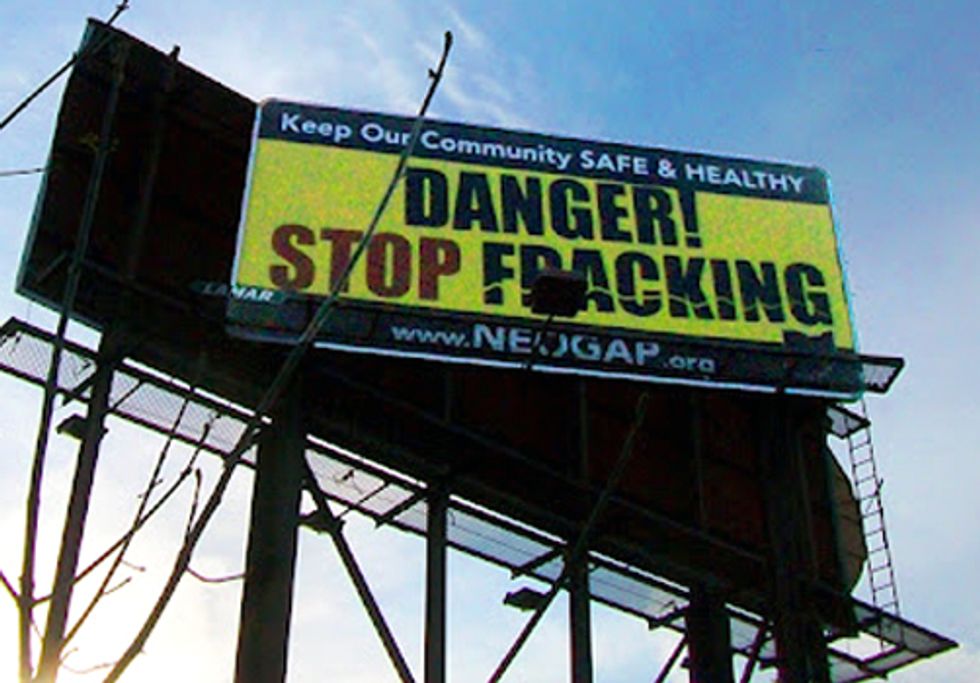 Citing a provision that they say could interfere in the private doctor-patient relationship, opponents of fracking and related processes say that they want an immediate delay of the vote by the Ohio House Public Utilities Committee on Senate Bill 315.
The group says that the doctors' "gag rule," as it has been dubbed, was quietly put into the bill after the public comment period had ended. FrackFree Mahoning Valley is concerned that the public and especially medical professionals have not yet been adequately informed about what is in the bill and its implications for doctors and their patients.
Donna Carver, a nurse who was quoted in a Columbus local paper, said, "This clause, as written, gags doctors from notifying the health department of possible contamination and exposure to the public to these chemicals. This does not protect Ohio citizens public health but it protects the oil and gas industry from liability."
Environmental advocates were among dozens of witnesses that lined up to testify on SB 315, a bill laying out Ohio's new regulations for horizontal shale drilling and the use of renewable energy.
Kari Matsko, of People's Oil & Gas Collaborative-Ohio, pointed to a states comparison document saying, "Chemical disclosure provisions in other state laws mandate first responders and public health officials must be disclosed trade secret information where applicable, as opposed to laying all the responsibility on a medical professional as proposed in SB 315."
Geologist Susie Beiersdorfer, of Frackfree Mahoning Valley, said, "Anyone who votes yes on this bill, SB 315, as it stands today, I believe, is voting against the public interest as it relates to public health and safety. This bill is too important for all Ohio citizens and their families to let it be rushed through before Ohioans really know what the bill contains. We need an immediate delay on the voting in order to get public feedback on the bill, especially from medical professionals, physicians, and first responders, who, we believe, may not even know that this 'gag order' is being considered. It is the right thing to do, and we hope that the legislators will see the common sense and fairness of implementing this much-needed delay."
The groups believe that there needs to be public comment and discussion on this gag rule and other unacceptable provisions of the bill, such as removing the public's right to contest a drilling site.
Many groups who advocate a moratorium or ban on fracking thank the six senators who voted against SB 315 on May 15, including Senators' Capri S. Cafaro (D-Hubbard), Tom Sawyer (D-Akron), Joe Schiavoni (D-Canfield), Michael J. Skindell (D-Lakewood), Charleta B. Tavares (D-Columbus) and Nina Turner (D-Cleveland). The groups appreciate that these legislators seem to be listening to the rapidly growing number of constituent concerns regarding the public interest and the health and safety of the people potentially affected by gas drilling, fracking and related processes.
Opponents of this bill want someone to step up to the plate to officially demand an immediate delay in voting on SB 315 planned for May 23. They believe that whoever stands up against this bill will gain great public support for upholding the public interest and the interests of all Ohio families and citizens' health and safety.
Click here to Sign a petition that tells the Ohio General Assembly and Governor Kasich that Ohio's medical professionals need to speak openly and freely about the risks that high volume hydraulic fracturing poses to our health. It's time for investments in clean, non-toxic renewable energy, not laws that gag doctors in order to promote dirty energy like fracking.
EcoWatch Daily Newsletter