This website uses cookies to ensure you get the best experience while browsing it. By clicking 'Got It' you're accepting these terms.
Fracking Linked to Miscarriages, Birth Defects and Infertility
Dec. 08, 2014 10:51AM EST
Energy
As the level of concern about fracking rises—what chemicals are being used in these "unconventional oil and gas (UOG) operations, whether they are getting into the water and air, and whether information on them is being withheld from communities—a new study adds more evidence that the concern is justified. It asserts that fracking increases the rate of miscarriage, as well as other reproductive and developmental problems.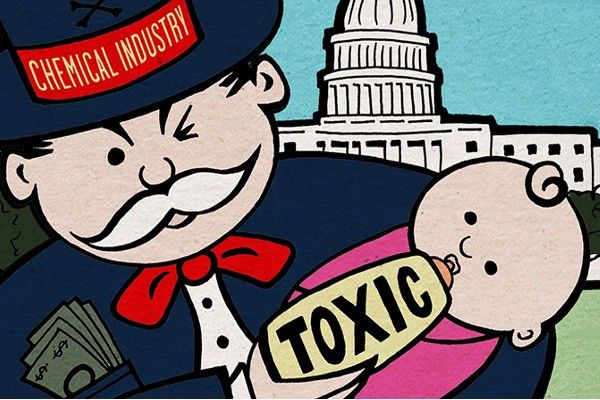 "In this work," the six researchers from the Center for Environmental Health (CEH), the University of Missouri and the Institute for Health and the Environment say, "we review the scientific literature providing evidence that adult and early life exposure to chemicals associated with UOG operations can result in adverse reproductive health and developmental effects in humans."
"Children, developing fetuses, they're especially vulnerable to environmental factors," said CEH's Ellen Webb, the study's lead author. "We really need to be concerned about the impacts for these future generations."
The study points out that fracking operations have the potential to pollute the air and water of nearby communities, and "every stage of operation from well construction to extraction, operations, transportation and distribution can lead to air and water contamination" from hundreds of chemicals. It looks at what chemicals are used in fracking, the ways in which they can find their way into the air and water, and the adverse reproductive and developmental effects they are associated with.
Looking at more than 150 papers that analyzed the health effects of compounds and chemicals widely used in fracking, such as benzene, toluene, ethyl benzene, xylene, formaldehyde and heavy metals such as arsenic, cadmium and lead, they identified a range of associated defects and reproductive disruptions known to be associated with exposure to them.
"Research shows that there are critical windows of vulnerability during prenatal and early postnatal development, during which chemical exposures can cause potentially permanent damage to the growing embryo and fetus," the study said. "Many of the air and water pollutants found near UOG operation sites are recognized as being developmental and reproductive toxicants; therefore, there is a compelling need to increase our knowledge of the potential health consequences for adults, infants and children from these chemicals through rapid and thorough health research investigation."
Among the problems the study identified are infertility, miscarriage, impaired fetal growth, low birth weight, preterm birth and birth defects, and it found that rates of these conditions were elevated in heavily fracked areas. It also found many of the same problems in farm animals and pets living in those areas.
Pointing out the dramatic growth in fracking, how commonplace spills and leaks are and the links between the chemicals used in fracking and human health outcomes, the authors advised caution in expanding UOG operations.
"Our heartfelt concern is that if the oil and gas industry continues to develop more wells, then the problem is going to be exacerbated greatly before we finally have answers," study co-author Dr. Sheila Bushkin-Bedient, told U.S. News & World Report. "In terms of chronic diseases and in terms of finding out the developmental problems of babies, we might not know that for a decade or two. We might not know about cancers for a couple of decades, and by that time, it would be too late."
While oil and gas industry trade group Energy in Depth pooh-poohed the findings and claimed that all the studies on which they are based have been debunked, Webb said, "Federal and state regulators must not ignore the potential serious health impacts from chemicals for families living in close proximity to fracking and other UOG sites. This growing evidence of health concerns for parents and children suggests that there is an urgent need to halt fracking and evaluate the adverse potential health outcomes for these communities on the front lines of the growing fracking industry."
YOU MIGHT ALSO LIKE
Study Finds 8 Fracking Chemicals Toxic to Humans
Groundbreaking Study Finds Six Chemicals in Fracking Wastewater at Levels Unsafe to Drink
Ohio Singled Out for Worst Fracking Waste Disposal Practices
EcoWatch Daily Newsletter
Students gathered at the National Mall in Washington DC, Sept. 20. NRDC
By Jeff Turrentine
Nearly 20 years have passed since the journalist Malcolm Gladwell popularized the term tipping point, in his best-selling book of the same name. The phrase denotes the moment that a certain idea, behavior, or practice catches on exponentially and gains widespread currency throughout a culture. Having transcended its roots in sociological theory, the tipping point is now part of our everyday vernacular. We use it in scientific contexts to describe, for instance, the climatological point of no return that we'll hit if we allow average global temperatures to rise more than 2 degrees Celsius above preindustrial levels. But we also use it to describe everything from resistance movements to the disenchantment of hockey fans when their team is on a losing streak.
samael334 / iStock / Getty Images
Berries are small, soft, round fruit of various colors — mainly blue, red, or purple.
A glacier is seen in the Kenai Mountains on Sept. 6, near Primrose, Alaska. Scientists from the U.S. Geological Survey have been studying the glaciers in the area since 1966 and their studies show that the warming climate has resulted in sustained glacial mass loss as melting outpaced the accumulation of new snow and ice. Joe Raedle / Getty Images
By Mark Mancini
On Aug. 18, Iceland held a funeral for the first glacier lost to climate change. The deceased party was Okjökull, a historic body of ice that covered 14.6 square miles (38 square kilometers) in the Icelandic Highlands at the turn of the 20th century. But its glory days are long gone. In 2014, having dwindled to less than 1/15 its former size, Okjökull lost its status as an official glacier.
Members of Chicago Democratic Socialists of America table at the Logan Square Farmers Market on Aug. 18. Alex Schwartz
By Alex Schwartz
Among the many vendors at the Logan Square Farmers Market on Aug. 18 sat three young people peddling neither organic vegetables, gourmet cheese nor handmade crafts. Instead, they offered liberation from capitalism.
Hackney primary school students went to the Town Hall on May 24 in London after school to protest about the climate emergency. Jenny Matthews / In Pictures / Getty Images
Bird watching in the U.S. may be a lot harder than it once was, since bird populations are dropping off in droves, according to a new study.
Amazon CEO Jeff Bezos announces the co-founding of The Climate Pledge at the National Press Club on Sept. 19 in Washington, DC. Paul Morigi / Getty Images for Amazon
The day before over 1,500 Amazon.com employees planned a walkout to participate in today's global climate strike, CEO Jeff Bezos unveiled a sweeping plan for the retail and media giant to be carbon neutral by 2040, 10 years ahead of the Paris agreement schedule.