This website uses cookies to ensure you get the best experience while browsing it. By clicking 'Got It' you're accepting these terms.
Fracking Linked to Miscarriages, Birth Defects and Infertility
Dec. 08, 2014 10:51AM EST
Energy
As the level of concern about fracking rises—what chemicals are being used in these "unconventional oil and gas (UOG) operations, whether they are getting into the water and air, and whether information on them is being withheld from communities—a new study adds more evidence that the concern is justified. It asserts that fracking increases the rate of miscarriage, as well as other reproductive and developmental problems.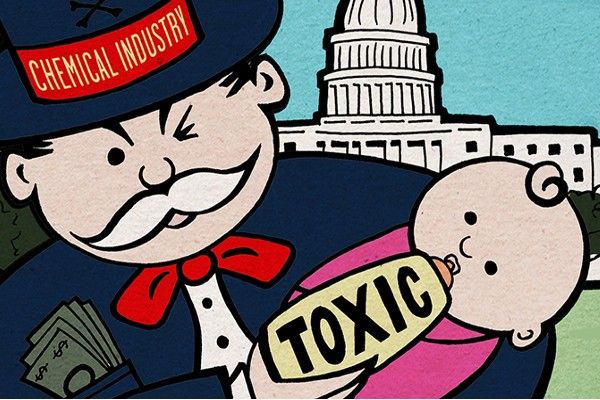 "In this work," the six researchers from the Center for Environmental Health (CEH), the University of Missouri and the Institute for Health and the Environment say, "we review the scientific literature providing evidence that adult and early life exposure to chemicals associated with UOG operations can result in adverse reproductive health and developmental effects in humans."
"Children, developing fetuses, they're especially vulnerable to environmental factors," said CEH's Ellen Webb, the study's lead author. "We really need to be concerned about the impacts for these future generations."
The study points out that fracking operations have the potential to pollute the air and water of nearby communities, and "every stage of operation from well construction to extraction, operations, transportation and distribution can lead to air and water contamination" from hundreds of chemicals. It looks at what chemicals are used in fracking, the ways in which they can find their way into the air and water, and the adverse reproductive and developmental effects they are associated with.
Looking at more than 150 papers that analyzed the health effects of compounds and chemicals widely used in fracking, such as benzene, toluene, ethyl benzene, xylene, formaldehyde and heavy metals such as arsenic, cadmium and lead, they identified a range of associated defects and reproductive disruptions known to be associated with exposure to them.
"Research shows that there are critical windows of vulnerability during prenatal and early postnatal development, during which chemical exposures can cause potentially permanent damage to the growing embryo and fetus," the study said. "Many of the air and water pollutants found near UOG operation sites are recognized as being developmental and reproductive toxicants; therefore, there is a compelling need to increase our knowledge of the potential health consequences for adults, infants and children from these chemicals through rapid and thorough health research investigation."
Among the problems the study identified are infertility, miscarriage, impaired fetal growth, low birth weight, preterm birth and birth defects, and it found that rates of these conditions were elevated in heavily fracked areas. It also found many of the same problems in farm animals and pets living in those areas.
Pointing out the dramatic growth in fracking, how commonplace spills and leaks are and the links between the chemicals used in fracking and human health outcomes, the authors advised caution in expanding UOG operations.
"Our heartfelt concern is that if the oil and gas industry continues to develop more wells, then the problem is going to be exacerbated greatly before we finally have answers," study co-author Dr. Sheila Bushkin-Bedient, told U.S. News & World Report. "In terms of chronic diseases and in terms of finding out the developmental problems of babies, we might not know that for a decade or two. We might not know about cancers for a couple of decades, and by that time, it would be too late."
While oil and gas industry trade group Energy in Depth pooh-poohed the findings and claimed that all the studies on which they are based have been debunked, Webb said, "Federal and state regulators must not ignore the potential serious health impacts from chemicals for families living in close proximity to fracking and other UOG sites. This growing evidence of health concerns for parents and children suggests that there is an urgent need to halt fracking and evaluate the adverse potential health outcomes for these communities on the front lines of the growing fracking industry."
YOU MIGHT ALSO LIKE
Study Finds 8 Fracking Chemicals Toxic to Humans
Groundbreaking Study Finds Six Chemicals in Fracking Wastewater at Levels Unsafe to Drink
Ohio Singled Out for Worst Fracking Waste Disposal Practices
EcoWatch Daily Newsletter
The Democratic primary candidates take the stage during Tuesday's debate. SAUL LOEB / AFP via Getty Images
On Tuesday night, the Democratic presidential candidates gathered for what The Guardian said was the largest primary debate in U.S. history, and they weren't asked a single question about the climate crisis.
A. Battenburg / Technical University of Munich
By Sarah Kennedy
Algae in a pond may look flimsy. But scientists are using algae to develop industrial-strength material that's as hard as steel but only a fraction of the weight.
Variety of fermented food korean traditional kimchi cabbage and radish salad. white and red sauerkraut in ceramic plates over grey spotted background. Natasha Breen / REDA&CO / Universal Images Group / Getty Image
Even if you've never taken probiotics, you've probably heard of them.
These supplements provide numerous benefits because they contain live microorganisms, such as bacteria or yeast, which support the healthy bacteria in your gut (1, 2, 3, 4).
Pexels
Singapore will become the first country in the world to place a ban on advertisements for carbonated drinks and juices with high sugar contents, its health ministry announced last week. The law is intended to curb sugar consumption since the country has some of the world's highest diabetes rates per capita, as Reuters reported.
A typical adult takes around 20,000 breaths per day. If you live in a megacity like Beijing, with many of those lungfuls you're likely to inhale a noxious mixture of chemicals and pollutants.
Fred Stone holds his brown swiss cow Lida Rose at his Arundel dairy farm on March 18 after a press conference where he spoke about PFAS chemical contamination in his fields. Gregory Rec / Portland Portland Press Herald via Getty Images
By Susan Cosier
First there was Fred Stone, the third-generation dairy farmer in Maine who discovered that the milk from his cows contained harmful chemicals. Then came Art Schaap, a second-generation dairy farmer in New Mexico, who had to dump 15,000 gallons of contaminated milk a day.
Protesters attend the 32nd annual Fur-Free Friday demonstration on Nov. 23, 2018 in Beverly Hills, California. Ella DeGea / Getty Images
California Governor Gavin Newsom signed into law a bill that that bans the sale and manufacture of fur products in the state. The fur ban, which he signed into law on Saturday, prohibits Californians from selling or making clothing, shoes or handbags with fur starting in 2023, according to the AP.
By Simon Evans
During the three months of July, August and September, renewables generated an estimated total of 29.5 terawatt hours (TWh), compared with just 29.1TWh from fossil fuels, the analysis shows.