This website uses cookies to ensure you get the best experience while browsing it. By clicking 'Got It' you're accepting these terms.
Fracking Linked to Miscarriages, Birth Defects and Infertility
Dec. 08, 2014 10:51AM EST
Energy
As the level of concern about fracking rises—what chemicals are being used in these "unconventional oil and gas (UOG) operations, whether they are getting into the water and air, and whether information on them is being withheld from communities—a new study adds more evidence that the concern is justified. It asserts that fracking increases the rate of miscarriage, as well as other reproductive and developmental problems.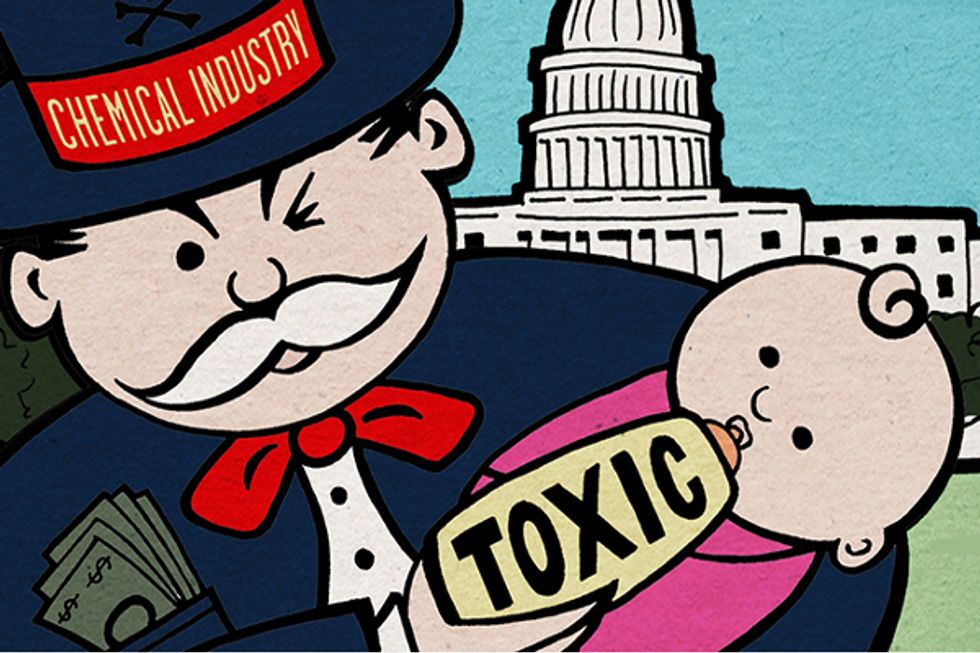 "In this work," the six researchers from the Center for Environmental Health (CEH), the University of Missouri and the Institute for Health and the Environment say, "we review the scientific literature providing evidence that adult and early life exposure to chemicals associated with UOG operations can result in adverse reproductive health and developmental effects in humans."
"Children, developing fetuses, they're especially vulnerable to environmental factors," said CEH's Ellen Webb, the study's lead author. "We really need to be concerned about the impacts for these future generations."
The study points out that fracking operations have the potential to pollute the air and water of nearby communities, and "every stage of operation from well construction to extraction, operations, transportation and distribution can lead to air and water contamination" from hundreds of chemicals. It looks at what chemicals are used in fracking, the ways in which they can find their way into the air and water, and the adverse reproductive and developmental effects they are associated with.
Looking at more than 150 papers that analyzed the health effects of compounds and chemicals widely used in fracking, such as benzene, toluene, ethyl benzene, xylene, formaldehyde and heavy metals such as arsenic, cadmium and lead, they identified a range of associated defects and reproductive disruptions known to be associated with exposure to them.
"Research shows that there are critical windows of vulnerability during prenatal and early postnatal development, during which chemical exposures can cause potentially permanent damage to the growing embryo and fetus," the study said. "Many of the air and water pollutants found near UOG operation sites are recognized as being developmental and reproductive toxicants; therefore, there is a compelling need to increase our knowledge of the potential health consequences for adults, infants and children from these chemicals through rapid and thorough health research investigation."
Among the problems the study identified are infertility, miscarriage, impaired fetal growth, low birth weight, preterm birth and birth defects, and it found that rates of these conditions were elevated in heavily fracked areas. It also found many of the same problems in farm animals and pets living in those areas.
Pointing out the dramatic growth in fracking, how commonplace spills and leaks are and the links between the chemicals used in fracking and human health outcomes, the authors advised caution in expanding UOG operations.
"Our heartfelt concern is that if the oil and gas industry continues to develop more wells, then the problem is going to be exacerbated greatly before we finally have answers," study co-author Dr. Sheila Bushkin-Bedient, told U.S. News & World Report. "In terms of chronic diseases and in terms of finding out the developmental problems of babies, we might not know that for a decade or two. We might not know about cancers for a couple of decades, and by that time, it would be too late."
While oil and gas industry trade group Energy in Depth pooh-poohed the findings and claimed that all the studies on which they are based have been debunked, Webb said, "Federal and state regulators must not ignore the potential serious health impacts from chemicals for families living in close proximity to fracking and other UOG sites. This growing evidence of health concerns for parents and children suggests that there is an urgent need to halt fracking and evaluate the adverse potential health outcomes for these communities on the front lines of the growing fracking industry."
YOU MIGHT ALSO LIKE
Study Finds 8 Fracking Chemicals Toxic to Humans
Groundbreaking Study Finds Six Chemicals in Fracking Wastewater at Levels Unsafe to Drink
Ohio Singled Out for Worst Fracking Waste Disposal Practices
EcoWatch Daily Newsletter
America's national bird is threatened by hunters. Not that hunters are taking aim at the iconic bald eagle, but bald eagles are dying after eating lead bullets, as CNN reported.
Bill Bader, owner of Bader Farms, and his wife Denise pose in front of the Rush Hudson Limbaugh Sr. United States Courthouse in Cape Girardeau, Missouri on Jan. 27, 2020.
Johnathan Hettinger /
Midwest Center for Investigative Reporting
A jury in Missouri awarded a farmer $265 million in a lawsuit that claimed Bayer and BASF's weedkiller destroyed his peach orchard, as Reuters reported.
Earthjustice says Louisiana has violated the Clean Water Act and given Formosa Plastics Group the "greenlight to double toxic air pollution in St. James" (seen above).
Louisiana Bucket Brigade
A coalition of local and national groups on Friday launched a legal challenge to a Louisiana state agency's decision to approve air permits for a $9.4 billion petrochemical complex that Taiwan-based Formosa Plastics Group plans to build in the region nationally known as "Cancer Alley."
Bears Ears National Monument in Utah. Bob Wick / BLM / onEarth
Well, he told us he would do it. And now he's actually doing it — or at least trying to. Late last week, President Trump, via the U.S. Department of the Interior's Bureau of Land Management, announced that he was formalizing his plan to develop lands that once belonged within the Bears Ears and Grand Staircase-Escalante National Monuments in southern Utah. The former is a stunningly beautiful, ecologically fragile landscape that has played a crucial role in Native American culture in the Southwest for thousands of years; the latter, just as beautiful, is one of the richest and most important paleontological sites in North America.
Smoke pours from the exhaust pipes on a truck on Nov. 5, 2019 in Miami, Florida. According to a 2017 EPA study the largest source of greenhouse gas emissions in the U.S. is from the transportation sector. Joe Raedle / Getty Images