This website uses cookies to ensure you get the best experience while browsing it. By clicking 'Got It' you're accepting these terms.


The best of EcoWatch, right in your inbox. Sign up for our email newsletter!
Fracking Linked to Miscarriages, Birth Defects and Infertility
Dec. 08, 2014 10:51AM EST
Energy
As the level of concern about fracking rises—what chemicals are being used in these "unconventional oil and gas (UOG) operations, whether they are getting into the water and air, and whether information on them is being withheld from communities—a new study adds more evidence that the concern is justified. It asserts that fracking increases the rate of miscarriage, as well as other reproductive and developmental problems.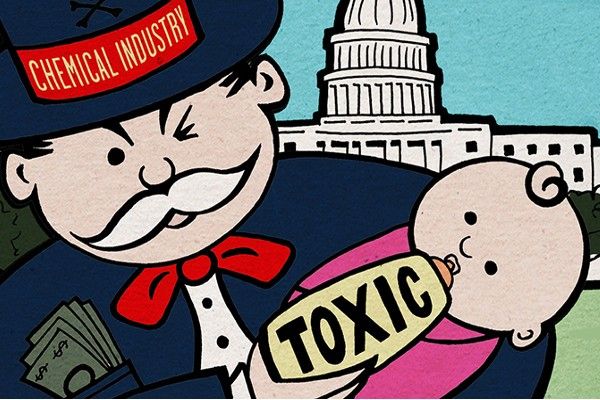 "In this work," the six researchers from the Center for Environmental Health (CEH), the University of Missouri and the Institute for Health and the Environment say, "we review the scientific literature providing evidence that adult and early life exposure to chemicals associated with UOG operations can result in adverse reproductive health and developmental effects in humans."
"Children, developing fetuses, they're especially vulnerable to environmental factors," said CEH's Ellen Webb, the study's lead author. "We really need to be concerned about the impacts for these future generations."
The study points out that fracking operations have the potential to pollute the air and water of nearby communities, and "every stage of operation from well construction to extraction, operations, transportation and distribution can lead to air and water contamination" from hundreds of chemicals. It looks at what chemicals are used in fracking, the ways in which they can find their way into the air and water, and the adverse reproductive and developmental effects they are associated with.
Looking at more than 150 papers that analyzed the health effects of compounds and chemicals widely used in fracking, such as benzene, toluene, ethyl benzene, xylene, formaldehyde and heavy metals such as arsenic, cadmium and lead, they identified a range of associated defects and reproductive disruptions known to be associated with exposure to them.
"Research shows that there are critical windows of vulnerability during prenatal and early postnatal development, during which chemical exposures can cause potentially permanent damage to the growing embryo and fetus," the study said. "Many of the air and water pollutants found near UOG operation sites are recognized as being developmental and reproductive toxicants; therefore, there is a compelling need to increase our knowledge of the potential health consequences for adults, infants and children from these chemicals through rapid and thorough health research investigation."
Among the problems the study identified are infertility, miscarriage, impaired fetal growth, low birth weight, preterm birth and birth defects, and it found that rates of these conditions were elevated in heavily fracked areas. It also found many of the same problems in farm animals and pets living in those areas.
Pointing out the dramatic growth in fracking, how commonplace spills and leaks are and the links between the chemicals used in fracking and human health outcomes, the authors advised caution in expanding UOG operations.
"Our heartfelt concern is that if the oil and gas industry continues to develop more wells, then the problem is going to be exacerbated greatly before we finally have answers," study co-author Dr. Sheila Bushkin-Bedient, told U.S. News & World Report. "In terms of chronic diseases and in terms of finding out the developmental problems of babies, we might not know that for a decade or two. We might not know about cancers for a couple of decades, and by that time, it would be too late."
While oil and gas industry trade group Energy in Depth pooh-poohed the findings and claimed that all the studies on which they are based have been debunked, Webb said, "Federal and state regulators must not ignore the potential serious health impacts from chemicals for families living in close proximity to fracking and other UOG sites. This growing evidence of health concerns for parents and children suggests that there is an urgent need to halt fracking and evaluate the adverse potential health outcomes for these communities on the front lines of the growing fracking industry."
YOU MIGHT ALSO LIKE
Study Finds 8 Fracking Chemicals Toxic to Humans
Groundbreaking Study Finds Six Chemicals in Fracking Wastewater at Levels Unsafe to Drink
Ohio Singled Out for Worst Fracking Waste Disposal Practices
EcoWatch Daily Newsletter
Mark Wilson / Getty Images News
Ethics investigations have been opened into the conduct of senior Trump appointees at the nation's top environmental agencies.
The two investigations focus on Environmental Protection Agency (EPA) Administrator Andrew Wheeler and six high-ranking officials in the Department of Interior (DOI), The Hill reported Tuesday. Both of them involve the officials' former clients or employers.
"This is demonstrative of the failures at the very top of this administration to set an ethical tone," Campaign Legal Center Ethics Counsel Delaney Marsco told The Washington Post of the DOI investigation. "When people come to work for government, they're supposed to work on behalf of the public. It's a betrayal of the public trust when senior political appointees seem to give privileged access to their former employers or former clients."
Cigarette butt litter. Tavallai / CC BY-ND 2.0
By Dipika Kadaba
We've known for more than 50 years that smoking cigarettes comes with health hazards, but it turns out those discarded butts are harmful for the environment, too. Filtered cigarette butts, although small, contain dozens of chemicals, including arsenic and benzene. These toxins can leach into the ground or water, creating a potentially deadly situation for nearby birds, fish and other wildlife.
Thanasis Zovoilis / DigitalVision / Getty Images
Infants less than a year old should not be exposed to electronic screens, the World Health Organization (WHO) said on Wednesday.
Bill Pugliano / Getty Images
By Wenonah Hauter
Five years ago this week, an emergency manager appointed by then-Michigan Gov. Rick Snyder made the devastating decision to save money by switching Flint's water supply over from Detroit's water system to the Flint River. Seen as a temporary fix, the new water supply was not properly treated. High levels of lead leached from the old pipes, poisoning a generation of Flint's children, and bacteria responsible for an outbreak of Legionnaires' Disease killed more than a dozen residents.
Los Angeles-Long Beach, California is listed as the nation's smoggiest city. Pixabay
Kissing bug. Pavel Kirillov / Flickr / CC BY-SA 2.0
The Centers for Disease Control and Prevention (CDC) confirmed that the kissing bug, which can transmit a potentially deadly parasite, has spread to Delaware, ABC News reported Wednesday.
Did you know that more than a third of food is wasted or thrown away every year? And that only 25 percent of it would be enough to feed the 795 million undernourished people in the world? That's why today is Stop Food Waste Day, a chance to reflect on what you can do to waste less of the food you buy.
Stop Food Waste Day is an initiative of food service company Compass Group. It was launched first in the U.S, in 2017 and went global the year after, making today it's second worldwide celebration.