This website uses cookies to ensure you get the best experience while browsing it. By clicking 'Got It' you're accepting these terms.
Fracking IL: A Moratorium is the Only Answer
May. 30, 2013 03:49PM EST
Energy
[Editor's note: Yesterday, Sandra Steingraber—Illinois native, biologist and acclaimed environmental advocate—was in Springfield, IL for a day of advocacy. Dr. Steingraber delivered the following remarks at the Capitol building.]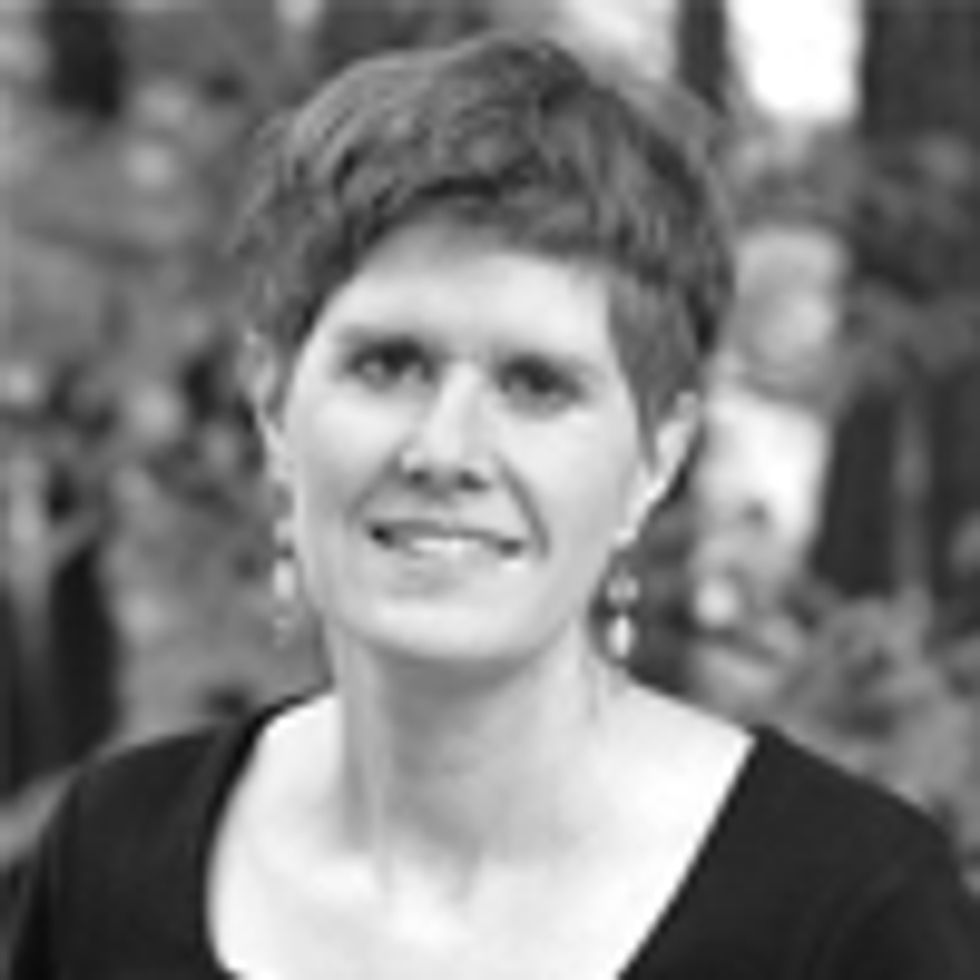 When I was girl growing up in Tazewell County, it was my job, whenever overnight guests were expected at our house, to clean the upstairs bathroom. Part of that task was to hang the embroidered guest towels on the rack and to set out, next to the sink, a bowl full of small, perfumed soaps. No one ever used the soap or the towels, as it was understood—by both guest and host—that they were there just for show. 
Instead, everyone washed their hands with the half-used bar of Dial in the soap dish and surreptitiously dried them on the back fold of the bath towel hanging behind the door.
The moratorium bill on fracking in Illinois is being treated by elected officials like impractical guest towels and fancy soap. It's there just for decoration, just for show of respectability. The host gets credit for it and guests admire it—what a lovely display—but it's otherwise ignored and unused. Instead, everyone is wiping themselves on a threadbare regulatory bill. And, by endorsing and praising a moratorium on fracking while endorsing and voting for the regulations, elected officials believe they are washing their hands of all responsibility.
But we are here to say that they are, in fact, responsible for the outcome. Which, even before fracking commences, is abysmal. The regulatory bill now before the Assembly was drafted, under the guidance of Illinois Attorney General, behind closed doors with no public hearings, no public comment period, no input from scientists or physicians or public health officials, without environmental studies or a health impact assessment. These rules are arbitrary compromises based on negotiations with industry. They guarantee neither public health nor environmental integrity.
As one example: the regulations stipulate a wellpad cannot be located closer than 500 feet to a home. That distance is just a made-up number, not the result of a careful investigation. In fact, the best data we have, from Colorado, shows that benzene levels in ambient air around drilling and fracking operations are elevated to levels above that known to pose cancer risks at distances approaching 3500 feet—more than seven times the allowable set-back in Illinois.
What's worse, those endorsing and voting on the bill could not be bothered to conduct even one fact-finding mission. The senators and assembly members voting to allow fracking in Illinois have not conducted even single a fact-finding field trip to the gasfields of Pennsylvania or Ohio or West Virginia to see, first hand, the devastation that thousands of wellpads, spiderwebs of pipelines, and their attendant compressor stations, flare stacks and flowback pits can wreak across a rural landscape. They've paid no official visits to the sand hills of Wisconsin and Minnesota to see, firsthand, the ruination that strip mining for frac sand can bring to both land and people. And yet, they are ready to vote for regulated fracking. My grandfather, who farmed in Livingston County, would label that kind of irresponsibility "buying a pig in a poke."
Today we read that a single wildcat well has already been fracked in White County. Remarkably, this discovery is touted by the Natural Resources Defense Council (NRDC) as a good reason for passing the regulatory bill. That's like discovering a rapist in the community and declaring that we need a law mandating that all those planning to commit sexual assault must wear condoms. 
This news is also a distraction. Yes, fracking—used in a very narrow sense—has been legal for years, and yes, it's occurring now. But what is not occurring is significant development of gas and oil from shale bedrock, which requires many closely spaced wells in a grid pattern, forest fragmentation, destruction of farmland and volumes of fracking fluid approaching not 600,000 gallons but six million.
Two wrongs do not make a right. That's something else I learned from my Illinois grandfather. The answer to unregulated fracking is not regulated fracking.  It's a moratorium. It's the only answer. And, NRDC and Sierra Club, claiming that you want a moratorium while signaling your willingness to permit and regulate is not the way to get there.
Shale gas and oil extraction via high volume, horizontal fracking is an atrocity. It's an assault on public health, air quality, our precious freshwater resources and the climate itself. There is no way to do it right. Those who claim otherwise are on the wrong side of history. The anti-fracking movement is growing into a nationwide citizen uprising. With or without the passage of a regulatory bill, we will be escalating our actions in Illinois in the months to come and have plans for statewide education and outreach campaigns. And we will remember and call out those who dismiss the moratorium bill as a pretty guest towel. It is not something to admire and walk away from. It is a basic human right.
Visit EcoWatch's FRACKING page for more related news on this topic.
——–
Sign the petition today, telling President Obama to enact an immediate fracking moratorium:

EcoWatch Daily Newsletter
Traffic moves across the Brooklyn Bridge on Aug. 2, 2018 in New York City. Drew Angerer / Getty Images
The Trump administration is expected to unveil its final replacement of Obama-era fuel-efficiency standards for cars and light trucks Tuesday in a move likely to pump nearly a billion more tons of carbon dioxide into the atmosphere over the lifetime of those less-efficient vehicles.
U.S. President Donald Trump listens as Anthony Fauci, Director of the National Institute of Allergy and Infectious Diseases speaks in the Rose Garden for the daily coronavirus briefing at the White House on March 29 in Washington, DC. Tasos Katopodis / Getty Images
By Jake Johnson
Just over a month after proclaiming that the number of coronavirus cases in the U.S. would soon "be down to close to zero," President Donald Trump said during a press briefing on the White House lawn Sunday that limiting U.S. deaths from the pandemic to between 100,000 and 200,000 people would mean his administration and the country as a whole did "a very good job."
Dicamba is having a devastating impact in Arkansas and neighboring states. A farmer in Mississippi County, Arkansas looks at rows of soybean plants affected by dicamba. The Washington Post / Getty Images
Documents unearthed in a lawsuit brought by a Missouri farmer who claimed that Monsanto and German chemical maker BASF's dicamba herbicide ruined his peach orchard revealed that the two companies knew their new agricultural seed and chemical system would likely damage many U.S. farms, according to documents seen by The Guardian.
Washington State Governor Jay Inslee and other leaders speak to the press on March 28, 2020 in Seattle. Karen Ducey / Getty Images
A bushfire burns outside the Perth Cricket Stadium in Perth, Australia on Dec. 13, 2019. PETER PARKS / AFP via Getty Images

By Albert Van Dijk, Luigi Renzullo, Marta Yebra and Shoshana Rapley
2019 was the year Australians confronted the fact that a healthy environment is more than just a pretty waterfall in a national park; a nice extra we can do without. We do not survive without air to breathe, water to drink, soil to grow food and weather we can cope with.