This website uses cookies to ensure you get the best experience while browsing it. By clicking 'Got It' you're accepting these terms.
Fracking Goes on Trial
Jul. 23, 2015 11:08AM EST
Energy
Just as the British government slashes subsidies for solar power and gears up to open up large swathes of the countryside to fracking, a coalition of human rights lawyers and academics have announced an international tribunal to put fracking "on trial."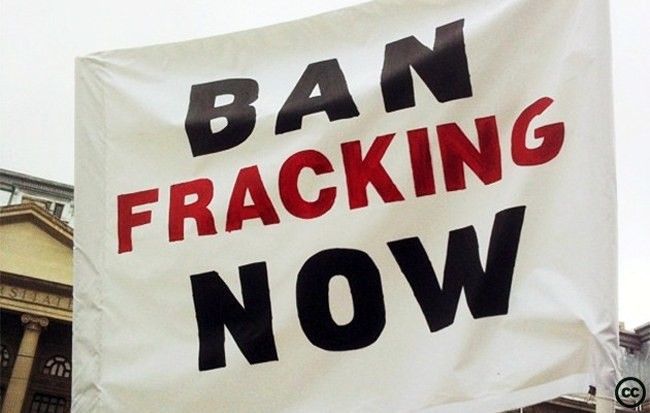 Based on a descendent of the Vietnam War Crimes Tribunal of the 60's, the so-called Permanent Peoples' Tribunal (PPT), which is based in Rome, is an internationally recognized public opinion tribunal. It functions independently of state jurisdictions.
From June 1979 to the present date, the PPT has held some 40 sessions, including examining the world's worst chemical disaster at Bhopal in the early 80's which killed thousands of people, injuring hundreds of thousands.
Tribunals apply internationally recognized human rights law and policy to cases brought before them and are nearly identical to traditional courtroom proceedings.
What this allows is ordinary people to compile and submit prima facie evidence about how the shale gas industry has impacted their health, their environment, their livelihood or human rights.
Hearings will be held both in the U.S., which has been at the forefront of the fracking boom and the UK and will take place in front of 5 to 7 jurists experts in international human rights law.
This said, the PPT will be inviting witness testimony from citizens all over the world who will be invited to also hold preliminary mini-tribunals in their own country.
The experts will then decide whether there is sufficient evidence to indict certain nation states on charges of "failing to adequately uphold universal human rights as a result of allowing unconventional oil and gas extraction in their jurisdictions."
One of the organizers, Dr Tom Kerns, director of the Environment and Human Rights Advisory in Oregon said: "The Tribunal will consider the human rights dimensions of a range of potential impacts: human and animal health, environmental, climatic, seismic, hydrologic and economic impacts, as well as those on local physical and social infrastructures."
Dr Damien Short, director of the Human Rights Consortium at the University of London and another one of the instigators of the PPT, added that "Fracking has taken place around the world in spite of serious public opposition and with large numbers of people alleging that their human rights have been ignored by those who supposedly represent them. This PPT aims to consider those allegations in an even handed and judicial way."
The hearings are not due to start until the Spring of 2017, giving communities affected by fracking enough time to compile the evidence of impact and harm.
Meanwhile, the British government's plans to slash subsidies to solar was widely condemned yesterday. Britain's sole Green MP, Caroline Lucas labelled the government plans as "short sighted".
"This cut would further undermine Britain's commitment to meeting our climate change targets and deepen our addiction to dirty fossil fuels," she said.
YOU MIGHT ALSO LIKE 
Mayors Flock to Vatican to Sign Pope Francis' Climate Declaration
Citizens Can Sue Fracking Companies for Earthquake Damage, Says Oklahoma Supreme Court
EcoWatch Daily Newsletter
Large food companies are following in the footsteps of fast-food restaurants such as Burger King and KFC by offering meat alternatives. Getty Images
By Elizabeth Pratt
Hormel, Kellogg's, and Kroger are among the large companies now planning to offer "fake meat" products at grocery stores.
Experts say the trend toward plant-based meats coincides with consumers' desires to eat less meat.
However, experts urge consumers to closely check package labels as a product isn't necessarily healthy just because it's described as plant-based.
In grocery stores and fast-food outlets around the U.S., a revolution is taking place.
Colombia rainforest. Marcel Oosterwijk / CC BY-SA 2.0
Many of us think of the Amazon as an untouched wilderness, but people have been thriving in these diverse environments for millennia. Due to this long history, the knowledge that Indigenous and forest communities pass between generations about plants, animals and forest ecology is incredibly rich and detailed and easily dwarfs that of any expert.
picture-alliance / Newscom / R. Ben Ari
By Wesley Rahn
Plastic byproducts were found in 97 percent of blood and urine samples from 2,500 children tested between 2014 and 2017, according to a study by the German Environment Ministry and the Robert Koch Institute.

Pexels
Medically reviewed by Daniel Bubnis, MS, NASM-CPT, NASE Level II-CSS
Hot yoga has become a popular exercise in recent years. It offers many of the same benefits as traditional yoga, such as stress reduction, improved strength, and flexibility.
Lara Hata / iStock / Getty Images
By SaVanna Shoemaker, MS, RDN, LD
Rice is a staple in many people's diets. It's filling, inexpensive, and a great mild-tasting addition to flavorful dishes.
An image of the trans-alaskan oil pipeline that carries oil from the northern part of Alaska all the way to valdez. This shot is right near the arctic national wildlife refuge. kyletperry / iStock / Getty Images Plus
The Trump administration has initialized the final steps to open up nearly 1.6 million acres of the protected Alaskan National Wildlife Refuge to allow oil and gas drilling.