This website uses cookies to ensure you get the best experience while browsing it. By clicking 'Got It' you're accepting these terms.
Fracking Frenzy Threatens Developing Nations
Dec. 01, 2014 08:26AM EST
Energy
Fracking is both a temptation and a curse for developing nations, says a new report released today by Friends of the Earth Europe as governments meet in Lima to make meaningful commitments to speed up the transition away from dirty energy sources. Fracking Frenzy: How is the fracking industry threatening the planet? details the impacts of developing shale reserves in new regions of the world unprotected by political power to ward off bad policies that favor fossil fuel extraction companies over communities.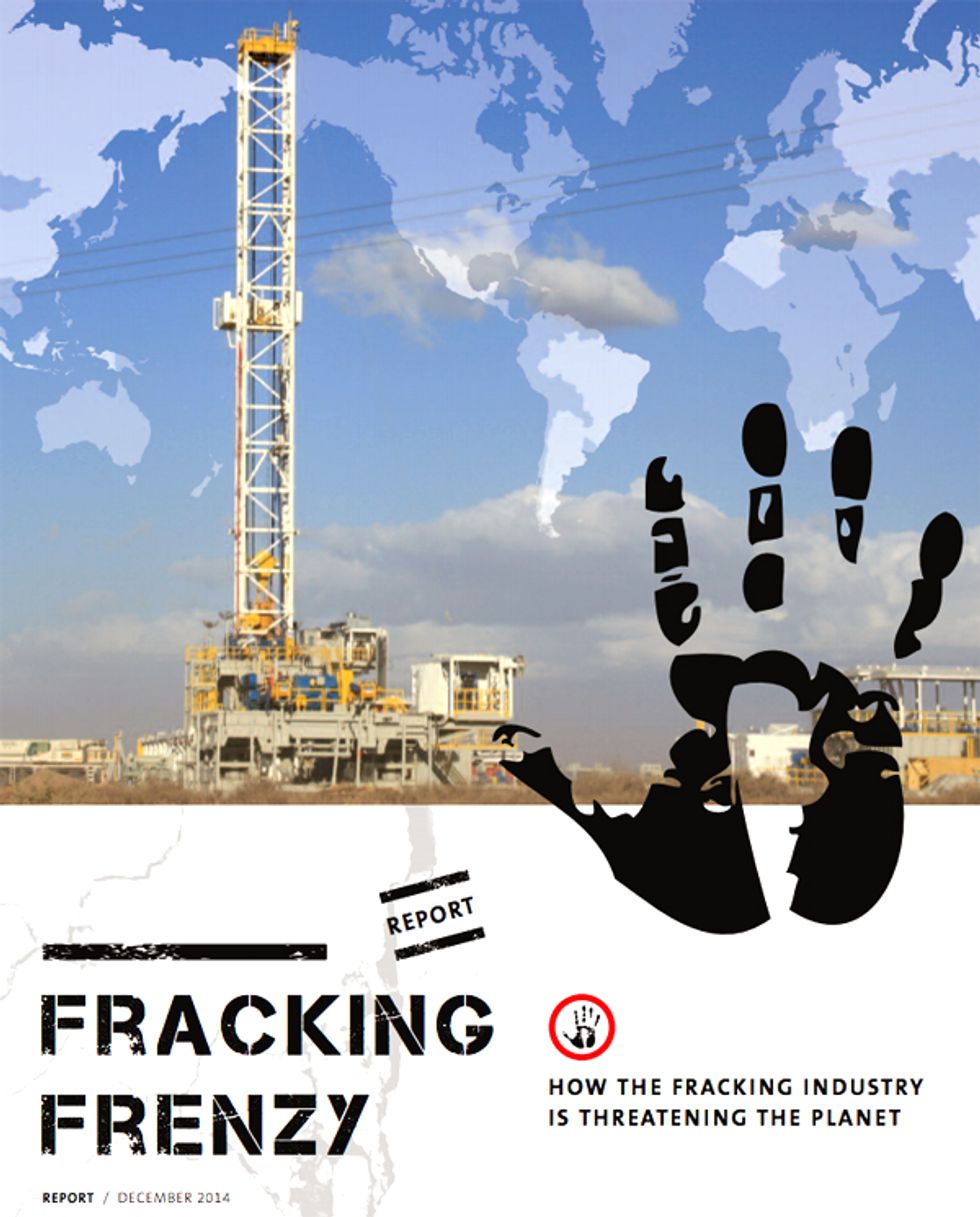 The report looks at a selection of countries identified in the U.S. Energy Information Administration's 2013 World Shale Gas and Shale Oil Resource Assessment that analyzed potential shale resources in 42 countries and 95 shale basins around the world. It identifies 11 countries it says are prime targets for the fracking industry to focus on in depth: Mexico, Brazil, Argentina, Morocco, Algeria, Tunisia, South Africa, China, India, Indonesia and Russia. It analyzes the potential gas and oil reserves (often over-estimated), available water resources, area's geology, country's policies on drilling, local opposition to fracking and environmental, ecological and social impact of fracking in each.
"While much has been written about fracking in North America and in the EU, this report provides a global overview of shale gas development in the rest of the world," the report says. "These countries include seven of the EIA's top ten countries for technically recoverable shale gas resources and are among the leaders in shale development on their respective continents. These countries also reveal the variety and specificity of the dangers associated with the expansion of the fracking industry, including environmental, social and health consequences which extend beyond the borders of individual countries."
It points out that more than a decade of widespread fracking in North America "has provoked much debate involving scientists, industry, political decision-makers, environmental groups and civil society" and "left a legacy of environmental damage."
"Evidence from North America, with anecdotal reports backed up by countless peer-reviewed scientific studies, shows that fracking can lead to air pollution, ground and surface water contamination, radioactive releases, noise and light pollution, induced earthquakes, climate emissions, occupational health and safety hazards and competition for access to water," explains the report. "Despite the controversy surrounding this technique, the numerous unknowns and uncertainties concerning its impacts and the growing number of questions about the economic benefits of this industry, oil and gas operators are eager to identify new opportunities and so are engaged in a battle to make fracking publicly and socially acceptable worldwide."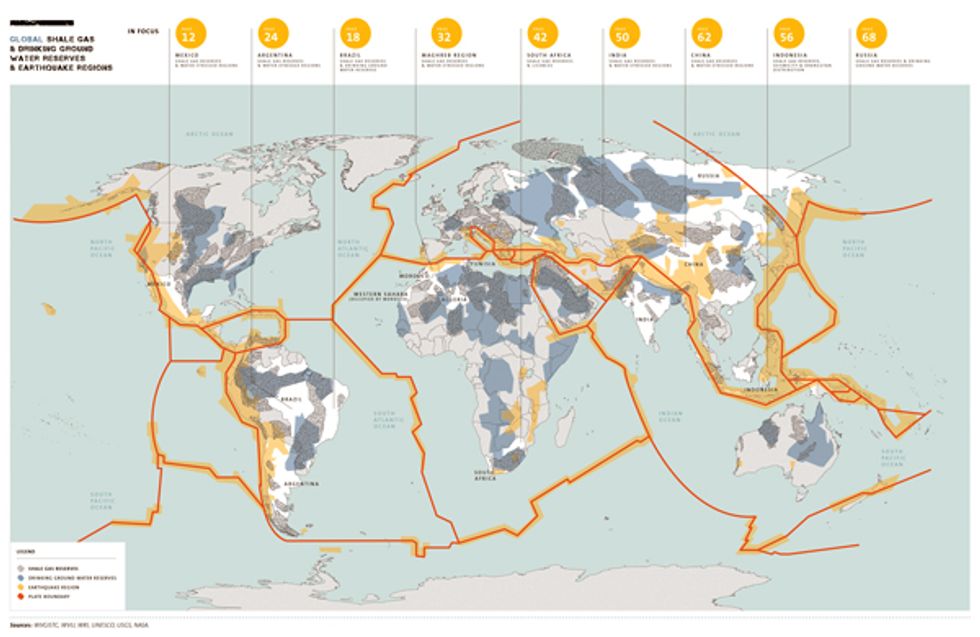 Among the things it reveals is that many of the countries—such as the North African desert Mahgreb countries of Morocco, Tunisia and Algeria—already face serious challenges to the water supply needed for drinking and agriculture, and that water shortages have already led to violence in Mexico. In addition, with shale basins sitting under aquifers that cross country boundaries, including in the Mahgreb, southern Africa and South America, the potential increases for conflicts over water supplies as well as the contamination of water used by an entire region.
"From Brazil and Mexico to Algeria and South Africa, this thirsty industry is exploiting weak regulation and causing untold environmental and social damage in the pursuit of profit. The fracking industry needs to be urgently reigned in before it's too late for our planet and people across the globe," said Antoine Simon, shale gas campaigner at Friends of the Earth Europe.
The report also looks at the geology of these 11 countries, whether they are earthquake-prone or whether their complex terrain will greatly increase the cost of extracting the gas or oil. "This is on top of the incalculable environmental impacts and risks," it says. It found these risks in places like Mexico and China, both with regions that have a high amount of seismic activity. And it mentions that shale basins are often located under forests or protected wildlife areas that could be damaged or destroyed by drilling.
The report details how fracking is a global climate threat due to leakage of methane—a greenhouse gas 86 times more powerful than carbon dioxide—into the atmosphere. The report finds that even at fracking sites that use the "best available technology," methane leakage will cause harmful climate emissions and contribute global temperature rise if fracking is developed worldwide. Case studies in the U.S. indicate that shale gas, due to methane leakage, is far worse than conventional gas and could be worse than coal.
It concludes that the available reserves of oil and gas—and their accessibility—have been overestimated while their impact on the environment and climate change has been underestimated.
"Around the world people and communities are already paying the price of the climate crisis with their livelihoods and lives," said Susann Scherbarth, climate justice and energy campaigner at Friends of the Earth Europe. "Fracking will only make things worse and has no place in a clean energy future. Europe and other industrialised countries most responsible for the climate crisis need to use the talks in Lima to make genuine commitments to end their reliance on corporate-controlled fossil fuels and embrace clean, citizen energy."
YOU MIGHT ALSO LIKE
Clean Drinking Water Should Be a Human Right
New Evidence Links Earthquakes to Fracking
Groundbreaking Study Finds Cancer-Causing Air Pollution Near Fracking Sites
EcoWatch Daily Newsletter
By Fino Menezes
Everyone adores dolphins. Intelligent, inquisitive and playful, these special creatures have captivated humans since the dawn of time. But dolphins didn't get to where they are by accident — they needed to develop some pretty amazing superpowers to cope with their environment.
Protesters face off against security during the Dakota Access Pipeline protests. ROBYN BECK / AFP / Getty Images
In just two weeks, three states have passed laws criminalizing protests against fossil fuel infrastructure.
Donald Trump and Anthony Fauci, director of the National Institute of Allergy and Infectious Diseases, listen to White House coronavirus response coordinator Deborah Birx speak in the Rose Garden for the daily coronavirus briefing at the White House on March 29, 2020 in Washington, DC. Tasos Katopodis / Getty Images
President Donald Trump has bowed to the advice of public health experts and extended social distancing measures designed to slow the spread of the new coronavirus till at least April 30.
Pexels
By Charli Shield
At unsettling times like the coronavirus outbreak, it might feel like things are very much out of your control. Most routines have been thrown into disarray and the future, as far as the experts tell us, is far from certain.
Pie Ranch in San Mateo, California, is a highly diverse farm that has both organic and food justice certification. Katie Greaney
By Elizabeth Henderson
Farmworkers, farmers and their organizations around the country have been singing the same tune for years on the urgent need for immigration reform. That harmony turns to discord as soon as you get down to details on how to get it done, what to include and what compromises you are willing to make. Case in point: the Farm Workforce Modernization Act (H.R. 5038), which passed in the House of Representatives on Dec. 11, 2019, by a vote of 260-165. The Senate received the bill the next day and referred it to the Committee on the Judiciary, where it remains. Two hundred and fifty agriculture and labor groups signed on to the United Farm Workers' (UFW) call for support for H.R. 5038. UFW President Arturo Rodriguez rejoiced: