Fracking Flares Double In North Dakota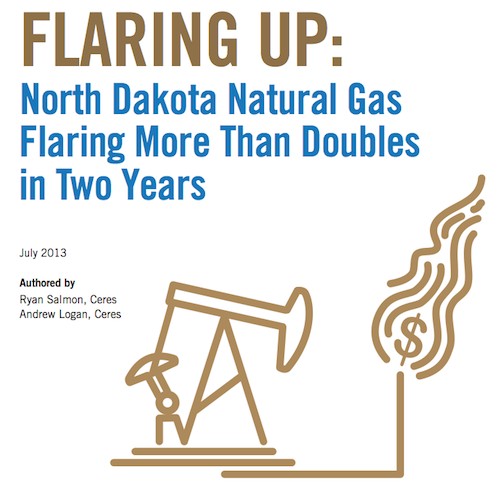 The tremendous growth of unconventional oil production in North Dakota has also led to a rapid rise in the production of associated natural gas and natural gas liquids. A new Ceres report reveals that large and growing volumes of this gas are being burned off rather than sold, creating significant economic and environmental impacts.
The report, Flaring Up, analyzes oil and gas production data published by the North Dakota Industrial Commission and calculates that volumes of flared gas more than doubled between May 2011 and May 2013. In 2012 alone, flaring resulted in the loss of approximately $1 billion in fuel and the greenhouse gas emissions equivalent of adding nearly one million cars to the road.
The report projects that, without large-scale mitigation effort on behalf of industry and regulators, flaring will continue to grow over the next several years, despite calls from investors, policymakers and community members to curb the economically inefficient and environmentally harmful practice.
"The U.S. is now one of the top 10 flaring countries in the world, primarily due to the rapid growth of flaring in North Dakota," said Ryan Salmon, the report's lead author and manager of Ceres' oil and gas program.
"Although the state's oil and gas industry is stepping up its efforts to curb flaring, the total volume of flared natural gas continues to grow," Salmon asserted. "Investors are looking for producers and regulators to take more aggressive action to prevent the loss of this valuable fuel."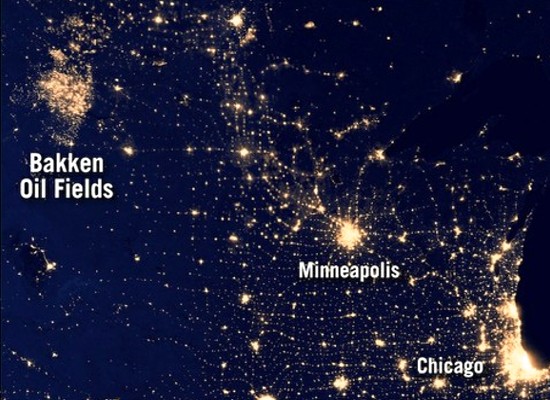 The North Dakota Industrial Commission's latest data shows that the state's oil and gas developers flared 29 percent of the natural gas they produced during May 2013. Although the percentage of flared gas has fallen from a peak of 36 percent recorded in September 2011, overall volumes of flared gas continue to rise. During May 2011, for example, 106,000 thousand cubic feet (Mcf) of natural gas were flared each day, while in May 2013, 266,000 Mcf of natural gas were flared—2.5 times as much.
At current market rates, oil is approximately 30 times more valuable than natural gas. As a result, producers have chosen to flare much of the gas they produce, rather than invest in the infrastructure necessary to collect, process and market it. However, state authorities note that Bakken gas contains large quantities of higher-value natural gas liquids, which boost the price and improve the economics of capturing the natural gas in North Dakota.
According to the North Dakota Pipeline Authority, Bakken natural gas contains roughly eight to 12 gallons of high-priced natural gas liquids—including propane, butane, isobutane and natural gasoline—per Mcf of natural gas produced.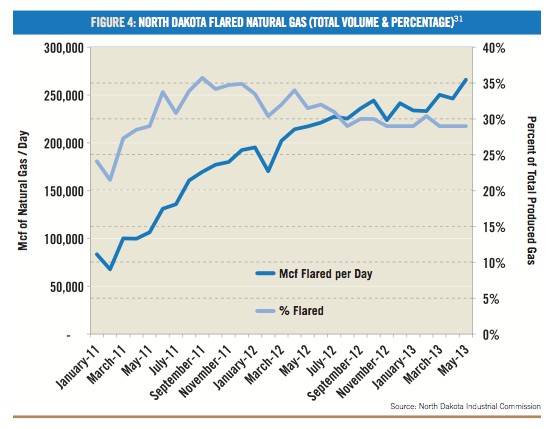 Ceres' report calculates the value of 10 gallons, the midpoint of that range, for an average mix of natural gas liquids at $10.33. Therefore, if the value of the natural gas liquids is added to the current average $3.20/Mcf market price for natural gas, Bakken natural gas could be worth as much as $13.50 per Mcf.
"The flaring of natural gas is a tremendous economic waste, and it threatens the oil and gas industry's license to operate, as well as the environment," said Pat Zerega, senior director at Mercy Investment Services, which successfully urged leading North Dakota oil producer Continental Resources to set a flaring reduction goal earlier this year.
"As oil and gas developments expand into more remote regions like North Dakota, the issue of flaring will continue to be a concern for investors, the environment and the industry," continued Zerega. "Numerous Sisters of Mercy, as well as myself, live in areas of Pennsylvania and New York affected by flaring from shale gas operations, and we continue to urge producers to limit this wasteful practice."
Unless the percentage of flared gas falls below 21 percent, Ceres projects that overall volumes of flared gas will continue to rise through 2020 along with rising oil production. North Dakota officials have set a public goal of reducing the amount of flared gas to no more than 10 percent of overall production by an unspecified date. However, even if the state's goal of 10 percent flaring were achieved, Flaring Up projects that the total volume of flared gas in 2020 would still exceed the amount flared in 2010.
In March 2012, investors representing $500 billion in assets sent a letter to 21 of the industry's largest shale oil producers, urging them to reduce or eliminate flaring. The practice of natural gas flaring has also generated significant public attention after recent NASA satellite images revealed that North Dakota's gas flares can be seen from space, burning nearly as brightly as the city lights of Minneapolis and Chicago.
Visit EcoWatch's ENERGY and FRACKING pages for more related news on this topic.
——–
A coalition of conservation groups and others announced Thursday that a historic number of comments and petitions of support have been submitted to the U.S. Department of the Interior in support of Bears Ears National Monument. Despite the entirely inadequate 15-day comment period ending on May 26, more than 685,000 comments in support of Bears Ears National Monument have been collected.
Keep reading...
Show less
Rink Glacier in western Greenland, with a meltwater lake visible center. NASA/OIB
Scientists have had their eyes on Greenland as its iconic glaciers have begun disappearing due to a warming climate. But, what they didn't expect to see was a whole new type of melting.
Keep reading...
Show less
Mountain View Fire
By Lena Moffitt
An oil tanker in Mead, Colorado exploded, killing one and injuring three on Thursday. Authorities are continuing to investigate the cause of the explosion.
Keep reading...
Show less
Banner created by Alliance for Climate Education
Keep reading...
Show less
Twenty-two GOP senators sent a letter Thursday urging Donald Trump to pull out of the Paris agreement. They argued remaining in the deal could "upend" the administration's ability "to fulfill its goal of rescinding the Clean Power Plan."
Keep reading...
Show less
By Cheryl Johncox
The Federal Energy Regulatory Commission (FERC) rejected on Thursday Energy Transfer Partners' request to resume horizontal directional drilling at two sites for its Rover fracked gas pipeline. This rejection comes after numerous leaks into Ohio's wetlands, and Clean Air and Clean Water act violations. FERC has halted the process at only eight locations of the 32 where drilling is taking place under Ohio's wetlands and streams.
Keep reading...
Show less
By Nadia Prupis
A majority of people in eight countries say they are ready to change their lifestyles if it would prevent climate catastrophe, a survey on global threats released Wednesday found.
Keep reading...
Show less
May. 25, 2017 01:55PM EST
Bill Maher is sick of billionaires' obsession with Mars, more like "Mars-a-Lago," he said.
In a new animation produced by ATTN:, the popular talk show host of Real Time, discusses the perils of our planet, including how "climate change is killing us."
Keep reading...
Show less