This website uses cookies to ensure you get the best experience while browsing it. By clicking 'Got It' you're accepting these terms.
Fracking Does Cause 'Widespread, Systemic' Contamination of American's Drinking Water
Jun. 05, 2015 02:52PM EST
Energy
In a draft report five years in the making, the U.S. Environmental Protection Agency (EPA) has confirmed that fracking does indeed contaminate drinking water, a fact the oil and gas industry has vehemently denied.
But instead of dismantling the industry's "not one single case of groundwater contamination caused by fracking" refrain, the EPA decided to go with the misleading headline "there is no evidence fracking has led to widespread, systemic impacts on drinking water resources."
It's a puzzling conclusion since their study was conspicuously narrow (they did no new case studies, dropped three marquee cases that proved water contamination and dropped all air quality studies from the report).
Our Map of the Week shows 313 cases where families reported water contamination due to drilling in just six counties in North Eastern, Pennsylvania. Seems pretty widespread to me for a fracking and drilling campaign that's still in its infancy. So far there's been around 9,000 wells drilled in Pennsylvania. One report showed the potential for 200,000 - 600,000 fracked wells in the state.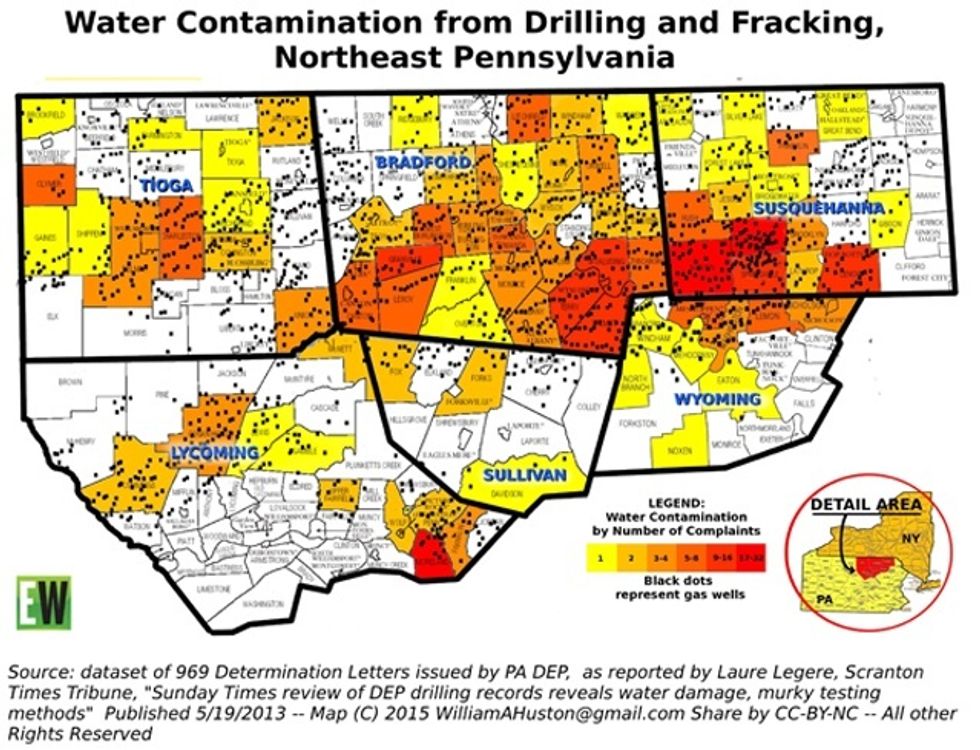 If the EPA is looking for proof of "widespread" contamination before declaring fracking unsafe, they may not have to wait long. The industry's own data shows that 5 percent of fracking wells leak upon drilling and that number only grows over time.
What the EPA presented to the public yesterday was PR, not science and proof of the widespread, systemic contamination of our regulatory bodies by the oil and gas industry.
This isn't the first time the EPA has released a report burying the science with a misleading headline that supports the Obama Administration's pro-fracking policies rather than reveal the true dangers of fracking. It's a disturbing trend we reported on extensively in GASLAND Part II with cases in Dimock, Pennsylvania; Parker County, Texas; and Pavilion, Wyoming.
In Dimock, Parker Country and Pavilion the EPA suddenly dropped water contamination cases when the science proved that fracking was the cause, going as far as slapping a press release claiming Dimock's water was safe on a report that proved fracking had contaminated the water.
The EPA did this, conveniently, around the same time that President Obama was touting fracking as part of his All-of-the-Above energy policy on the campaign trail.
And President Obama has not backed off in his support for natural gas despite mounting evidence that fracking is a climate change disaster. His administration is opening up huge swaths of BLM land for drilling and has even gone so far as to allow fracking offshore in the Gulf of Mexico.
He's not the only one. As Secretary of State, Hilary Clinton sold fracking to the rest of the world and has said nothing to indicate she will do any differently as President, despite claiming that addressing climate change is a pillar of her campaign.
If President Obama and Hilary Clinton want to know what a fracking legacy looks like they should take a look at the pictures coming from Little Rock, Arkansas where a fracked-gas pipeline ruptured in the Arkansas River within view of Bill Clinton's Presidential Library.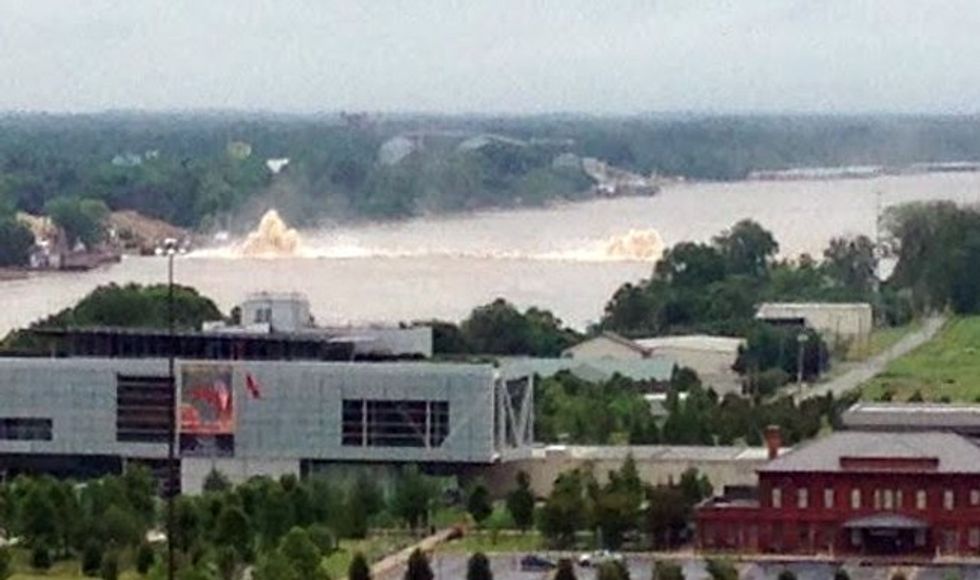 Millions of Americans know that fracking contaminates ground water and for the EPA to report any differently only proves that the greatest contamination from the industry comes from its influence and ownership of our government.
It's clear there is no action coming from our politicians to protect our public health and safety from fracking. They will stick with the industry till all our water is contaminated, our air polluted and climate change has made our planet unlivable.
It's up to us to get the truth out.
If you want to educate your community on the dangers of fracking and the incredible influence of the industry on our government, email us to host a screening of GASLAND Part II.
YOU MIGHT ALSO LIKE
Don't Be Fooled by Yesterday's Headlines, EPA Finds Fracking Contaminates Drinking Water
Long-Awaited EPA Study Says Fracking Pollutes Drinking Water
3 Arrested in Denton As Oklahoma Joins Texas in Banning Fracking Bans
EcoWatch Daily Newsletter
A volcano erupts on New Zealand's Whakaari/White Island on Dec. 9, 2019.
Michael Schade / Twitter
A powerful volcano on Monday rocked an uninhabited island frequented by tourists about 30 miles off New Zealand's coast. Authorities have confirmed that five people died. They expect that number to rise as some are missing and police officials issued a statement that flights around the islands revealed "no signs of life had been seen at any point,", as The Guardian reported.
Guardians of the Forest monitor passersby entering Juracal Village in Araribóia Indigenous Reserve, Maranhão, Brazil on Aug. 8, 2015. Bonnie Jo Mount / The Washington Post via Getty Images
Two indigenous leaders were killed in a drive-by shooting in Northeast Brazil Saturday, and two others were injured.
Human activity is smothering the ocean, the largest study of its kind has found, and it poses a major threat to marine life.
Pexels
Up to 20% of people may have a food addiction or exhibit addictive-like eating behavior.
Spiced hot chocolate. Lilechka75 / iStock / Getty Images
Food is the cornerstone of the holiday season. It brings friends and family together to share memories, cultural traditions, and great flavors.