This website uses cookies to ensure you get the best experience while browsing it. By clicking 'Got It' you're accepting these terms.
Fracking Does Cause 'Widespread, Systemic' Contamination of American's Drinking Water
Jun. 05, 2015 02:52PM EST
Energy
In a draft report five years in the making, the U.S. Environmental Protection Agency (EPA) has confirmed that fracking does indeed contaminate drinking water, a fact the oil and gas industry has vehemently denied.
But instead of dismantling the industry's "not one single case of groundwater contamination caused by fracking" refrain, the EPA decided to go with the misleading headline "there is no evidence fracking has led to widespread, systemic impacts on drinking water resources."
It's a puzzling conclusion since their study was conspicuously narrow (they did no new case studies, dropped three marquee cases that proved water contamination and dropped all air quality studies from the report).
Our Map of the Week shows 313 cases where families reported water contamination due to drilling in just six counties in North Eastern, Pennsylvania. Seems pretty widespread to me for a fracking and drilling campaign that's still in its infancy. So far there's been around 9,000 wells drilled in Pennsylvania. One report showed the potential for 200,000 - 600,000 fracked wells in the state.
If the EPA is looking for proof of "widespread" contamination before declaring fracking unsafe, they may not have to wait long. The industry's own data shows that 5 percent of fracking wells leak upon drilling and that number only grows over time.
What the EPA presented to the public yesterday was PR, not science and proof of the widespread, systemic contamination of our regulatory bodies by the oil and gas industry.
This isn't the first time the EPA has released a report burying the science with a misleading headline that supports the Obama Administration's pro-fracking policies rather than reveal the true dangers of fracking. It's a disturbing trend we reported on extensively in GASLAND Part II with cases in Dimock, Pennsylvania; Parker County, Texas; and Pavilion, Wyoming.
In Dimock, Parker Country and Pavilion the EPA suddenly dropped water contamination cases when the science proved that fracking was the cause, going as far as slapping a press release claiming Dimock's water was safe on a report that proved fracking had contaminated the water.
The EPA did this, conveniently, around the same time that President Obama was touting fracking as part of his All-of-the-Above energy policy on the campaign trail.
And President Obama has not backed off in his support for natural gas despite mounting evidence that fracking is a climate change disaster. His administration is opening up huge swaths of BLM land for drilling and has even gone so far as to allow fracking offshore in the Gulf of Mexico.
He's not the only one. As Secretary of State, Hilary Clinton sold fracking to the rest of the world and has said nothing to indicate she will do any differently as President, despite claiming that addressing climate change is a pillar of her campaign.
If President Obama and Hilary Clinton want to know what a fracking legacy looks like they should take a look at the pictures coming from Little Rock, Arkansas where a fracked-gas pipeline ruptured in the Arkansas River within view of Bill Clinton's Presidential Library.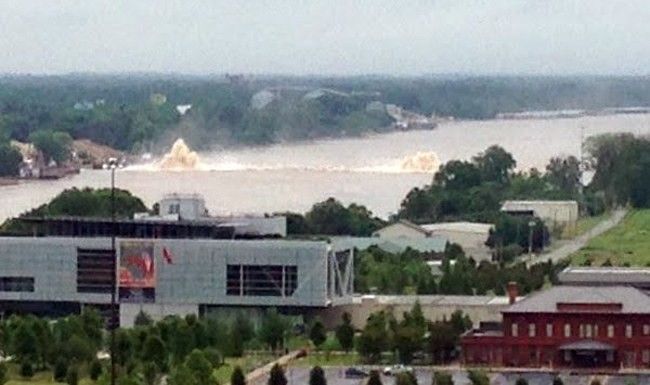 Millions of Americans know that fracking contaminates ground water and for the EPA to report any differently only proves that the greatest contamination from the industry comes from its influence and ownership of our government.
It's clear there is no action coming from our politicians to protect our public health and safety from fracking. They will stick with the industry till all our water is contaminated, our air polluted and climate change has made our planet unlivable.
It's up to us to get the truth out.
If you want to educate your community on the dangers of fracking and the incredible influence of the industry on our government, email us to host a screening of GASLAND Part II.
YOU MIGHT ALSO LIKE
Don't Be Fooled by Yesterday's Headlines, EPA Finds Fracking Contaminates Drinking Water
Long-Awaited EPA Study Says Fracking Pollutes Drinking Water
3 Arrested in Denton As Oklahoma Joins Texas in Banning Fracking Bans
EcoWatch Daily Newsletter
Bird watching in the U.S. may be a lot harder than it once was, since bird populations are dropping off in droves, according to a new study.
Amazon CEO Jeff Bezos announces the co-founding of The Climate Pledge at the National Press Club on Sept. 19 in Washington, DC. Paul Morigi / Getty Images for Amazon
The day before over 1,500 Amazon.com employees planned a walkout to participate in today's global climate strike, CEO Jeff Bezos unveiled a sweeping plan for the retail and media giant to be carbon neutral by 2040, 10 years ahead of the Paris agreement schedule.
For the past seven years, the Anishinaabe people have been facing the largest tar sands pipeline project in North America. We still are. In these dying moments of the fossil fuel industry, Water Protectors stand, prepared for yet another battle for the water, wild rice and future of all. We face Enbridge, the largest pipeline company in North America, and the third largest corporation in Canada. We face it unafraid and eyes wide open, for indeed we see the future.
The climate crisis often intensifies systems of oppression. Rieko Honma / Stone / Getty Images Plus
By Mara Dolan
We see the effects of the climate crisis all around us in hurricanes, droughts, wildfires, and rising sea levels, but our proximity to these things, and how deeply our lives are changed by them, are not the same for everyone. Frontline groups have been leading the fight for environmental and climate justice for centuries and understand the critical connections between the climate crisis and racial justice, economic justice, migrant justice, and gender justice. Our personal experiences with climate change are shaped by our experiences with race, gender, and class, as the climate crisis often intensifies these systems of oppression.

Lana Del Rey: "call her Doris Doomsday." Darren Gerrish / BFC / Getty Images Entertainment
By Emer McHugh
Popular music has, and always will be, informed by the political and social contexts from which it emerges.
It was early in the morning last Thursday, and Jonathan Butler was standing on the Fred Hartman Bridge, helping 11 fellow Greenpeace activists rappel down and suspend themselves over the Houston Ship Channel. The protesters dangled in the air most of the day, shutting down a part of one of the country's largest ports for oil.
By C.J. Polychroniou
Climate change is by far the most serious crisis facing the world today. At stake is the future of civilization as we know it. Yet, both public awareness and government action lag way behind what's needed to avert a climate change catastrophe. In the interview below, Noam Chomsky and Robert Pollin discuss the challenges ahead and what needs to be done.
Food manufacturer General Mills issued a voluntary recall of more than 600,000 pounds, or about 120,000 bags, of Gold Medal Unbleached All Purpose Flour this week after a sample tested positive for a bacteria strain known to cause illness.