Fracking Chemicals Found in Drinking Water, New Study Says
If you ask communities on the frontline of the fracking industry in the U.S. what their greatest concern is about the controversial technology, often the reply is the threat to their drinking water.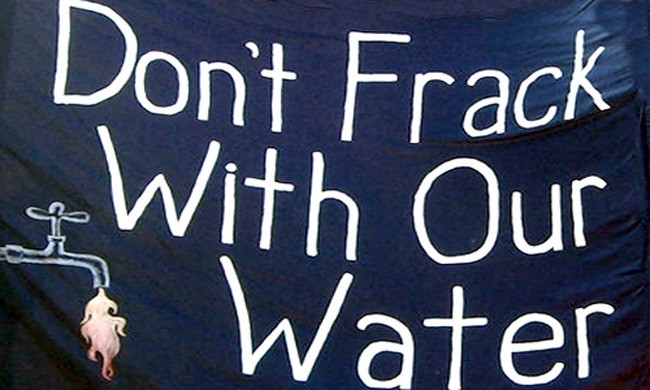 The fracking industry replies in the way it always does to these concerns: it downplays the risks with an arrogance that verges on indifference.
The standard reply from the industry is that fracking cannot contaminate water as the fracking rocks are normally thousands of feet below drinking aquifers and that there are layers of impermeable rock between the two. Never the twain shall meet.
But slowly and consistently over the last few years the evidence of water contamination has accumulated as the science has slowly and steadily caught up with the technology. And now scientists have published more compelling evidence of harm.
Yesterday a new study was published in the Proceedings of the National Academy of Sciences, which analyzed drinking water taken from three homes in the heart of the shale fields in Pennsylvania.
And they found what the industry's critics will argue is damning evidence: traces of a compound commonly found in Marcellus Shale drilling fluids.
The scientists believe they have answered one of the outstanding issues surrounding fracking and water pollution, by outlining a series of events by which the fracking chemicals could have contaminated the water.
In 2012, the scientists collected drinking water samples from the households and subsequent analysis in one of the samples found 2-Butoxyethanol or 2BE, a common drilling chemical which is also a potential carcinogen.
And they believe they know how this chemical has ended up in the drinking water. "This is the first case published with a complete story showing organic compounds attributed to shale gas development found in a homeowner's well," Susan Brantley, one of the study's authors and a geoscientist from Pennsylvania State University told the New York Times.
Brantley added that: "These findings are important because we show that chemicals traveled from shale gas wells more than 2 kilometers (1.25 miles) in the subsurface to drinking water wells."
The scientists believe that the pollution may come from a lack of integrity in the well which passes through the drinking aquifer and not the actual fracking process below.
If this is the case, it reinforces the concerns of communities from the U.S. to the UK that the fracking industry often has to drill through drinking aquifers to reach the shale oil or gas.
And many people believe that the issue of well integrity could be the fracking industry's Achilles heel.
The wells in this case were drilled in 2009, with a protective casing of steel and cement down to 1,000 feet, but below that the wells had no protective casing.
Two years later three homeowners in Bradford County sued the drilling company, Chesapeake Energy Corporation, due to pollution of their drinking well water.
The case was settled the following year, leading to the state Environmental Protection Agency recommending that the drilling company extend the depth of protective casings.
As other countries look to expand their fracking industries across the globe, so the risk to drinking water increases.
The paper concludes that "As shale gas development expands worldwide, problems such as those that occurred in northeastern Pennsylvania will only be avoided by using conservative well construction practices."
YOU MIGHT ALSO LIKE
ReThink Energy: 'We Will Ensure Florida Keeps Fracking Out of Our State'
Mapping the Dangers of Fracking
8 States Dealing With Huge Increases in Fracking Earthquakes
Disturbing footage of a snake in Goa, India vomiting an empty soft drink bottle highlights the world's mounting plastic pollution crisis.
Keep reading...
Show less
By Melissa Hellmann
When her eldest son was in elementary school in the Oakland Unified School District, Ruth Woodruff became alarmed by the meals he was being served at school. A lot of it was frozen, processed foods, packed with preservatives. At home, she was feeding her children locally sourced, organic foods.
Keep reading...
Show less
May. 28, 2017 01:33PM EST
Laurie Woolever
By James O'Hare
There are 20 million people in the world facing famine in South Sudan, Somalia, Nigeria and Yemen. In developed nations, too, people go hungry. Venezuela, for instance, is enduring food insecurity on a national level as a result of economic crisis and political corruption. In the U.S., the land of supposed excess, 12.7 percent of households were food insecure in 2015, meaning they didn't know where their next meal would come from.
Keep reading...
Show less
May. 28, 2017 01:22PM EST
Melwater, Greenland ice sheet. Diane Tuft
Artists are taking the climate crisis into frame and the results are emotional, beautiful and stirring.
So you've seen the best climate change cartoons and shared them with your friends. You've showed your family the infographics on climate change and health, infographics on how the grid works and infographics about clean, renewable energy. You've even forwarded these official National Oceanic and Atmospheric Administration graphs that explain the 10 clear indicators of climate change to your colleagues at the office.
Keep reading...
Show less
May. 27, 2017 01:11PM EST
As the Trump administration moves full speed ahead on boosting the oil and fossil fuel industry, opposition to increased pipeline construction is cropping up in different communities around the country.
Keep reading...
Show less
May. 27, 2017 01:02PM EST
Minke whale stranding near Havergate Island in Suffolk. MCGA.
By Simon Evans
Last Saturday, two dead whales washed up on the coast of Suffolk, in eastern England, and a third was spotted floating at sea.
What happened next illustrates how news can spread and evolve into misinformation, when reported by journalists rushing to publish before confirming basic facts or sourcing their own quotes.
Keep reading...
Show less
May. 27, 2017 01:22PM EST
By Monica Amarelo and Paul Pestano
Sun safety is a crucial part of any outdoor activity for kids, and sunscreen can help protect children's skin from harmful ultraviolet rays. Kids often get sunburned when they're outside unprotected for longer than expected. Parents need to plan ahead and keep sun protection handy in their cars or bags.
Keep reading...
Show less
May. 27, 2017 01:02PM EST
By Joe McCarthy
A lot of people take part in community clean-up efforts—spending a Saturday morning picking up litter in a park, mowing an overgrown field or painting a fence.
Keep reading...
Show less