Fracking Chemical Disclosure Database Provides New Tool in Fight Against Drilling
Nov. 14, 2012 07:10PM EST
Energy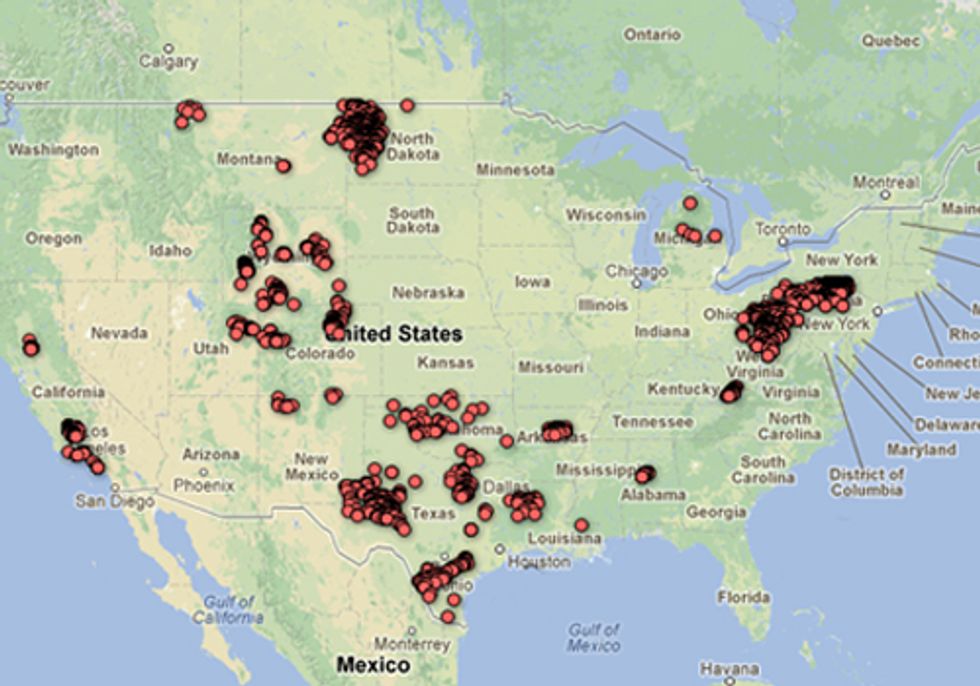 Today, SkyTruth released a database created from more than 27,000 industry reports on the chemicals used in hydraulic fracturing, or "fracking."
The data were extracted from chemical disclosure reports submitted by industry to FracFocus.org, for gas and oil wells fracked between January 2011- August 2012. The SkyTruth Fracking Chemical Open Database is the first free resource enabling research and analysis of the chemicals used in fracking operations nationwide, and is available now for download from SkyTruth.org. SkyTruth hopes that this information will promote credible research and discussion about effective disclosure on this nationally significant issue.
"SkyTruth unveils the toxic truths of a toxic industry," said Robert F. Kennedy, Jr., president of Waterkeeper Alliance. "In the hands of community activists, SkyTruth's database is a sharp, steely weapon to puncture the armor of sinister secrecy that protects America's fracking cabal."
Texas, North Dakota, Pennsylvania and five other states require disclosure through FracFocus to respond to public calls for transparency, but the FracFocus system does not allow data aggregation, analysis or sharing. Despite these critical shortcomings, the White House has identified FracFocus as a tool providing transparency.
With the Bureau of Land Management finalizing new rules for fracking that will apply to millions of acres of public land, real transparency is a matter of national interest to ensure the health of community members and the environment.
"With this information, SkyTruth provides critical oversight of an industry that has a history of secrecy and of fighting tooth and nail to avoid public disclosure of the toxic chemicals it uses," said Marc Yaggi, executive director of Waterkeeper Alliance.  
"The intelligible disclosure of industry information and data through this SkyTruth action will make the task of research on the effects of fracking much easier," said Tony Ingraffea, professor of Civil and Environmental Engineering at Cornell University. "This large and ever-expanding dataset is invaluable for cross-referencing with other datasets such as health and environmental quality. "  
Using this dataset, SkyTruth has calculated the volume of water reportedly used for fracking across the U.S., and compared that number to the quantity of water flowing over Niagara Falls and relative to Central Park in New York City. They looked at un-permitted use of diesel fuels in fracking, and yes, it's still being used in spite of the Safe Drinking Water act. Most recently, we looked at disclosure rates in West Virginia, and found that state and industry data was so incomplete that disclosure rates ranged from 0 percent  to 31.6 percent disclosure. 
Visit EcoWatch's FRACKING page for more related news on this topic.
--------
SkyTruth is a 501(c)(3) non-profit corporation based in Shepherdstown, West Virginia using remote-sensing and digital mapping technologies to investigate and illustrate a broad range of environmental issues and incidents.
EcoWatch Daily Newsletter
Related Articles from EcoWatch
Recent Stories from EcoWatch