Fracking Cases in Pennsylvania Expose the Human Cost of Drilling
The environmental costs of fracking, from earthquakes to an alarming rise in methane emissions, has been well reported. The human cost of fracking, however, is not heard often enough. In Pennsylvania, two recent cases in Susquehanna County have put the controversial drilling process at the forefront.
As jury selection kicks off in the notorious fracking water contamination case in Dimock against Cabot Oil & Gas Corp, a family of maple syrup farmers in the same northwestern county will potentially lose their trees, and thus their livelihood, to make way for the company's latest fracking pipeline project, the 124-mile Constitution Pipeline.
The federal lawsuit—Scott Ely, et al. v Cabot Oil & Gas Corporation et al.—involves two couples, Scott Ely and Monica Marta-Ely, and Ray and Victoria Hubert, who claim that Cabot Oil & Gas Corp contaminated their water supply during fracking operations near their homes.
Residents in the small village reported health problems with their coffee-colored water, such as rashes, nausea, headaches and dizziness.
"We haven't had clean water since he was in kindergarten," Marta-Ely, pointing to her 13-year-old son Jared at a news conference during a break in jury selection, Reuters reported.
The Dimock case dates back to 2009 when 44 plaintiffs brought a lawsuit against the company. In the five years since initiating litigation, the Elys and Huberts are the only plaintiffs remaining on the case as the vast majority have settled with the company.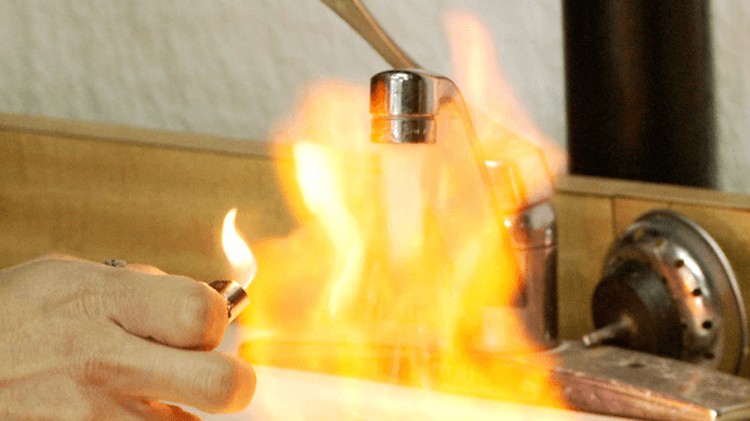 Dimock, Pennsylvania, aka the ground zero of fracking contamination in the east coast, was the subject of the Oscar-nominated 2010 documentary Gasland that infamously featured the town's flaming faucets due to its alarming concentrations of methane.
Pointing to court documents, Reuters reported that the trial "will bring light to a state law that assumes that a gas driller is responsible for water well contamination within 1,000 feet of a drilling site that develops within six months of drilling."
According to NPR's StateImpact, Cabot has already accumulated more than 130 drilling violations at its Dimock wells, yet insists that methane migration in Dimock's water is naturally occurring. The company is currently banned from drilling in a 9-mile area of Dimock but is trying to lift the ban, StateImpact noted.
"The evidence will show that Cabot met or exceeded the applicable standards of care in the drilling and completion of the ... wells," according to court documents seen by Reuters. "Cabot will present evidence that the plaintiff's water is potable."
During the fracking process, massive quantities of water, sand and toxic chemicals are shot into shale formations to release natural gas.
The White House boasts that the boom in "cheap" natural gas has put the country's dependence on foreign oil at a 40-year low and Marcellus Shale that runs beneath most of Pennsylvania is a "key target" for Big Oil and Gas and accounts for nearly 40 percent of U.S. shale gas production.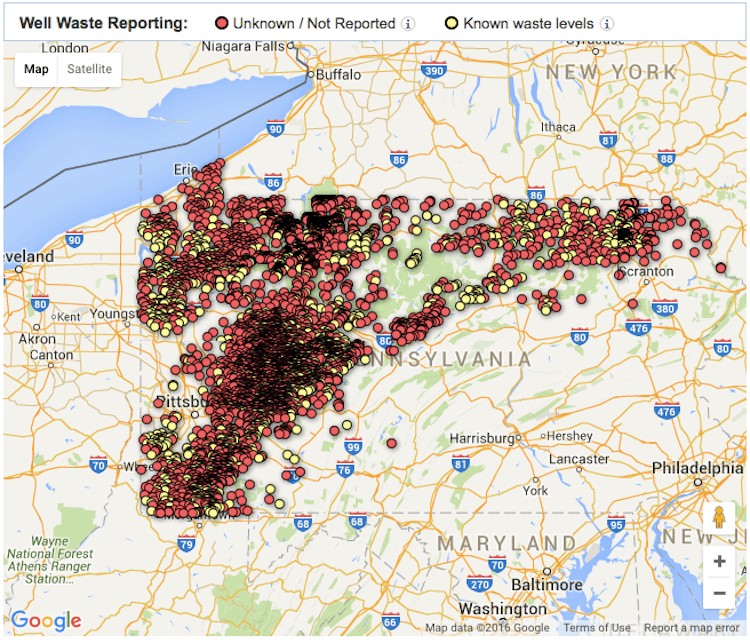 NRDC
Meanwhile, maple syrup farmers in the Susquehanna county will have their maple grove seized due to the construction of the Constitution Pipeline, RT reported.
The Federal Energy Regulatory Commission (FERC) gave notice on Jan. 29 to proceed with tree cutting on the Pennsylvania portion of the pipeline.
RT noted that Cabot Oil is one of the partners of the $875 million pipeline that will take natural gas from Pennsylvania's Marcellus Shale to New York. The other joint parter is the energy company Williams.
The Holleran family, which has been at the center of this fight, has had their property seized via eminent domain, with neither landowner permission nor previous compensation, their Facebook page says.
According to RT, about 200 maple trees will be cut, or 80 percent of the maple trees on the property.
"The last couple of days, and especially this morning have been emotionally crazy. This is a hard time for my family, and it's taking us a bit to work things out," family spokesperson Megan Holleran wrote on Facebook after FERC's decision.
Construction of the pipeline is currently stalled, as environmental groups and state Attorney General Eric Schneiderman have successfully blocked the New York portion of the pipe.
However, as lawyer Mike Ewall of Energy Justice Network said, "Constitution Pipeline Company is threatening this family's livelihood for a pipeline that may never be built. They still don't have FERC's permission to construct, yet they bully and intimidate landowners while offering paltry compensation for taking their land."
Watch the video below to learn more about the case.
YOU MIGHT ALSO LIKE
Harvard Study: U.S. 'Likely Culprit' of Global Spike in Methane Emissions
Lawsuit Filed Over Oklahoma's 'Fracking' Earthquakes as Its Third Largest Quake Is Felt in 7 Other States
Second Review of EPA's Fracking Study Urges Revisions to Major Statements in Executive Summary
Warning to Fossil Fuel Investors: Coal and LNG Markets Shrinking Due to Competition From Renewables
Monsanto, the maker of the glyphosate-based herbicide Roundup, filed a motion June 16 in U.S. District Court, Northern District of California to reconsider the chemical's addition to California's Proposition 65 list of agents known to cause cancer.
The agrochemical giant made this move based on a June 14 Reuters investigation of Dr. Aaron Blair, a lead researcher on the World Health Organization's International Agency for Research on Cancer (IARC) committee, that classified glyphosate as a "2A probable human carcinogen" in March 2015.
Keep reading...
Show less
By Avery Friedman
Algae is often considered a nuisance, but for Sweden, the rapidly growing sea plant is now an asset.
As the Scandinavian country works to cut all of its greenhouse gas emissions by 2045, it's using algae to sop up the carbon emissions from cement.
Keep reading...
Show less
Jun. 24, 2017 01:35PM EST
By Itai Vardi
A recent intensification in protests against Williams Partners' planned Atlantic Sunrise pipeline in Pennsylvania prompted a state senator to propose legislation aimed at limiting demonstrations.
Last month, Pennsylvania Sen. Scott Martin (R-Norman) announced his intention to introduce legislation that would pass the costs of law enforcement responding to protests onto the demonstrators. Martin also helped introduce a different bill that would criminalize protests at natural gas facilities.
Keep reading...
Show less
Jun. 24, 2017 01:29PM EST
Black Shogun / iStock
The Federal Energy Regulatory Commission (FERC) released its Final Environmental Impact Statement Friday for the Mountain Valley Pipeline, a controversial 303-mile pipeline that would carry two billion cubic feet of fracked gas per day from West Virginia through Virginia.
Keep reading...
Show less
Jun. 24, 2017 01:46PM EST
Falcon PEV
The so-called "first and last mile" problem is one of the biggest hurdles with public transportation. How do you encourage more people to take Earth-friendlier commutes when their homes are miles away from the train or bus station?
One solution, as this Estonian electric scooter company proposes, is to simply take your commute with you—literally. Tallinn-based Stigo has developed a compact e-scooter that folds to the size of a rolling suitcase in about two seconds.
Keep reading...
Show less
Jun. 24, 2017 05:12PM EST
Connect4Climate
[Editor's note: I'm still in shock after hearing the news that Lucia Grenna passed away in her sleep last week. When we first met in April of 2014 at a Copenhagen hotel, I was immediately taken by here powerful presence. We spent the next couple days participating in a Sustainia climate change event where Lucia presented her audacious plans to connect people to the climate issue. I had the chance to partner with Lucia on several other projects throughout the years and work with her incredible Connect4Climate team. I was always in awe of her ability to "make the impossible possible." Her spirit will live on forever. — Stefanie Spear]
It is with a heavy heart that Connect4Climate announces the passing of its founder and leading light, Lucia Grenna. Lucia passed peacefully in her sleep on June 15, well before her time. We remember her for her leadership and extraordinary ability to motivate people to take on some of the greatest challenges of our time, not least climate change.
Keep reading...
Show less
Jun. 23, 2017 07:29PM EST
Wikimedia Commons
By Stacy Malkan
Neil deGrasse Tyson has inspired millions of people to care about science and imagine themselves as participants in the scientific process. What a hopeful sign it is to see young girls wearing t-shirts emblazoned with the words, "Forget princess, I want to be an astrophysicist."
Keep reading...
Show less
Jun. 23, 2017 01:57PM EST
www.youtube.com
By Andy Rowell
Any day now we will truly witness climate change in action. Within days at worst, maybe weeks at best, scientists predict that a huge section of the Larsen C ice shelf in Antarctica will break off into the ocean, in what is called a major "carving" event.
Keep reading...
Show less
Jun. 23, 2017 02:27PM EST
www.youtube.com
President Trump visited Cedar Rapids, Iowa on June 21 to speak to a large crowd in the U.S. Cellular Center at a political rally organized by his campaign.
As Trevor Noah noted during The Daily Show episode last night (starts at 2:25), the real reason Trump has these rallies is to "get back in front of his loyal crowds and feed of their energy." Noah believes that "Trump supporters are so on board with their dude he can say anything and they'll come along for the ride."
Keep reading...
Show less