This website uses cookies to ensure you get the best experience while browsing it. By clicking 'Got It' you're accepting these terms.
Fracking Boom in North Dakota Has Heavy Impact on Native Americans
Dec. 06, 2012 12:12PM EST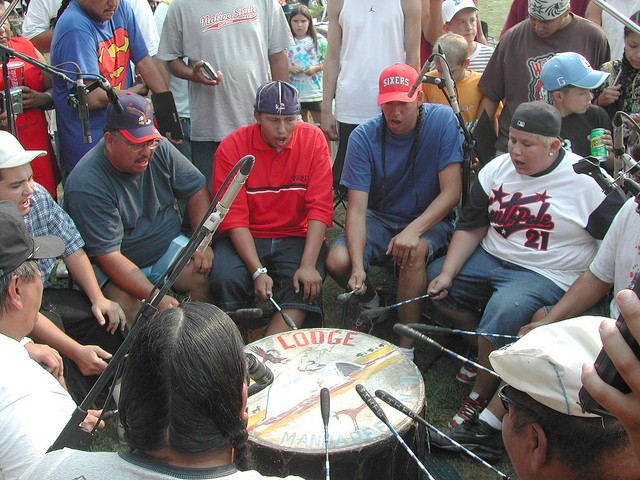 In just five years North Dakota has gone from a quiet agricultural state to a rapidly industrializing energy powerhouse. By the middle of 2012 North Dakota was producing about 660,000 barrels of oil a day, more than twice as much as just two years before. That number makes North Dakota the second largest oil producing state in the U.S., after Texas.
North Dakota's political establishment—Democrats and Republicans alike—view the oil boom as a huge success. Thanks largely to the new oil play in the Bakken, the state's economy is surging. More than 41,000 workers were hired in North Dakota between 2008 and 2012, and the state has the lowest unemployment rate in the country. National leaders are pleased, too. All the oil pouring out of North Dakota has markedly improved U.S. energy security. As recently as 2005, the U.S. was importing 60 percent of the oil it consumes; today imports account for 42 percent of consumption.
But not everyone is happy about the situation. Traveling across northwest North Dakota it is not difficult to find farmers and ranchers who are outraged by what they are experiencing. Many North Dakotans view the oil rush as an assault on their communities and the places they love. The current oil rush seems to them different than the last oil boom that took over the state in the 1970s. The petroleum in the Bakken Shale is what the fossil fuel industry refers to as "tight oil," or what environmentalists call "extreme energy." Like the petroleum locked in the tar sands of Alberta, Canada, shale oil is hard to get at even with the most advanced technologies. All of the extra effort involved in extraction means that Bakken oil has an especially heavy impact—on water resources, on land use, on wildlife and habitat, on the fabric of communities. The oil rush in North Dakota has turned life there inside out. As White Earth rancher Scott Davis puts it: "We're collateral damage."
The degradation of western North Dakota is especially poignant for the 12,000 Native American residents of the Fort Berthold Reservation, home of the Mandan, Hidatsua and Arikara. The nations, known as the Three Affiliated Tribes, today live on a fragment of their historical territory. The Ft. Laramie Treaty of 1851 affirmed a 12-million-acre reservation in the Great Plains, but by 1880 the U.S. had disposed of all but 988,000 acres, and of these, white farmers and ranchers soon came to own about half. In the 1950s, the federal government forced the tribe to sell 175,000 acres of prime farmland along the Missouri River valley for Lake Sakakawea. Today, the oil rush—more than 500 wells now pump oil on Ft. Berthold and another 1,600 to 3,000 are planned for the next five years—is jeopardizing the remaining 400,000 acres of Indian land holdings.
The Three Affiliated Tribes' official position is that drilling benefits the community. One-third of the tribal members at Ft. Berthold own some mineral rights, and the tribe has established its own energy company with long-term plans to take over energy production on the reservation. Tribal Chairman Tex Hall says oil will bring the reservation "sovereignty by the barrel."
But the reality is that little oil money reaches most of the reservation. According to activists Walter and Lisa Deville and Theodora Bird Bear, lifelong residents of the reservation town of Mandaree, none of the oil money collected by either the tribe or the state of North Dakota comes back to their town. Mandaree is mostly poor: two-thirds of the population lives three families to a house. Earlier this year, the Devilles and Bird Bear did a survey of Mandaree residents to gauge their views on the oil boom. Of those they questioned, 84 percent said they do not receive adequate information on environmental impacts to air, water quality and land; 92 percent said they fear drilling-related spills.
Oil production is starting to displace the tribal culture based around agriculture and grazing livestock. Marilyn Hudson, 76, the head of the Three Affiliated Tribes Museum, worries that "the tribes are spending a lot of their new oil money on cultural things such as language, clan systems, hand games, and pow wows, but these efforts are mostly futile because the relationship to the land is being destroyed. We are looking at the death of our tribal society as we knew it."
The intrusion of fleets of trucks on rural roads has degraded quality of life in western North Dakota. From exploratory drilling through completion, it takes about a thousand truck trips to frack a shale oil well. "If you have a post box on the side of the road, it's full of dirt," says Walter Deville.
"Our people at the Ft. Berthold reservation are literally being killed by oil companies," says Kandi Mosset, a resident of New Town and the climate campaign organizer for the Indigenous Environmental Network. "We've suffered over a dozen truck-related deaths on our roads since 2008."
Theodora Bird Bear, 61, remembers that before drilling arrived in the area, Mandaree served "as a refuge for endangered species, a sanctuary. But it's a fragile environment and cannot take continuous hits like this. Ft. Berthold is our last historic land. This is it."
Visit EcoWatch's FRACKING page for more related news on this topic.
AleksandarNakic / Getty Images
By Kate Murphy
No matter the time of year, there's always a point in each season when my skin decides to cause me issues. While these skin issues can vary, I find the most common issues to be dryness, acne and redness.

David Woodfall / The Image Bank / Getty Images
By Sam Nickerson
The U.S. Environmental Protection Agency (EPA) in April 2018 proposed relaxing standards related to how it assesses the effects of exposure to low levels of toxic chemicals on public health.
Now, correspondence obtained by the LA Times revealed just how deeply involved industry lobbyists and a controversial, industry-funded toxicologist were in drafting the federal agency's proposal to scrap its current, protective approach to regulating toxin exposure.
Steve Irwin poses with a three foot long alligator at the San Francisco Zoo on June 26, 2002. Justin Sullivan / Getty Images
February 22 is the birthday of conservationist and beloved TV personality "Crocodile Hunter" Steve Irwin, who would have been 57 years old today.
Irwin's life was tragically cut short when the barb from a stingray went through his chest while he was filming in 2006, but his legacy of loving and protecting wildlife lives on, most recently in a Google Doodle today honoring his birthday.
Left: Youtube / Screenshot, Right: alle12 / Getty Images
By Dan Nosowitz
That video showed the extrusion of a bubblegum-pink substance oozing into a coiled pile, something between Play-Doh, sausage and soft-serve strawberry ice cream. Branded "pink slime"—the name came from an email sent by a USDA microbiologist in 2002—this stuff was actually beef, destined for supermarkets and fast-food burgers.
Climate activist Greta Thunberg addresses the European Commission on Feb. 21 in Brussels, Belgium. Sylvain Lefevre / Getty Images
By Julia Conley
Sixteen-year-old climate action leader Greta Thunberg stood alongside European Commission President Jean-Claude Juncker Thursday in Brussels as he indicated—after weeks of climate strikes around the world inspired by the Swedish teenager—that the European Union has heard the demands of young people and pledged more than $1 trillion over the next seven years to address the crisis of a rapidly heating planet.

In the financial period beginning in 2021, Juncker said, the EU will devote a quarter of its budget to solving the crisis.