This website uses cookies to ensure you get the best experience while browsing it. By clicking 'Got It' you're accepting these terms.
Fracking Boom Bursts in Face of Low Oil Prices
Sep. 15, 2015 12:00PM EST
Fracking
The oil cartel, OPEC, has confirmed what has been obvious to many for months: U.S. shale production is in deep, deep trouble as the fracking boom bursts in the face of low oil prices.
The cartel published its latest monthly oil market report yesterday revealing that it believes it is winning the price war it started with the U.S. shale industry.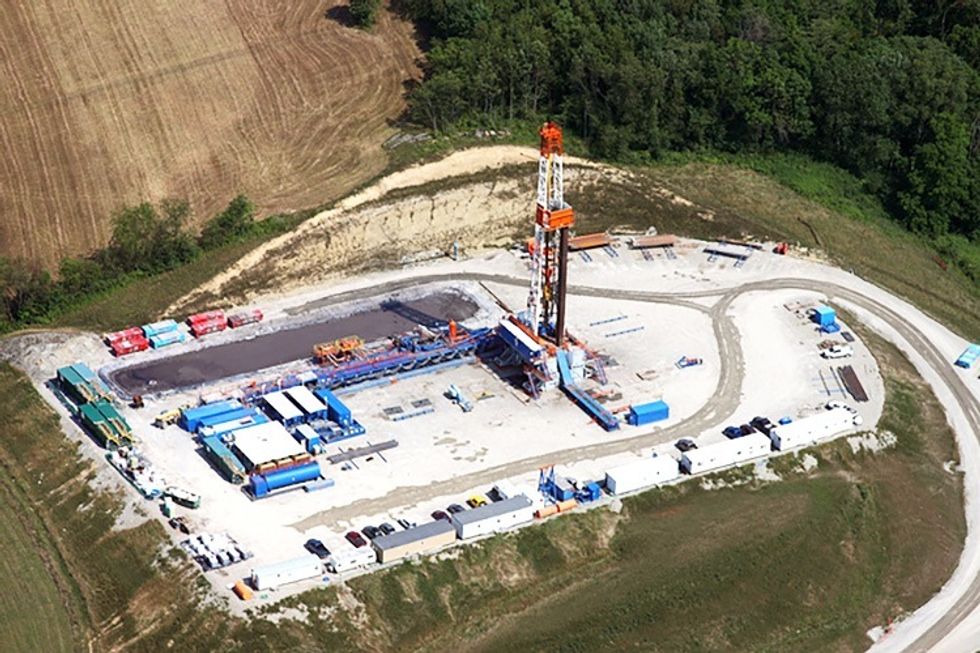 The numbers speak for themselves as the U.S. drilling rig count continued its decline this month, dropping 13 rigs to 662. The overall rig count is now down 864 units year on year.
The report is seen as a must-read for people within the oil industry.
"In North America, there are signs that U.S. production has started to respond to reduced investment and activity," says the report. "Indeed, all eyes are on how quickly U.S. production falls."
The numbers speak for themselves as the U.S. drilling rig count continued its decline this month, dropping 13 rigs to 662. The overall rig count is now down 864 units year on year.
As if to re-iterate the point, OPEC cut its forecast for U.S. production in 2015 by 100,000 barrels a day to 13.75 million and is also revising downwards U.S. shale production for next year by about 100,000 barrels a day, too.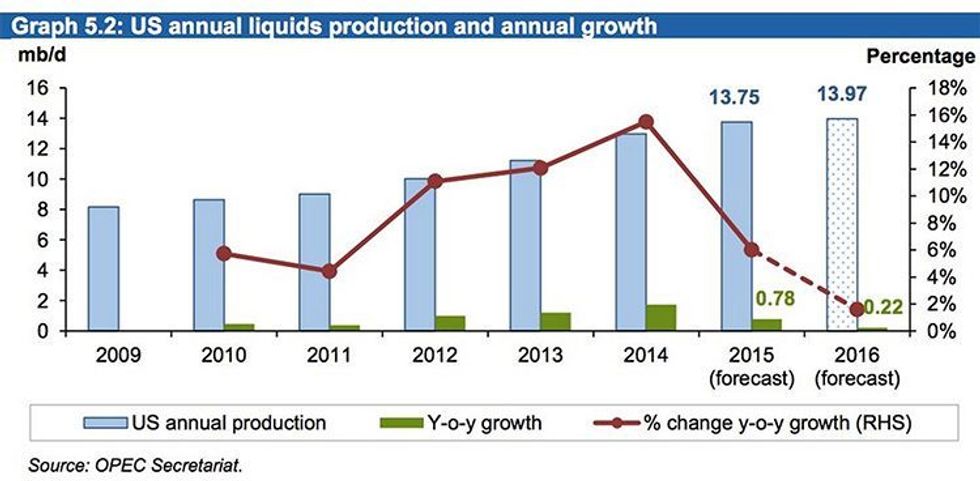 OPEC's warning is the second in a number of days outlining the trouble facing the U.S. fracking industry and comes hot on the heels of similar sentiments from the International Energy Agency (IEA) last week.
The IEA said, "On the face of it, the Saudi-led OPEC strategy to defend market share regardless of price appears to be having the intended effect of driving out costly, 'inefficient' production."
The IEA outlined how "U.S. oil production is likely to bear the brunt of an oil price decline that has already wiped half the value off," the main international oil contract.
It predicted that a rebound in production from U.S. shale over the next few months was "elusive."
"This will be music to OPEC's ears," argues the OilVoice website: "There have been many that have doubted the OPEC strategy and there are many that will continue to do so. Some observers even doubt the relevance of OPEC as an organization, given its reluctance to intervene and balance the market by reducing production."
However, due to declining shale, the IEA warned that the world faces the biggest drop in oil output in nearly a quarter century. This said, OPEC is predicting stronger than expected demand than previously forecast for its own oil next year, as U.S. fracking companies continue to struggle with low costs.
So for now, at least, it looks like OPEC is winning the oil price war.
YOU MIGHT ALSO LIKE 
Koch Brothers: Apocalyptical Forces of Ignorance and Greed, Says RFK Jr.
What the Industry Doesn't Want You to Know About Fracking
Is Your Retirement Invested in Fossil Fuels?
AP Exclusive: Fracking Boom Responsible for 175 Million Gallons of Toxic Wastewater Spilled Since 2009
EcoWatch Daily Newsletter
Pexels
Vitamin C is a very important nutrient that's abundant in many fruits and vegetables.
BLM drill seeders work to restore native grasses after wildfire on the Bowden Hills Wilderness Study Area in southeast Oregon, Dec. 14, 2018. Marcus Johnson / BLM / CC BY 2.0
By Tara Lohan
In 2017 the Thomas fire raged through 281,893 acres in Ventura and Santa Barbara counties, California, leaving in its wake a blackened expanse of land, burned vegetation, and more than 1,000 destroyed buildings.
Brogues Cozens-Mcneelance / EyeEm / Getty Images
Fruit juice is generally perceived as healthy and far superior to sugary soda.
Pexels
By Danielle Nierenberg and Katherine Walla
As the holiday season ramps up for many across the world, Food Tank is highlighting 15 children's books that will introduce young eaters, growers and innovators to the world of food and agriculture. Authors and organizations are working to show children the importance — and fun — of eating healthy, nutritious and delicious food, growing their own produce, and giving food to others in need.
Pixabay
Purple cabbage, also referred to as red cabbage, belongs to the Brassica genus of plants. This group includes nutrient-dense vegetables, such as broccoli, Brussels sprouts, and kale.