Energy
Oct. 20, 2014 12:29PM EST
Fracking Ban Ballot Initiatives Intensify
County ballot issues to ban fracking could have a large impact outside those counties. And the campaign money being spent on both sides—but primarily by big energy companies—shows how much is at stake.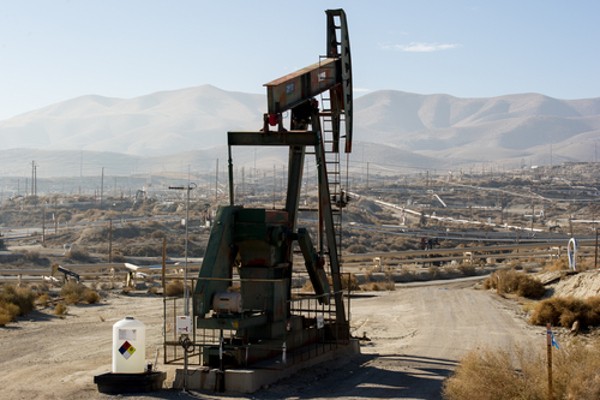 Photo credit: Shutterstock
The highest profile and most contentious ban is the one on the ballot in Denton, Texas, north of Dallas, located in the heart of the Barnett shale region. Citizen groups, concerned about their families' health and safety and frustrated by the city's failure to enact any restrictions on fracking, gathered enough signatures to force city council to vote on the ban in July. After the council voted against it, the issue went to the November ballot. The battle has positioned the industry-backed group Denton Taxpayers for a Strong Economy against the community group Denton Drilling Awareness Group/Frack Free Denton. The Denton Chamber of Commerce and the Denton County Republican Party have come out against the ban.
This ballot initiative has gotten extensive media coverage in the region because of its implications for Texas' burgeoning fracking sector, and industry fears that such bans could spread in this oil- and gas-rich region. Opponents of the ban have suggested that if it is passed, oil and gas interests will sue the city for an unconstitutional taking of property rights. State representative Phil King has said he will introduce a bill in the next session of the Texas legislature to prohibit  local governments from banning fracking.
The Fort Worth Star-Telegram reported this weekend that Denton Taxpayers for a Strong Economy has collected $75,000 apiece from energy companies Devon Energy, XTO and Enervest Operating, making up the bulk of the $231,000 the group has raised. Only eight other donors are listed. It said the pro-ban group has raised about $50,000, with $30,000 coming from environmental group Earthworks, which an anti-ban spokesperson called an "extreme liberal fringe group out of Washington, D.C." Earthworks told the Dallas News that 90 percent of the funds, generated by an online fundraiser, were contributed by Denton residents. Denton has a population of about 113,000.
Andrew Wheat, research director of Texans for Public Justice, a nonpartisan nonprofit that tracks the impact of money and corporate power in Texas politics, told the Dallas News, "The influence of the industry is pervasive. To the extent that there is any effort to regulate these activities, it's coming from the grassroots local government, it's not coming from Austin."
In California, three counties have anti-fracking measures on the November ballot. San Benito County, located in the central coastal region with a population of just over 50,000, was the first county to approve such a ballot measure. Santa Barbara and Mendocino counties have followed with their own measures, and Butte County is considering one for 2016. Santa Barbara, with a population of more than 400,000, is the most significant of these. Santa Cruz County's board of supervisors banned fracking there in May.
As in Texas, these initiatives are being looked at by the energy industry and anti-fracking groups as a bellwether. The San Jose Mercury News says that a coalition funded by oil companies like Chevron, ExxonMobil and Occidental Petroleum has given nearly $2 million to the campaign to block the ban in San Benito County and $5 million to the effort in Santa Barbara County. In San Benito, it's outspending pro-ban groups by a 15-1 margin, the paper reports.
Again, the sides are wrangling about the health and safety of residents vs. property rights, as well as protecting the region's natural beauty—San Benito County includes Pinnacles National Park. In addition, ban opponents scoff that since there's no fracking in the county now, the ban is pointless. Ban supporters point out that San Benito sits on part of the state's oil-rich Monterey Shale deposit, which could be developed in the future. Kern County, adjacent to Santa Barbara County and just south of San Benito, is already being heavily fracked. And as in Texas, community groups are acting in the absence of state regulation.
"We need Governor Brown to put an immediate halt to fracking statewide," attorney Kassie Siegel of Center for Biological Diversity told the Mercury News. "But until he does, we are going to see more local governments and local residents going forward with measures to protect themselves."
YOU MIGHT ALSO LIKE
North Texas Town Rejects Fracking Ban
Are Cancer Rates Elevated Near Texas Fracking Sites?
Monterey Shale Report Exposes Myth of Economic Prosperity From Fracking California
Will Rose / Greenpeace
Eleven peaceful activists from the Greenpeace ship Arctic Sunrise have taken to the water in inflatable boats with handheld banners to oppose the Statoil Songa Enabler oil rig, 275 km North off the Norwegian coast, in the Arctic Barents sea.
The banners say: "People Vs. Arctic Oil" and are directed at Statoil and the Norwegian government, which has opened a new, aggressive search for oil in the waters of the Barents Sea.
Keep reading...
Show less
Jul. 21, 2017 10:34AM EST
Dominion Pipeline Monitoring Coalition
The Federal Energy Regulatory Commission (FERC) paved the way Friday for the 600-mile, 42-inch fracked gas Atlantic Coast Pipeline to proceed when it issued the final environmental impact statement (FEIS). A joint project of utility giants Duke Energy and Dominion Energy, the Atlantic Coast Pipeline would move fracked gas from West Virginia into Virginia and North Carolina.
In April, the Sierra Club submitted more than 500 pages of legal and technical comments on FERC's draft EIS, which were joined by more than 18,000 individual comments detailing opposition to the project. The pipeline has been met with widespread opposition, with more than 1,000 people participating in public hearings across the three affected states. The Sierra Club recently requested that FERC issue a new environmental review document analyzing information that came in after or late in, the public comment process.
Keep reading...
Show less
Jul. 21, 2017 08:25AM EST
Greenpeace / PolluterWatch
By Jessica Corbett
"It's time Rex Tillerson step down or be removed," said Gigi Kellett of Corporate Accountability International, following an announcement on Thursday that ExxonMobil will pay $2 million for violating U.S. sanctions against Russian officials while the now-secretary of state was the company's CEO.
"ExxonMobil demonstrated reckless disregard for U.S. sanction requirements," according to enforcement filing released by the Treasury Department's Office of Foreign Assets Control (OFAC), which issued the penalty. Though the fine is reportedly the maximum penalty allowed, it's pittance to one of the world's most profitable and powerful corporations, which last year reported a profit of $7.8 billion.
Keep reading...
Show less
Jul. 21, 2017 11:15AM EST
New analysis from Amory B. Lovins debunks the notion that highly unprofitable, economically distressed nuclear plants should be further subsi­dized to meet financial, security, reliability and climate goals. The analysis, which will appear shortly in The Electricity Journal, shows that closing costly-to-run nuclear plants and reinvesting their saved operating costs in energy efficiency provides cheaper elec­tricity, increases grid reliability and security, reduces more carbon, and preserves (not distorts) market integrity—all without subsidies.

Keep reading...
Show less
Jul. 21, 2017 08:44AM EST
Oil Change International / Twitter
By Christian Detisch and Seth Gladstone
In the wake of Senate Republicans' ever-deepening debacle over their flailing attempts to strip health insurance from 22 million people, Majority Leader Mitch McConnell is desperate to do something—anything—to show that he can get legislation passed. To this end, he's bypassing the standard committee review process to push a complex 850+ page energy bill straight to the full Senate floor. Perhaps not surprisingly, this legislation, the Energy and Natural Resources Act of 2017, would be a disaster for public health and our climate.
Keep reading...
Show less
Jul. 21, 2017 08:11AM EST
Rooftop solar panels on a beach house in southern Florida. TAI VIINIKKA / CC BY-NC-ND 2.0
A new law passed this week in South Miami will require all new homes built in the city to install solar panels. The measure, which was inspired by a proposal from a teenage climate activist, will go into effect in September.
The text of the ordinance details the climate impacts facing South Miami.
Keep reading...
Show less
Jul. 21, 2017 10:27AM EST
www.youtube.com
Keep reading...
Show less
Jul. 21, 2017 08:49AM EST
iStock
By Katherine Paul and Ronnie Cummins
A recent series of articles by a Washington Post reporter could have some consumers questioning the value of the U.S. Department of Agriculture's (USDA) organic seal. But are a few bad eggs representative of an entire industry?
Consumers are all for cracking down on the fraudulent few who, with the help of Big Food, big retail chains and questionable certifiers give organics a bad name. But they also want stronger standards, and better enforcement—not a plan to weaken standards to accommodate "Factory Farm Organic."
Keep reading...
Show less