This website uses cookies to ensure you get the best experience while browsing it. By clicking 'Got It' you're accepting these terms.
Fracking Ban Ballot Initiatives Intensify
Oct. 20, 2014 12:29PM EST
Energy
County ballot issues to ban fracking could have a large impact outside those counties. And the campaign money being spent on both sides—but primarily by big energy companies—shows how much is at stake.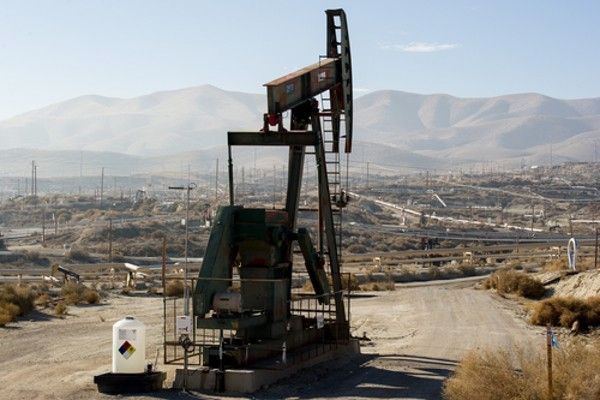 Photo credit: Shutterstock
The highest profile and most contentious ban is the one on the ballot in Denton, Texas, north of Dallas, located in the heart of the Barnett shale region. Citizen groups, concerned about their families' health and safety and frustrated by the city's failure to enact any restrictions on fracking, gathered enough signatures to force city council to vote on the ban in July. After the council voted against it, the issue went to the November ballot. The battle has positioned the industry-backed group Denton Taxpayers for a Strong Economy against the community group Denton Drilling Awareness Group/Frack Free Denton. The Denton Chamber of Commerce and the Denton County Republican Party have come out against the ban.
This ballot initiative has gotten extensive media coverage in the region because of its implications for Texas' burgeoning fracking sector, and industry fears that such bans could spread in this oil- and gas-rich region. Opponents of the ban have suggested that if it is passed, oil and gas interests will sue the city for an unconstitutional taking of property rights. State representative Phil King has said he will introduce a bill in the next session of the Texas legislature to prohibit  local governments from banning fracking.
The Fort Worth Star-Telegram reported this weekend that Denton Taxpayers for a Strong Economy has collected $75,000 apiece from energy companies Devon Energy, XTO and Enervest Operating, making up the bulk of the $231,000 the group has raised. Only eight other donors are listed. It said the pro-ban group has raised about $50,000, with $30,000 coming from environmental group Earthworks, which an anti-ban spokesperson called an "extreme liberal fringe group out of Washington, D.C." Earthworks told the Dallas News that 90 percent of the funds, generated by an online fundraiser, were contributed by Denton residents. Denton has a population of about 113,000.
Andrew Wheat, research director of Texans for Public Justice, a nonpartisan nonprofit that tracks the impact of money and corporate power in Texas politics, told the Dallas News, "The influence of the industry is pervasive. To the extent that there is any effort to regulate these activities, it's coming from the grassroots local government, it's not coming from Austin."
In California, three counties have anti-fracking measures on the November ballot. San Benito County, located in the central coastal region with a population of just over 50,000, was the first county to approve such a ballot measure. Santa Barbara and Mendocino counties have followed with their own measures, and Butte County is considering one for 2016. Santa Barbara, with a population of more than 400,000, is the most significant of these. Santa Cruz County's board of supervisors banned fracking there in May.
As in Texas, these initiatives are being looked at by the energy industry and anti-fracking groups as a bellwether. The San Jose Mercury News says that a coalition funded by oil companies like Chevron, ExxonMobil and Occidental Petroleum has given nearly $2 million to the campaign to block the ban in San Benito County and $5 million to the effort in Santa Barbara County. In San Benito, it's outspending pro-ban groups by a 15-1 margin, the paper reports.
Again, the sides are wrangling about the health and safety of residents vs. property rights, as well as protecting the region's natural beauty—San Benito County includes Pinnacles National Park. In addition, ban opponents scoff that since there's no fracking in the county now, the ban is pointless. Ban supporters point out that San Benito sits on part of the state's oil-rich Monterey Shale deposit, which could be developed in the future. Kern County, adjacent to Santa Barbara County and just south of San Benito, is already being heavily fracked. And as in Texas, community groups are acting in the absence of state regulation.
"We need Governor Brown to put an immediate halt to fracking statewide," attorney Kassie Siegel of Center for Biological Diversity told the Mercury News. "But until he does, we are going to see more local governments and local residents going forward with measures to protect themselves."
YOU MIGHT ALSO LIKE
North Texas Town Rejects Fracking Ban
Are Cancer Rates Elevated Near Texas Fracking Sites?
Monterey Shale Report Exposes Myth of Economic Prosperity From Fracking California
EcoWatch Daily Newsletter
Protesters gathered outside US Bank and Wells Fargo locations around the U.S. to protest investment in the Dakota Access Pipeline on Dec. 1, 2016. This photo is from a protest outside US Bank in south Minneapolis, Minnesota.
Fibonacci Blue / CC BY 2.0
By Jake Johnson
As a growing number of states move to pass laws that would criminalize pipeline protests and hit demonstrators with years in prison, an audio recording obtained by The Intercept showed a representative of a powerful oil and gas lobbying group bragging about the industry's success in crafting anti-protest legislation behind closed doors.
Reposted with permission from our media associate Common Dreams.

DESIREE MARTIN / AFP / Getty Images
Wildfires raging on Gran Canaria, the second most populous of Spain's Canary Islands, have forced around 9,000 people to evacuate.
Wolves in Mount Rainier, Washington. Ron Reznick / VW Pics / Universal Images Group via Getty Images
The last four members of an embattled wolf pack were killed in Washington State Friday, hours before the court order that could have saved them.
Aerial view of lava flows from the eruption of volcano Kilauea on Hawaii, May 2018. Frizi / iStock / Getty Images
Hawaii's Kilauea volcano could be gearing up for an eruption after a pond of water was discovered inside its summit crater for the first time in recorded history, according to the AP.
Plateau Creek near De Beque, Colorado, where land has been leased for oil and gas production. Helen H. Richardson / The Denver Post / Getty Images
By Randi Spivak
Slashing two national monuments in Utah may have received the most attention, but Trump's Interior Department and U.S. Forest Service have been quietly, systematically ceding control of America's public lands to fossil fuel, mining, timber and livestock interests since the day he took office.
Global SO2 Emission Hotspot Database / Greenpeace
A new report by Greenpeace International pinpointed the world's worst sources of sulfur dioxide pollution, an irritant gas that harms human health. India has seized the top spot from Russia and China, contributing nearly 15 percent of global sulfur dioxide emissions.
The huge surge this year in Amazon deforestation is leading some European countries to think twice about donations to the Amazon Fund. LeoFFreitas / Moment / Getty Images
By Sue Branford and Thais Borges
Ola Elvestrun, Norway's environment minister, announced Thursday that it is freezing its contributions to the Amazon Fund, and will no longer be transferring €300 million ($33.2 million) to Brazil. In a press release, the Norwegian embassy in Brazil stated:
Gina Lopez, the Philippine secretary of the environment, at a meeting with residents affected by a mine tailing disaster. Keith Schneider
Gina Lopez, a former Philippine environment secretary, philanthropist and eco-warrior, died on Aug. 19 from brain cancer. She was 65.