This website uses cookies to ensure you get the best experience while browsing it. By clicking 'Got It' you're accepting these terms.
Fracking and Farmland
Jan. 24, 2013 08:26AM EST
Energy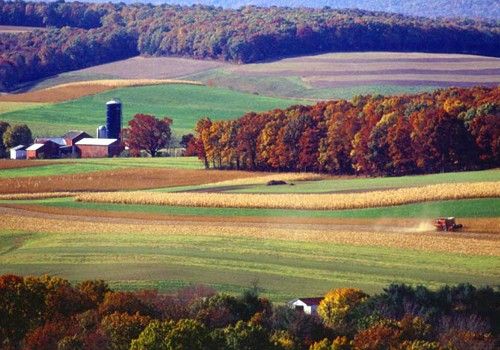 The Ohio Ecological Food and Farm Association (OEFFA) has launched new webpages, Fracking and Farmland: Stories from the Field, that provide the personal stories of farmers concerned about Ohio's booming fracking industry and illustrations of how oil and gas extraction could impact Ohio's food producers.
High-volume horizontal hydraulic fracturing, commonly referred to as "fracking," is a method of oil and gas extraction that injects millions of gallons of water laced with  toxic chemicals and sand at high pressure deep underground, pivoting horizontally for up to one mile, to break apart shale rock formations.
Due to technological advances that allow the fracking industry to tap into shale rock formations containing oil, natural gas and natural gas liquids that were not previously economically feasible to exploit, gas companies continue to seek out landowners willing to sign leases in parts of Ohio containing Marcellus, Utica and Devonian shale formations.
"Farmers' livelihoods depend upon the integrity of the soil, clean water and pollution-free air. Because of their reliance on the land, farmers are among those most at risk to suffer from the negative impacts of fracking. As the fracking industry grows in Ohio, farmers' concerns are mounting about the likely impacts on public health, our food supply and our soil, water and air," said MacKenzie Bailey, OEFFA's policy program coordinator.
Mardy Townsend of Marshy Meadows Farm raises grass-fed beef in Ashtabula County. She relies on four water wells on her property for personal and farm use and is concerned that nearby fracking activity and waste water injection wells could pollute her water supply and poison her livestock. She regularly receives literature and lease enticements in the mail from energy companies.
Mardy has good reason to be concerned about her farm's water quality. At every step of the fracking process, from injection and recovery to storage and transport, there is the potential for contamination of water through underground fissures, spills, leaks and blowouts.
Well failures are fairly common at drilling sites. In 2011, Pennsylvania levied 141 violations against Chesapeake Energy alone. Of those, 24 involved failures of well integrity or underground leaks. And, scientists at Duke University who examined 60 sites in New York and Pennsylvania, found "systematic evidence for methane contamination" in household drinking water. Water wells half a mile from drilling operations were contaminated by methane at 17 times the rate of those farther from gas development.
Livestock are attracted to the salty toxic brine used in fracking and animal poisoning can result in death or loss of normal reproductive function, still births, birth defects and other health problems. According to a Food & Water Watch report, in 2009, 16 cattle in Louisiana died after drinking spilled frack fluids. Other similar reports have been made.
"Clean water is vital on our farm and on farms across Ohio. Our livestock require clean water to drink, and if our water wells were to become contaminated, farming here would not be possible," said Townsend.
Alex Dragovich of Mud Run Farm grows organic small grains, produce, and pastured poultry on 30 acres in Stark County. He is contacted nearly every day by energy companies wanting to lease his land. He has not signed a lease because he is concerned about fracking's potential impacts on soil and air quality.  
Fracking wastewater can contain radioactive materials, including strontium, uranium and radon which can contaminate the soil through spills, leaks, blowouts, or during venting and flaring. Heavy metals such as lead, mercury, cadmium, chromium, barium and arsenic have been found in soils near gas sites. If contamination occurs on land that is certified organic, that land can be taken out of organic production for at least three years, and the farmer will lose that income.
Air pollution near fracking sites can also have an impact on a farm's production. For instance, elevated levels of ground level ozone due to natural gas drilling, as has been seen in southwestern Wyoming, can lower soybean crop yields—Ohio's largest agricultural commodity. Other ozone sensitive crops include spinach, tomatoes, beans, alfalfa and other forages. Ozone damages plants by inhibiting photosynthesis and root development.
"I'm concerned that fracking could contaminate my soil, water or air, which could put me out of business," said Dragovich.
Dan and Kathy Philipps of Hollyberry Farm grow and sell organic blueberries in Lake County. As a survivor of thyroid cancer, Kathy is concerned about the health impacts of fracking and how little is known about the chemicals being used.
The chemicals used in fracking have been linked to a wide range of health impacts affecting the endocrine, cardiovascular, immune, nervous and respiratory systems. According to Ohio law, the exact brew of chemicals contained in the frack fluid does not need to be fully disclosed by oil and gas companies. However, this fluid and the wastewater returned from the wells can contain hundreds of dangerous chemicals which are then pumped into injection wells, spread on Ohio roadways as a deicer, or sent to public water treatment facilities.
Kip Gardner of Creekview Ridge Farm in Carroll County grows specialty crops and pastured poultry on 18 acres of land that he's transitioning to organic production. Practically all of Kip's neighbors have signed fracking leases, and he's concerned that a process known as "mandatory pooling" will force him into a lease. Mandatory pooling allows the Ohio Department of Natural Resources to authorize access to non-leased land once oil and gas companies have acquired leases for 65 percent of the land in a drilling unit.
"It's disappointing that private corporate interests can trump my rights as a landowner. I'm worried that I'll be forced into an undesirable lease that does not protect my land or my ability to farm in the future," said Gardner.
"Fracking comes with real risks to public health, our food shed, and the water, soil and air resources that we all share. Ohio's current fracking regulations give the green light to gas and oil companies, and leave farmers and consumers vulnerable to the potential dangers of fracking. Ohio policy makers need to reexamine these risks and take action to require full public disclosure of chemicals and give local governments and property owners meaningful opportunities for involvement and the right to determine the future of their communities," said Bailey.
Visit EcoWatch's FRACKING page for more related news on this topic.
——–
Sign the petition today, telling President Obama to enact an immediate fracking moratorium:

EcoWatch Daily Newsletter
Large food companies are following in the footsteps of fast-food restaurants such as Burger King and KFC by offering meat alternatives. Getty Images
By Elizabeth Pratt
Hormel, Kellogg's, and Kroger are among the large companies now planning to offer "fake meat" products at grocery stores.
Experts say the trend toward plant-based meats coincides with consumers' desires to eat less meat.
However, experts urge consumers to closely check package labels as a product isn't necessarily healthy just because it's described as plant-based.
In grocery stores and fast-food outlets around the U.S., a revolution is taking place.
Colombia rainforest. Marcel Oosterwijk / CC BY-SA 2.0
Many of us think of the Amazon as an untouched wilderness, but people have been thriving in these diverse environments for millennia. Due to this long history, the knowledge that Indigenous and forest communities pass between generations about plants, animals and forest ecology is incredibly rich and detailed and easily dwarfs that of any expert.
picture-alliance / Newscom / R. Ben Ari
By Wesley Rahn
Plastic byproducts were found in 97 percent of blood and urine samples from 2,500 children tested between 2014 and 2017, according to a study by the German Environment Ministry and the Robert Koch Institute.

Pexels
Medically reviewed by Daniel Bubnis, MS, NASM-CPT, NASE Level II-CSS
Hot yoga has become a popular exercise in recent years. It offers many of the same benefits as traditional yoga, such as stress reduction, improved strength, and flexibility.
Lara Hata / iStock / Getty Images
By SaVanna Shoemaker, MS, RDN, LD
Rice is a staple in many people's diets. It's filling, inexpensive, and a great mild-tasting addition to flavorful dishes.
An image of the trans-alaskan oil pipeline that carries oil from the northern part of Alaska all the way to valdez. This shot is right near the arctic national wildlife refuge. kyletperry / iStock / Getty Images Plus
The Trump administration has initialized the final steps to open up nearly 1.6 million acres of the protected Alaskan National Wildlife Refuge to allow oil and gas drilling.