This website uses cookies to ensure you get the best experience while browsing it. By clicking 'Got It' you're accepting these terms.
Fracking and Farmland
Jan. 24, 2013 08:26AM EST
Energy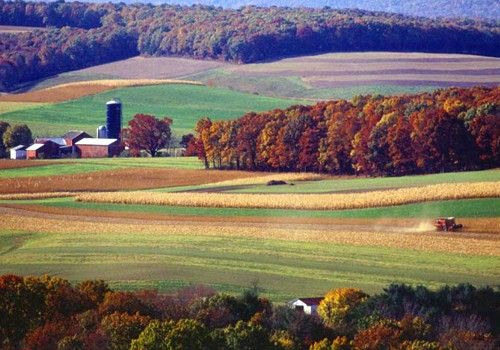 The Ohio Ecological Food and Farm Association (OEFFA) has launched new webpages, Fracking and Farmland: Stories from the Field, that provide the personal stories of farmers concerned about Ohio's booming fracking industry and illustrations of how oil and gas extraction could impact Ohio's food producers.
High-volume horizontal hydraulic fracturing, commonly referred to as "fracking," is a method of oil and gas extraction that injects millions of gallons of water laced with  toxic chemicals and sand at high pressure deep underground, pivoting horizontally for up to one mile, to break apart shale rock formations.
Due to technological advances that allow the fracking industry to tap into shale rock formations containing oil, natural gas and natural gas liquids that were not previously economically feasible to exploit, gas companies continue to seek out landowners willing to sign leases in parts of Ohio containing Marcellus, Utica and Devonian shale formations.
"Farmers' livelihoods depend upon the integrity of the soil, clean water and pollution-free air. Because of their reliance on the land, farmers are among those most at risk to suffer from the negative impacts of fracking. As the fracking industry grows in Ohio, farmers' concerns are mounting about the likely impacts on public health, our food supply and our soil, water and air," said MacKenzie Bailey, OEFFA's policy program coordinator.
Mardy Townsend of Marshy Meadows Farm raises grass-fed beef in Ashtabula County. She relies on four water wells on her property for personal and farm use and is concerned that nearby fracking activity and waste water injection wells could pollute her water supply and poison her livestock. She regularly receives literature and lease enticements in the mail from energy companies.
Mardy has good reason to be concerned about her farm's water quality. At every step of the fracking process, from injection and recovery to storage and transport, there is the potential for contamination of water through underground fissures, spills, leaks and blowouts.
Well failures are fairly common at drilling sites. In 2011, Pennsylvania levied 141 violations against Chesapeake Energy alone. Of those, 24 involved failures of well integrity or underground leaks. And, scientists at Duke University who examined 60 sites in New York and Pennsylvania, found "systematic evidence for methane contamination" in household drinking water. Water wells half a mile from drilling operations were contaminated by methane at 17 times the rate of those farther from gas development.
Livestock are attracted to the salty toxic brine used in fracking and animal poisoning can result in death or loss of normal reproductive function, still births, birth defects and other health problems. According to a Food & Water Watch report, in 2009, 16 cattle in Louisiana died after drinking spilled frack fluids. Other similar reports have been made.
"Clean water is vital on our farm and on farms across Ohio. Our livestock require clean water to drink, and if our water wells were to become contaminated, farming here would not be possible," said Townsend.
Alex Dragovich of Mud Run Farm grows organic small grains, produce, and pastured poultry on 30 acres in Stark County. He is contacted nearly every day by energy companies wanting to lease his land. He has not signed a lease because he is concerned about fracking's potential impacts on soil and air quality.  
Fracking wastewater can contain radioactive materials, including strontium, uranium and radon which can contaminate the soil through spills, leaks, blowouts, or during venting and flaring. Heavy metals such as lead, mercury, cadmium, chromium, barium and arsenic have been found in soils near gas sites. If contamination occurs on land that is certified organic, that land can be taken out of organic production for at least three years, and the farmer will lose that income.
Air pollution near fracking sites can also have an impact on a farm's production. For instance, elevated levels of ground level ozone due to natural gas drilling, as has been seen in southwestern Wyoming, can lower soybean crop yields—Ohio's largest agricultural commodity. Other ozone sensitive crops include spinach, tomatoes, beans, alfalfa and other forages. Ozone damages plants by inhibiting photosynthesis and root development.
"I'm concerned that fracking could contaminate my soil, water or air, which could put me out of business," said Dragovich.
Dan and Kathy Philipps of Hollyberry Farm grow and sell organic blueberries in Lake County. As a survivor of thyroid cancer, Kathy is concerned about the health impacts of fracking and how little is known about the chemicals being used.
The chemicals used in fracking have been linked to a wide range of health impacts affecting the endocrine, cardiovascular, immune, nervous and respiratory systems. According to Ohio law, the exact brew of chemicals contained in the frack fluid does not need to be fully disclosed by oil and gas companies. However, this fluid and the wastewater returned from the wells can contain hundreds of dangerous chemicals which are then pumped into injection wells, spread on Ohio roadways as a deicer, or sent to public water treatment facilities.
Kip Gardner of Creekview Ridge Farm in Carroll County grows specialty crops and pastured poultry on 18 acres of land that he's transitioning to organic production. Practically all of Kip's neighbors have signed fracking leases, and he's concerned that a process known as "mandatory pooling" will force him into a lease. Mandatory pooling allows the Ohio Department of Natural Resources to authorize access to non-leased land once oil and gas companies have acquired leases for 65 percent of the land in a drilling unit.
"It's disappointing that private corporate interests can trump my rights as a landowner. I'm worried that I'll be forced into an undesirable lease that does not protect my land or my ability to farm in the future," said Gardner.
"Fracking comes with real risks to public health, our food shed, and the water, soil and air resources that we all share. Ohio's current fracking regulations give the green light to gas and oil companies, and leave farmers and consumers vulnerable to the potential dangers of fracking. Ohio policy makers need to reexamine these risks and take action to require full public disclosure of chemicals and give local governments and property owners meaningful opportunities for involvement and the right to determine the future of their communities," said Bailey.
Visit EcoWatch's FRACKING page for more related news on this topic.
——–
Sign the petition today, telling President Obama to enact an immediate fracking moratorium:

EcoWatch Daily Newsletter

georgeclerk / E+ / Getty Images
By Jennifer Molidor
One million species are at risk of extinction from human activity, warns a recent study by scientists with the United Nations. We need to cut greenhouse gas pollution across all sectors to avoid catastrophic climate change — and we need to do it fast, said the Intergovernmental Panel on Climate Change.
This research should serve as a rallying cry for polluting industries to make major changes now. Yet the agriculture industry continues to lag behind.
Edwin Remsburg / VW Pics / Getty Images
Botswana, home to one third of Africa's elephants, announced Wednesday that it was lifting its ban on the hunting of the large mammals.
"The Ministry of Environment, Natural Resources Conservation and Tourism wishes to inform the public that following extensive consultations with all stakeholders, the Government of Botswana has taken a decision to lift the hunting suspension," the government announced in a press release shared on social media.
Pxhere
By Richard Denison
Readers of this blog know how concerned EDF is over the Trump EPA's approval of many dozens of new chemicals based on its mere "expectation" that workers across supply chains will always employ personal protective equipment (PPE) just because it is recommended in the manufacturer's non-binding safety data sheet (SDS).
By Grant Smith
From 2009 to 2012, Gregory Jaczko was chairman of the Nuclear Regulatory Commission, which approves nuclear power plant designs and sets safety standards for plants. But he now says that nuclear power is too dangerous and expensive — and not part of the answer to the climate crisis.
A lake in Rocky Mountain National Park. Brett Walton / Circle of Blue
By Brett Walton
When Greg Wetherbee sat in front of the microscope recently, he was looking for fragments of metals or coal, particles that might indicate the source of airborne nitrogen pollution in Rocky Mountain National Park. What caught his eye, though, were the plastics.
Gabriele Holtermann Gorden / Pacific Press / LightRocket / Getty Images
In a big victory for animals, Prada has announced that it's ending its use of fur! It joins Coach, Jean Paul Gaultier, Giorgio Armani, Versace, Ralph Lauren, Vivienne Westwood, Michael Kors, Donna Karan and many others PETA has pushed toward a ban.
This is a victory more than a decade in the making. PETA and our international affiliates have crashed Prada's catwalks with anti-fur signs, held eye-catching demonstrations all around the world, and sent the company loads of information about the fur industry. In 2018, actor and animal rights advocate Pamela Anderson sent a letter on PETA's behalf urging Miuccia Prada to commit to leaving fur out of all future collections, and the iconic designer has finally listened.
Amer Ghazzal / Barcroft Media / Getty Images
If people in three European countries want to fight the climate crisis, they need to chill out more.
That's the conclusion of a new study from think tank Autonomy, which found that Germany, the UK and Sweden all needed to drastically reduce their workweeks to fight climate change.
Amazon Employees for Climate Justice held a press conference after the annual shareholder meeting on May 22. Amazon Employees for Climate Justice